Love the beach? Sure, but who can afford living there? Instead, bring the beach and that gorgeous Coastal Living style to your home using pallets! Make your outdoor living area a vacation escape you can use anytime!
Coastal living in your backyard or outdoor living space is comfortable when you have pallets!
You can't have coastal living without having a Pallet Beach Lounger! There's nothing better than relaxing at the beach on a great lounger. But, if you don't have the beach, you can STILL have the lounger. Wiggle your toes in the sand or the grass with beautiful style and comfort using pallet wood!
Bring the beach indoors with this Beachy-Keen Coffee Table! This pallet coffee table has a center section where you can add whatever you want – and in this case, they added sand, shells and glass bits to create a bit of a beach vacation in the middle of their home!
Even if you don't own beach-front property, you could make a Man Cave (or Woman Cave) in the Coastal Living style like this Reclaimed Pallet Beach House project.
Make some art that reminds you of the beach like this Pallet Wood Beach Trash Art.
Bring the fresh colors of beach homes indoors with this beautiful Whitewashed Pallet Headboard. This beautiful headboard captures the subtle tones of those weathered wood pieces we see with the silvers, pale colors, and whitewashed look. It creates a relaxed, peaceful and calming environment – perfect for those naps on lazy weekends!
What's kicking back on a beach deck without some great Pallet Adirondack Chairs?
You have to have a Pallet Palm Tree to create that Coastal Living feel!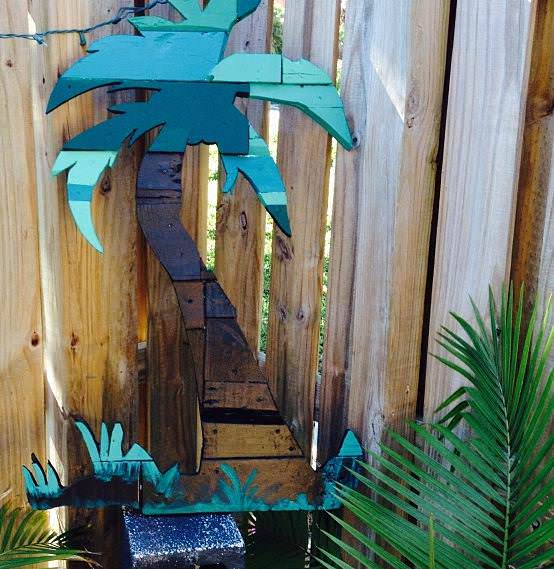 Fresh colors in sweet pastels bring that Coastal Living style to life with this beautiful Pallet Sofa Set. Pampas grass, seaweed, and snow white sanded all in one pallet lounge set with the beautiful beachy tones used in this project.
Lounging on the beach can be even better with this Pallet Day Bed. Don't you want to just climb into that fluffy outdoor daybed, grab a book and take a nap with one foot dangling over into the sand? Yeah….we do too!
Light and airy design is a beautiful aspect of Coastal Living – plus making the most of the small spaces like this beautiful Pallet Desk and Shelving Unit. Practical use of small spaces is something that most people living in the crowded coastal areas is used to. This excellent pallet desk/shelving combo does just that while keeping it light and airy.