Two BILLION pallets are used for transporting products every day. Many more pallets are lying around. It is no surprise that so many projects are made with pallets! At 1001Pallets, we have over four thousand ways to recycle, upcycle, reuse, or repurpose wooden pallets! But are those pallets safe to use? Many of you have questions about pallet's safety and wonder if the pallets they found are Safe to use or not.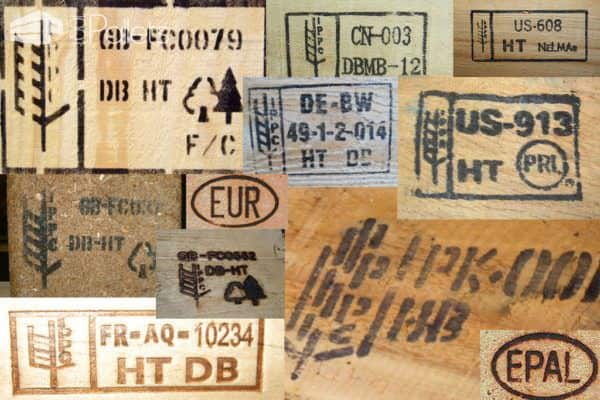 We tried to summarize the information we found. Pallets can become contaminated with chemicals spilled on them during the shipping process. If there are any spills on it, either oil, food or unknown substances, do not use this pallet! Pallets are frequently used to transport dangerous or toxic chemicals/liquids. It is much safer to use only clean ones and not try to identify what might be on your pallet.
Once you have found a clean pallet, the next step is to check for a stamp or marking on the sides of the pallet. Here is what we can tell you about those stamps:
When there is no stamp or mark on the pallet? Is it still Safe?
It means that it is a "national pallet". National pallets are used for domestic transport within your country! Most domestic pallets are not treated with chemicals, so they should be safe. But you still have to be careful. Many crafters use these pallets safely, but it is better if you can trace from where they came. Sometimes you have to think about where you got them. Below is an example of a heavy-duty, oversized pallet used for shipping a new motorcycle. Check in with your local motorcycle dealerships as they commonly have "come and get them" days to dispose of the stack of crates and pallets. They are all brand-new lumber!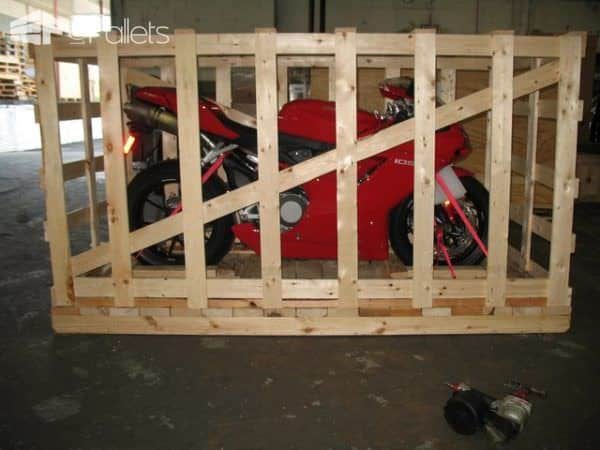 There are Safe local sources of new pallets!
Single-use pallets, such as for transporting a new motorcycle or new science lab equipment or other industrial equipment are frequently devoid of any stamps whatsoever. However, no one would want to pay 30,000 or more for a new motorcycle and have it sitting on a dirty pallet. The same applies to colleges or other facilities receiving new equipment. If you can find sources such as these, grab those pallets and get crafting! This information is provided by one of your administrators who watched her motorcycle being un-crated – and took the pallet/crate along with the bike. :)
International pallet stamps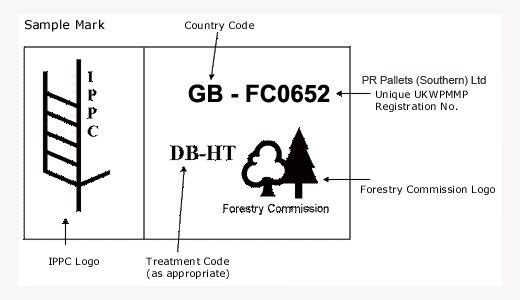 There are two main things to look for on the stamp!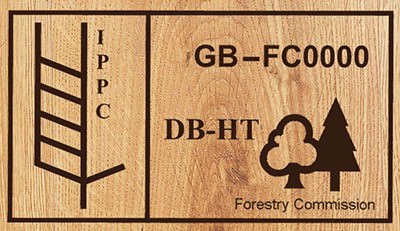 Avoid chemically-treated pallets to keep you and yours Safe.
The IPPC stamp: if you don't see it, use it with caution! A pallet may be perfectly safe without this logo, but you don't have clear information.
The treatment code : [HT] = Heat treatment / [MB] = Methyl Bromide / [DB] = Debarked / [KD] = Kiln Dried.
Above are the two most important information to check on the pallet stamp. Then, you have a geo-specific identifier. The first two letters of this identifier will indicate which country the pallet is from (as per ISO 3166), followed by a regional identifier and a unique registration number.
The IPPC marking on pallets is for International Plant Protection Convention (IPPC). IPPC marking on pallets are used for international shipping. These pallets are required to be made of a material that will not carry invasive insect species or plant diseases through different countries. IPPC standards require pallets constructed using raw wood to be treated. These pallets are treated with one of the methods listed below. Officially approved agencies supervise pallet treatment methods.  A pallet may or may not be safe without the IPPC stamp. Stay safe; use pallets with stamps identifying clear sources!
Choose the Safe treatment method when upcycling pallets
[HT]: Wooden pallets manufactured in Canada or the US undergo a pest control treatment called heat treating (HT) which involves heating the pallet to a minimum core temperature of 56°C for softwoods and 60°C for hardwoods for a minimum of 30 minutes in a kiln.  HT pallets are not harmful to your health.
[KD]: The purpose of kiln-dried lumber is to reduce the moisture content of the wood (19% or less).  This coding system is a means to control warping, fungal growth, and other quality features. The kilns or ovens used to dry the wood do not necessarily reach the sustained temperature of 133 degrees Fahrenheit (56 Celsius) that would qualify as heat treated.  Many lumber mills are processing their timber to meet the heat treatment requirements; thus you will see "KD-HT" incorporated in the wood grade stamp.
Don't be fooled by that old appearance!
With cherry and oak wood, the curing temperature causes releases sap from within the wood. Sap coats the wood with a dark stain, making the pallets or crates appear old and worn. The heat treating process does not compromise the strength and durability of pallets and containers. KD pallets are not harmful to your health.
Note: 2013-13 CPM-8 adopted revised Annex 1 to ISPM 15 to include heat treatment using dielectric heating. New, used, previously assembled, repaired, or remanufactured wood packaging material is heat treated using dielectric heating the treatment code mark is DH.
Stay Safe and avoid MB pallets!
[MB]: Methyl bromide fumigation, this is a potent pesticide linked to human health problems and ozone layer depletion. Methyl bromide fumigation kills invasive species like pine beetles.
In 1987, the Montreal Protocol aimed to regulate the use of methyl bromide, along with multiple other chemicals found to impact the ozone. This type of treatment is now banned in Canada and many countries because it poses health risks to workers handling the pallets. However, you can still find it in some places. If you find an MB pallet (likely from Asia or Oceania), please do not use it for your craft projects or as firewood, find a waste-removal company that can dispose of it properly.
MB pallets are not Safe! Check out this information from Toxipedia:
Methyl bromide is a broad spectrum pesticide used to control pest insects, nematodes, weeds, pathogens, and rodents. In the U.S., methyl bromide has been used in agriculture, primarily for soil fumigation, as well as for commodity and quarantine treatment, and structural fumigation.
Methyl bromide can enter the body through inhalation by breathing air contaminated with methyl bromides, through the skin or the eyes. The symptoms of inhalation of methyl bromide are:
abdominal pain
convulsions
dizziness
a headache
labored breathing
vomiting
weakness
hallucinations
loss of speech and incoordination
When skin comes in contact with methyl bromide, it can cause itching, burning, and tingling. Skin absorbs methyl bromide and it causes the following symptoms:
redness
burning sensation
pain and blisters
When methyl bromide comes in contact with eyes, the symptoms are:
redness
pain
blurred vision
temporary loss of vision
Avoid "HIGHLY TOXIC" pallets! MB pallets are not Safe!
The EPA lists methyl bromide as "highly acute toxic"! Methyl bromide has not been used since 2005 in most countries. But, as there are still old pallets in circulation, we reiter our advice to not use MB pallets in any of your projects!
[DB]: These two letters indicate that the pallet is debarked according to IPPC regulations/stamps. Many pallets have this stamp. It does not matter if your pallet has this stamp or not. Many pallets do not have it.
The process of "debarking" wood is to remove the bark (rough outer layers of wood) using a cutting tool or a planer, and the pallet wood remains untreated. This procedure is done to allow for a more thorough treatment of wood before being approved for transport (aside from smoothing the wood). Pallets marked with the letters DB only are chemical-free and safe to use. Newer pallets no longer require this stamp by the IPPC regulations, as most modern wood treatment procedures require "debarking" as a standard part of their process.
Other Stamps – are they Safe?
Sometimes you come across other acronyms stamped on the pallets you find. This stamp indicates the name of the pallet inspection firm, a manufacturing company, or an uncommon type of wood. If you find a stamp you are unsure of and cannot validate, avoid using this pallet.  Do an internet search to see if other people have come across it before. The pallet below was made in Slovenia (SI) by the supplier 341220. The pallet was Heat Treated (HT) and debarked (DB). The pallet was made in July 2011. This pallet is safe to use. For the international country code, visit ISO website.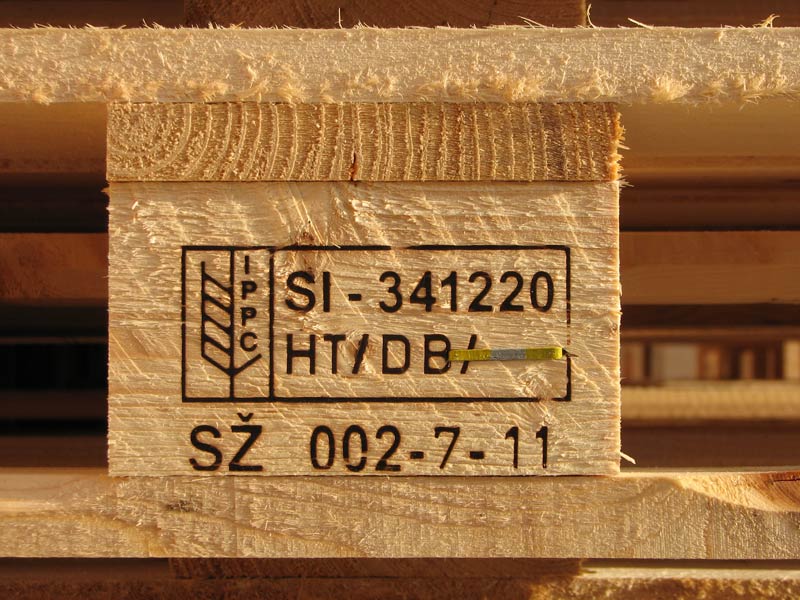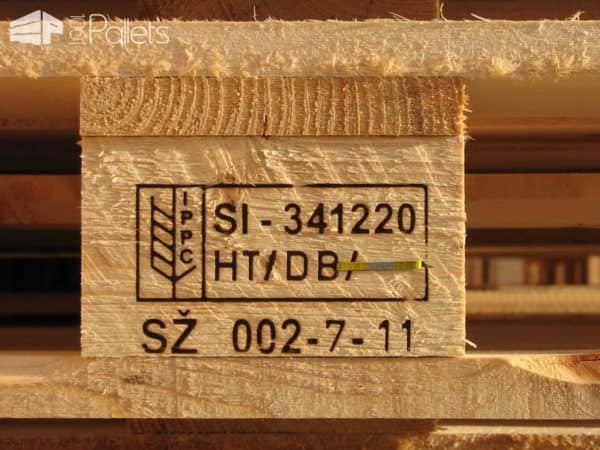 Sometimes you may also see the letters [PRL]; it means that the pallet is verified by the Package Research Laboratory (PRL).
There are three stamps involved in the Wood Certification Program under ISPM 15. Stay Safe and learn how to read those stamps on the pallets. There are updated standards by PRL.
HT Stamp – Heat Treatment Certification: This stamp must be found on all lumber purchased to build heat-treated wood packaging for international shipments.
WPM Stamp – WPM Certification: This stamp is required on heat treated wood packaging going into the international marketplace. It is applied on two (2) opposite sides of the finished pallet or container. If the package only shows the HT stamp, it will be rejected.
MB (Methyl Bromide) Stamp – Fumigation Certification: The NWPCA has developed a fumigation program to meet the compliance issue associated with exported shipments of WPM products, as required by the USDA Animal and Plant Health Inspection Service (APHIS). Fumigators will be required to enroll in the Fumigation Program and receive special training from the MB producer regarding compliant application for WPM products.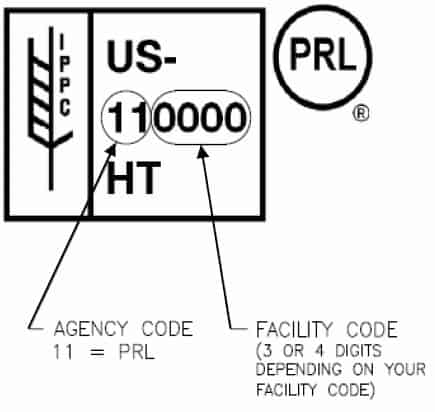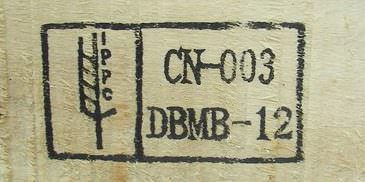 For Europe: Read the codes and stay Safe!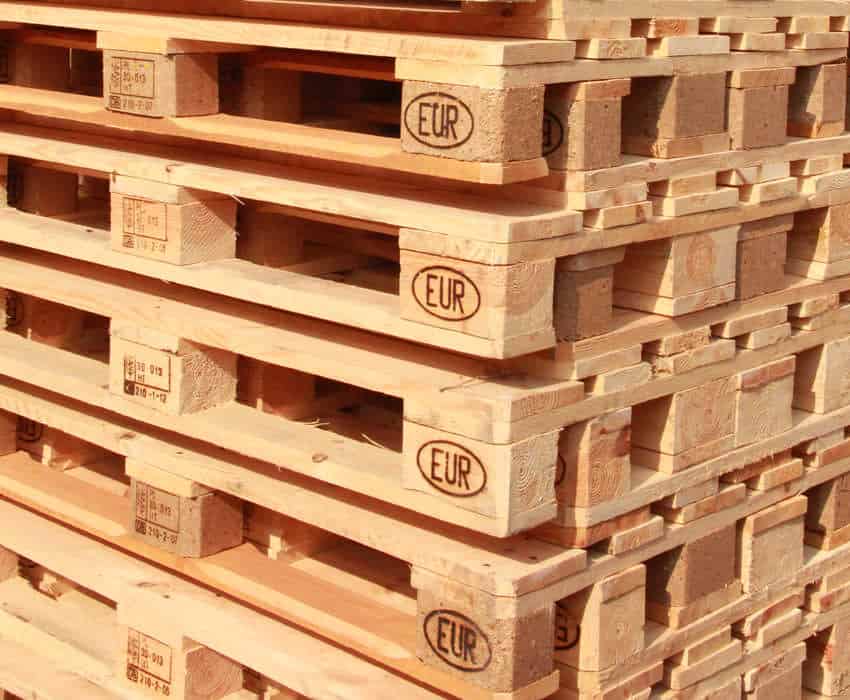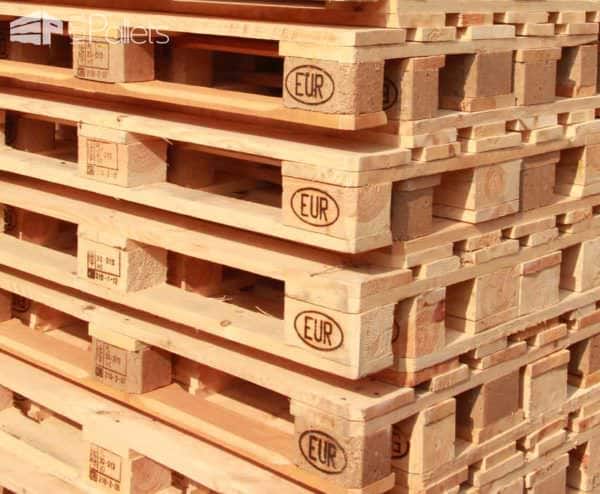 The same thing applies, but sometimes there are no other stamps than EPAL or EUR.  You should choose the one with EPAL. The one marked with EUR comes from an old system managed by railways companies. If they are EPAL approved, they are okay to use. They are just heat treated (HT) the same way as described above. Europe does not allow chemical treatments. These pallets can carry 1500kg.
You may also find pallets without any sign on them. They are typically single-use pallets. The robust ones are those used for building materials (bricks, cement, etc.), science equipment, machinery, and similar. They are not treated with chemicals and are safe for reuse.
Many people ask where to find pallets! You may go to your nearest DIY store, home center, freight shipping company, or even search your local advertising (such as Craigslist, etc).
FOR CANADA:  Here is a list of approved suppliers in Canada.
CP Pallet markings
The CP Pallets scheme was started in the early 90s' by the German Chemicals Industry Association (VCI). So, the CP pallets are intended for the chemical industry only. They belong to the pallet exchange system, and they can be repaired as well. CP standards describe the wood quality, measurements, marking, and repairing. There are markings on pallet blocks where producer's or repairer's code, year of production, and possible date of repair are indicated.
Pallets can be heat treated according ISPM15/IPPC requirements and can be kiln dried as well.
For CP Pallets, they are nine possible sizes in total, so you'll find "CP1, CP2, CP3, etc.…":
Five types of pallets (CP1 to CP5) are for the chemical industry.
Four types of pallets (CP6 to CP9) are for the polymer industry. 
Guidelines on CP Pallet markings: Chemical Industry Pallets
As the CP pallets are for the chemical industry only, we do not recommend to reuse them for any DIY pallet project.
Blue Pallets vs Red Pallets vs Brown Pallets? Are they Safe?
Pallets usually last from four to ten years. Pallet rental companies maintain them for reuse. Colored pallets usually come from one of these firms. Colored pallets (blue pallets, brown pallets & red pallets) are controversial. Rental companies own colored pallets. They don't treat the pallets with methyl bromide. Rental pallets are sometimes used for international shipping, so there can be concerns! Some countries are fumigating all incoming pallets. Not every country is always compliant with international standards.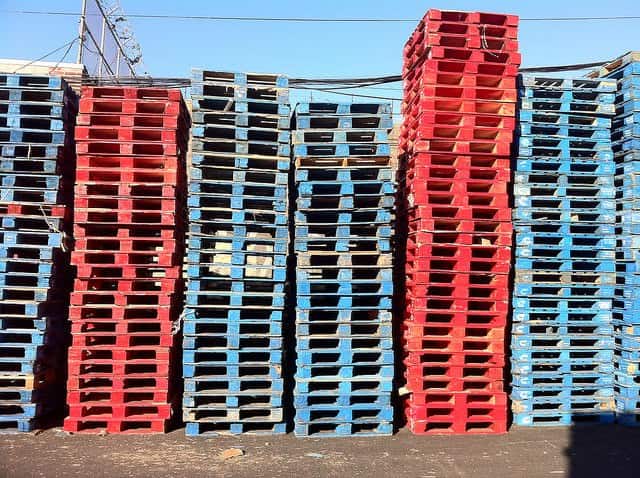 There are four main pallet pool companies in the world that you can differentiate by the color:
Red pallets: pool LPR (La Palette Rouge from Europe)
Red pallets: pool PECO (The Pallet Exchange Company from the USA – PECO pallets are constructed from high-quality lumber that is responsibly forested in North America. Pallets are kiln-dried to control infestation, mold, and moisture content. No chemical treatments or hazardous materials are ever used on PECO pallets, and all lumber products used to construct and repair PECO pallets are regularly tested by an independent third party inspector.)
Blue pallets: pool CHEP (Commonwealth Handling Equipment Pool from Australia – Owned by Brambles, a world-leading provider of supply chain logistics solutions based on the provision of reusable pallets, crates, and containers for shared use by multiple participants throughout the supply chain.)
Brown pallets: pool IPP (IPP Logipal from Europe – IPP Logipal is one of the leading pallet and box rental providers to fast moving consumer goods supply chains and to industrial sectors across Europe.)
Note: No chemical treatments or hazardous materials are used on PECO pallets (Red Pallets), and all lumber products used to construct and repair PECO pallets receive regular testing by an independent third party inspector. You can find more information at PECO Pallet. So, the red pallets from PECO should be safe to use for your DIY project.
Rental pallets are often used for international shipping, and while most countries use an NPPO/IPPC stamp marking on pallets, not all countries do. There is the possibility that some countries may not comply with standards.
Stay Safe when using ANY pallet
Remember that you should always use a mask to keep you from breathing in particles and pollutants (just as for any work involving cutting or sanding wood).
One of the most important things to remember is that when you cannot establish if the pallet you have is safe or not, DO NOT USE IT for indoor projects such as a headboard, coffee table, or another kind of pallet furniture unless it comes from a trusted source. In this case, only use it for outdoor projects where you will not be in contact with the pallet too often and avoid growing food on or near used pallet wood. For your safety (and your family's), and for the sake of our planet, never use questionable pallet wood or treated lumber in your fireplace or outdoor fire pit. 
1001pallets.com does not recommend using unknown or suspicious pallets for indoor projects such as cutting boards and headboards.
In the video below, Karell will explain to you how to find safe pallets and read pallet codes – what pallets you can use and what pallet you cannot.
source: pallet.tv
Here are some links of interest
That's it; now you have all the necessary information to start you pallet quest! If you have more information on pallet safety, please contact us! We will update this page to provide information that may help you stay Safe.
To easily remember all the information and codes, here is a visual infographic, we hope it will be useful.
For Australian readers, please read this message sent by one of our readers from Australia
Please inform your Australian readers that some heat treated packaging entering Australia is being fumigated with methyl bromide. I recently got some large shipping crates from work that had heat stamps on all timber, so I assumed it was safe. However, I learned that wooden crates are treated with methyl bromide upon arrival to Australia. It turns out that Aussie Customs still use it quite a bit. I wish they would restamp it as such. I do not trust any imported pallet in Australia thanks to Customs.
One of our New Zealand readers informed us that pallets entering the country are also being treated with methyl bromide. If you are from New Zealand, do take care as well.

Other helpful resources
If you want to learn more about pallets, just read our article on the history of pallets and how they play a significant role in the history of our economy.
Need information on pallet sizes & dimensions around the world? Take a look at our article on this subject! If you want to know the wood used when making pallets, you can read our article "What wood are pallets made from?".
If you need some tips and places where to find pallets, visit our Where to get free pallets? page, that will give you some advice and some areas shared by our readers.
Now, you have found your wooden pallets, and you have checked that your pallets are safe for re-use? The first step is to dismantle them, and you can check our seven methods to dismantle your pallets quickly with or without tools. Then, you will need to check if you have all the tools necessary for any pallet project and finally learn how to prepare your pallet for painting with this article on the 17 things you need to know before painting a wooden pallet. And to finish, if you want to learn more or find the best pallet jack or pallet truck available out there, check out our article Tips For Buying A Hand Pallet Truck & Our Reviews Of The 10 Best Pallet Jacks!