One of the most active categories in 1001Pallets is undoubtedly the coffee table one. We received & continue to receive a lot of coffee tables ideas made from repurposed wood pallets, from the simple ones to the more complex and modular ones.
If you are a beginner and want to jump into the beautiful world of pallet recycling, making a coffee table is an excellent project to start with, as a simple coffee table could be done with only one pallet and few hours of works. So, no need to find a lot of wood pallets to jump into pallet recycling.
To give you some inspiration for your next coffee table, here are the most fantastic pallet coffee table projects we received over the last two years.
Enjoy & feel free to send us some pictures of your pallet coffee table! :)
Pallet coffee table for the card players!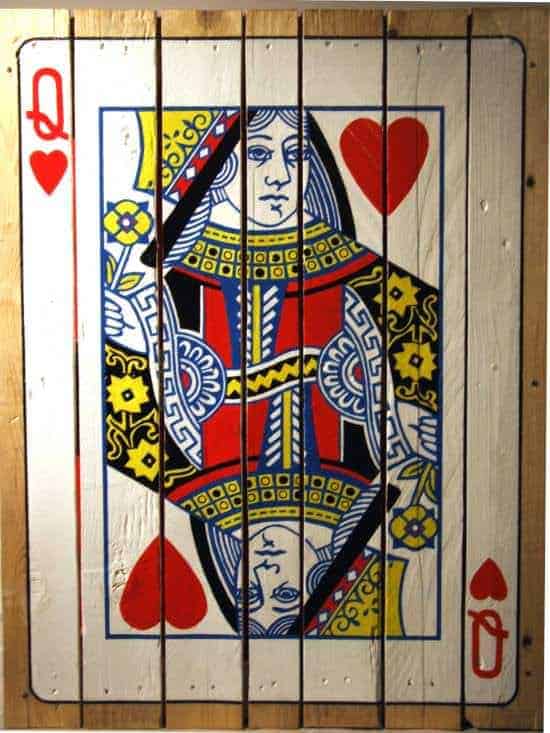 Design coffee table made from salvaged pallets, wood, glass top & metals.
Unusual coffee table with three legs and an oval shape made from shipping pallets, really like this one.
Coffee table with an industrial style due to the four big wheels recycled from a massive industry machine.
The idea was to recycle industrial waste. So, I took an old pallet and wheels from a heavy machine from a junkyard and, after cleaning I assembled them together to make this coffee table.

Chris Vavatsis
Original coffee table with a blue mosaic between the pallet planks, 4 wheels were also added to make it movable.
Basque coffee table made from two wooden pallets and the top was painted with a "Basque Red" color.
Three wooden pallets, four silver legs & one glass top and you have a beautiful looking coffee table.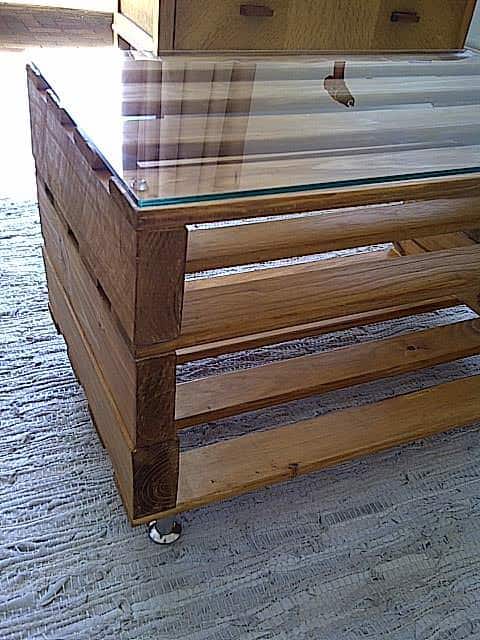 Coffee table made from two small pallets stacked one upon the other & a glass top. The gap has been filled with pictures & pebbles, so shabby chic! :)
Another idea of a coffee table with pallet & mosaic was mixed. We are particularly impressed by the finish of this coffee table.
A coffee table made from recycled wood pallets. Instead of finishing their lives in the garbage, I've decided to recycle some of them for my apartment, and since I'm working with the pallet wood to give them a new life. The pallets are cleaned, restored, finished with some ceramics or wine boxes. The pieces are unique, and homemade with recycling materials.

Beauchet Stéphane
You can also paint your pallet in white for a classy finish, and if you add two Space Invaders stickers, you have a unique geeky coffee table!
Original coffee table with an ethanol fireplace installed in the middle, inspiration coming from Swedish furniture.
I and my girlfriend were looking into a rustic yet elegant design. We couldn't have a real fireplace since we live in a condo, and an elaborate ethanol fireplace wasn't in our price range at the time. She had the idea of building a new table out of a pallet we saw in a Swedish furniture store…! and I decided to cut the middle and insert this little fireplace!

Damien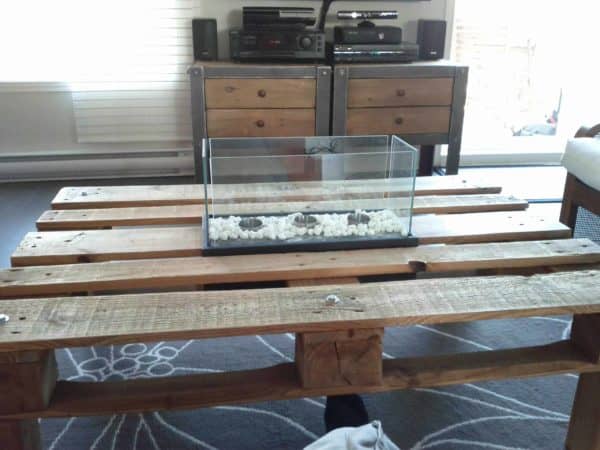 Love this coffee table with an incorporated tree, made from a platform freight pallet and with a little hole to insert a bonsai and give a green touch to your interior design. This is one of "HW Creations". HeadWood is a new design firm that uses recycled material.
Rustic looking coffee table made from two small pallets and with four drawers included, a beautiful piece of furniture, could be perfect for a cottage.
Here is a coffee table I constructed from two smaller pallets. It is complete with four drawers. To keep it completely pallet inspired I used finger holes instead of knobs. Pallets can make such beautiful furniture with a little ingenuity.

Aaric Geihl
A beautiful & original coffee table painted in black and with the Union Jack flag painted on the top. Made from two pallets with four wheels added.
I present you my first custom order pallet build finished just a few days ago. A girl wanted to surprise her boyfriend for his thirtieth birthday, so she asked me to do this cool Union Jack alike pallet coffee table she saw somewhere on the web but out of pallets and with glass on top. Here's what I manage to do in approx. 30 working hours…

Geek Design
Carpe Diem coffee table, white painted with one drawer and one storage to insert magazine or a little wicker basket like in the picture.
Coffee table made from one recycled pallet, metals inserted between the planks & around the table, four drawers and four big wheels. Fantastic work but not for a beginner.
Another coffee table made with EURO pallet and metal.
Black & Red painted coffee table, made with two repurposed pallets. Drawers are included.
This coffee table was made from three stacked American pallets with a smooth finish on top and completed with door kits (Scottish word for crevices) for magazines or papers.
Another Union Jack coffee table Snack made by Seaforth Docks of Liverpool. Like the patina of the Union Flag on the top.
Here is an example of the unique rustic furniture that is unlike anything you will find in the United Arab Emirates (UAE). This rustic coffee table is made entirely of reclaimed pallets, I love the creations that can be achieved from unused pallets.
Original coffee table made from one pallet for the top and olive tree branches for the legs.
Garden coffee table (which explains the raw finish) with two storages for bottles in the middle.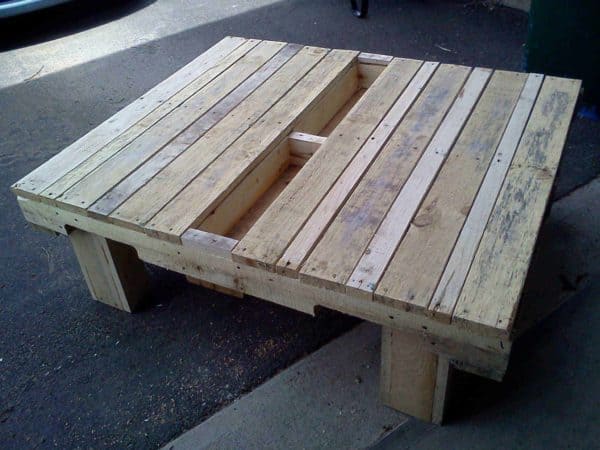 Beautiful coffee table made from two pallets, a glass top, and four wheels. The finish is almost perfect!
It looks like the Union Jack flag is an excellent source of inspiration for pallet coffee table makers! This God save the Queen coffee table was made from upcycled pallets, with an integrated planter and drawers.
You take two EURO pallets, you turn them upside-down, you add some wheels, and voila your new coffee table is ready!
Bi-color (wood & red) coffee table, great to store magazines & books.
A coffee table made from hardwood pallets and that are assembled like a chevron pattern.
Another coffee table for the card players, this time, it's the Joker! :)
This coffee table is made from two repurposed pallets with four boxes for toys as drawers. I have sanded the pallet wood in order for the table to be very smooth and not cause any injury.
Original coffee table made from only one pallet but the legs here makes all the difference, modern & old at the same time, great inspiration!
Another way to use pallet planks to make a coffee table, this one is inspired by the butcher's block, planks are assembled vertically and glued together.
White painted coffee table with drawers. I don't know what I like the most, the coffee table or the cute dog on top of it? :)
One of the most original designs for a coffee table, named « Space bot,» this coffee table was inspired by the old Buck Rogers TV show.
Coffee table made from the base of an old oak dining table, the tray is made of a big wooden pallet, marking "byrrh" is handmade, the worn effect gives it a vintage look and authentic character, it measures 1,20 m x 1m x 0,40m.
Patchwork coffee table made from different kinds of pallets that give a lovely wood patchwork for the top. Pallet planks are assembled vertically, glued together and fixed to a metal frame.
One coffee table, two functions, you can play draughts on this one… that's an original idea!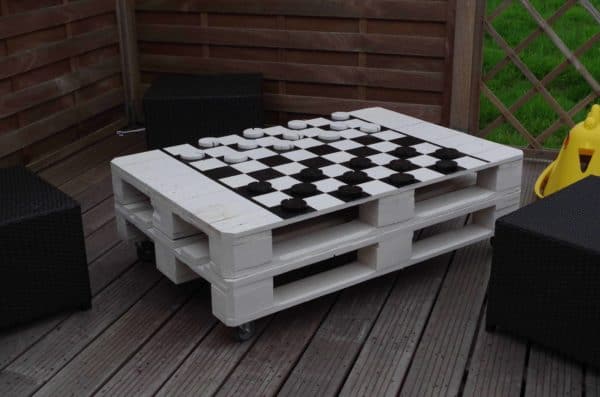 Took three half pallets, an oilcloth and seizure o handled and screwed together. Painted white. Made hole to get into baskets.
I've built this coffee table with repurposed pallet wood and roof rafters and I have integrated a little cactus garden in the center of the table.
Coffee table made from a pallet. Completely disassembled it, reused all the original nails, cleaned them up, shortened them and put them back in. I was forced to use some screws but tried to minimize the amount, though. Created a little storing space to put a magazine, remotes/games, etc…
My first pallet project for my living room. I realized this coffee table with a half pallet. Project valuing products and materials at 85%, the only purchase was the wheels.
Coffee table for Potrero Hill Crossfit Gym in San Francisco. Materials: reclaimed shipping pallet, iron pipe drawer pulls and caster wheels. PH logo inlaid into the top from scrap pallet pieces.
Use pallet wood to make a factory cart. It also tells you where you can buy those industrial wheels and transfer a logo onto your coffee table/factory cart.
This coffee table mix reclaimed wood from pallets in its raw appearance and utility with a sober base, clear lines and design with vintage lines. Chromatic assembly of wooden pallets harmoniously mixing warm and cool colors, patina, with burned pieces, brushed and dark. Designed and built to match the interior decoration of clients to whom it is intended, this unique piece contains a well-hidden secret. By lifting a part of the tabletop is accessed storage space, convenient to put remote controls, magazines, and other everyday items. The project received a protective coating for easy cleaning.
We have seen a lot (maybe too much but when we love we don't count) coffee tables made from repurposed pallets, but this one is maybe the most original coffee table we encountered. I don't know how many works are needed for such a table, but we must say that the result is pretty incredible!
Coffee table made with upcycled pallet wood. I simply cut planks from pallets (without boning them). From all these boards (about 45 cms long), I could make this original and modular coffee table.
DIY PDF Tutorial available for download (Free)!
Beautiful red painted coffee table with a mini herb garden integrated, your cat will love it! :)
We love this coffee table made from repurposed pallets which are design and modular with the upper tray that rises, perfect for eating in front of the TV :) A good job by Todavia Sirve!
Another coffee table inspired by butcher's blocks. Like the planks that are not entirely cut. I liked the result of the sofa table I did before, so to make the set I made a coffee table to match.
Colored coffee table, the top of the table is a mosaic of pallet blocks, very original!
Building several wood stained coffee tables with different designs. I thought that I would dip into my wife's chalk painted. I built the table, as usual, sand and ready for paint. I painted the entire surface white, tapped off the pattern, and covered in grey… VOILA!
Little coffee table with glass dices on the center. The foot is an electrical wire reel.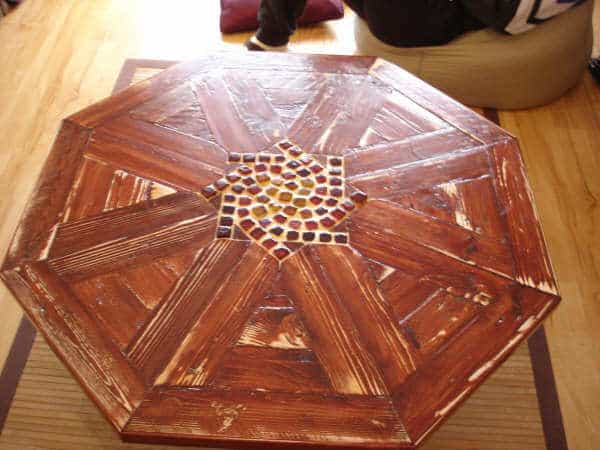 Coffee table made ​​with small palettes painted in gray and white. Stencil tapas appetizer added on top with cocktail pictures and plexiglass protection.
Here's my coffee table made with recovered pallets, clasps and handles, ideal for storing blankets.
This my first realization out of repurposed pallets, a coffee table for my living room.
Another design pallet coffee table by Plateaux Philippe.
Coffee table made with repurposed pallets.
One pallet, belt sanded and screwed together.
Coffee table made with old repurposed pallets with a chevron pattern.
Another coffee table made out of pallet leftover with casters.
Pallet coffee table on wheels made from repurposed pallets.
Outdoor coffee table made out of two repurposed pallets.
That's all folk for today; we think that you have in this article some good inspirations for your next coffee table project :) If you need more ideas, do not hesitate to visit our category dedicated to pallet coffee tables.
Now it's your turn to build your pallet coffee table with our free PDF plans:
DOWNLOAD YOUR FREE PDF PLANS & BUILD YOUR COFFEE TABLE!
And before starting your next pallet project, do not forget to visit our resource pages that could help you:
Enjoy & happy crafting!