One of the most active categories in 1001Pallets is undoubtedly the coffee table one. We received & continue to receive a lot of coffee tables ideas made from repurposed wood pallets, from the simple ones to the more complex and modular ones.
If you are a beginner and want to jump into the beautiful world of pallet recycling, making a coffee table is an excellent project to start with, as a simple coffee table could be done with only one pallet and few hours of works.
To give you some inspiration for your next coffee table, here are 50 of the most fantastic pallet coffee table projects we received over the last two years.
Enjoy & feel free to send us some pictures of your pallet coffee table! :)
Pallet coffee table for the card players!
Design coffee table made from salvaged pallets, wood, glass top & metals.
Unusual coffee table with three legs and an oval shape, really like this one.
Coffee table with an industrial style due to the four big wheels recycled from a massive industry machine.
Original coffee table with a blue mosaic between the pallet planks.
Basque coffee table made from two wooden pallets and the top was painted with a "Basque Red" color.
Three wooden pallets, four silver legs & 1 glass top and you have a beautiful looking coffee table.
Coffee table made from two small pallets stacked one upon the other & a glass top. The gap has been filled with pictures & pebbles, so shabby chic! :)
Another idea of a coffee table with pallet & mosaic was mixed. We are particularly impressed by the finish of this coffee table.
You can also paint your pallet in white for a classy finish, and if you add two Space Invaders stickers, you have a unique geeky coffee table!
Sale
Original coffee table with an ethanol fireplace installed in the middle, inspiration coming from Swedish furniture.
Love this coffee table with an incorporated tree, made from a platform freight pallet and with a little hole to insert a bonsai and give a green touch to your interior design.
Rustic looking coffee table made from two small pallets and with four drawers included, a beautiful piece of furniture, could be perfect for a cottage.
A beautiful & original coffee table painted in black and with the Union Jack flag painted on the top. Made from two pallets with four wheels added.
Carpe Diem coffee table, white painted with one drawer and one storage to insert magazine or a little wicker basket like in the picture.
Coffee table made from one recycled pallet, metals inserted between the planks & around the table, four drawers and four big wheels. Fantastic work but not for a beginner.
Black & Red painted coffee table, made with two repurposed pallets. Drawers are included.
This coffee table was made from three stacked American pallets with a smooth finish on top and completed with door kits (Scottish word for crevices) for magazines or papers.
Another Union Jack coffee table Snack made by Seaforth Docks of Liverpool. Like the patina of the Union Flag on the top.
If you prefer rustic looking for your furniture, here is a beautiful example of the rustic touch that could be given to a pallet coffee table.
Original coffee table made from one pallet for the top and olive tree branches for the legs.
Garden coffee table (which explain the raw finish) with two storages for bottles in the middle.
Beautiful coffee table made from two pallets, a glass top, and four wheels. Finish is almost perfect!
It looks like the Union Jack flag is an excellent source of inspiration for pallet coffee table makers! This God save the Queen coffee table was made from upcycled pallets, with an integrated planter and drawers.
You take two EURO pallets, you turn them upside-down, you add some wheels, and voila your new coffee table is ready!
Bi-color (wood & red) coffee table, great to store magazines & books.
Coffee table made from hardwood pallets and that are assembled like a chevron pattern.
Another coffee table for the card players, this time, it's the Joker! :)
This coffee table is made from two repurposed pallets with four boxes for toys as drawers.
Original coffee table made from only one pallet but the legs here makes all the difference, modern & old at the same time, great inspiration!
Another way to use pallet planks to make a coffee table, this one is inspired by the butcher's block, planks are assembled vertically and glued together.
White painted coffee table with drawers. I don't know what I like the most, the coffee table or the cute dog on top of it? :)
One of the most original designs for a coffee table, named « Space bot,» this coffee table was inspired by the old Buck Rogers TV show.
Coffee table made from the base of an old oak dining table & the tray is made of recycled wood of big pallets, lovely vintage looking.
Patchwork coffee table made from different kinds of pallets which give a lovely wood patchwork for the top. Pallet planks are assembled vertically, glued together and fixed to a metal frame.
One coffee table, two functions, you can play draughts on this one… that's an original idea!
Made from three pallets, painted in white except the top that was patinated to give a vintage touch to this coffee table.
Original coffee table with a cactus planter in the middle.
The originality of this coffee table is the door on the top to access some storage, perfect for remote control, magazines…
Two huge coffee table, simple but very lovely, it was made with only half a pallet.
Huge coffee table made from reclaimed shipping pallet, iron pipe drawer pulls and caster wheels for a nice industrial looking.
Another excellent industrial-looking coffee table with four big caster wheels and a logo transferred to the wood.
Love the colored top of this chromatic coffee table. Chromatic assembly of wooden pallets is harmoniously mixing warm and cool colors, patina, with burned pieces, brushed and dark.
This one if for expert crafters, this creative design coffee table was made with different kind of pallet planks for a modern look.
Modular coffee table with a lot of storage for glasses, bottles and flip top. The best is that we have an excellent PDF tutorial available for download to make the same :) (Tutorial: English / French)
Beautiful red painted coffee table with a mini herb garden integrated, your cat will love it! :)
Modular coffee table with an upper tray that rise, perfect for eating in front of the TV. :)
Another coffee table inspired from butcher's blocks. Like the planks that are not entirely cut.
Colored coffee table, the top of the table is a mosaic of pallet blocks, very original!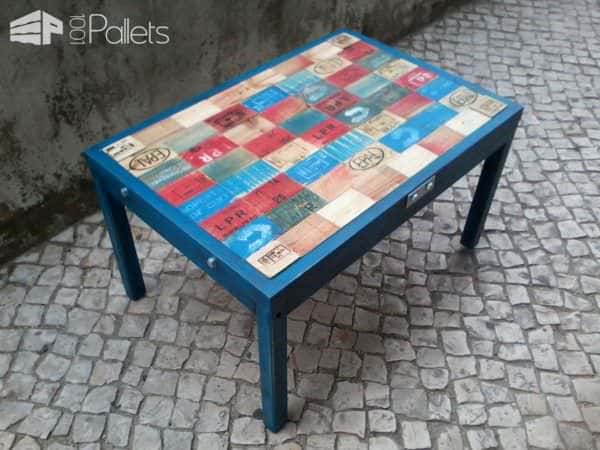 Another nice looking chevron inspired coffee table!
That's all folk for today; we think that you have in this article some good inspirations for your next coffee table project :) If you need more ideas, do not hesitate to visit our category dedicated to pallet coffee tables.
Now it's your turn to build your pallet coffee table with our free PDF plans:
DOWNLOAD YOUR FREE PDF PLANS & BUILD YOUR COFFEE TABLE!
And before starting your next pallet project, do not forget to visit our resource pages that could help you:
Enjoy & happy crafting!