You found some wood pallets, and have the perfect idea in mind. What next? You try to take apart pallets, but break more wood planks than you save. Here's where this tips page will come in handy. We'll share nine ways to learn how to disassemble a wooden pallet, including DIY videos & tips! If you have other ideas to dismantle a pallet not listed here, do not hesitate to comment and share with our community your way of disassembling wooden pallets.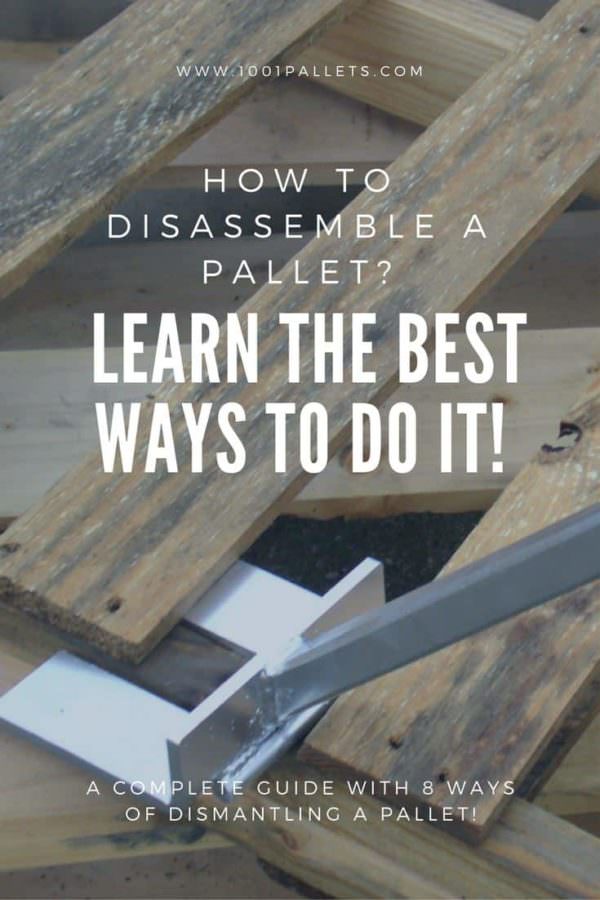 The first task to perform when you start a new project (after finding a wood pallet) and also the first question you'll ask yourself is "how to take apart a pallet?". But you need to know how to do it to prevent splitting and breaking the pallet deck boards and keep nice wood planks. We'll show you eight different methods to break down those pesky pallets – and we address different pallet types and tools you have handy.
How to dismantle a pallet? Our best tips!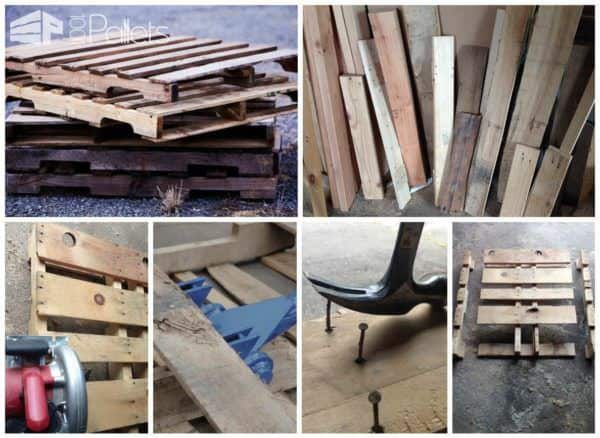 The first thing to know is that disassembling a wooden pallet will require a lot of patience, a lot of attention and a lot of elbow grease, yes this is not as simple as it looks. The method listed below will depend on the tools you have in your arsenal and the type of pallets you want to take apart.
The "No Tools" Way
Imagine you have no tools at your disposal, nothing, only some boards leftover… OK, we must admit that starting a pallet project without any tools is a pretty big challenge, but there is a method to dismantle a pallet with absolutely no tools, you only need two boards or wood planks. And, by applying this method as shown in the video below, you could achieve the zero reject objective without breaking any pallet slats.
The "Hammer" Way
You only have a hammer, and you want to dismantle a pallet. Start by dismantling the base of the pallet by hitting the chocks (or dice or blocks). Then, to detach the top planks/section of the pallet hit on the wood planks behind that maintains the structure of the pallet (their chances that these planks will be unusable as you will break them). That's it! Watch the video below for an illustration of this method. This is by far the simplest way but also the more "destructive" one, and you will lose some pallet planks during the process… but remember that you only have a hammer with you :)
#
Preview
Product
Rating
Price
1
CRAFTSMAN Hammer, Fiberglass, 16 oz. (CMHT51398)

587 Reviews

$13.00

$11.98

Shop Now
2
Mr. Pen- Hammer, 8oz, Small Hammer, Camping Hammer, Claw Hammer, Stubby Hammer, Tack Hammer, Hammers...

589 Reviews

$6.99

Shop Now
3
Stalwart 75-HT3000 16 oz Natural Hardwood Claw Hammer

1,567 Reviews

$7.17

Shop Now
4
Best Choice 8-oz. Stubby Claw Hammer with Magnetic Nail Starter

3,854 Reviews

$16.99

$8.99

Shop Now
5
KURUI 16 oz Claw Hammer & 560PCs Hardware Nail Assortment Kit,framing Hammer Set with Anti-Slip...

51 Reviews

$15.99

Shop Now
This is another video that will show you how to strip a pallet with simple cheap tools in 10 minutes. This method doesn't mark the wood or damage it excessively and only needs a few wooden blocks, a medium-sized hammer, a claw hammer and some vice grips in case the nail heads pull off.
The "Hammer & Brick Chisel" Way
For this one, we suppose that you have a hammer and a brick chisel to take apart your pallet. First, before starting the pallet disassembly process, you will need to cut the nails between the wood planks with the help of the brick chisel. Insert it between the planks and the rafters (or dice or blocks) and then hit it with the hammer. Don't hit too hard as you will break the wood planks, start to hit softly and repeat again and again until the nail breaks.

Bestseller No. 1
Sale
Bestseller No. 2
Bestseller No. 3
The "Hammer & Old Plank" Way
A friend sent us this video on how to quickly dismantle a pallet using a simple hammer and a plank without breaking the planks of the pallet. He tried this method and confirmed that this method is one of the best! He was able to avoid breaking all the planks of the pallets!
This method is one of our favorite methods, it didn't require any pallet disassembly tool, only a hammer and an old wood plank (from another pallet for example) that will be used to absorb all the hammer hits and impacts. Here are the step-by-step instructions:
Wear Safety Glasses – Hammers can shatter small pieces off and recently one of our crafters was injured in the eye! See our Woodworking Safety page! Gloves are a terrific idea too!
Turn the pallet upside-down.
Place the plank (a scrap of wood that is comfortable in your hand) against the pallet block. Strike the block a few times by hitting the plank you've placed in front. This will distribute the blow more evenly and prevent damaging any boards. Rotate through all three blocks on the support section, slowly loosening it as you work. The technique here is to distribute your blows with the small sledgehammer between the three blocks and gradually knock the section apart.
Repeat on all remaining support sections until all are removed.
Place the removed support sections underneath the main body of the pallet.
Using the claw hammer, slowly knock the exposed nails through their holes. If the nails try to bend over, you can grip them with a large set of pliers or clamping pliers (such as Vice-Grips) to provide support. Try to get all nails out of the wood; otherwise, you risk damaging your tools when using the pieces for your next project. Knocking nails out of wood is a skill. that requires you to be patient and accurate. Use the small sledgehammer to tap the nails into shape if they bend.
If a nail becomes too malleable or bent, cut it in half using pliers or a hacksaw and try knocking it out again.
Once those nails are out, use the pry bar or crowbar to remove the deck boards. In this case, as there are seven boards, all the odd number boards are released using the even number boards to pivot the pry bar.
Turn the remaining section over and again on the blocks knock the last strips of wood out.
Be careful when you dismantle a pallet – particularly knocking the blocks of their end boards to avoid injuring your fingers.
Also, take care to avoid kneeling or standing on the nails. The nails are ribbed (and not for your pleasure). Nails also have shards of metal attached from when they were in a nail gun. Avoid running your fingers along with them. You risk receiving metal or wood splinters if you don't wear gloves!
Editor's Note: This technique to disassemble wooden pallets may not work with pallet types using full pallet stringers (the boards with the forklift arches carved in).
Watch the video below for a live example.
The "Claw Bar" Way
For this method, you will need a claw bar (or a pick) and a hammer. This method is used to remove the pallet dice. Using the hammer, tap alternately on the dices to slightly loosen them. To avoid damaging the wood and spread the shock, use a tapping block between the dice and the hammer. Place your hammer between the cross and the dice, and then pry. Reproduce this gesture with the claw bar to finish the removal.
The "Hacksaw" Way
This one is for those who are well equipped and have a hacksaw available. Saw the nails by placing the blade of your hacksaw between the planks and the rafters, or dice, depending on the kind of pallet. If the space to insert the blade is too narrow, pry with a small screwdriver to spread the planks.
The "Sawzall" Way
This method is the fastest one and is like the previous method. You will need for it a Sawzall (also called a reciprocating saw); it's an expense but if you have a lot of pallets to disassemble it could save you a lot of time. Use with your Sawzall a couple of 12'' construction blades that are more robust than the little 5'' blade delivered with your brand new Sawzall. Then, the method is simple, take your Sawzall and set it on its side and simply slice through the nails on each end of the pallet… repeat this operation for all the planks of your pallet. Watch the video below by Sarah James; it's better than thousands of words (and watch the process, not Sarah :))
#
Preview
Product
Rating
Price
1
DEWALT 20V MAX Reciprocating Saw, Tool Only (DCS380B)

8,936 Reviews

$139.00

$99.00

Shop Now
2
DEWALT Reciprocating Saw, Corded, 12-Amp (DWE305)

1,835 Reviews

$129.00

$99.00

Shop Now
3
DEWALT Reciprocating Saw, 10-Amp (DWE304)

1,234 Reviews

$109.00

$81.99

Shop Now
4
BLACK+DECKER 20V MAX Cordless Reciprocating Saw Kit (BDCR20C)

3,501 Reviews

$58.90

Shop Now
5
HYCHIKA Cordless Reciprocating Saw 20V 2Ah 2 Batteries 4 Saw Blades, 0-2800SPM Variable Speed, 7/8"...

2,121 Reviews

$89.99

$79.99

Shop Now
The "Pallet Buster" Way
You can use a pallet dismantling bar or pallet buster such as the one made and sold by Cargo Cycles; it's a little investment but if you have a lot of pallets to dismantle its worth the money spent. It is the most effective and efficient tool for manually stripping the deck boards from the stringers on used wooden pallets so that the timbers can be reclaimed, recycled, or reused for other purposes. With a little practice, a standard wooden pallet can be stripped in about 2 minutes without damaging any of the timbers.
Bonus: In the video below, Uncle Knackers use two techniques, the one from Method 3 and the one from Method 7.
The "Circular Saw" Way
How do you dismantle a pallet without breaking any boards? How do you dismantle a pallet without special equipment? How do you dismantle a pallet without a pallet buster? How do you dismantle a pallet without a reciprocating saw or sawzall? Today I'm going to show you how to dismantle a pallet using a circular saw and a demolition blade – it's fast and easy.
The "The Reclaim Design" method
My wife and I run a small business in Cape Town, making eco-friendly home decor and furniture from reclaimed wood (and other recycled materials). As a result, I've become very familiar with breaking pallets!
I have seen many videos online making claims to break apart a pallet in 3 minutes and whatnot, but my experience has been very far from that, and I wanted to share a more truthful/realistic appraisal of the pallet breaking situation :)
What About The Nails?
What to do with the nails? You have two options depending on the finish you want to make to your project.
Remove the nails
If nails were sawed, use a nail punch, a hammer, and a clamp to remove them. Place the nail punch on the cut portion of the nail, then gently tap with a hammer to make it stand out from the other side. Turn your board and remove the nail with the clamp. If the nails are full, tap on the tip to make them stand out, and then remove them with a clamp. Backfill the holes with wood pulp.
Keep nails
Cut the tip of the nails that protrude from your board with a hacksaw or an angle grinder.
The choice of removing or keeping the nails depends on you! Keeping the nails adds a certain charm and specific rustic characteristic to the pallet craft you're making. However, sometimes you're making a very finished piece where nails won't add to the appeal. It's strictly up to you.
No matter what you do, take care when working with pallets. Don't forget that the nails are in place if you leave them – they could cause significant damage to your tools – and to YOU. ALWAYS wear protective gear, especially goggles or safety glasses when working with pallets.
We hope these methods will help you to disassemble your pallets, particularly for those who don't own a reciprocating saw (Sawzall) or have one at their disposal. Do you have another method to share? Share it with our readers through the comments and if you have some videos or tutorials, do not hesitate to send them to us, and we will update this article accordingly.
Also, don't miss our reviews of the best pallet busters & breakers available, to be sure to choose the best pry bar!
Happy Pallet Crafting! :)