You've been inspired by the tutorials and collected a stack of pallets but decided your project would look better without all the nail heads. Using a hand punch, crowbar, hammer, and pliers can take an entire weekend that could be spent actually building that pallet project. This article will introduce you to different methods for removing nails from boards or blocks of wooden pallets fast and easily.
Remove nails from pallets board with an air gun
After her great video tutorial on how to easily dismantle a wooden pallet, Sarah James is back with another tutorial that will show you the fastest and easiest way of removing nails from your pallet planks. The only tool needed is an air gun such as the Air locker ap700 professional Punch Nailer/Nail Remover available at Amazon for 47$. Of course, always use safety glasses as Sarah does!
Crescent Np11 Nail Puller Tool to Remove Nails From Wood Pallets
In this video, will going to show you how you can use the Crescent NP11 Nail Puller Tool to remove nails from pallet wood boards.
The Crescent NP11 Nail Pulling Plier is designed to pull nails in a variety of work environments. Capable of "Pulling" nails through the wood in circumstances where the head of the nail is not accessible. As simple as grip, roll, and remove nails and staples. Grasp the (nail, staple, tack, etc.) with the pliers and roll the pliers' head to quickly and easily remove the fasteners. Perfect for applications in laying flooring and pulling up old nails, staples, or tacks. Check-out my video and see how I use it!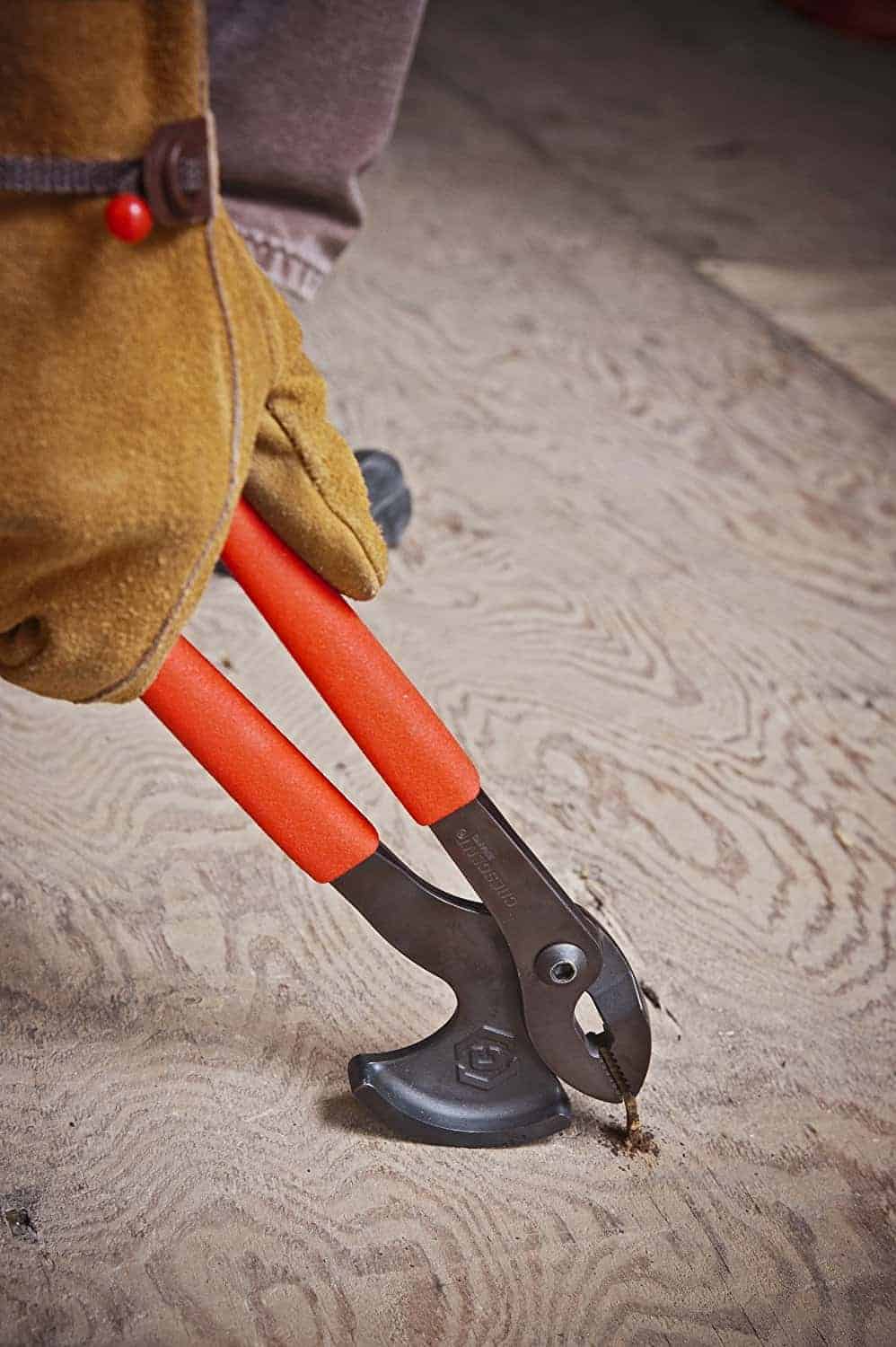 Crescent 11" Nail Puller Pliers - NP11,Red/Black
The functionality of the pliers allows you to easily remove nails from the front or back ot the...
Unlimited flexibility allows user to easily extract nails regardless of size or if head of nail is...
Remove Cut Nails Using Simple Center Punch/Nail Setter
Here's a simple way to Remove Cut Nails using a nail setter/center punch. This means NO expensive power or air tools! All you need is a hammer and the punch.
Remove Cut Nails Using Simple Center Punch/Nail Setter – it's a great, multi-purpose money-saving tool!
Today I'm going to show you a quick and inexpensive way to remove nails from wood that have been cut during the dismantling process. This most commonly happens when you cut pallets with a reciprocating saw or Sawzall saw. You'll need a couple of sizes of nail setters/center punches, but they're very reasonably purchased. The best part is that these tools will do double-duty when you want to recess a nail (such as in pallet blocks) or get a nail head to sit flush without causing hammer dents. You'll find many uses for these handy tools when woodworking!
What's the difference between a Nail Setter and a Center Punch when you want to Remove Cut Nails?
There's not much difference functionally if you're using a flat-tip punch or setter to remove cut nails. However, it is important to know! Nail setters tend to have either a flat tip or a concave/cupped tip to prevent splitting the nail head.
Punches can range from flat tips to pointed tips. They're used to create a starting hole for drill bits, screws or to create a hole in wood or sheet metal. Some center punches are automatic – you don't need a hammer to use them.
Safety tips when you Remove Cut Nails:
 NOTE: ALWAYS use safety-rated eye protection when using nail punches/setters. There is the remote possibility of metal fragments chipping from the hammer or the tool.
Always strike punches with a ball-peen or sledgehammer.
Discard any punch that is bent, cracked, or chipped.
Never use a nail set as a punch.
Discard any nail set that is bent, cracked, chipped, or shows excessive wear.
Never use a nail hammer to strike a cat's paw. The face of the hammer is too small and could chip. Use a ball-peen or a small sledgehammer instead.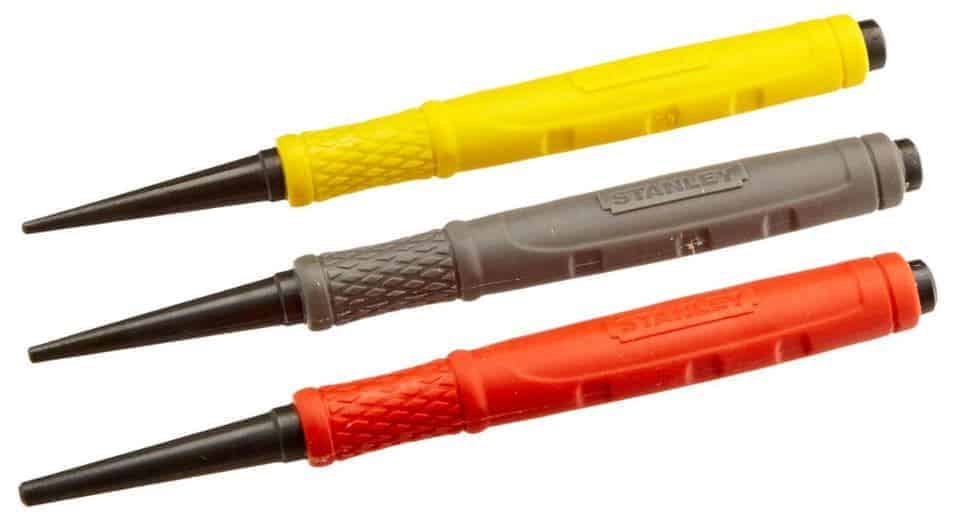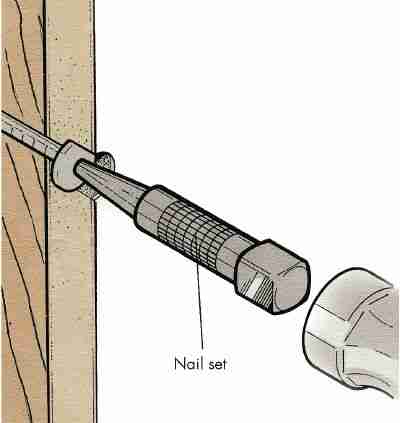 Removing Nails From Pallet Blocks
Removing Nails from boards is easy. However, how do you remove pallet nails from those handy wooden spacer blocks? You have no leverage. There is nowhere to actually sit your hammer & crowbar comfortably to get it, either. How do you hold that block down without damaging the wood in a metal vise if you do find a way?
Learn the easy, effortless way to remove nails without damaging the wooden spacer blocks. Watch my DIY Video tutorial to save your hands, your back, and those cool, handy pallet spacer blocks for lots of fun projects!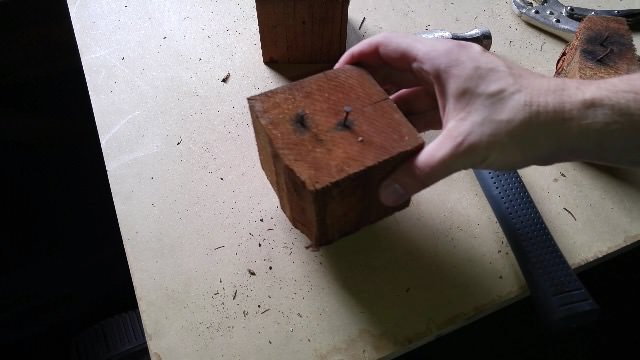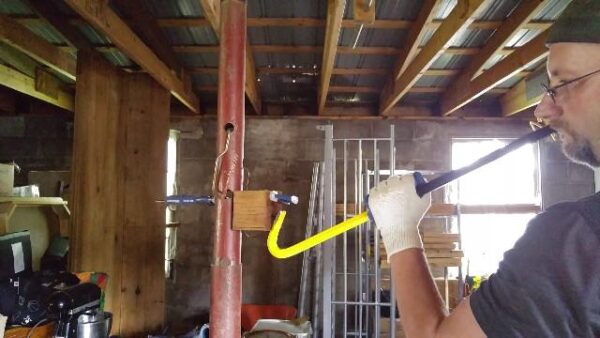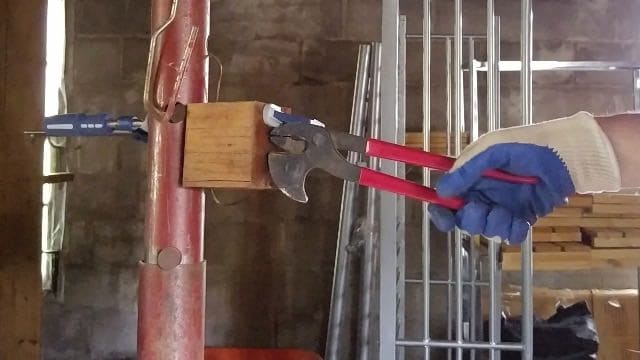 Bestseller No. 1
Bestseller No. 2
Bestseller No. 3
Remove Pallet Nails Efficiently Using An Air Punch
Many people ask me how I can remove Pallet Nails from over 50 boards in less than an hour. I don't cut the nails with a Sawzall or any other tool. My secret is a tool called the air punch. While the tool may not be within reach of everyone, it is good to know that it exists. For those that can afford the tool, it is important to know how to use it properly.
Setting up your workspace for an Air Punch and be able to Remove Pallet Nails easily!
I use a table with a hole and a 5-gallon  bucket that I've filled with either snow or water. This catches the nails and prevents nails from bouncing around and doing damage. If you view the video, you will see a perfect example of a nail flying out just out of bad luck.
Use proper safety gear!  You already know about gloves. I add mandatory eye protection.  Again, you will see when a nail flying out of the catch bucket can be dangerous, even if you're careful!
The benefits of using an Air Punch will speed up pallet dismantling. You'll be able to Remove Pallet Nails fast!
I can go through a decent pile of wood in just a few minutes. First, I separate the boards with a pallet dismantling tool. The air punch works with an internal hammer that moves inside a metal tube. You insert the nail from the other side (sharp side up) into the tube and press the trigger. The nail will come flying out in many cases. If not, use a hammer or a crowbar (or if you have strong fingers like me, your hand).
This will give you nice, clean pallet wood in no time. The boards will not have a mark on them other than the nail holes. After a careful inspection of old nails, you can use the boards in your table saw, planer, or jointer with confidence.