Before starting to work on your next crafting project with recycled wooden pallets, you need to be sure that you have the essential tools to get the things done and to be sure to complete your project in your weekend. Read our list of the ten must-have tools you'll need to tackle any pallet project :)
Hammer
Sale
Bestseller No. 1
Sale
Bestseller No. 2
Bestseller No. 3
Starting a pallet project without a hammer is like cooking a cake without a mold! A hammer will come in handy for almost all your pallet projects and more generally all your woodworking projects. Moreover, a hammer is not the most expensive tool in your pallet crafter kit and is one of the useful ones. There are several types – such as framing, roofing, drywall, ball peen, bricklayers and even sledgehammers. A curved claw hammer is a great all-around handy tool, but you may find you need more types or a different style for your body type. Hammers come in different weights, lengths, and even grip sizes.
Saw / Jigsaw
Sale
Bestseller No. 1
Bestseller No. 2
Sale
Bestseller No. 3
A pallet project means working with wood and working with wood means cutting it, and guess what, the best invention we have made to cut wood is a saw! :) You need a handsaw, but if your budget permits it, you can buy a powered saw like a jigsaw (very useful for precise cutting) or a circular saw if you need to cut a significant amount of pallet planks. Table saws make quick work of ripping long lengths of pallet wood to narrower sizes. Scroll saws are great for those advanced tasks and doing decorative cutouts. A reciprocating saw (such as a Sawzall) does quick work of disassembling a lot of pallets and has many blade styles that can cut through metal and wood. To sum up, a saw is essential for all your woodworking projects! There are even pull saws (cuts when you pull towards you instead of with the push away from you) and can be easier to use if you have less upper body strength.
Tape Measure
Sale
Bestseller No. 1
Bestseller No. 2
Sale
Bestseller No. 3
It seems like an obvious household item, but you'd be surprised at how much you struggle to find one when you need it the most. Never lose your tape measure; it is an essential tool! You may find a device that does double-duty. Some rulers also function as a T-square so you can measure AND check for square assembly.
Screws & Nails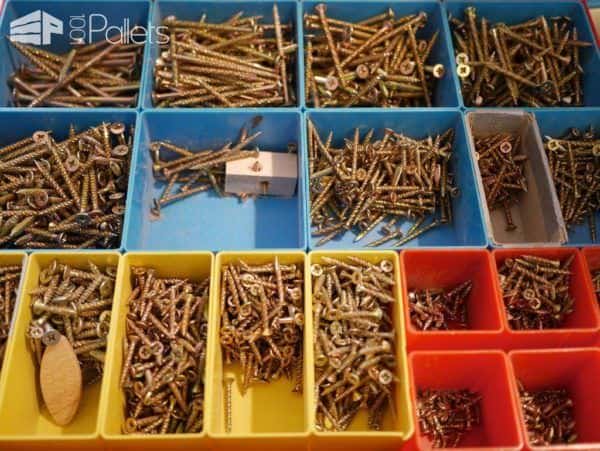 Any pallet project needs screws & nails so must be sure to get prepared and have a variety of nails and wood screws (different sizes and diameters). Some are appropriate for outdoor use (such as stainless steel or deck screws). Some are better for indoor use only, as they don't have the protective coatings or are more prone to rust. If you have to use a lot of longer screws (more than 3″), the different head styles can make a difference, such as a square or Torx style. It gives more surface area for your bit to hold onto and prevents stripping the head of the screw.
Screwdriver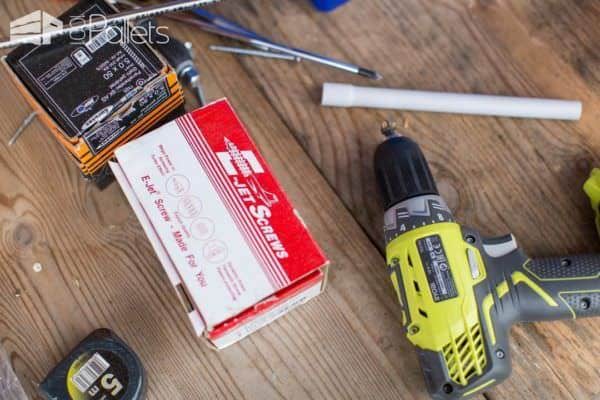 Whatever the scale of your pallet project, a screwdriver is a handy tool. You can start with an inexpensive, manual one. You'd need a Phillip's, and if you're recycling old hardware, you may need a flat (slotted) screwdriver too. As you start to perform more and more projects, a powered screwdriver will save you time, but more importantly, it will protect your hands and muscles. Powered screwdrivers come in different sizes and weights – so you can find one to fit your personal needs.
Drills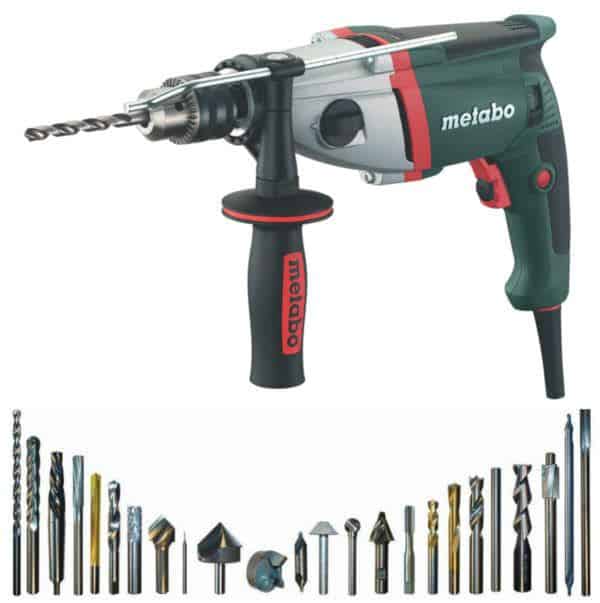 Not one of the most helpful items you could use for working with pallets, but if you want to make some holes on your pallet planks to achieve the particular project, you need a drill. A drill will also be handy for any other crafting project you could have. Drills are great for creating pilot holes. Sometimes pallet wood is aged, and very dry. It'll split apart as you drive a nail or screw through it. A drill will allow you to make a hole slightly smaller than the hardware you're using, allowing the screw to hold the piece without splitting it apart. You can also use a drill to do decorative touches, such as countersinking (drilling out a funnel-shaped hole that lets the screw head to sit flush or slightly below the wood surface). This can add to a polished look.
A Sander
A sander is particularly useful to prepare pallet wood. You can use one to simply remove the very rough edges and splinters, or all the way down to fine finish work. Sanding can be part of your finish or as a preparation step before applying any treatment on it like painting your pallets or varnishing them. Maybe you prefer the raw aspect of the pallet wood, but a sander will come in handy for any crafting project that involves some pieces of wood. There are different types: Random-Orbital sanders, palm sanders, sanding blocks, belt sanders, disc sanders, drum sanders, and more. You can even use sanding attachments on your small rotary tools.
Safety Goggles
Safety first part one: safety goggles are essential for any woodworking project. Make sure you don't forget about these – your eyes will certainly thank you! Remember – EVERY STEP of a pallet project could result in eye injury. Find a pair that you feel is comfortable. You won't wear them if they don't fit well. Proper safety goggles come in many styles now and look like "regular" sunglasses, but they're impact resistant. Don't forget to protect yourself from damaging UV rays!
Safety Gloves
Safety first part two: safety gloves are also essentials when working with wood and even more with pallets. If you want to avoid splinters, which pallet wood is perfect for, don't forget your gloves. Sometimes, your wood piles can also become a haven for bugs and spiders. Some are VERY poisonous. Don't forget – spiders are also fond of the underside of the bins, trash cans, and containers that a lot of us DIY'ers have. Gloves can prevent injury! Follow your manufacturer's guidelines when using gloves and power tools.
Elbow grease
Yes, this is the must-have tool :) Take a good breakfast or a healthy lunch before starting any woodworking project as you will need a lot of elbow grease to achieve it ;) Remember – HYDRATE! Getting fatigued can result in an injury.
And a non-exhaustive list of tools that could be helpful for your next pallet project:
Prybar, chop saw, wood chisel, clamps, nail punch, hand plane (smallish), Sawzall (to get the pallets em apart), draw knife, bolt cutters, spokeshave, custom-built prybar, pallet tool, and vice grip. Do you use any other tools for your pallet works? Which device are you finding the must-to-have? Share with us in the comments.