Here at 1001Pallets, our readers are always asking "Where could I get free pallets near me?" or "Where could I find pallets for sale?" to make their next wood pallet projects. There is no simple answer because it depends on the recycling system in your country, but you can take a look below and find some good places to go or check our "Pallet Classified Ads" to see if anyone is giving away or selling wooden pallets nearby.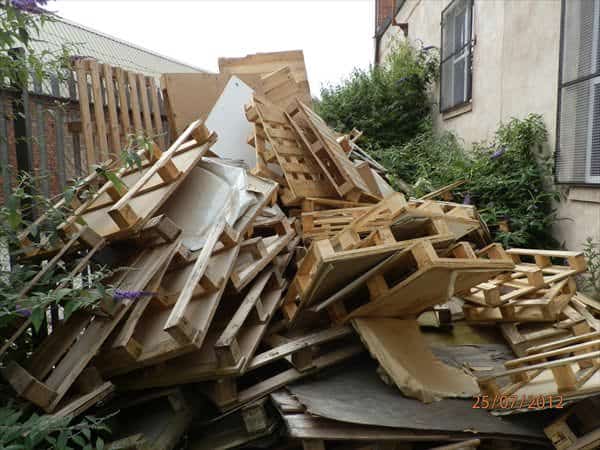 Why searching for free wood pallets & some tips
Because, free is always better, no? Working on 1001Pallets for many years, we've seen countless upcycled and recycled projects made from wood shipping pallets, and a lot of these projects are totally useful for your home or garden improvement projects at a really low cost. It is well known that used pallets are great for the Crafters because they're cheap (Did I say free is better?) and they are relatively easy to work with. We always remember to our readers that they need to pay close attention to what kind of used pallets they are grabbing and for that, we have made a complete tutorial to check if founded pallets are safe for your next pallet project.
Also, there a lot of different kinds of pallets, all are great to work with, and the choice of the used pallets you will find will really depend on the project you want to build with these used pallets (size, dimension, style…). If you need some information about pallet sizes & dimensions before going into your free pallet quest, check our page where we list all the different kinds, sizes, and dimensions of pallets worldwide.
Some tips before showing you where to find used wood pallets:
Most pallets are reused throughout the industry, and they usually stay within the same industry. That means we don't recommend reusing wood pallets from a pesticide or chemical processing company because they're probably full of chemicals products.
The nicest pallets seem to come from dry goods industries. They're usually shipping a lightweight, dry product, so there's no spillage or stains to worry about.
The old grocery store used pallets might seem okay, but they're often covered in spillage and stains which leads to mold. Look at them closely and smell it. Common sense rules here: if the used pallet looks weird, or if it smells strange, don't take it.
Always use gloves. This seems like common sense, but wooden pallets often have nails pointing out and can easily give you a splinter. And, if you're going to cut or sand a pallet, use a mask. We have made a complete article on woodworking safety tips that is completely applicable to pallet working, check our Workshop pallet safety post.
Ok, now let see what are the good places to find free wooden pallets or pallets for sale near you!
Pet Supplies & Food Stores (supermarkets, hypermarkets) for wooden pallets
Food and pet supply stores usually get their products (grains, pet food, etc.) on wood pallets. After the reception, they generally throw the pallets away as they consider them a waste. Check with your local food store or pet supply store if you can pick out some of them. In some countries, a store has to pay to get rid of them, so they will be happy if someone (you) do the job for them and for free! If they are not free, do not worry, maybe you can still buy pallets for only a small amount, for next to nothing.
Always ask the store staff when they are getting their stock, and ask them to keep some pallets for you from that day. Most of the time they will gladly help if they can!
Hardware, Furniture & equipment stores are good places for used pallets
Wooden pallets are used for every delivery of shipping goods and equipment. Most of the hardware materials and furniture equipment that have been imported have traveled on pallets and delivered to your local store through pallets. Pallets can be lined up with tracks and on roads, but they are not always free of cost. You can ask hardware, garden power equipment, and nursery shops by the name of the company in charge of moving pallets from one place to another (be courteous and friendly with them). The best times for contacting such companies are early morning or later in the daytime (Goods are generally delivered in the morning). They provide neat and clean pallets. Hopefully, you will meet some store owners that will only give you some wood pallets for free as they will throw them away and you will do this job for them indeed!
Does Home Depot give free pallets?
Home Depot does not give their wood pallets away as they have agreements with their distributors that recover them.
Does Walmart give free pallets?
Walmart does not sell or donate its own pallets, but recycles or reuses them. However, Walmart does sell recovered (and new) pallets online.
Newspaper companies have a lot of free pallets to give
Newspaper companies receive their shipments on pallets and often have lots of pallets to throw away. If you have the chance to be near a newspaper company, give them a call.
A construction site for raw wooden pallets
You can also find good-quality pallets from builders. Try to build a friendly relation with them to get the information and method of getting those pallets. You can get wood pallets that can be converted into desks, tables or chairs.
Small business dumpsters are a treasure for pallet wood
Small businesses are the best place to look for pallets as they sell their waste materials to earn some money. They lack the resources to recycle the pallets and get them stacked in dumpsters. They can provide you with a slow and steady supply of pallets at quite a low cost. Focus on small business that generates the kind of pallets that meet your needs. Watch mainly for pallets used to ship seasonal items such as salt or fire logs as they are more likely to be considered as a one-way shipment (not part as a reusable pallet program or property of pallet rental company) and therefore, better candidates to be available. Large businesses, on the other hand, have adopted various procedures to use their waste. They usually have wood pallet programs in place to reuse pallets internally, return them or recycle them. You can go to any small business factory or outlet and quickly get the type and quantity of pallets you need.
Schools can be a good source for pallets
You can sometimes find wooden pallets at schools. In general, they have ongoing small quantities of wood pallets that were used to ship copy paper, books, and other school supplies. Those wood pallets can be found behind the school, or be collected and aggregated at the school district works yard.
Fresh produce markets
At the end of fresh produce markets, you can find nice quantities of empty wood pallets, and sometimes these are available to pick-up. Fresh produce markets may have agreements with their suppliers in regard to returning them, but it is not necessarily the case and we recommend asking for wood pallet availability, you may be surprised by how many pallets you could find in this way.
Read: How to dismantle a wood pallet?
New openings are always a good reflex for finding used wooden pallets
Stores carry all their shopping items on wooden pallets from one city to another. If you hear about the opening of a new shopping mall or store in your town, go there and ask to purchase pallets at your fixed price. They are busy with other tasks at this time and want to get rid of their scrap as soon as possible, instead of piling it. Many stores can give them to you without taking any charges.
Check with your local pallet recycler or manufacturer
If you live near a big city, they're a chance that you have some kind of pallet recyclers in the area. They often receive wooden pallets in excellent conditions but often, they are non-standard pallets that have little or no value to them, except for dismantling or grinding. If you have a pallet recycler in your area, check with the owner, explain the type of wood pallets you need, they may have non-standard pallets available for free or to buy at a reasonable price.
Although the game is to obtain wooden pallets for free, the reality is that buying a wood pallet is not all that expensive. It depends on how many pallets you need for your project. The advantage is that they typically look nice, constructed from fresh new lumber. By the time you consider the cost of your search for used wood pallets, it might just turn out to be a more cost-effective solution to purchasing pallets from a local pallet manufacturer if you don't need much of them. You could find wood pallets that are off-sized or with some little defects for a cheap price but could turn into a great buy for crafting!
Find free pallets outside of businesses
If you notice wood pallets placing against the back of business or at a construction site, site management or operators might accept letting you take them, but be sure to ask before. You should not assume that pallets left outside of a business or a construction site are there for people to take them. While it seems a reasonable assumption that if businesses left pallets outside and unprotected that they want to get rid of them, this might not be the case. Sometimes businesses store pallets outside because they don't have room inside to keep them until they are picked up.
Various states in the US have pallets and containers theft laws that might be applicable. If the pallet has an ownership stamp on it, such as CHEP, PECO, Coca-Cola, U.S. Postal Service or any others, then it should not be taken. Such companies vigorously enforce the property rights to their pallets, and you may find yourself charged with unlawful possession of them.
Check Craiglist for used pallets
We see pallets listed in the free section of Craigslist all the time. They usually are picked up very quickly, so you should check the column regularly and jump at a new listing right away. They're also a lot of pallets for sale on Craiglist and some at a very affordable price.
Read: What are the best wood joints for pallet project?
Search the internet for wooden pallets classified ads
The "last but not least" place where you can get the pallets is the internet. You can search Facebook and other social media along with search engines to find some pallets for sale at quite cheap rates or often free of charge.
Many businesses that receive shipments on pallets often do not have any pallet recycling process and discard the unused pallets. A company having a large number of pallets to be discarded may use a pallet recycling company (that is increasingly in demand). You may have better luck with a small business that occasionally receives a shipment on pallets but has not enough volume to use a recycling company. You may also see pallets laying around on building sites. You should know that building companies are often granted a discount for returning pallets. So, if you see some unused pallets nearby a building site, it doesn't mean they may be taken freely. Make sure you ask every time before taking them.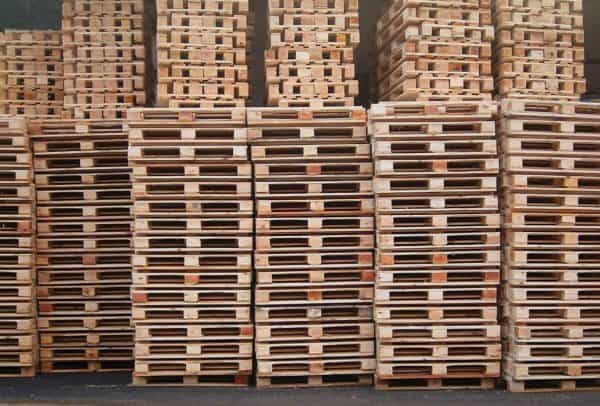 Remember these tips:
Always think small
It will be easier to deal with some free wooden pallets with a little business. Large businesses already have processes to handle their unused pallets. Small businesses usually do not have the resources or volume to unload scrap and spare pallets – so more often than not, they end up in their dumpster.
Learn the art of asking for free pallets
Always, always ask in a friendly manner! For a business – first thing in the morning or late in the day are some of the best times to stop in and ask.  Why? Those times tend to be the slower periods – and the owners are much more likely to take the time to talk to you. And when you ask – be sure to share your plans with them (people love to help others if they are motivated by their projects). Trust me – when people find out that you want to build a coffee table, a garden bench, a chicken coop or a playhouse for your kids – they are much more likely to be cooperative and help you.
Develop a relationship
If you do find businesses or a builder that has available items, work on developing a relationship with them to get materials as they become available. Exchange email addresses and stay in contact and if they have given you some pallets for your project, do not hesitate to send them back an email with the photo of what you made from their "junk"! This applies to everything, not only for pallets!
Use the power of the internet
As already said, Craigslist is a good starting point, but you can also try Facebook community pages such as our Facebook page "1001 Pallets".
Also, if you are ready to buy new or nearly new wood pallets, you can find some at Amazon like recycled 1000 Lbs. wood pallet. But, they are expensive and this is not a solution to consider if you need more than one pallet for your project.
We regularly receive new classified ads from people giving or selling pallets. You can be notified if a new classified ad is available in your area. Simply subscribe here.
And remember to read our "How to tell if a pallet is safe for reuse" before going in search of free pallet wood! Do you have other tips worth sharing with our readers?
Pallets to avoid
Food-Carrying Pallets: An IPPC (International Plant Protection Convention) "wheat stalk" icon means that the pallet was used to carry food. In 2010, the National Consumers League ran a test of 70 food-carrying wood pallets and found E.coli on 10% and Listeria on 2.9% of them. If you suspect that the pallet carried food previously, you likely want to avoid it. One exception might be if you intend to use the pallet boards to build a compost bin, as compost piles themselves are veritable factories of microorganisms.
Chemically Treated Pallets: Along with the wheat-stalk icon on those food pallets may be the designation "HT" or "MB." HT means that the pallet was heat-treated. "MB" indicates that the pallet was treated with methyl bromide, a neurotoxin and suspected carcinogenic. We have an in-depth article to know how your pallet was treated, see the link below.
Read: How to know if your pallet if safe for reuse?
Petroleum-Stained Pallets: Oil and other petroleum products seep into the cells of wood and are nearly impossible to remove, even with a pressure washer. Paint cannot effectively encapsulate petroleum-stained wood, either.
More
Please leave a comment to tell us where people can find some free wood pallets. Do not forget to mention your country.
Are you a company, do you have wooden pallets to give or sell or are you looking for your wooden pallets to be picked up? Do not hesitate to leave a classified ad; it could help you to get rid of your useless pallets and make some of our readers happy :)
Already found some pallets and needs plans? Check out our selection of free pallet PDF plans to download or our advice for the seven must-follow sources for free woodworking plans!