How do you attach pallet boards together? WHY did you join them together in that fashion? Here's a list of common types of wood joints and some examples that may help you when deciding how to build a pallet craft. This is not a detailed tutorial on how to do the wood joints, as some are more advanced techniques. Rather, this is just a tool to help you identify the common types of wood joints you see in builds and hopefully give you ideas for your next project. If you're a joinery pro, PLEASE submit a tutorial on how to do some of the types of wood joints listed in this article.
DOWNLOAD YOUR FREE GUIDE & LEARN 13 WOOD JOINERY TYPES!
The Butt Wood Joint
This is probably the type of wood joint we non-pro crafters see and use the most.
It is simply two pieces of wood that are pushed against each other – either perpendicularly, such as with a picture frame, or along the same plane, as when we bond several boards side-by-side to make a larger piece of wood (for a tabletop as an example). It's a wood joint for rough or rustic work. It can be left visible, or it can be countersunk and either filled with a wood putty or with wooden plugs. There's nothing wrong with this joint, but it isn't automatically a stable or strong joint, particularly if you rely on glue alone.
Let's use the picture frame as an example. If you were to only glue the end grain of one board to the long-grain of another, even when the glue dried, it would be easy to push the ends and separate the wood joint. So what can we do to make it stronger?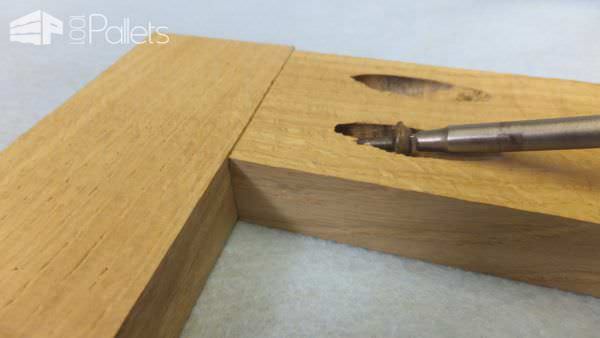 The most common ways to reinforce this type of wood joint are the following:
Fasteners – nails, screws, and even metal brackets can be used to reinforce the joint.
Glue added along with your fastener of choice.
Dowels – drill holes and glue/insert wooden plugs.
Biscuits – eye-shaped thin pieces of wood that are attached by using a biscuit joiner tool that will cut a half-moon shaped groove in the two boards to be joined. The biscuit is put in after gluing the grooves, and the wood joint is clamped. Biscuits are especially good with plywood and other manufactured pieces and provide a lot of gluing surface in a small amount of space.
Pocket joinery – such as Kreg joinery tools where holes are pre-drilled to toe-nail fasteners in. This is stronger than just screwing into the end grain, and the advantage is that it can be hidden. Pocket joinery is pretty fast and strong, but you have to have special tools to do it correctly.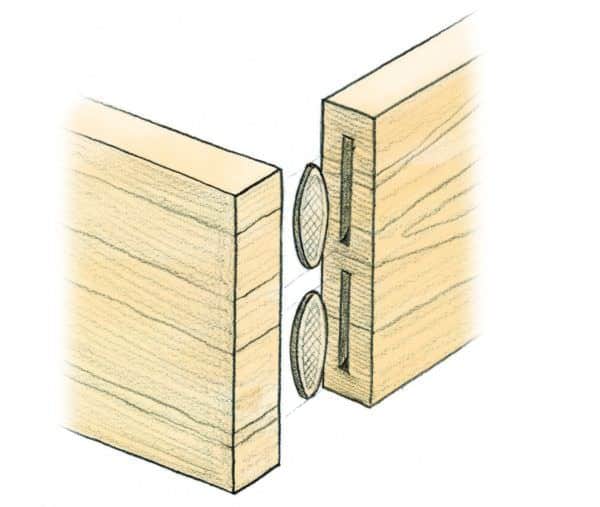 However, the other example of making a table top out of several boards glued with the grain can be stronger than the wood itself if proper clamping pressure is applied.
Another type of wood joint that falls into this category is the miter joint. Let's use that picture frame again. Instead of just pushing one straight board against another, if you were to cut the two ends at a 45-degree angle, that's a miter joint. The advantage is that it provides a bit more gluing surface. The disadvantage, as with all butt joints, is that end-grain of wood doesn't like to take glue well, so it's always going to be somewhat weak. Now if you were to make a small, light piece, the new types of glue would probably hold fine, but for a larger piece, you need to think about reinforcements.
A straightforward and decorative option is to use a spline. A spline is nothing more than a notch cut across the miter joint and either a same-toned wood or a contrasting-toned wood – like a shim – is inserted into the gap with glue. When dried, the excess that protrudes can be trimmed and sanded down flush. This provides added stability – similar to a biscuit, but it's not hidden.
The Half-lap Wood Joint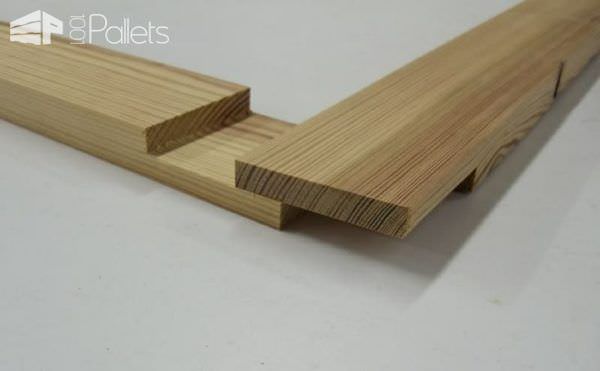 If you're making a piece of furniture where two boards need to be joined in the middle, instead of just the ends, this is a handy type of wood joint to be aware of. A half-lap joint is where a portion of wood is removed from both of the two boards, and they'll end up fitting together like a puzzle piece. The easiest way to visualize this is to picture chiseling out a 1" wide groove only about half the way through each board. When the two chiseled-out pieces fit, the boards will intersect, and one side won't protrude more than the other. It gives a nice, finished look to the piece. Since there is material removed from each board, it does lessen the integrity slightly, but it may be worth it. The joined area can be just glued, or fasteners can be added as well.
The Rabbet Wood Joint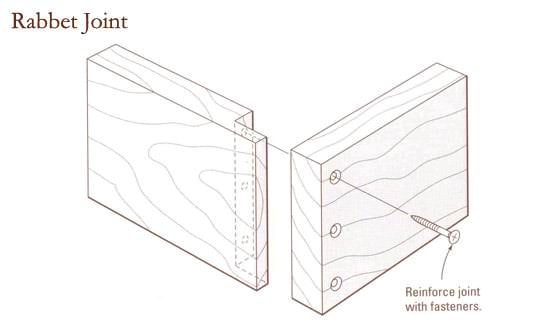 This is another dado joint cut along the edge of a board instead of the center of it. You'll frequently see it used for joining cabinets or for making boxes where two edges really need to fit together snugly. A dado set or dado blade is a type of circular saw blade that you'd typically use on a table saw or radial arm saw.
This blade set cuts out a wider swath of wood than a single table saw blade. There are two common kinds of dado sets a stacked dado set and wobble blade.
The Tongue-And-Groove Wood Joint
Have you worked with wainscoting, interlocking siding, or laminate floors before? Then you've probably seen a tongue-and-groove wood joint. This tends to be a wood joint used to hold two boards together on their edges, rather than along the ends. One end is curved so that it has a protruding piece (the tongue), and the matched piece is carved with a recession (the groove). They should interlock and fit snugly together.
This type of wood joint can be further reinforced with glues (such as with manufactured products). Sometimes the tongue and groove are cut at a slight angle so that the boards must be attached at an angle and then pushed down to "lock" in place – particularly laminate floors these days. It is much easier to do this with the proper router bits. There are hand-planers that will do this too.
The Dovetail Wood Joint
This is a beautiful and very strong wood joint. Think of a fancy jewelry box where you can see where the wood pieces interlock like fingers. No nails or metal fasteners are required typically; only a little glue to help secure it. The notches are precise and may need a few taps to get the pieces to fit together. Some dovetail joints are spread wider towards the end so that once interlocked; they couldn't pull loose unless they came out in the same direction they were tapped in. These are durable joints, and since they can only be disassembled in one direction, they're stable and take a lot of abuse. Think of an old drawer. They're frequently dovetailed, and they survive kids! A similar type of wood joint is a finger joint – these tend to be a dovetail that tapers instead of widens towards the end of the wood.
The Mortise & Tenon Wood Joint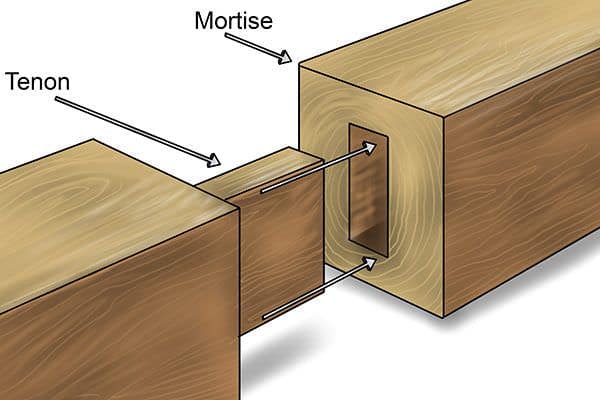 It's one of the oldest types of wood joints around. It's an exaggerated form of a tongue and groove where one protruding piece of wood fits into a notched piece of another board or timber. The mortise is a square or rectangular hole carved into one board. The tenon is a corresponding piece carved into the joined section. They can be glued, dowelled, or fastened, but some of the oldest wood joints are stable by careful joinery and nothing else. You'll see a lot of this type of wood joint on trestle tables or on exposed beam work where nails/hardware would detract from the overall look of the piece.