When palleting or woodworking, having a good set of plans can make the building process faster and more productive.  A quality set of plans includes photographs, material lists, cutting diagrams and step by step instructions.  Finding quality sources for these types of projects is not that easy… That's why we compiled our best 9 sources for detailed woodworking plans (not specifically pallet wood).
Yellawood Website
Two months ago, I stumbled upon the YellaWood internet site. The brand provides Lumber to pros and customers in most of the US states. They had a good idea to offer their readers incredibly detailed plans. You can access more than 40 projects. And if you dare to let your email address, you can also download their « free project plans book » (which I did, and the image above is a screen capture of one of their tutorial).
The 1001Pallets Tutorial section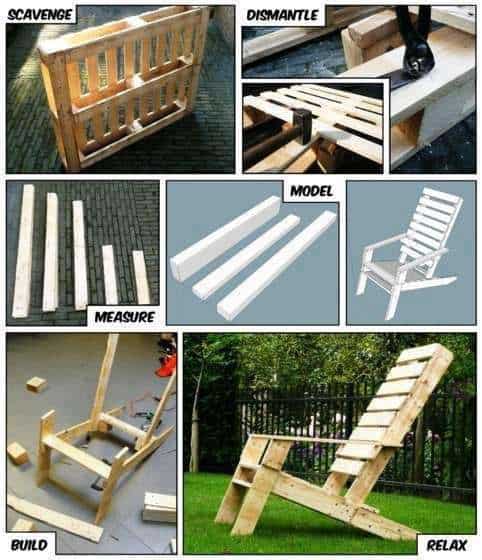 Since four years now, we try to be the finest repository of pallet projects. Most of the submitted plans are not detailed to be called a tutorial, but we compiled the most detailed into downloadable PDF. Next year, we'd like to add a video tutorial section as well… work in progress!
Plans from the University of Tennessee
When you land on this page, you'll be back in 1999, but the University of Tennessee Extension maintains a collection of over 300 building and equipment plans, and all are now available in electronic format for download. Most of them were scanned, which means they are old-school but still useful as they are well sorted. Plenty of plans a boy scout needs! Enjoy!
Also, the Iowa State University has some good plans that can be useful for your projects.
My outdoor plans
Julian is a civil engineer, and when he bought his house, he realized there were not enough detailed and free plans for outdoor projects. So in his spare time, he uses his engineering skills and design expertise to create easy to follow DIY projects. You can now find more than 800 projects on his site, sorted by categories. All plans are 100% free, and pretty well executed! Most of them are useful for outdoor pallet projects. Good job Julian!
The Des Conf
Rayan is the founding editor of The Design Confidential and also a contributing editor for HGTV, Domino, and Apartment Therapy. On TDC, you can sort the projects by cost, room, project type, etc. I love the modern twist she gives to projects (see an example of Indoor Outdoor House Bed Playhouse + Outdoor Daybed Lounge).
Ana White
 An entirely different approach to woodworking.  Anna White is a homemaker who lives in the middle of nowhere Alaska.  She's built a site that caters to woodworking women and has tons of furniture project plans all designed to use standard dimensional lumber available at any home center.  Most projects can be built with a circular saw, screwdriver (or drill) and some clamps.  Advanced techniques use a jigsaw.  Mrs. White does an exceptional job designing plans that simulate furniture available at retailers such as Pottery Barn or Crate and Barrel.
Sketchup 3D Warehouse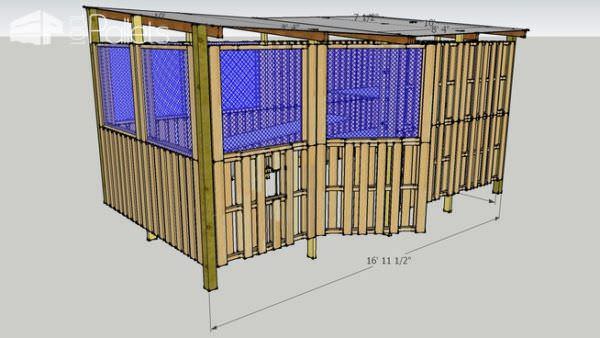 Everything is said in the name, the free software made by Google also offers a resource center. There are so many 3D models that you have to sort. Note that most of the time, no cut list is provided, but if you know how to use SketchUp, then you can rework and tailor models you downloaded.
Justwood.it: 15,000 Woodworking Plans to download
Here is a newcomer to our list of sites for woodworking plans! Justwood.it gives you access to more than 3,200 PDF which represents around 20,000 plans to download. All the plans are free, you only have to sign in and you'll have access to their collection of plans, you can download all of them freely! Check out our review of justwood.it!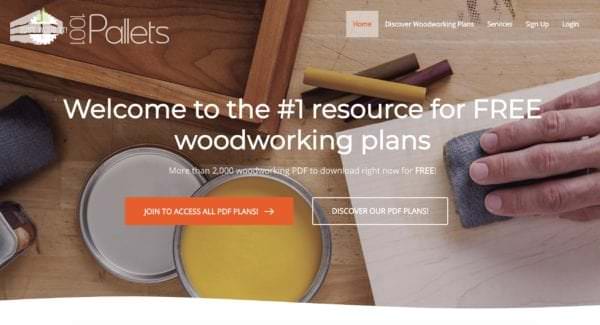 Craftsmanspace
At crafftsmanspace, you can download free DIY plans, 3D models, vector patterns, technical books…
They have a large number of free metalworking and woodworking plans that are suitable for both beginners and experienced craftsmen. They also provide 3D models that are suitable for use on CNC machines or 3D printers, as well as free patterns for decoration and using for such techniques as marquetry, intarsia, scroll saw, wood burning, painting, fretwork, carving, etc… and you can also find a nice selection of free eBooks.
Where do you find woodworking plans? Share your links below, and we'll add them to the list.