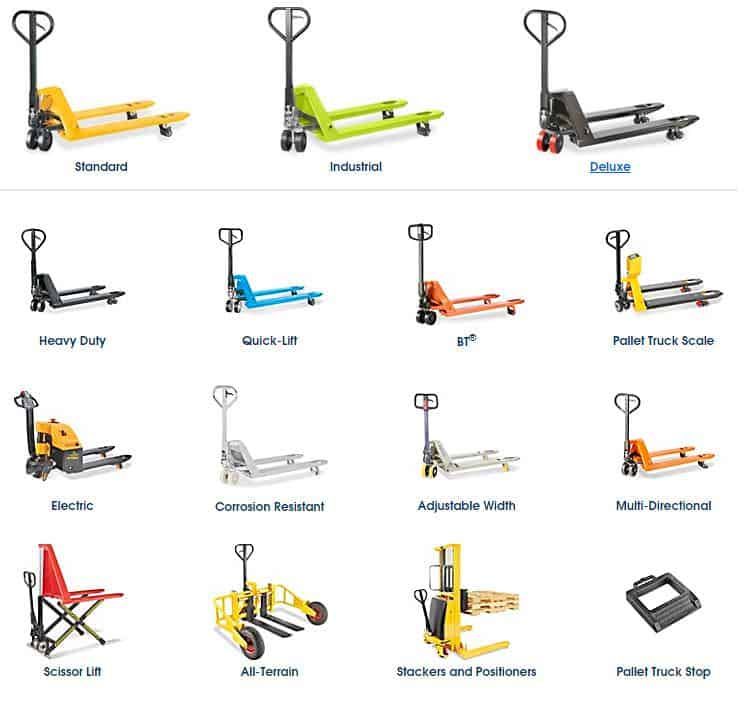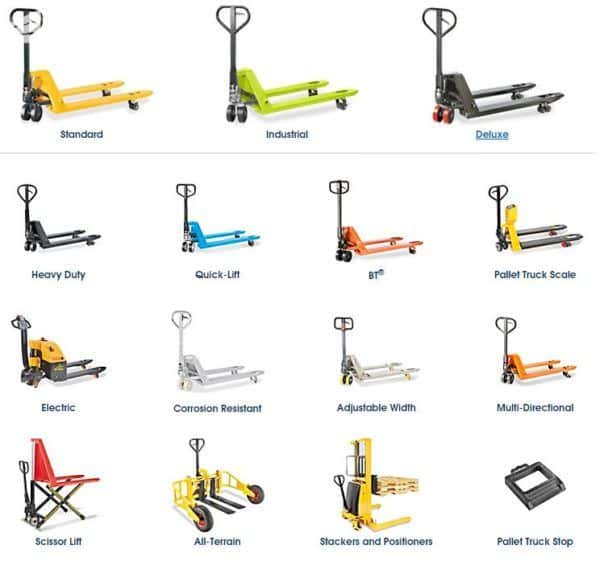 If you come across this page, it is probably that you are a not a handyman but rather a professional who is looking for real plans to buy his pallet jack. You're in the right place. If you already know which pallet jack to choose but want to find a provider in your area, then we recommend you to browse this site that sorts suppliers with some criteria including geographic area or country.
If you are looking for more general considerations, you will find some items that will inform you below as our reviews of the ten best pallet jacks you can buy.
What is a pallet jack used for?
A pallet jack, also known as a pallet truck, pallet pump, pump truck, dog, or jigger is a tool used to lift and move pallets. Pallet Jacks are the most basic form of forklift and are intended to move heavy or light pallets within a warehouse.
What are the different types of pallet jack?
You can distinguish:
Manual pallet jack, hand-powered and most commonly seen in retail and personal warehousing operations. It can carry a load of up to 5,500 lbs (2500kg). This type of pallet pump is a low lift sort used to move palletized-loads over small distances. The first one seemed to appear in 1918 as featured in the image below (Source: Popular Science Monthly. Vol. 93 no. 6 Dec1918). Early types lifted the forks and loaded only by mechanical linkages. More modern type uses a hand-pumped hydraulic jack to lift.
Powered pallet jacks,

 

also known as electric pallet trucks, walkies, single or double pallet jacks, or power jack, are motorized to allow lifting and moving of heavier and stacked pallets. Some contain a platform for the user to stand while moving pallets. This kind of pallet pump is ideal for warehouses where heavy palletized loads that weigh more than 5,000 lbs are handled. The electric pallet jack has the load lifting capacity of up to 6,000 lbs. They are best for use on loading docks and staging areas. Some of them can even lift much more.
How much does a pallet jack costs?
The standard pallet jack is the "5500 lbs (2,5Tons)": see picture above. The first prices start at 250$ on Amazon while there seems to exist low-cost ones from 119$ on Alibaba.
How wide is a standard pallet jack?
The North American industry seems to have 'standardized' pallet jacks in several ways: Width of each of two Forks: 7″ Fork Width, i.e., The dimension between the outer edges of the forks: Available as 20¼" (51.4 cm) and 27″ (68.6 cm).
How do you raise a pallet jack?
To raise the forks, push the actuating lever down and pump the handle up and down until the pallet has reached the desired height. A clearance of one inch between the floor and pallet is usually sufficient to move the load. To move a load, engage the actuating lever in a neutral or middle position.
What are the ten best hand pallet jack available on the market?
Now that you know nearly everything on pallet jacks, maybe you are searching for a pallet truck/jack for your business, there are many options for you to choose from and you're asking yourself "which pallet jack or pallet hand truck is the best for my money"? We are going to review some of the best pallet jacks available, and you can check our reviews below.
Features to consider before buying a pallet jack:
Pallet Jack Weight
We review the weight of the pallet jack because significant lift truck manufacturers make claims about the quality and durability of their equipment based on weight. For example, Crown Lift compares the weight of its electric pallet trucks to other manufacturers to claim quality and durability. We know that steel is heavy and expensive and that the more steel in a pallet truck might indicate a cause for a higher price. On the opposite, we could expect a lighter pallet jack to cost less.
Pallet Jack Features
It would be hard to list all the feature claims by the different manufacturers of pallet jacks.  Accordingly, we have listed the key features we see as noticeable and appropriate for comparison. For example, grease-able bushings: these are the little metal sleeves inside the pivot point and axles that hold the pallet jack wheels. Bushings can be made of brass or steel. When the pallet jack lifts or lowers, these bushings will experience wear. With grease-able bushings, the company is offering you the ability to increase the life of your pallet truck, which is a sign of durability.
Pallet Jack Wheels
Pallet jack wheels are generally made from polyurethane and should be easy to change as they wear out. This ease of operating is an important feature and will extend the life of your pallet jack.
Pallet Jack Warranty
We suppose that the warranty a company offers reflects the trust they have in their products. But, it also adds cost and value. A pallet jack with a greater warranty would be expected to have a higher price than a pallet jack with a smaller warranty. This is something to take into consideration when going in your quest for the best pallet jack out there!
Pallet Jack Lowered Height
The pallet fork lowered height is an important point to take into consideration. The reason is simple; if the pallet jack's forks can lower into a low profile, it would enter into the pallet more easily. And with the various pallet sizes available on the market, we often encounter cheap pallets with a smaller opening, making it difficult for a pallet jack's forks to enter the fork pockets on the pallets.
Which Hand Pallet Jack is Best?
We will not declare a winner in this review as the purpose is mainly to help you find the one that will best fit your needs. But the general considerations are:
a heavy pallet truck,
a low lowered height pallet truck,
a good capacity,
with grease-able (brass) bushings and,
a long warranty.
The pallet jacks we choose for our reviews to fulfill those considerations and are in our opinion the best.
Our Reviews of the ten best pallet jacks available:
Vergo S5500L Industrial Heavy Duty Pallet Jack Truck
This pallet truck is one of the best pallet trucks with 5,500 pounds load capacity, protective polyurethane wheels, and 27 x 48 inches L forks. It is 48 inches tall, weighs 160 pounds, and is 65 inches long. The tapered design of its entry rollers, weld-less integrated pump, overload valve on the pump and control for the lowering speed make it more efficient in its class.
We also like that it has a 210-degree steering arc for easy handling, durable steel construction with a powder-coat finish so you could use it for a long time. This pallet truck is reasonably priced and is made from high-quality construction.
Vergo Pallet Jack Features:
Controllable low speed
Reliable, durable and robust pallet jack with heavy-duty reinforced forks
Ensures no leakage with weld-less integrated pump
5500 lb Load Capacity
Pros:
Cons:
The load wheels are too soft.
It got stuck under a pallet the first time it was used.
Crown PTH Heavy-Duty Pallet Jack, Hand Pallet Truck
This manually operated pallet jack that withstands the weight of 5,000 pounds has industry-leading quality, support, and durability. It is the best choice for pallet transport as it will pull its own weight every day for many years to come. It has an ergonomic handle and three-position lever with raise, lower, and neutral positions and it also has a 200-degree steering angle.
You will love that it comes with a factory warranty and if you need a new part, Crown Heavy will ensure that the parts you need are readily available and will be easy to be replaced. The built is fantastic, and you would not find such type of build in any other similar product available in the market at present.
Crown Hand Pallet Truck Features:
Known for its support, quality, and durability,
Three position lever and ergonomic handle,
A 200-degree angle of steering with 7-inch moving wheels,
Easy to service and replace,
Factory warranty.
Pros:
The price is right,
It works quietly and smoothly,
This product is known to last many years.
Cons:
The cost of repair kits is more than the cost of a new pallet jack,
The seals started to leak after being used for a year.
Sandusky PT5027 Heavy-Duty Hand Pallet Truck
This heavy duty pallet jack by Sandusky has two forks, one handle, nylon wheels and rollers to be used to transport and lift pallets. It is made out of steel can carry up to 5,500 pounds, it resists corrosion, rust and wears. The shape of the handle makes it easy for you to transport your loads as it has a trigger that releases and lowers the forks.
You will also love that the wheels are made of nylon and will not scratch up your floors. It weighs 198 pounds, so it is easy to move and transport while it is carrying big loads.
Sandusky Hand Pallet Truck Features:
Made of steel to resist corrosion and wear and tear,
Lifts and transports pallets,
Nylon rollers prevent scratches to the floor by supporting heavy loads as make easy swivel for effective maneuverability,
Releases and lowers the forks with a trigger on its handle,
Load capacity 5,500 lbs.
Pros:
The handle is all made of metal,
It provides a smooth ride,
It's very well built.
Cons:
The handle could break easily in certain situations, after a couple of months of light use.
JET PTW-2748 6000 lb. Hand Pallet Truck
Along with being able to move load up to 6,000 pounds, this pallet jack can turn 200 degrees so it can move around in tight spaces. It is made of solid steel and for, this reason, its pushrods will never have to be adjusted, which is a huge advantage.
The poly-over-aluminum steel wheels make it possible for this pallet truck to move across uneven floors. It has fingertip controls and handles with cushion grip for easy handling; it's possible to use this pallet truck one-handed. It also has a two-year warranty.
JET Hand Pallet Truck Features:
Nylon guide rollers and rounded tips of the fork for smooth operations,
Turning radius 200 degrees,
Cushioned handle grip,
6,000 pounds load capacity,
Fingertip controls,
Solid steel construction for durability.
Pros:
They are sturdy and can hold up to cold temperatures,
They last for years,
It rolls very easily.
Cons:
It does not lift very easily,
The handle is not easy to install.
Roughneck Hand Pallet Truck 4,400-Lb. Capacity
It is one of the best hand pallet jacks with a 5,500 pounds load capacity. It allows you to raise load from 3" to 7 1/2" with fingertip lever control. The touch of a switch allows you to lower it and hold it in a neutral position.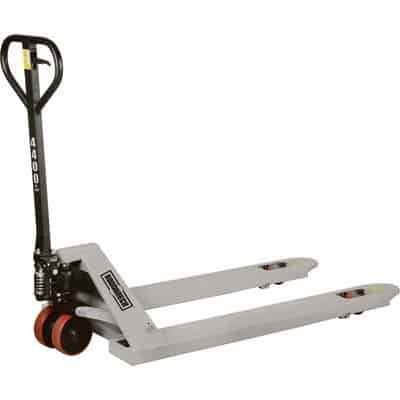 Roughneck Pallet Truck Features:
Fingertip lever controls,
4,400 pounds load capacity,
Polyurethane wheels,
Hydraulic Lift,
Pump handle,
Turning radius 180 degrees,
Three position spring loaded pump handle,
11 gauge steel forks with powder coat paint.
Pros:
It is easy to operate,
The size is just right,
It works quickly.
Cons:
The assembly instructions are hard to understand.
Goplus Hydraulic Hand Pallet Truck Heavy Duty Jack
This Goplus pallet jack is made of high tensile steel so it will easily resist wear and corrosion. Its load capacity is 5,500 pounds. It lifts and transports the pallets easily and smoothly. It ensures no leakage with its weld-less integrated pump. The company offers 100% satisfaction guarantee to make it risk-free for its customers, which is a big plus.
Goplus Heavy Duty Jack Features:
Heavy duty construction made of tensile steel
Ergonomic handle with three function controls for its easy use
The extremely durable pump even in extremely adverse conditions
Two years 100% risk-free satisfaction guarantee
Pros:
Build quality,
Hydraulic pump integrated,
2-years warranty,
100% risk-free guarantee.
Cons:
Price is a little higher than other pallet trucks.
Roughneck High-Lifting Hydraulic Pallet Truck – 2,200lb. Capacity
If you are searching for a pallet truck to move small pallets, then this Roughneck pallet truck is the one for you. It's the little brother of the Roughneck 4,400 lbs pallet jack. You can use it to move gun safes and seed or feed. It can also be used in garages, shops, convenience stores, retail stores, etc… It can transport up to 2,200 pounds, and the small forks and width make it easy to transport small loads.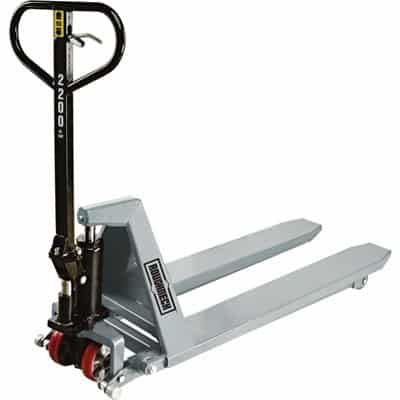 Pros:
Easy to operate,
The size is perfect if you need this kind of pallet jack,
It works quickly.
Cons:
The assembly instructions are hard to understand.
Eoslift E20V Value Scale Pallet Truck 4400 lb Capacity
The opening of this pallet truck is specially designed as per the standards of US pallets. Its design made it easy to insert into and take out its forks from the pallets. It can hold up to 4,400 pounds load due to its heavy duty steel construction.
Eoslift E20V Value Scale Pallet Truck Features:
Load capacity 4400lbs,
Heavy-duty design for industrial use,
27 x 48″ Forks min and Fork height of 3″ max,
Pre-Set Factory Calibration,
Protection Class Load Cells IP67 Indicator Ip54,
LCD Digital Display,
Signal trim summing board Nylon rimmed wheels.
Pros:
Pre-set factory calibration with a user-calibration capability,

Power supply with 300 operating hours,

The scale is extremely easy to read with a large LCD display.
Cons:
Price, it's one of the most expensive pallet truck.
Vestil EPT-2748-33 Fully Powered Electric Pallet Truck, 3300 lb. Capacity, 48″ Length x 27″ Width Fork
This electric-powered pallet jack makes moving pallets a game. It's easy and convenient because it has a fingertip raise and lower buttons, a safety belly reverse button, and a throttle for forward and reverses direction that is easy-to-use.
The horn will alert people that you are approaching. It comes with a standard battery charger (24-volt) and can run for eight hours on a charge. This yellow and black pallet jack weighs 671 pounds.
Product Features:
Fully-powered pallet truck makes the movement of pallets quick and easy,
Includes fingertip RAISE and LOWER buttons for operator convenience,
Safety belly reverse button to improve safety,
Easy-to-operate throttle for forward and reverse direction.
Pros:
It can hold a weight of up to 3,300 pounds.
It can move all kinds of freight.
It is a powered truck, and it has a forward and reverses direction.
Cons:
The key was hard to find as it was placed under the hood.
Price!!
New Prime Scales PS-5000PJ Pallet Truck Scale, Pallet Jack Scale
It is one of the top pallet jack available. It has a built-in scale to calibrate its performance and has been made by the manufacturers with over 30 years experience in pallet trucks. They ensure top performance for every part of their products whether it is related to handling materials or weighing it. With its low profile, it fits most of the different pallets sizes.
Prime Pallet Jack Scale Features:
Top class Prime Scales with stainless steel indicator PS-IN202SS,
Super large display 1.5″ wide,
Stainless steel enclosure is water resistant and very durable,
Indicator comes with a rechargeable battery to power up its system with full charge for 100 hours,
Power cable will not lose during the movement as it is sitting in the cable holder.
Pros:
Built like a tank,

5,000lb Capacity,

Low profile
Cons:
Which Pallet Jack Should You Buy?
In conclusion, what pallet jack you get for your business depends on what you need it for, small or large loads, low profile, scale… there are pallet jacks for every need. You will not go wrong with any of the pallet trucks reviewed in this article. Hope you'll find the most suitable one for your business and don't forget to compare their features and prices to buy the best one within your budget.
What NOT to do with your pallet jack!