Following our various posts presenting some pallet pry bar to take apart pallets, we always have many requests for advice on these tools. A pallet buster is a much-needed addition to any maintenance, construction & DIY workplaces. But, when going in your quest of finding the best pallet dismantling bar on the market, it can be hard to distinguish between a low-quality and a high-quality pallet breaker.
After spending some time researching and testing for the best pallet dismantle bar out there, our team has finally come up with 7 of the very best pallet dismantling bars you can buy. Now, sit back, relax and enjoy reading our reviews to find out which pallet buster is the most appropriate for your requirements. We focused on models that bring ingenious solutions, and have prices between $34 and $150.
Pallet Buster Breaker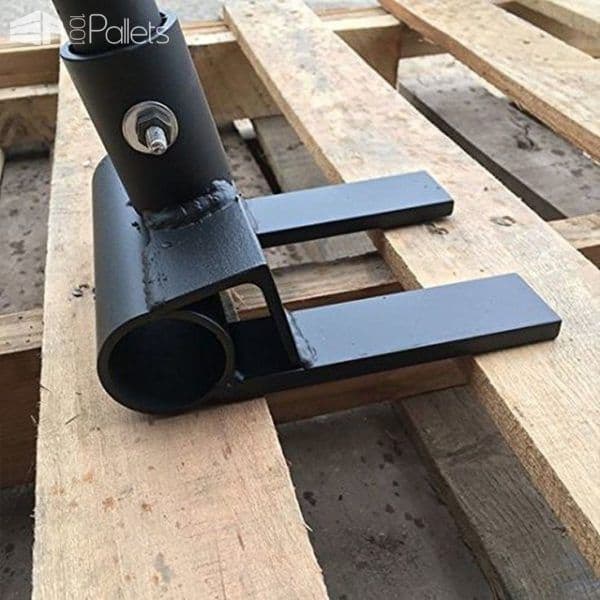 It's the first pallet breaker of our review. The dimensions are 7 x 6 x 5 inches, and 3 inches between tines. Its weight is just 5.2 pounds, so it's not so heavy to lift, striping the dock and decking board will be a lot easier. The Pallet Breaker is delivered WITHOUT handle, but with the 1.25″ standard insert, you can use any desired handle with it, the installation is easy with the set of screws delivered with this pallet buster.
Also, this it's made from premium-grade steel for durability. You can install whatever handle you want (1.25″ insert for your desired handle), the installation process of this pallet breaker with the handle is straightforward. This pallet buster can also be used to strip dock and deck boards.
To resume: It's compact, sturdy, and the size and the length of the feet work exceptionally well.
41″ Vestil SKB-DLX Deluxe Steel Pallet Buster with Handle
Sale
It's one of our favorites, it is known as the Vestil SKB-DLX Deluxe Steel Pallet Buster. This pallet buster is designed for disassembling pallets easily due to its creative design; it is equipped with a handy handle for extra comfort when using it. 
The dimensions of the Vestil pallet breaker are 46.7 x 7.7 x 7.3 inches, and the weight is 12.0 pounds. The Vestil pallet buster is built like a tank to ensure its durability over the years, pallets after pallets! It can also be used for deck board removal like the pallet breaker above.
The shape of the head bends allows this pallet breaker to slowly pop the board of the 2″ x 4″ pallets without breaking it. Unfortunately, this pallet buster doesn't have a built-in nail puller, but it does pull the board clean off of runners with nails attached about 90% of the time. Plus the Vestil is kinda heavy, and we wouldn't advise to use it to pull out a lot of nails. It's quiet and straightforward which your neighbors will love.
Tips: Veterans can get the 10% Home Depot Military discount for in-store purchases on this item ;)
Vergo Industrial Pallet Buster / Pallet Breaker – Premium Steel with Handle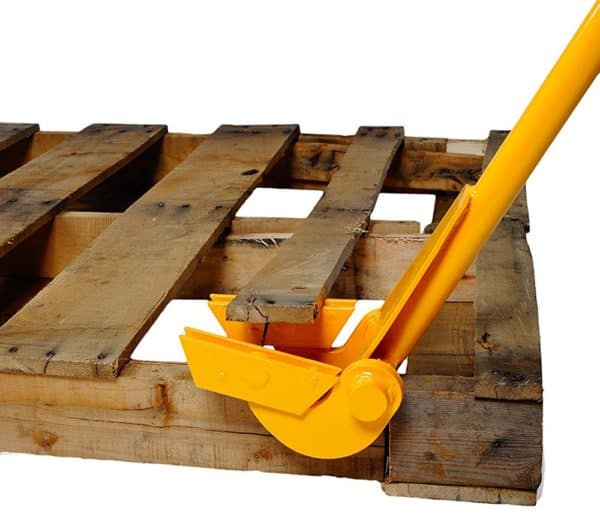 Sale
Next one on the grill, the Vergo industrial pallet buster/pallet breaker. This is one of the best-selling pallet buster at Amazon.
The full measurements of the Vergo pallet breaker are 46.3 x 8.7 x 7.4 inches which are roughly the same as the Vestil pallet buster feature above. The size is perfect for comfortable use, and the weight is 14.7 pounds, so a little over the Vestil one. Usually, it could suit both kids and adults who can lift and use it with ease. The Vergo pallet buster is also suitable for dock board removals.
When testing the Vergo pallet breaker, we were able to completely disassemble a pallet in under three minutes, without straining or rushing!
It is robust, sturdy and of excellent quality, made from the top grade steel. The part of the pallet buster that pulls the pallet wood apart is flexible and moveable which is an excellent addition to it. The Vergo pallet buster is designed with a comfortable handle, too!
CTS WELDING Heavy Duty Pallet Buster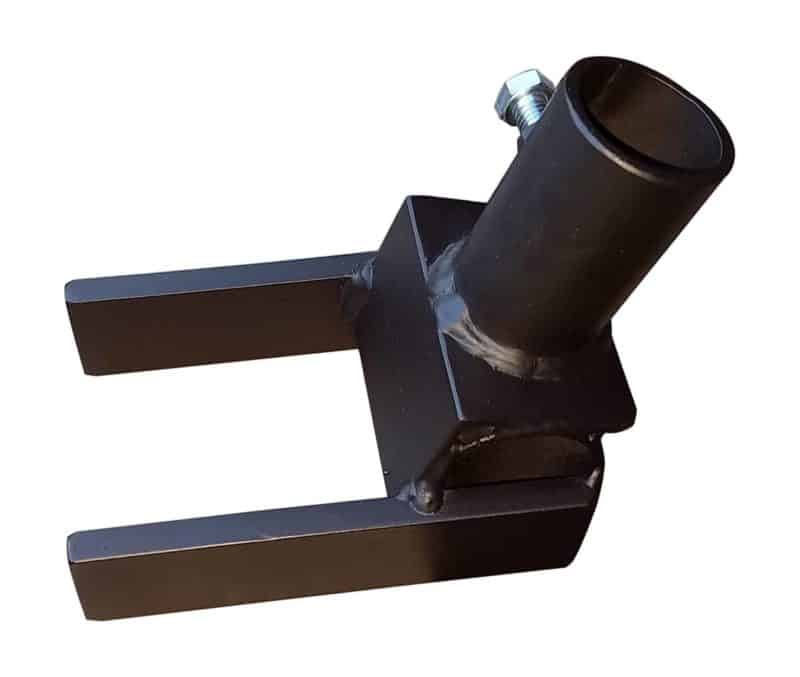 Here is another highly reviewed pallet buster from CTS WELDING. The full measurements of the CTS WELDING pallet breaker are 7 x 4 x 4.5 inches and the weight is only 4 pounds. It is delivered WITHOUT handle, so you can adapt any handle you have, the insert is a standard 1.25″ insert for your desired handle.
You can easily install a handle with the set screw available with it, and a good point is made in the USA. CTS WELDING is also suitable for striping dock and deck boards.
During our test of the CST Welding pallet buster, we completely broke down eight wood pallets with it in about 1 hour. It would have taken us a lot more time to do this with a hammer and a pry bar. Combined with an Air Locker AP 700 to remove the nails, we were able to dismantle and de-nail the eight pallets in approximately the same amount of time.
Eizzy Bar Pro Pallet Buster with 43″ Handle
The Eizzy pallet buster received a lot of positive reviews on Amazon for its durable quality. The full measurements of the Eizzy Bar Pro pallet buster are 43 x 8 x 6 inches and the weight is only 8 pounds with the handle.
This Eizzy model has a single massive duty claw, which has proven itself to be a good choice. Sometimes, boards are tight to get a tool into and for that reason, the single claw works better than two. The long handle on the Eizzy pallet buster aids in making it a snap, anyone could use this tool without much effort, it is well suited for both kids and adults due to its lightweight and user-friendly design, you'il be able to disassemble all types of pallets, decks, fencing, and other materials.
Vestil SKB-7 Pallet Buster, 1-1/4″ Handle Diameter, 42-3/16″ Bar Length
This Vestil SKB-7 pallet buster is the little brother of the Vestil SKB-DLX pallet buster already tested above. The full measurements of the Vestil SKB-7 pallet buster are 48 x 6 x 4.3 inches and the weight is only 8 pounds with the handle. The diameter of the handle if 1-1/4″ and the bar length is 42-3/16″.
The Vestil SKB-7 is made of high-quality premium grade aluminum which guarantees both the strength, lightweight and durable quality of this pallet breaker.
It has back-and-forth dual prying action for easy dismantling of pallet pieces and built-in nail pullers on both forks for removing nails which are a significant advantage over the other tested pallet buster. The Vestil SKB-7 pallet buster has a handle grip for a non-slip hold. An excellent tool for any DIY project!
Duckbill Deck Wrecker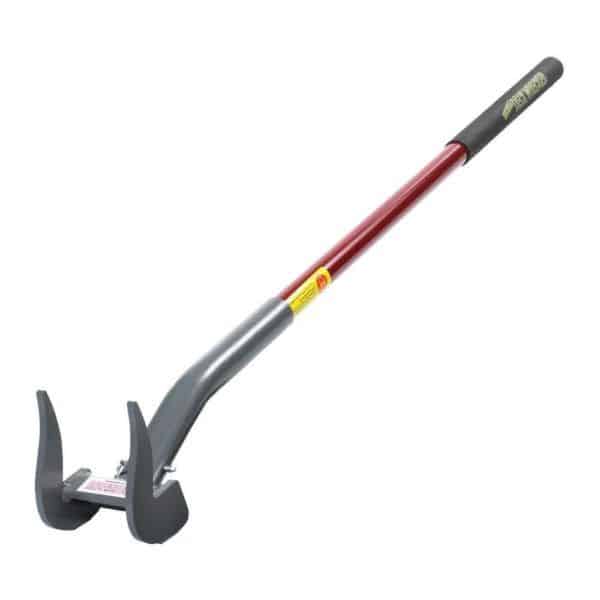 The Duckbill Deck Wrecker adopts a patented design the uses leverage to pry boars easily from floor joists. It's a functional pallet buster that does the job and does it pretty well. But, some users point out that it is a bit rigid, and the forks are often narrow and short.
So even the Duckbill Deck Wrecker has good ratings on THD or Amazon, it will be more likely to break the planks instead of pulling them loose cleanly. But, this particular tool is designed to dismantle old decks fast.
The full measurements of the Duckbill Deck Wrecker are 5.5 x 4 x 54 inches and the weight is only5.75 pounds with the handle, which is the lighter pallet buster of our review. The head of the tool is heavy-gauge steel, and the shaft is a solid fiberglass composite. It flexes slightly but is sturdy.
It's a very popular pallet buster among other users on Amazon, and you shouldn't go wrong by buying the Duckbill Deck Wrecker! It can also be used on roof joists, to remove wood siding, pallets and almost anywhere you need to remove boards. During our test, we were able to break down a pallet in 4 minutes and remove the nails with a total of 10 minutes tops!
Conclusion
In conclusion, here is a summary of all the dismantling bars we've compared. After walking through the list of these incredible products with us, have you spotted anything that catches your interest yet? If you are using another model that is worth being here, or if you made your own, we'd be interested in sharing your tutorial here, so that the other crafters can make one on their own. These pallet busters that we selected among others on the market carry their own features; so hopefully, you can get the right tool for assisting you in performing your pallet dissembling tasks.
Preview
Best Choice
Most Valuable
Title
BISupply Pallet Buster Tool
Product Dimensions (inches)