Finishing in pallet projects or "traditional" carpentry projects are always complicated. There are a lot of parameters that come into play. Do we want to keep the natural appearance of the wood? What is the end use of the object? Will it be for outdoors or indoors? Will it be in contact with food? Will it be manipulated by a kid? Is it made for a pet? In short, we can have many contexts with many different solutions.
Wooden pallets can be made from a variety of different woods, but they are typically only heat-treated. If you want to make your pallet wood more sustainable, then you'll need to apply some wood protection. Using natural oil or techniques to protect your wooden pallet will give it the protection it needs to ward off some of the most common issues it may encounter.
There are quite a few natural solutions and they are quite valid. Here are the three that we recommend with their advantages and disadvantages.
Linseed oil
If you want to keep the color of the wood as close as possible to natural, linseed oil is the perfect product. The oil can be diluted with turpentine oil if necessary.
The advantages of Linseed oil
It makes the wood water repellent
It can be used for both indoor and outdoor use
It can be used without problem for surfaces in contact with food
It gives a nice satin look
There are no VOCs
The disadvantages of Linseed oil
It yellows the pallet wood more or less strongly depending on the type of board (this is not necessarily a disadvantage, but it is good to know)
It takes a long time to dry
A minimum of 3 layers is required
Please note that the cloths used for the application may subsequently self-ignite, to avoid any problems, it is strongly recommended to soak them in water after use.
Walnut Finishing Oil
It is a natural pigment extracted from the bark of the nut. It gives a "dark brown" color. It can be useful to create a contrast between the natural "light" color of the pallet wood and another part of the construction. It can also be diluted with either linseed oil or turpentine oil to obtain lighter shades. For more information on possible blends, I invite you to visit this page of the site spirit cabane.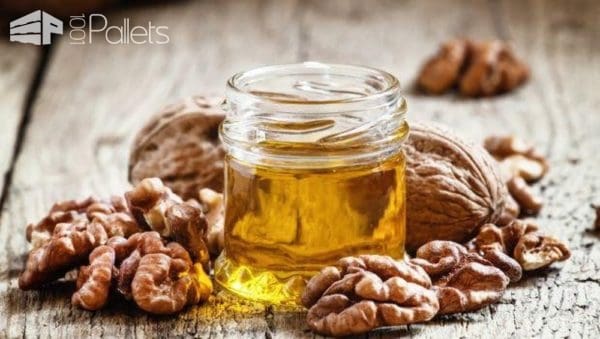 The advantages of walnut finishing oil
It is an excellent natural insecticide
It protects the wood from UV rays
No VOCs!
The disadvantages of walnut finishing oil
It stains very hard, both fingers and clothes, remember to wear gloves and not to put them everywhere.
Read: How To Stain Pallet Wood: Tips For Beginners
The Shou-Sugi-Ban
Shou-Sugi-Ban is not a product in itself but it's an ancestral Japanese technique that consists in burning wood in order to make it tighten its fibers as much as possible and thus protect it from water.
It is said that wood can resist outdoors for 80 years only with this treatment. Depending on the degree of the burning of the wood, we have a result ranging from some slightly browned fibers to completely black wood, a deep and intense black.
The advantages of Shou-Sugi-Ban
100% Natural treatment
Can be used for both indoor and outdoor use
Sustainable treatment
The disadvantages of Shou-Sugi-Ban
Requires a torch
Long processing time to set up
Read: Wood Sanding Tips For Your Pallet Projects
For ease of use, we recommend using a finishing oil to protect your pallet wood as it has the ability to penetrate deep into the wood, offering protection and enhancing the visual appeal of the wood.
As explained here, an environmentally-friendly oil that doesn't contain any manmade chemicals or dangerous solvents would be your best choice, especially if it is an indoor pallet wood project where your family spends most of its time.
Do you know or use other natural products or techniques to treat wood? Share in comments!