A fireplace is something we all need or would like to have in our homes. When it comes to your fireplace, you have a couple of options to consider. The setup and the building is not the only aspect that you need to keep in mind. It would be best to consider which materials need to be used and how the fireplace must be built.
Most fireplaces are commonly made from stone or metal. Nowadays, people are also going for electric fireplaces for their homes. However, a wood fireplace might seem a little redundant, but eventually, it will look great once you have it fully constructed and built. It might take a little bit of dabbling and a few technical skills, but using it will look great when all the round-off work has been done.
In this article, we will be looking at how you can build a fireplace using pallets. Don't confuse a fireplace with a pellet stove; both are poles apart. You can have a look at the best pellet stoves from this website. We look at a couple of safety features and how to construct them as well. Now, you should be able to do the entire construction process and have a fireplace in your home that looks great and functional in the winter months.
Let's Look At The Tools You Will Use
Unfortunately, you will need to use a couple of tools when you are tackling such a big project. We cannot simply build the fireplace without the right tools to get the job done, and when you have everything set up, the process should be much easier and more fluent. This will also ensure the fireplace is made from quality materials:
Miter saw
Nailer or nail gun
Angle grinder
Wood Clamps
Level
Drill Gun
Tape measure
Pencil
Wood glue
Acrylic paint
Wood nails
A couple of pallet boards, depending on the size you will need for your fireplace.
Once you have all of these things, you can leave them in the shed until you have the most important thing to start the job. You will need to have a lot of time and patience to get it done, as this can be a bit of a strenuous process to complete and ensure that everything is done and to do it with the detail and precision needed.
The Building Process
You will now need to start constructing the frame when you have all the tools needed for this project and the pallets ready. This is the tough part, but with these tips and steps, you should not really need to worry too much, and it should be easier to get it done. I have broken them down in the same way that I used to build my fireplace.
Determine Where It Must Be Built
You will need to determine where it must be built before you can even start the process of building the fireplace. If your home does not have a special area designed to hold a fireplace potentially, you might have a couple of issues, which will force you to create some space in your home to construct it.
Ideally, your fireplace should be placed inside a wall or at least some sort of opening inside the wall. If you don't have this, you can carve one out depending on the wall's thickness or place it in front of the wall. Placing it in front of the wall might take a little more effort, and work on perfecting it into something that will look great.
Once you have determined the fireplace's whereabouts, it is important to start doing some of the measurements. The measurements are an important thing to consider, and they need to be accurate to ensure that you don't need to redo something once you have spent a lot of hours constructing the unit.
You can use the tape measurement and pencil to get the accurate measurements and start noting them down on a piece of paper before you even start looking at the pallets.
Start With The Outer Frame
The outer frame is another one of the most important aspects that you need to consider looking at. The outer frame is the largest chunk of the pallets you will use. You can now start looking at those measurements to ensure that your outer frame will fit perfectly inside the designated area you have set up or allocated for the fireplace.
The best form to choose for your fireplace is the square, and since each of the sides is even, you will have a little less trouble when it comes to stability. Adding 45-degree wooden pieces in each of the corners is an excellent way to keep the entire frame square, and the design of the fireplace frame will be more accurate.
The outer frame is not only the pallets themselves, but actually adding a bucket-like shape at the back of the fireplace will make it look nice for when you want to have it look even more authentic when people are looking at it from the outside. This will allow you to be more creative and spice up the standard fireplace into something a little more professional.
Another great feature that I would add, but it can be a little expensive, is the front door. Having a small door in the fireplace gives it even more of an authentic feeling, and you will certainly be able to open it and add anything to the inside if you feel the need to have it look like you are adding your own wood and other items.
The Opening Needs To Be Finished
The next step is the fireplace's opening, and it needs to be opened to give it the feeling of the fireplace that not only looks authentic but looks like you are actually using it. Now that you have your massive square opening, you can use some of the pallets to cover up the top end and only leave a small area for you to use as an opening.
You might need to cut the pallets to the right size, but once you have measured one of them, you can actually use the same measurements for the other pallets used in the covering process. Your wood clamps can be convenient if you have glued the wood pallets onto one another for a perfect feel. I would encourage you also to add a couple of nails to ensure it holds up.
I generally like adding another smaller or rather thinner pallet to the bottom of the fireplace. This pallet covers up some of the bottoms and looks a little better, and you can place more things inside, with only the makeshift wood fire that will be exposed for your guests to see and improve the overall decorations of your home.
As we have also mentioned, this is the perfect time for you to take some new measurements for a glass window if that is also what you like or need to add. The glass window can be tinted or any sandblasting that you like, but the sizing needs to be perfect. Adding small hinges will also be important to ensure it works well.
Adding The Mantel
The mantel is another important part that needs to be sturdy and solid. You might need to cut two pieces of wood according to your measurements to ensure the mantel is held in place. This needs to be solid, and having wood glue to hold it can be really beneficial. Adding a couple of nails will also make it much more sturdy and ensure the mantel does not come loose.
The mantel's size will be up to you and if you would like to use it for decorations or storage. You can easily cut your wood to the exact size to ensure the mantel is perfect and does not need any additional work to be completed. The mantel generally gives it a good look and makes it more functional as a fireplace.
Finishing It Up
Now that you have everything set together and the entire fireplace looks like one, you can start with the finish. Since wood pallets are at risk of damage and even having worms make a nest inside them, you will need to do some pest control. The best way to do this is to spray the wood with some substance to deter this from happening.
If you would like the pure look of wood, you can now leave it like this, but adding some varnish will prolong the wood's longevity and make it work a little better. The varnish is cheap, and it can add to the color, but using simple wood paint can also get the job done efficiently without you having to do a great deal of additional maintenance.
Adding The Detail
The final step to creating your wood pallet fireplace will be to add a little detail and make it look more authentic. While you can actually burn real wood inside, you can have the illusion of burning wood on the inside. This will definitely give your home a look of authenticity and make the fireplace stand out as something great in your home.
You can choose to use a few options when you are trying to emulate the look of having a fire burning. These can range from simple paper or plastic cut-outs to a fully electric design that will ensure it is possible to turn it on and off as you please. Depending on your budget and your level of creativity, you can choose anyone.
If you are going the creative route, you can use a real piece of wood that has been treated for bugs and pests to ensure that it is clean. This piece of wood or multiple pieces of wood can be stacked in the form of a fire. You might need some plastic cut-out of fire to emulate the fire and place this on top or behind the wood to give it a look of burning.
As we have mentioned, the electronic alternative is another great way to ensure you can get the job done. It might be a little more expensive, but modern technology allows us to buy a complete fire set. This is much like electronic candles, and it will all work with LED lighting. You might even get a remote to turn it on and off. One of the top options we have found will enable the user to choose the color, which potentially emulates the fire temperature.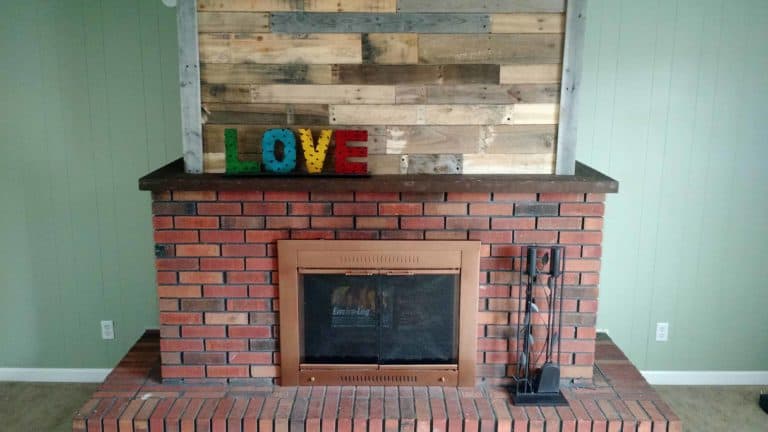 Simply Install The Device
Once you are done with everything, you can install the device wherever you feel like it needs to be. The device can be installed anywhere in your home, but having it somewhere near a social setting seems to work the best. It is a great way to store or even show off some of your trophies or other decorations with the mantel.
Everything should work out perfectly if you have followed our advice of taking the correct measurements beforehand and before constructing the unit. The unit should have a snug fit where you would have liked it, and you might need only to have some support to help you carry it inside and get it done with for the placement.
A Few Danger Hazards To Lookout For
Now that your fireplace has been constructed from pallets and you have it all ready to go and installed, your job might not completely be done. In this section, we will be looking at a few hazards you need to look out for and perhaps even help you with some of the maintenance tips to ensure the fireplace lasts with some longevity.
Don't Make A Real Fire
This might be something you should know by now, but wood can be extremely flammable, and most fireplaces that are actually used for fires are made from cast iron or even stone. This wood fireplace has only been designed to emulate the fireplace and make it look like one, but since wood has been used in the construction, it looks more authentic.
The reason for including this warning is to ensure that you don't accidentally decide to start a fire once it is done to see if it is working. If you are looking for a real fireplace, you are much better off buying one from a reputable source and having them help you with the assembly. This will make it much easier to use.
Keep The Wood Maintained
Maintaining the wood is not something that you should be worried about off the bat, but you need to do some maintenance eventually. Even if the wood has been cleaned or treated with a substance that allows it to be free of any bugs or harmful additives, this will eventually wear off, and you will find that the bugs or termites try to make a nest inside.
Much like the wood that most homes have been constructed from, you need to be up to date with the maintenance and upkeep. This will ensure that the unit looks better and also prolong the longevity of it in your home. Treating the wood or adding any additives that will protect it will not be that expensive and only need to be done once a year or once every two years.
Keep Electrical Hazards Away
Another issue that you might have is electrical hazards. Having a small spark can actually ignite some of the varnish or any other bug deterrent you have used to treat the wood with, which will be a big problem. Once the wood catches fire, it can be a daunting prospect actually to stop it and to ensure that the pallet is not burning to the ground.
As we have mentioned, it works much better in a social gathering area. Placing it in the living room or the patio will eliminate any electrical issues or even potential plug hazards that could cause some problems.
Is It Really Expensive To Do This Project?
This is one of the most common questions that we generally find, and many people wonder if it is expensive to build their own fireplace using wood pallets. Depending on your location and the specific wood pallets you are using, you might find a few differences in price for certain areas. However, it is not as expensive as a real fireplace.
Professional artisans construct most real fireplaces, and they are made from durable cast iron that can be much more expensive than your wood. The drawback is also the weight, making them harder to move around, but they will be more functional to actually use and start a fire when you really need one.
Another plus point is that even if you don't have all the tools to get the job done, you will find them at most hardware shops. Once you have completed the project, these tools will eventually be handy for something else in the future. You will be increasing your overall tool collection for future use.
What Is The Recommended Skill Level For Doing This Project?
If you have some basic woodworking skills, it will certainly be handy, but we believe that this guide is actually quite clear and informative to ensure that you can start doing it with almost no skills at all. I did not have any artisan skills and had to follow a few instructions from friends and a few internet searches to ensure that I can actually get the job done. Personally, I am no repairperson.
The skill level is mostly recommended for intermediates that already have some experience or at least a couple of the tools packed away in the shed to answer your questions. But as we have mentioned, it is a great project that can be tackled by almost anyone looking to improve their home and spice up some of the overall décors.
Wrap-Up
Now that you have an idea of how to start building your very own fireplace, you can do it with wood pellets to spice up the overall look of your home and to make it more social. I have used mine for various things like Christmas socks and having the kids use them to hide some of their gifts in the socks until the following morning. It has definitely served a massive part in the family, and it a great investment for social settings.
Let us know what you think of this idea and if you have ever tried to construct your own fireplace from wood pellets. We would love to see a few of your comments and fill in some of the other intricate steps that I might have missed while doing my project. I would love to see some of the masterpieces you have created and would like to help others create them.
Warning: You will be using many power tools and additional equipment that might be dangerous and harmful to yourself. You should always take a right precautionary measures to ensure you are safe before doing anything. We do not take any responsibility for sustained injuries while doing these projects and using some of these power tools.