What Are heat treated (HT) pallets & why do I want them? There are five main types of pallet treatments:
Heat Treated Pallets (HT Pallets)
Chemical Treatments
Fungicides
Untreated pallets (not for export – "national" pallets)
Pressure-treated wood pallets (rare; usually a specific client request)
Heat Treated Pallets (HT) are the safest to use, followed by national-use pallets.
Heat Treated Pallets (HT) are better than chemically-treated ones! According to LCN Pallets & Crates, the spread of wood pests led to the development and implementation of the ISPM-15 treatment standard. Heat treatment destroys insects and larvae, reduces the moisture content, and facilitates pallet handling.
The heat treatment process is critical to the safety of consumers. There has been food and pharmaceutical industry recalls as a result of fumigation. Chemical traces from the fumigation process were found, leaving a moldy smell.  The sterilization method by heat treatment seems like the only safe option for sterilizing wooden pallets and wood cases.
How do I know if I have a Heat Treated Pallet?
The International Phytosanitary Standard for Wood Packaging – ISPM15 helps! The ISPM15 is adopted by fourteen countries and the entire European Union currently. The ISPM covers all forms of wood packaging material, from shipping pallets to wood crates. The standard requires de-barking the wood, heat-treating it, and stamping with a mark of compliance.
According to palletcentral.com, the four components of the IPPC ( International Plant Protection Convention) stamp as follows:
Symbol:  The "wheat stamp" must closely resemble the examples illustrated below and must be to the left of the other components.
Country code: The country code is the International Organization for Standards (ISO) two-letter country code (shown in the examples as "XX").
Producer/treatment provider code: The producer/treatment provider code is a unique code assigned by the NPPO to the wood packaging material manufacturer or treatment provider doing the treatment. Proper markings are required (shown in the examples as "000").
Treatment code: It's an IPPC abbreviation for the approved measure used and shown in the examples as "YY."

Additional codes can be company logos, inspection company logos, etc. Be sure that the four central portions of the IPPC stamp are present.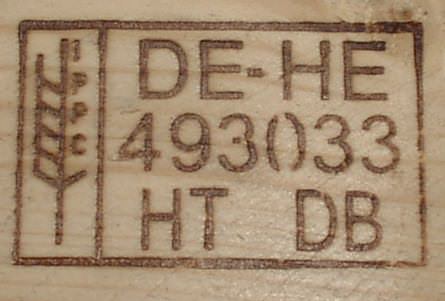 These codes matter because invasive are having a devastating impact on forests and food sources. Some invasive termite species have even begun spreading through housing developments when they run out of trees!
What about EPAL pallets and Euro pallets? Are Euro Pallets Heat-Treated?
In short, yes. The older Euro stamp is being phased out. The newer EPAL stamp is the latest version.

But what if my pallet has no stamps or extra stamps?
That's a "national pallet" built for use within the country and not for export purposes. They use heat-treated wood typically, and are okay to use!
Is a pallet made of plywood and composite blocks considered a Heat Treated Pallet?
Plywood manufacturers bake the product during the manufacturing process. Since plywood, pressboard/chipboard, or composite woods get glued, pressure-treated, and heated to cure, they're automatically approved for shipment and are okay to use!
Does my Heat Treated Pallet (HT) also have fungicides?
Maybe. There aren't explicit identifiers on pallets as of the writing of this article. With the uproar in the news about pallets contaminating the pharmaceutical industry, people are worried about the fungicides used in hot, humid climates. A fungicide called 2,4,6 tribromophenol (TBP), or 2,4,6 trichlorophenol (TCP), is a common choice.  These are usually used in tropical, wet regions – like Brazil and Southeast Asia – to impede mold. When the fungicide starts breaking down, it smells moldy and taints surrounding items.
Reduce Molds on Heat Treated Pallets by application of anti-fungicides.
Manufacturers cut the wood and spray or dip it into chemicals. Fungicides can protect for three to six months. Manufacturers can use over 20 chemicals to reduce mold growth on freshly sawn wood. Many companies won't use chemically-treated pallets.
I'm afraid to use my Heat Treated Pallet now. What Can I do?
Clean and disinfect pallets using a pressure washer and common household chemicals! Interestingly, household bleach can smell moldy over time. If you clean with bleach and let it soak in without rinsing, bleach breaks down and gives off a musty funk too!
With any pallet, always use common sense.  We're not the experts! Even when stamped as HT – proceed with caution if:
it smells funny
has weird oily or chemical-scented stains
coated with black mold or other mold colors
coated with loose powders of any kind
has visible pests/critters/larvae
Just don't risk it! The pests are apparent, but sanding releases those chemicals and spores into the air for you to breathe in. Those airborne cooties could cause allergic reactions, infection, and long-term respiratory complications. When in doubt – throw it out! Use pallets at your discretion. Always use personal protective equipment when handling pallets for any purpose!
See our article on Pallet Safety for deeper information on all types of pallets, like blue pallets, brow pallets or red pallets.