Everything started with a sketch. The plan is below, and details of what we used are the following:
20 pallets size 100 x 120 cm for floor
3 pallets size 100 x 120 cm for table
12 pallets size 80 x 120 cm for bench
8 pallets size 100 x 120 cm for a high fence and a few cut off pallets for a lower fence.
The terrace will be 4 x 6 meters big.
The terrace is slowly starting to take a shape.
The final result.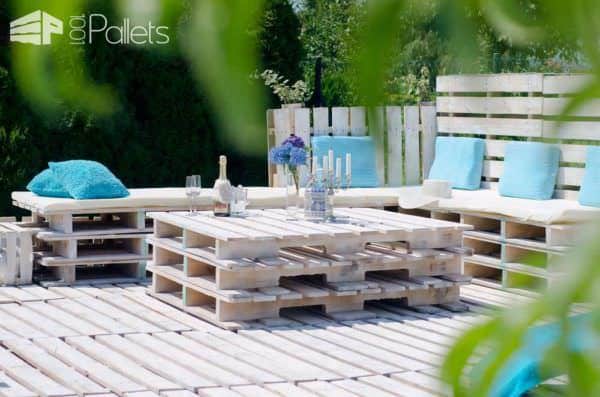 The lounge corner.
Ready to welcome friends.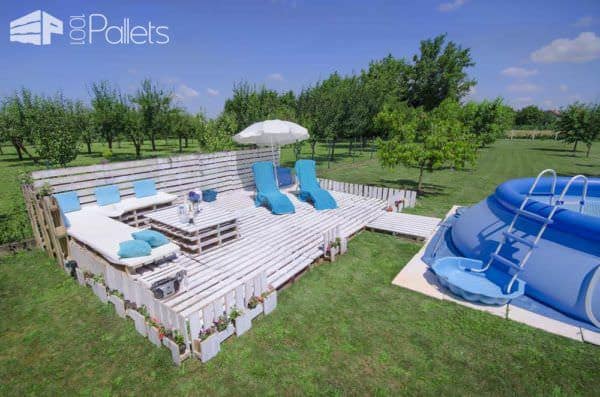 Overview of the backyard terrace.
Sanding the wood pallets to give them smooth surface and to get rid of some surface dirt.
Leaving the pallets to sundry.
Work in progress.
Everything started with this map.
We decided to put 4 x 6 meters of geotextile fabric as a base to prevent grass from growing between the wood (the blue one is for the pool).
Building the floor.
The terrace is taking shape.
Adding the lower fence.
First, we covered them in primer, then in the paint, to allow the paint to adhere better.
Painting the pallets in white with air painting gun.
Final result.
Trying to stable the fence with some steel rods and wire.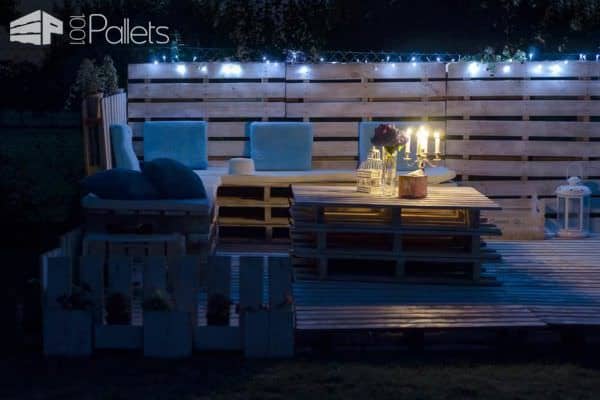 Pallet terrace by night.