How does your garden grow? If you're a DIY specialist, make your garden areas GREAT with our selection of Crafter's projects for creative pallet garden ideas!
From pallet potting benches to pallet garden beds – we've got inspiration for YOU!
If you want to garden, then you may need a handy Pallet Potting Bench! You can make a pallet potting bench like this in only an hour or two, and have a lot of extra workspaces that you can use guilt-free!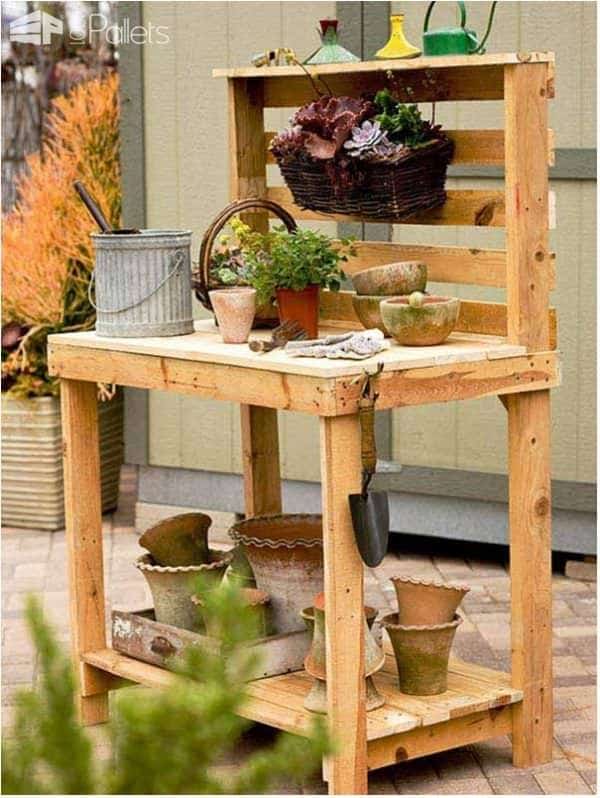 Here's a fast and super-easy way to organize your Gardening Tools – a Garden Tool Organizer out of one single pallet! What could be simpler? Take one pallet, turn it on one end, and mount it to the wall. The stringers make natural dividers.
For a healthy and pollinated garden, be sure to make a Pallet Insect Habitat! This can be scaled down if you don't want a large habitat hotel like this, but the concept is good. Even wood-boring bees help pollinate the flowers nearby – including your garden!
Sometimes the garden can be a bit muddy after rain. Make a Pallet Walkway to keep your floors cleaner! Gorgeous! And a simple idea. This one, the kids, could even help with!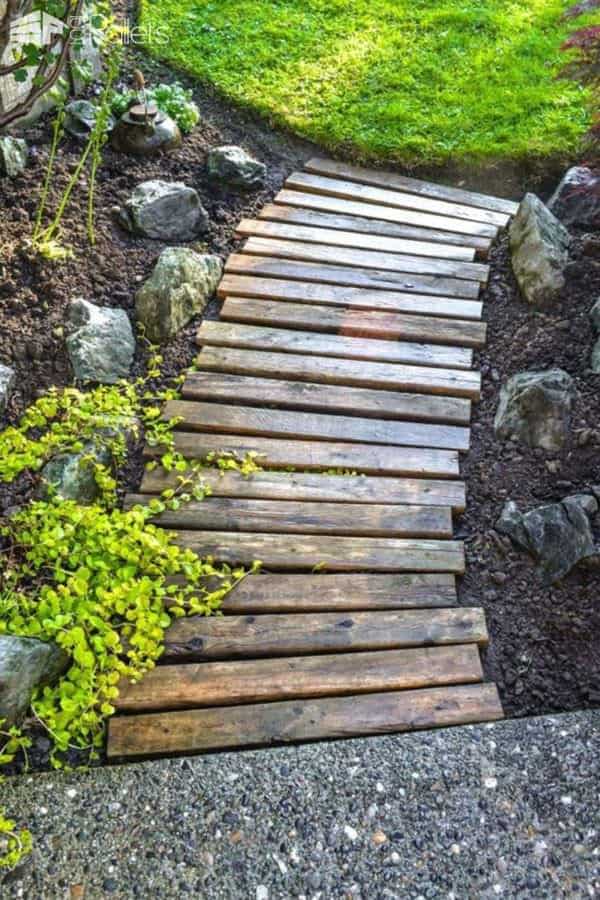 Maybe a whole garden is a bit intimidating? Make a small Pallet Herb Garden instead! Straightforward and handy! This little Pallet Herb Garden would be helpful on a balcony, terrace, or porch!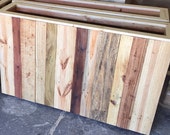 Reclaimed Pallet Wood Planter Box
Please contact us before placing orders outside of New York City area ** INQUIRE ABOUT FREE LOCAL DELIVERY ONLY - Convo us for free NYC area delivery coupon. ** GREAT SHIPPING RATES COUNTRY WIDE. PLE...
Perhaps you don't have a big yard. That's okay – make a Pallet Green Wall like this one! This fun idea can be used for places that don't have much yard space to dedicate to a garden. Just hang up a pallet after sealing it up with weed barrier to hold the dirt in. Then get your fingers dirty!
More Creative Pallet Garden Ideas: a Bird-Proof Veggie Garden! Bird-proof your garden areas and make it easier on your back with these excellent planter box ideas. These may even be squirrel resistant too!
Gardens can be beautiful as well as functional, like this 3-tiered Pallet Planter.
Help your garden and recycle in the process with this handy Ultimate Pallet Compost Bin set.
Here's a neat idea – a Pallet Growing Table! Imagine having a favorite beverage and watching your little seeds sprouting right beneath your cup! You can – and it's an easy project!
Avoid backaches with this nice Raised Pallet Garden Bed – it's table height!
Vertical Pallet Planters are great – so here are some Tips to Keep Dirt In Pallet Planters! Pallet planters are great – and the vertical ones are very cool, but how do they keep the dirt in? This will teach you how.
Here's an excellent Pallet Greenhouse for 10 Bucks!
How about a Decorative Wishing Well Flower Planter? Don't toss your spare change into this wishing well – sprinkle your favorite seeds instead and use it for an adorable little planter.
Here's a combination Pallet Composter Bin & Tool Storage Rack!
Creative Pallet Garden Ideas like decorative planters can be cute, too – like this Coffee Cup Pallet Planter!
Make yourself a raised combination Pallet Planter and Potting Bench – a Kruidenbak.
Use your vertical spaces with this great Pallet Tower Planter!
Pallet Strawberry Pyramid, anyone?
Brighten up any outdoor area with this Pallet Flower Wall.
Pick a Pair of Pretty Pallet Planters!
Here's an easy project you could do with the kids and expose them to the fun of gardening – this Easy Pallet Planter!
Make your neighbors envious with these Stunning Pallet Planters! They're art and function fused into fantastic shapes!
Raised Pallet Planters are great, and come in many sizes – make one to meet your needs (and height).
Make a little Pallet Greenhouse – it's a nice size for a first-time gardener and is another one of our Creative Pallet Garden Ideas.
You can make an easy Pallet Tomato Planter.
This Garden Box Planter would look good in your outdoor garden area or even on your front porch!
Here's another back-saving Pallet Raised Veggie Planter for you.
A gift for friends or yourself: An adorable Tractor Pallet Planter.
Repurpose creatively and make unexpected, beautiful Pallet (and more) Garden Planters – perfect for small spaces (or no garden area at all)!
A hip twist on our Creative Pallet Garden Ideas: Make it look Modern – these Pallet Flower Planter Boxes are elegant!
PDF plans – make a set of small Pallet Planters. These would look great on either side of your front entry!
Finally – after all that hard work in your garden, make yourself an Outdoor Pallets Bar! :D
And an easy Pallet Planter project from our friends at Sikana – a DIY Video Tutorial!