At 1001Pallets, we regularly receive creative ideas for beds made from recycled pallets. Today we'll show you a selection of 62 Creative Recycled Pallet Beds, bed frames and headboards, cradles and more, all made from recycled pallets. Those beds are so beautiful that you'll never want to get out of them! Maybe that could be a good excuse to justify your delay to your boss :)
Additionally, we have an almost endless array of styles, from rustic, traditional, classical, modern, and high-tech. Any size your family needs: king, queen, beds for kids and even cribs for your little ones. You'll find great ideas showcased in this collection of 62 Creative Recycled Pallet Beds. Update your bedroom or build a new bed entirely, have bragging rights and save money too!
62 Creative Recycled Pallet Beds – Safety First, then Bring On The Style!
But, before rushing headlong into the making of your bed out of repurposed wooden pallets, take care of the pallets you will use to make your bed, you should be sure that the pallets you have are safe as you will sleep around 8 hours each day near them. For this, visit our pallet safety page before any pallet project and even more for any bedroom project!
And of course, do not forget to share your pallet bed with our community once it's done to inspire the next generation of pallet crafters! We've got 62 Creative Recycled Pallet Beds, but want many more!
Enjoy this best-of!
A cute kid toddler bed from recycled pallets and white painted. (source)
A 160x200cm pallet bed with nightstands integrated on each side, ideal for laptop or phone while charging overnight. (source)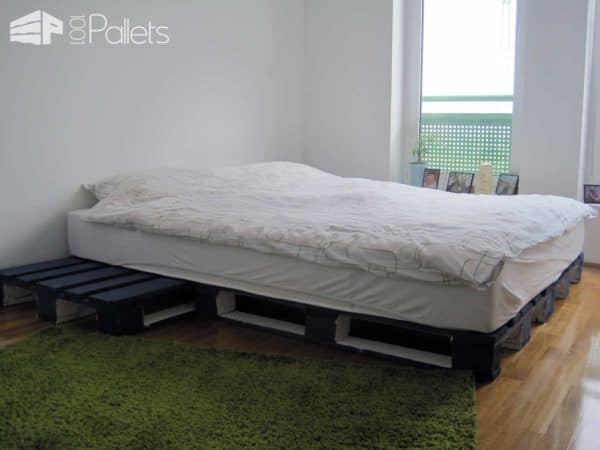 Pallet bed made with recycled shipping pallets and painted like one of Piet Mondrian's famous "Compositions" from the 20's and 30's. (source)
This chic pallet bed is made out of white-painted pallets; it's perfect for a shabby chic interior design. (source)
Here is a one-of-a-kind floating pallet bed. (source)
As my kid outgrew his standard 120 x 60cm bed, and I had already made a pallet bed for our bedroom, I decided to make an extension to his original bed. After a few hours of sanding, painting and leveling the original pallet bed base, I attached some old wheels and got it moving. Now my kid rumbles around a 120 x 120cm bed like a King. (source)
An original bi-level pallet bed with integrated lights in the base. (source)
A single pallet bed with integrated drawers, entirely made from recycled wooden pallets – even the drawers. (source)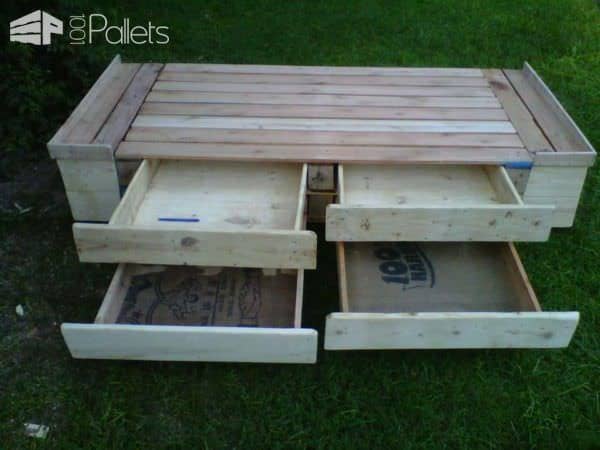 Pallet bed made entirely out of white and green painted pallets. You can attach pictures to the bed. The best! It's a very comfortable bed. (source)
Two pallets and a half, a $50 mattress for a total cost of $75 and you've got this terrific toddler's pallet bed! (source)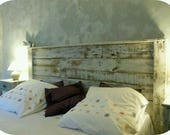 headboard custom wood pallet
Here is a headboard made with pallet wood. It measures 1 m 10 tall by 1 m 60 wide (can change dimensions, contact me with any questions).the wood has a white patina effect and varnish mat in 2 layer...