Pallets have been around for many years now – useful storing, packing, and carrying materials – but lately, they have become the DIY crowd's favorite resource. In the last years, recycled pallets have become the go-to choice for all people who want to build their furniture and for all the good reasons. Pallets are sturdy, have a rustic look, and are easy to work with, make a good case for sustainability, and look amazing once you finish the project.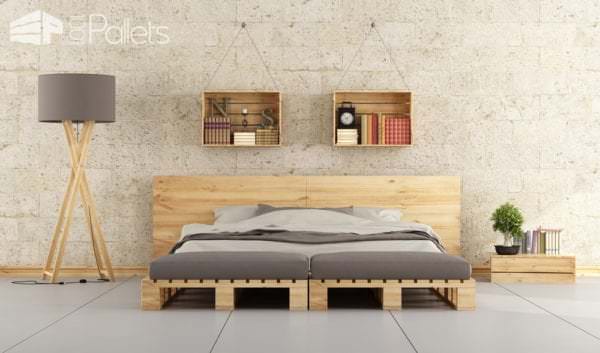 What Should You Know about Pallets?
One of the most popular pallet-based projects people lovemaking at home are pallet beds. Fully functional and versatile, pallet beds allow you all the creativity you can muster. Today we will show you how to build your own bed frame with pallets. Check out the resources and learn the tricks of the trade, as you can make plenty of bed types with a minimal set of tools and materials.
How to Choose Your Safest Pallets for the Bed?
When you want to craft a pallet bed, one of the most important things to know is to choose your pallets. You do not necessarily need to buy them as you can find recycled ones you can use. However, here are the main things to know when choosing the materials:
See more info on how to know if your pallet is safe for your project.
How to Choose the Right Pallet Size?
The right pallet size is less of a concern as long as you get enough pallets to build your gorgeous bed. North American pallets measure 40×48 inches. Pick them depending on what pallet bed you want to craft:
Now that you picked your pallets, it is time to gather the materials and get to work!
How to Build a Double Queen Pallet Bed?
Tools and Materials
As we said, building a pallet bed requires a minimal set of tools. For the bed we have in mind, you will need the following tools and materials:
Make sure you have a proper room to build the bed, as things will get messy. You will also want some fresh air, so try the backyard, the well-aerated empty garage, or the workshop near the house. If you plan to build the bed in a room, cover the floors with cardboard or recycled plastic sheets.
Read: 62 pallet bed ideas to inspire you!
Step-by-step instructions
It is time to make the bed! Keep in mind that we will prep it in another part of the house, but assemble it in the bedroom – otherwise, given the size, you may not be able to get it through the door.
If you want to take things up a notch, you can also make a pallet headboard for the bed – if it is not a minimalist one sitting in the middle of the room and offering a spectacular view. Moreover, you can use the space underneath the bed to place small LED lights for a more romantic atmosphere or insert narrow baskets or crates as bed drawers.
When you build a pallet bed frame remember you can turn this adventure into a family-centered project – kids love to offer their input in the crafting of their future beds for instance. However, it is a DIY weekend project more than a day's challenge, as paint and varnish need to dry. Therefore, plan your next bed project carefully, gather the materials and tools, and spend an awesome weekend completely revamping your bedroom in an eco-friendly and creative manner!
Here below are some examples of pallet platform beds you could build with this tutorial.