Pallets have been around for many years now – useful storing, packing, and carrying materials – but lately, they have become the DIY crowd's favorite resource. In the last years, recycled pallets have become the go-to choice for all people who want to build their furniture and for all the good reasons. Pallets are sturdy, have a rustic look, and are easy to work with, make a good case for sustainability, and look amazing once you finish the project.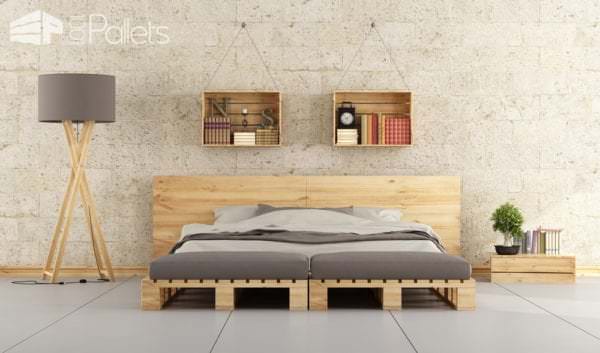 What Should You Know about Pallets?
One of the most popular pallet-based projects people lovemaking at home are pallet beds. Fully functional and versatile, pallet beds allow you all the creativity you can muster. Today we will show you how to build your own bed frame with pallets. Check out the resources and learn the tricks of the trade, as you can make plenty of bed types with a minimal set of tools and materials.
How to Choose Your Safest Pallets for the Bed?
When you want to craft a pallet bed, one of the most important things to know is to choose your pallets. You do not necessarily need to buy them as you can find recycled ones you can use. However, here are the main things to know when choosing the materials:
When you get recycled pallets, look at them and notice if they look clean and have no markings on them. For instance, if you see the letters MB on the pallet, avoid them, as they have transported dangerous chemicals and you do not want the pallets in your home;
If you get your hands on international pallets, look for the IPPC logo on them – it means they are safe to use;
Heat-treated, steam-treated or kiln-dried pallets are the safest; find out more about the treatment so you know they are safe; pallets used for domestic transport (in comparison to industrial or commercial transport) are safer, but you should learn about their treatments, stamps, and safety guarantees;
Avoid colored pallets; while some paints are safe, you want to avoid bringing in the bedroom pallets that went through unsafe fumigation/painting processes;
Avoid pallets that show signs of humidity or wear/tear: the wood should not bend when you press; make sure the pallets look and feel dry and clean; avoid pallets with too far apart slats, with broken or cracked slats, and with boards that are full of splinters;
Before you get free pallets from construction sites or from the backyard of retailers, visit a few such places to pick the right pallets for you;
You should also pay attention to identify wood types pallets you will bring home; according to specialists, the most popular US pallets are made of southern yellow pine wood or oak wood; they are both appealing alternatives in terms of safety and sturdiness.
See more info on how to know if your pallet is safe for your project.
How to Choose the Right Pallet Size?
The right pallet size is less of a concern as long as you get enough pallets to build your gorgeous bed. North American pallets measure 40×48 inches. Pick them depending on what pallet bed you want to craft:
Two pallets for a twin bed;
Four wood pallets for a double queen bed.
Now that you picked your pallets, it is time to gather the materials and get to work!
How to Build a Double Queen Pallet Bed?
Tools and Materials
As we said, building a pallet bed requires a minimal set of tools. For the bed we have in mind, you will need the following tools and materials:
4 identical 40x48x6 pallets;
Sanding tool with sanding paper;
Drill/screwdriver;
A handful of bolts with washers and nuts;
A handful of screws and angle irons;
Wood lacquer or paint, together with the proper brushes;
Protective gear (goggles and gloves);
A vacuum cleaner.
Make sure you have a proper room to build the bed, as things will get messy. You will also want some fresh air, so try the backyard, the well-aerated empty garage, or the workshop near the house. If you plan to build the bed in a room, cover the floors with cardboard or recycled plastic sheets.
Read: 62 pallet bed ideas to inspire you!
Step-by-step instructions
It is time to make the bed! Keep in mind that we will prep it in another part of the house, but assemble it in the bedroom – otherwise, given the size, you may not be able to get it through the door.
Sand the pallets well with the sanding tool – use protective gear and make sure all sides, edges, and surfaces of the pallets are smooth and lacking any splinter;
Wipe the pallets to make sure you removed all dust and splinters;
Vacuum the floor and make sure no splinters or wood scraps lying around to endanger you, children, or pets;
Pallets are versatile, and now it is time you choose how you want the bed to look: use wood lacquer or varnish for a more rustic, natural look, or paint the pallets any color you want to match the bedroom;
Let the pallets dry for a night in the fresh air; any type of tint, finish, or clear varnish you give them, the pallets need time to dry;
Take the dry pallets into the room where you want your future bed to be; cover the floor with plastic sheets you can remove easily to protect the floor from scratches;
Put the four pallets in a square shape; fix the pallets with strong wood glue to ensure perfect alignment and steadiness and then attach the pallets together;
You can use the drill for pilot holes; fasten the pallets on all sides with angle irons, bolts, washers, and nuts. If you use hinges, make sure you use at least 8 of them for a double queen bed frame (2 hinges for each of all the four sides of the pallets);
For more comfort, you can also attach locking caster wheels at the center of each long side and each corner;
Turn the bed upside down, set it in place, remove the floor sheet and enjoy your new pallet bed frame!
If you want to take things up a notch, you can also make a pallet headboard for the bed – if it is not a minimalist one sitting in the middle of the room and offering a spectacular view. Moreover, you can use the space underneath the bed to place small LED lights for a more romantic atmosphere or insert narrow baskets or crates as bed drawers.
When you build a pallet bed frame remember you can turn this adventure into a family-centered project – kids love to offer their input in the crafting of their future beds for instance. However, it is a DIY weekend project more than a day's challenge, as paint and varnish need to dry. Therefore, plan your next bed project carefully, gather the materials and tools, and spend an awesome weekend completely revamping your bedroom in an eco-friendly and creative manner!
Here below are some examples of pallet platform beds you could build with this tutorial.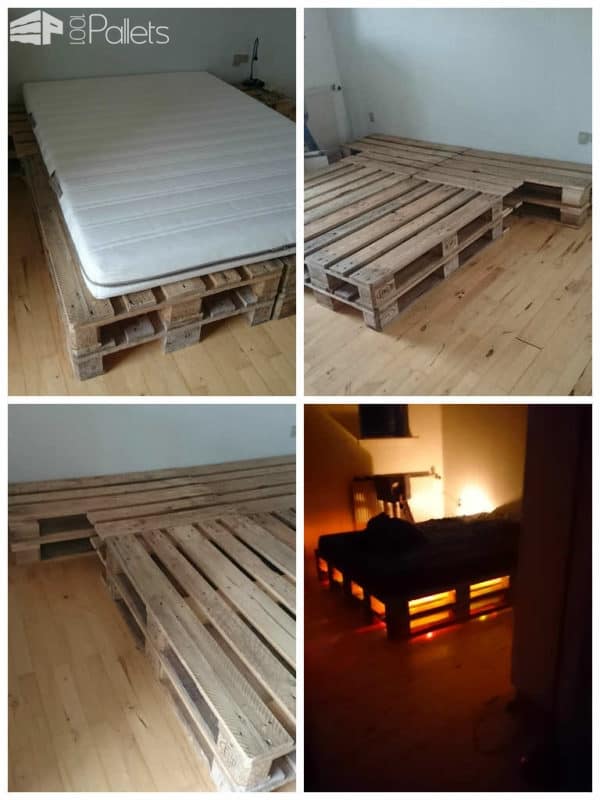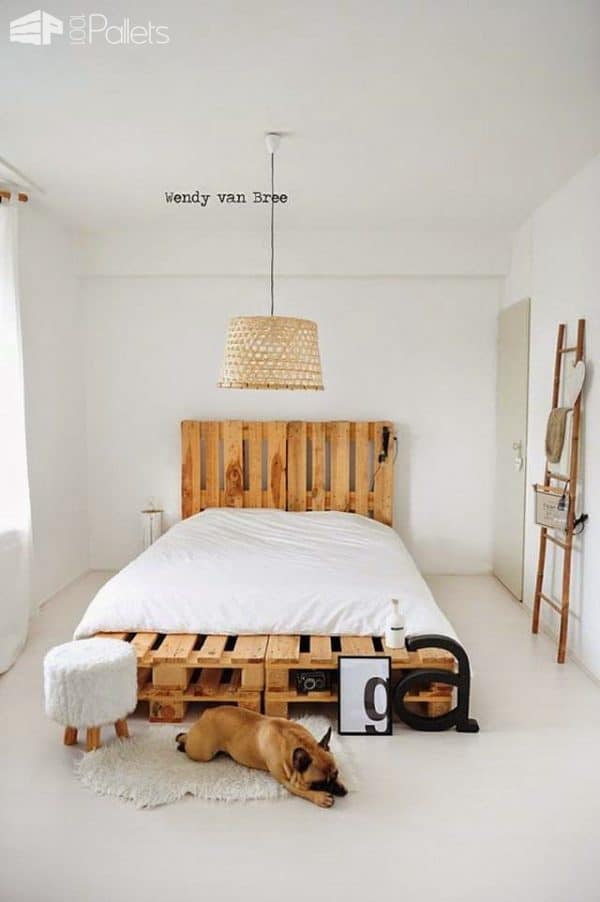 #
Preview
Product
Rating
Price
1
The Pallet Book: DIY Projects for the Home, Garden, and Homestead

419 Reviews

$21.99

$20.74

Shop Now
2
The New Pallet Book: Ingenious DIY Projects for the Home, Garden, and Homestead

$24.99

$20.45

Shop Now
3
Crafting with Wood Pallets: Projects for Rustic Furniture, Decor, Art, Gifts and more

727 Reviews

$16.95

$7.73

Shop Now
4
Wood Pallet DIY Projects: 20 Building Projects to Enrich Your Home, Your Heart & Your Community (Fox...

404 Reviews

$19.99

Shop Now
5
Wood Pallet Wonders: DIY Projects for Home, Garden, Holidays and More

205 Reviews

$19.95

Shop Now
6
Wood Pallet Projects: Cool and Easy-to-Make Projects for the Home and Garden (Fox Chapel Publishing)...

408 Reviews

$19.99

$18.91

Shop Now
7
Wood Pallet Workshop: 20 DIY Projects that Turn Forgotten Wood into Stylish Home Furnishings

144 Reviews

$16.99

$15.80

Shop Now
8
Wood Pallet Projects: 50 Projects To Decorate Your Home And Garden: (Wood Pallet Furniture, DIY Wood...

41 Reviews

$12.95

Shop Now
9
Wood Pallets Projects Collection: 82 Plans to Try: (Woodworking Plans, Woodworking Projects) (DIY...

79 Reviews

$12.95

Shop Now
10
Pallet Style: 20 Creative Home Projects Using Recycled Wooden Pallets

$24.99

$12.99

Shop Now