If you have old, used pallets lying around, you're probably planning to dispose of them eventually or have thought about what you can do with them. One of the best ways to put your pallets to work is by giving them a new purpose, and one of the most useful ways to do this is by using them to build something for your yard. This includes raised flower beds, planters, and even vertical herb gardens. When it comes to garden projects using old pallets, there are many possibilities.
Raised Flower Beds
Building raised flower beds is one of the most popular ways in which to upcycle used pallets. People often find a fixed spot in which to place their raised bed, while others make it more portable by adding wheels. There are many ways in which to use pallets to build a raised bed, but most of them involve just a few steps, including painting the pallet, cutting the wood the proper length, and attaching all of the necessary sides together. To prolong the life and health of the wood, you can add plastic to create a barrier between the soil and the pallet to prevent water from causing your new flower bed premature damage.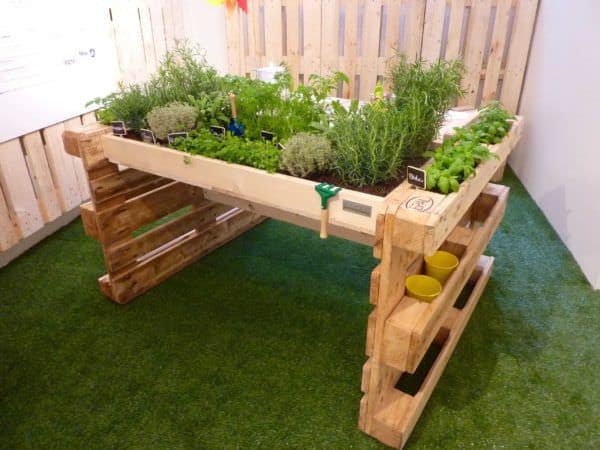 Planters
Another option when it comes to reusing your pallet is building a planter. Naturally, you can make many distinct types of planters, and their versatility is nearly unlimited, as any given planter can be used to grow most varieties of fruits and vegetables. Planters are also relatively simple to build and can be made by using a single pallet. You need to ensure, particularly with this type of project, that all of the wood used is in good condition, free of damage and signs of rotting. Just as with the raised flower beds, plastic can be added as a barrier between the soil and the pallet.
Vertical Herb Gardens
One of the more unusual projects to build using pallets is a vertical herb garden. This is an ideal project for anyone who wants to reap the benefits of a garden, but who have limited space. A vertical herb garden is generally either placed near your living quarters, or hung on a wall, or even the side of your house. Besides allowing city dwellers to have their personal garden, vertical herb gardens also prevent small creatures from disrupting your plants. The best part is that it requires only a few steps, and it is not a project that will take up an entire weekend to complete.
And Many More
While these garden projects are enough to keep the average do-it-yourselfer busy for a while, many others are practical and possible to finish over the course of an afternoon. So, if you have old pallets that you haven't yet found a use for, it may be easier than you think to find one that suits your needs.
Container Exchanger has a solution for most storage problems. Search their wide array of products to see what they have to suit your needs.