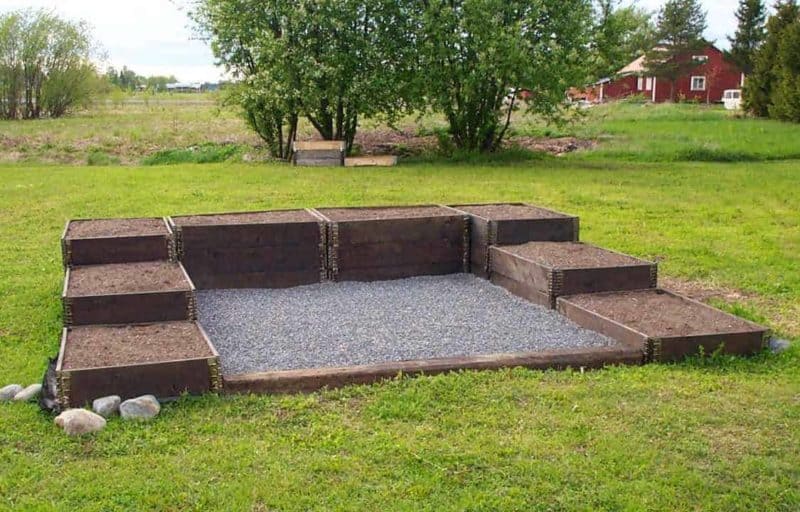 You are used to recycling pallets, but another pallet accessory can be even more useful, especially for raised garden beds. You can recycle pallet collars into impressive gardening walls that can easily help you to have a lovely garden without the cost of construction that it would usually take. In Sweden, people can buy pallet collars at most home improvement stores to use in their gardens because they are that popular.
This smart alternative to cutting, hammering and building up a garden box can provide anyone with space they need to grow beautiful flowers and delicious vegetables. There are plenty of benefits to using pallet collars to make the most out of your garden. In Sweden, the practice is so popular that there are clubs for pallet garden gardeners to join and share tips and tricks.
Space savings is a huge pull for these pallet collar gardens not only in Sweden but around the world especially in urban areas where a room is always at a premium. The beauty of these collars can be stacked to create deeper raised gardens where you can grow root vegetables. You do not even need any tools to stack up against your pallet garden beds.
Just stack the collars are high as you want and add dirt! That is what you call the easy way out. You can grow anything that you want creating beds from pallet collars.
Not Just for Plants
In Sweden, they are using pallet collars not just to create raised beds in the gardens but to build everything from compost benches to small greenhouses. A hot bench can be set up by adding some manure under the pallet collar. All you have to do is dig a pit before the first real frost sets in during the fall. Once early spring arrives you add the manure to the pit with about 50 cm outside where you will place the pallet collar.
Place the pallet collar around the pit and cover with plastic or frosted glass and just wait until the temperature heats up inside and plant your seeds.
You can also create a compost bin area with pallet collars. Just stack up a few collars and add a lid. Add kitchen scraps and other debris and mix it all up every few days, in a couple of months you will have the richest soil for your garden vegetables.
Other benefits of using pallet collars in your garden include:
Reduction in weeds
Better access
Keeps in moisture/less watering
Inexpensive
Pallet collars in the garden can help to keep weeds out of the plants. The walls can help to keep the amount of weeding down to a minimum. They also allow for much easier access; you do not have to stoop over to get to the plants. Using pallet collars also helps to keep the moisture in your garden by providing a barrier to run off after you water the area. Pallet collars are inexpensive, especially if you recycle ones that have been used already.
They are an excellent way to make the most of the space in your yard. They are also a great way of keeping your plants safe and out of the way of other outdoor living. In Sweden, pallet collar raised beds are a usual site because of their effectiveness and easy install abilities.