With these 45 wooden pallet bars as inspiration, your dreams of having your bar at home or in your garden can quickly become a reality! Build your own bar and kick back with family and friends to enjoy a delicious beverage or cocktail. To keep costs down, build the bar from pallet wood – and prevent them from the landfills too! The pride you feel will make those beverages even tastier!
Some of our Crafters have fantastic talent and creativity, and they have graciously shared their designs. They've made some great bars – both indoor and outdoor, Tiki-style, casual backyard ones, U-Shaped, L-Shaped and more. Look at the selection of wooden bars we've compiled, and you'll undoubtedly be inspired to make your own!
Wooden Pallet Bars are ideal projects for the pallet neophyte!
Here's a bar that is perfect for indoors, but can be moved outside for that rowdy poolside party. Serve your favorite beverages, from espresso to beer across this bar, and your family will be amazed! Stainless steel hardware, locking casters, and a satin finish with a deep espresso-colored stain allows this bar to integrate into an elegant, refined home, or poolside to get that party started!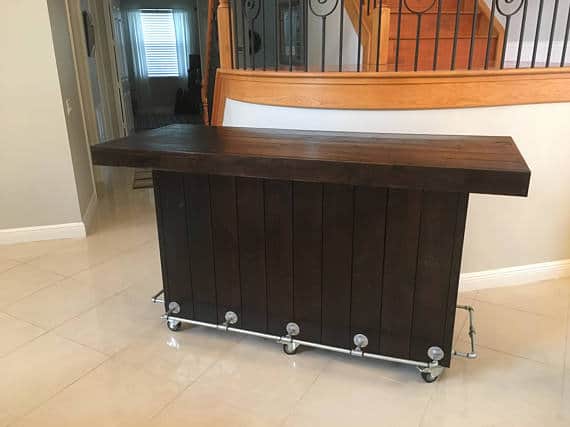 Keep it light with this open, airy pallet bar. It is an elegant way to add a bar to your outdoor living areas. This idea was made of cedar, but it was easily adapted to pallet wood!
Make a bar with a little bit of style: add a concrete top! This Instructables idea is brilliant, and makes a durable bar for outdoor fun!
You don't always have to leave the pallets in their bare form. Paint them and add some metal for an industrial look!
This pallet patio bar lets the partygoers know when you're open for business.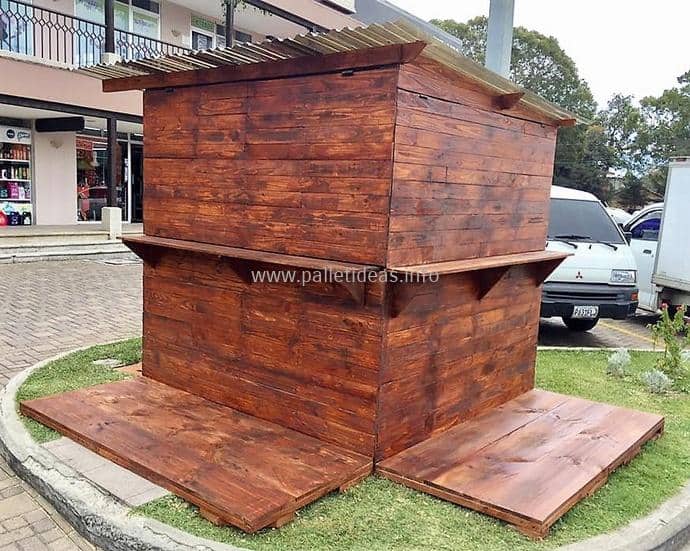 Check out this LED-lit pallet bar found in Equador!
Use a torch to give Wooden Pallet Bars a unique look!
Add visual interest by alternating wood types or staining half of the boards!
Build a party-on-tap beer bar and be the host with the most!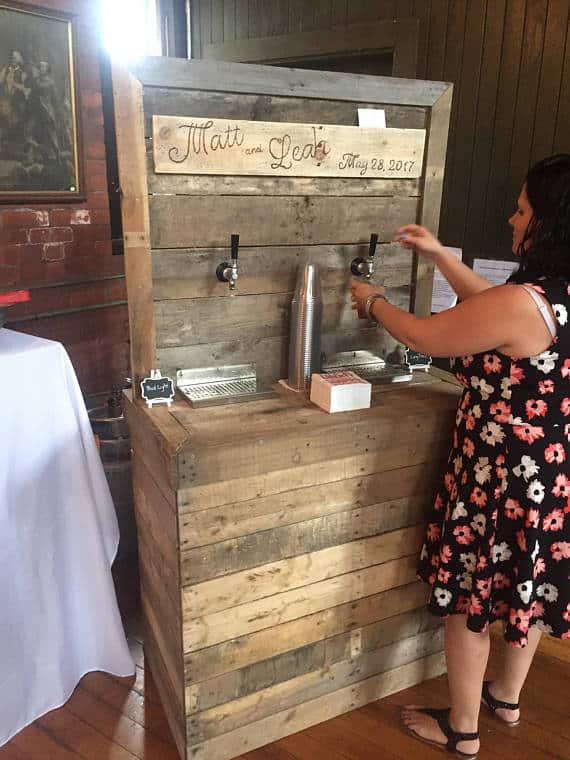 We're sure that your next spring project will be to make yourself a summertime bar! If you need to determine the size of your bar, here are the standard dimensions of pallets in different countries, this may help you.
Sale
Wooden Pallet Bars like this little movable one made from recycled pallets & an old baby carriage. (source)