I made this small set of Rustic Pallet Bookshelves because I was tired of seeing a messy pile of books. I wanted something fast and easy to build, and decided to use some pallets! So, I built this project in about 2 hours, and my kid loves having easier access to the books!
Quick and easy storage solutions: Rustic Pallet Bookshelves to organize your room!
I decided on a rustic style, and made them 120cm long (the size of a pallet board). I screwed all of the boards together because that's faster, easier and more durable than nails.  Additionally, I added the central part so that the boards do not sag – for structural stability – not for the speaker. :) No finishing has been applied except a slight sanding to avoid splinters. In short, a simple, fast and efficient project that saves money! I only used heat-treated pallet wood.
Ce petit meuble a été créé en 2h un jour ou j'en avais un peu marre de voir les livres de mes enfants trainer. Voulant un quelque chose de « vite fait », je suis parti pour un style rustique avec un étagère de 120cm de long (la taille d'une planche de palette). Toutes les planches sont vissées les une aux autres (question de rapidité et de facilité). La partie centrale a été créée autant pour que les planches ne s'affaissent pas, pour que la structure générale soit plus stable que pour y mettre l'enceinte. Aucune finition n'a été appliqué à part un léger ponçage pour éviter les échardes.
Bref, un projet simple, rapide et efficace qui mériterait peut être une finition plus travaillée.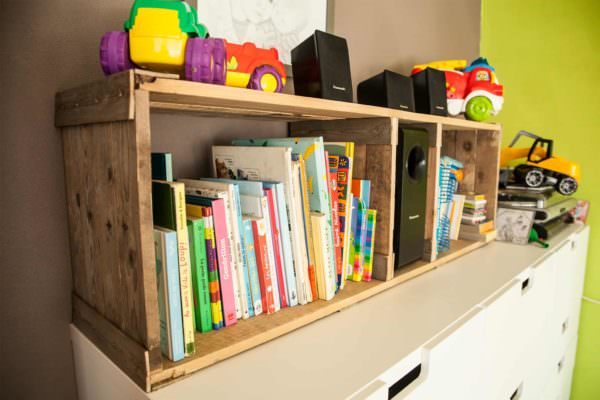 Here are more ideas for a Kid's Room!