Upcycle more than one item with this smart and unique Pallet Wrist Watch Clock! Broken wristwatches and pocket watches become the hour markers on this wall clock suitable for any room!
Upcycle those old broken watches you've got hidden in a drawer and make a fanciful Pallet Wrist Watch Clock!
First, I dismantled a pallet and chose a few choice boards. I planed them to the same thickness after removing all the nails and metal bits. Using a router, I tongue and grooved the boards and glued them together and then to a piece of MDF backer board. Clamp the boards together while the glue dries. Next, cut whatever size circle you desire and sand the edges smooth. Cut out a square or hole using a supplied template that comes with a clock kit. Ensure a snug fit but don't install the unit yet. I painted the clock with a white emulsion.
Pallet Wrist Watch Clock finishing touches:
 Install the clock motor and secure in place per the kit directions but don't install the hands yet. I removed all the straps from old pocket watches and wrist watches and arranged them the way I like. Then I attached them to the clock face using a hot glue gun. Finally, I affixed a hanging bracket. The straps were removed from old wrist watches and pocket watches and glued with a hot glue gun to the face. Fit hanging fixture to back and attach clock hands last. Hang in place and enjoy!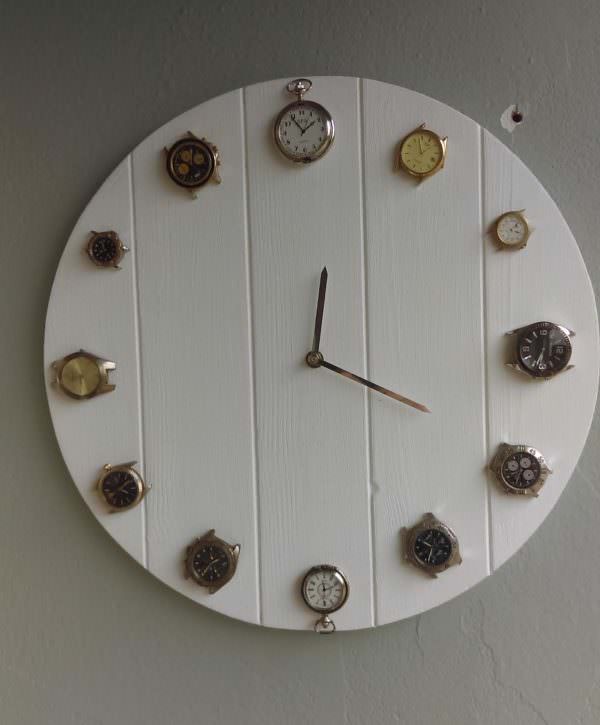 Check out a different kind of ceiling! Put a cork in it with these champagne cork earrings!