We made this Pallet Adirondack Chairs Patio Set using approximately five pallets. The set consists of two Adirondack-style chairs, two ottomans, and one shared side table.
Start collecting pallets and make a Pallet Adirondack Chairs Patio Set for your outdoor space!
The chairs are 24″ wide x 18″ long by 15″ tall at the seat. The Footstool is 21″ wide x 24″ long x 15″ tall. The side table 18″ wide x 15″ long x 24″ tall, and includes a bottom shelf.  We cut, sanded and planed the boards after removing all the metal, nails, and staples.  The tools that we used include table saw, planer, miter saw, sander and an electric drill. The chair legs were bolted together, with everything else put together with drywall screws. They were sanded and stained with dark walnut danish oil, and sealed with an outdoor finish. There were at least four coats on it. Also, all of the legs have a rubber pad on the bottom attached with staples/staple gun.
Check out some of the pictures we took of our Pallet Adirondack Chairs Patio Set. Hope they inspire you!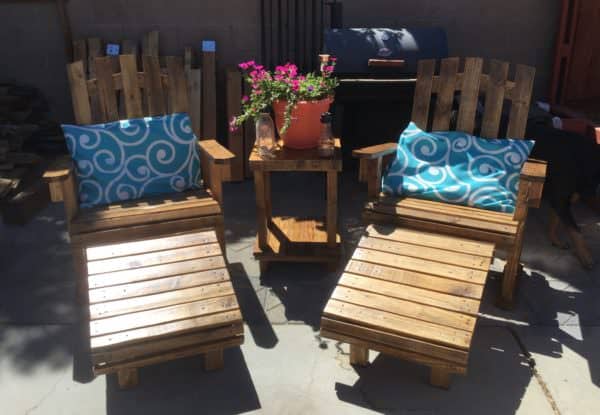 Turn old rain gutters into shelves that'll even hold kitty!  Make a Pallet Sand Pit!