If you are passionate about recycling, reducing landfill waste and saving our planet's precious natural resources, these are excellent qualities! But if you have your eye on a creative re-use for wooden pallets, it is imperative first to verify that your wooden pallets are safe to reuse.
Many people don't realize that it isn't always easy to tell whether a wooden pallet is safe or appropriate for reuse purposes just by looking at it. Perhaps now it is sitting in your garage, but where was it before it got to you? Some pallets even come from overseas, where manufacturing, shipping, and wood treatment processes and standards can be very different than what they are here stateside.
In this post, learn how to make sure your wooden pallets are safe to reuse before you start repurposing them!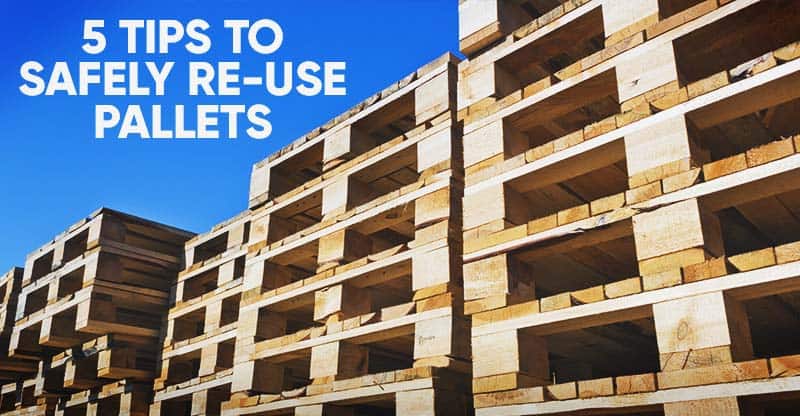 Check for an IPPC stamp or label somewhere on the pallet itself
If you can't find an IPPC stamp on the wooden pallet you want to use, it is best to steer clear and look for a pallet that does have this code. The code is what tells you how the pallet was prepared and treated. This is especially important for any reuse project that may involve the pallet being used by children or coming into contact with food.
For instance, an example code might look like this: US – 11187 – HT.
Here is how to read the example IPPC stamp:
2 letter country code. For instance, "US" means the pallet was constructed in the United States.
Unique number. This number identifies the producer or manufacturer of the pallet. The number is assigned by the National Plant Protection Organization (NPPO).
Other codes as applicable. HT stands for heat treated. DB stands for debarked. MB stands for methyl bromide treated. KD stands for kiln dried.
Now, if you see HT or DB code, the pallets are good – this means the pallet is safe to reuse. However, MB indicates it has been chemically treated, so you wouldn't want to reuse them for your pallet projects.
Look at the pallet itself for stains, spills or suspicious surface marks
No matter what the pallet was carrying when it came to you, there still is no way to know for certain what types of products or materials it may have been used to carry before your order arrived.
The very best way to try to determine if the pallet has ever been used to transport hazardous materials (examples might be oil, propane, solvents) is to do a surface scan.
In particular, look for areas where the wood is darker, degraded or seems slick or oily to the touch. If you find any such signs on your pallet, it may be best to choose a different wooden pallet to work with.
Steer clear of colored pallets in general
There are four major pallet companies that dye their pallets in distinctive colors. They are as follows:
Red pallets, pool LPR (of European origin).
Red pallets, pool PECO (originated in the USA).
Brown pallets, pool IPP (of European origin).
Blue pallets, pool CHEP (originated in Australia).
Because it is usually not possible to verify the dyes used to color these pallets, it is generally advisable not to use pre-colored pallets of any type for reuse projects.
The one exception can be PECO pallets since these fall under USA toxin laws and are each inspected prior to use, but in general, the safest type of pallet is one that is still natural wood and is free from dyes or stains.
Always practice safe crafting habits when using wooden pallets
Even if you are sure you have verified the origin and the overall safety of the wooden pallet you will be using for your crafting or reuse project, you should follow safe habits to avoid inadvertently breathing in any pollutants, particulate matter or fumes that may be trapped inside a wooden pallet.
Here are some key safety tips to follow when working with a used wooden pallet:
Wear a mask over your nose and mouth to block particulate matter and fumes.
Be especially cautious about choosing a pallet for use as a headboard food preparation area table, pallet bed frame or another project where you will regularly come into close contact with the wood itself.
Do not ever burn wood taken from used wooden pallets in any way, even in an outdoor bonfire.
Always work with single-use wooden pallets where possible
There are two main types of used wooden pallets, single use, and multiple uses. It is easy to grasp the health and safety benefits from opting to work with a wooden pallet that has only been used once before being discarded. There is less risk of contamination or degradation of the wood.
The best sources of single use wooden pallets include:
Furniture manufacturers and suppliers
Board manufacturers
White goods manufacturers
One exception to this is if your project requires extremely durable, strong wood.
This is because single-use pallets are typically made of cheaper softwoods, while multiple use pallets are made of more durable and long-lasting hardwoods. In this case, use the other tips listed here to determine whether the pallet is safe to use for your project.
And that's it!
Choosing a safe wooden pallet for use in a craft or DIY project is not rocket science. You simply need to do a bit of advance sleuthing to find out where the pallet is and what it was used for before it showed up at your door.
As well, choosing to reuse a wooden pallet rather than consigning it to a landfill is a great gesture that can give the still-usable wood a useful second life. Every day, creative minds just like yours repurpose used wooden pallets into everything from headboards and bed frames to coffee tables and garden trellises. In the end, these ingenious DIYers get a fun home facelift for just pennies, and the wooden pallets are saved from a life spent decomposing in a landfill.
And if you are searching for more precise information on wooden pallets safety, we have an excellent article that will give you all the information about the different treatments applied on wooden pallets and with a summary of all the stamps, you can find on wooden pallets: How To Tell If A Pallet Is Safe For Reuse?