I was asked to try some roofing and siding products to create a couple of projects that inspired me. I made this Custom Large Dog House, but designed it in such a way, that with a few simple changes, can be turned into a kid's playhouse! It's roomy enough to accommodate a Giant Breed dog (like my Mastiffs), or smaller kids! Not that you should store the kids outside, but you get the idea… haha!
How can I build my own Custom Large Pallet Dog House? Cut list
**note all measurements are approximate
Subframe Cut List:
2 pallet stringers @ 60"
6 pallet stringers @ ~33"
Frame Cut List:
Nine 2×4" pallet stringers @ 38" (for wall studs)
Two 2×4" pallet stringers @ 60" (for wall headers)
Four 2×4" pallet stringers @ 33" (cross pieces)
Two 2×3 pallet stringers @ 34 ½" (vertical portion of dog door frame – can be cut to match wall studs if you prefer, and we installed these at a later step)
Removable Roof Cut List:
One 2×4" pallet stringer @ 60"
Eight 1×4" pallet boards @31"
Two 1×4" pallet boards @ 60"
Four 1×4" pallet boards @ 32"
½" plywood to 62" x 33" (cut to overhang by 1" on eave and rake edges)
Drip railing to cover rake & eave edges (either piece together or cut the corners and bend a single long piece to fit each side)
Roofing felt to cover and overhang x 1" on leave & rake edges
Roofing material of your choice – follow manufacturer's installation instructions for rake/eave overhang and proper sub-roof material prep.
Four scrap pieces of 2×4", approximately 6" long and cut on angles to fit into the corners of the dog house frame to stabilize the removable roof (not shown on drawing)
Scrap 1×4" board, cut into the shape of a dog bone (optional) for name tag
12" of scrap small chain
Optional Vaulted Windows Cut List (for 3 windows total):
Three 1×2" pallet boards @ 28"
Six 1×2" pallet boards @ 21"
Triangular pieces of clear polycarbonate to fit (or leave open and screen)
Optional Porch Railing:
I had two heavier half-rounded posts that I used for the front porch supports to give it a log cabin feel. I fitted them and then used wood glue and screws to attach them together to create a full-round "log". Substitute standard 2×4" boards if you don't care about the log look.
I used old tree roots that were pulled up from a heavy rain a couple years back, and let them dry. However, if you choose to make a more traditional railing, you'll have to measure and adjust accordingly for the materials you use.
What tools & consumables will I need to build a Custom Large Pallet Dog House?
Tools to break down pallets – we used a reciprocating saw (Sawzall)
Small punch to remove nail heads
Clawhammer
Utility knife
Miter/chop saw
Random orbit sander
Palm sander
Tape measure
T-square
Utility scissors
Hacksaw
Band saw
Scroll saw
Jigsaw
Drill press
Belt sander
Disc sander
Sandpaper
Sanding sponge
Paint brushes/sponges (for polyurethane clear coat)
Drill & various drill bits
Impact driver
Circular saw
Pencil
Ink marker (Sharpie)
Chalk line
Triangle square
Bubble level
Clamps (various sizes are handy)
Hobby rotary tool (Dremel), various carving and sanding tips
Wood glue (water-resistant)
Gorilla Glue
Silicone sealer (optional) to make the house more weather resistant
Machine screws & Nylock nuts (nylon inserted nuts)
Scrap piece of pipe – we used copper
Small scrap piece of pipe strap, cut into two pieces
Wood filler
Two cup hooks
4" outdoor deck screws
3" outdoor deck screws
1 5/8" outdoor screws
1 ¼" outdoor screws
3/8″ threaded rod (or slightly smaller)  – we had a 36″ piece left over from another project
Ondura Roofing Nails
Ondura Roofing Vent Support Foam
Tuftex Clear Polycarbonate panel
Tuftex Foam Supports
Let's get to building this Custom Large Pallet Dog House:
First, decide on the size. The dimensions of this doghouse are 36″ wide x 60″ deep and 36″ tall  The height does NOT include the roof height. Design your roof as peaked, "lean-to", or a shallower slope to your liking. We went with a sharp-peaked roof at approx. 45-degree angles and used the main ridgepole.
Custom Large Pallet Dog House could be a kid's playhouse/cabin, or use the idea to build a chicken coop, rabbit hutch or other critter containment system for a flexible outdoor project.
Here's the sub-frame with the flooring installed (looking at it from the bottom up) so you could see what the sub-floor looks like.
I broke down approximately 8 pallets, but some were of a lightweight style with what looked like rounded fencing slats (they held lattice at our local home supply center). We loved the almost log feel of them, but you can side your doghouse any way you want. I used pallet stringers with the forklift arches for two reasons:
easier to move with hand-holds, and
it just looks cool. You could substitute 2×4″ boards for a large dog house or kid's playhouse if you chose. I used two stringers in their complete length of 60″ – this breaks down to a 24″ front porch and a 36″ doghouse structure. Then I cut 6 other stringers to 33″ and installed them on the insides of the long stringers, 12″ on center. I secured them with 4″ exterior deck screws.
A frame's cool, but what about some walls in your Custom Large Pallet Dog House?
Walls are framed out, including opening for the dog door. Flooring is being started at this point. Note the front post is a pallet stringer, but it's a half-round shape. We liked it because it sort of resembled a log and used it purposely.
See the drawings for the cut list per section of build and cut your pieces. Double-check measurements since pallet wood aren't consistent! I installed the vertical wall supports first, pre-drilling and using 4" screws. Next, I installed the wall headers and then filled in with the cross pieces. I fitted in the dog door studs in later once I measured my dog. The height of a dog door is typically found by measuring to the point of your dog's upper chest. Since my Mastiffs are getting older, I made it a bit taller than that so they wouldn't have to duck too far. If you're making a kid's playhouse, simply frame for a door opening (with or without a porch).
Start flooring! Use any materials you like, but I used pallet wood for my Custom Large Pallet Dog House
Flooring has been installed, and siding is started.
I pre-sanded my floorboards so they'd be smooth for a dog's paws. Additionally, I included a slight pattern on the porch section of the dog house just so it would look neat by staggering the joints. It's not necessary, and won't change the functionality. You can run your boards front-to-back or side-to-side. I had a lot of longer boards so I installed them front-to-back. There was some trimming around the wall studs, but it was easy to fit using a jig saw. When complete, patch the floorboards and let the wood filler dry.
Start siding the Custom Large Pallet Dog House in any type of materials you want
At this time I began siding the doghouse. The boards I was using were approximately 3/4" x 3" at the thickest points, tapering to a very thin edge. This meant that it was easy to hand-plane if they didn't align. I started from the bottom up, since the roof overhang would hide any slight errors. I only did the three outer walls at this time since I still needed to fit the dog door. If you wished to fill in any gaps, you could use a silicone sealant at this time.
I mitered the corners around the back and sides, and straight cut along the dog door.
Siding is all installed. My dog is ticked off because I won't let him in the doghouse yet so sorry for the crabby face he's making.
Stop, it's time to install the dog door before the Custom Large Pallet Dog House gets too heavy!
Next, I installed a cross piece to support the dog door frame along the front of the doghouse.  You could absolutely use a store-bought doghouse, but I had Ondura's clear polycarbonate panels to use instead. I measured the height I wanted and drilled two holes in the door frame supports big enough to support a scrap piece of ½" copper pipe. I cut the door-shape out of the plastic panel and used the foam supports that you buy with the panels as a template. Next, I transferred that wavy shape down the center of a scrap 1×2" board and cut it with a scroll saw for the most accuracy. Those two pieces sandwiched the plastic panel. I secured them with machine screws/nylock nuts/washers after pre-drilling. Then, I added two pieces of pipe strap as the hinges and wrapped those around the pipe, bent them until they touched and mounted them to the nuts/bolts. I trimmed the corners of the panel with scissors until the door swung freely but fit as close as possible. Finally, I finished siding the front now that the door was in.
Here's a view (above) of the complete homemade dog door using Ondura clear polycarbonate. It is mounted using a copper pipe secured to the vertical dog door frames on either side. We put a piece of threaded rod through it to add rigidity and the ability to center the pipe easily by adding washers on both sides, then nylocks on the outside. Two pieces of pipe strap are folded over the copper pipe and bolted in between the sandwiched pieces of wood with more machine screws and nylock nuts. The extra protruding bits on the machine screws were cut off with a hacksaw flush to the nut.
Here's a close-up of the hardware stack up. You can see the threaded rod protruding out to the right side – it runs down the center of the copper pipe to create a sturdy hinge that supports fully across the width of the door. We were pre-fitting the copper pipe straps over it in this picture. Ignore the screw. It was just there to hold something temporarily.
In the above picture, I used the foam padding that comes with Ondura and Tuftex panels to trace the shape of the corrugations onto a piece of 1×2″ wood, then I cut it out with a scroll saw. I was test-fitting it to the curves of the corrugations and it worked!
Here's the cut board, with the piece of clear polycarbonate sandwiched between the two pieces of wood. I then ran machine screws through the wood, securing it in four places to prevent stress on the plastic. ALWAYS PRE-DRILL with the polycarbonate panels and vinyl panels.
Build the roof – after deciding on the style you like for your own Custom Large Pallet Dog House
There are many styles of roofs. I wanted a very peaked roof for the way it looked, but you could make one much flatter or a lean-to style with any slope direction you wanted. An additional feature of this roof is that it can be easily removed, but you can secure it permanently if you choose. First, I built the frame of it and made it match up/align with the house walls. I installed the rake boards to the ridge pole after cutting the angles the way I wanted.  I mounted the ridgepoles to the roof frame and secured with screws. Then, we sheeted the sides with plywood, added drip edges, covered it with roofing felt and secured that in place. Finally, we roofed it using Ondura's asphalt corrugated panel system.
We've just installed the window frames into the roof frame.
Finishing Touches on this Custom Large Pallet Dog House
I used old tree roots – I think they were Elm – that were washed up by heavy rains a year or so ago and were thoroughly dry. I chose some that had naturally straight pieces and angled branches to give the railing a bit of character. Once side was almost perfect as-is, but the other side I had to improvise and piece a couple parts together. I glued and screwed it all in, and before it is put into service, I'll seal it with a UV-protectant varnish to ensure no bugs have their way. The last fun piece was just a piece of scrap wood that I carved into a bone shape on the scroll saw. I drilled two holes, one at each end, and attached a scrap bit of chain with machine screws and more nylock nuts. I hung it in place with two cup hooks installed on the front cross piece. Lots of touch-up sanding and the dog house is ready for use!
Here are some of the tree roots I sanded using sandpaper, sanding sponges, and even a Dremel to clean up some of the indents. I screwed two pieces to the main piece and glued it as well.
This is the other side of the railing. This piece of tree root had a nice natural split that didn't require any other pieces to be screwed together.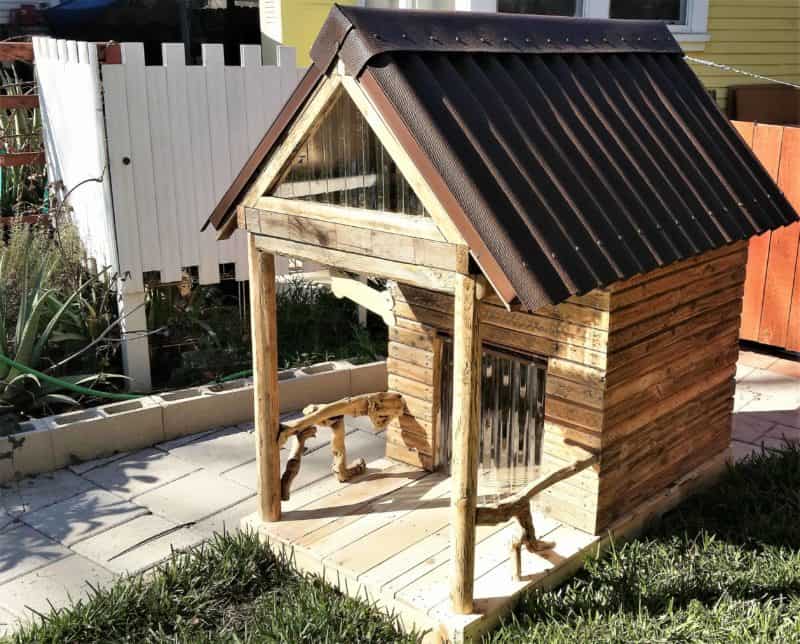 Here it is – the complete doghouse. The roof sits securely in place but is removable without any hardware. The dog-bone shaped plaque on the front is ready to be inscribed or painted. The natural root railings look rustic, and the curved pallet boards give a bit of that log-cabin feel. The three vaulted windows and polycarbonate door let in a lot of light for free warmth in the winter, and so your dog isn't relegated to a dark, depressing box.
The wind kept blowing the little plaque crooked. But here's the front view of the doghouse. The dog door is light and easy for the dogs to navigate – even those that are fearful of dog doors since they can easily see through it. The Ondura roofing was super easy to install and looks great!
To make this into a kid's cabin, enclose the whole thing, and just add an extension square in between the roof and the house… or plan on it and build the walls taller. Wouldn't you have loved a little 3×5′ playhouse with windows like this as a kid? <3