Here's my DIY: Pallet Cat Tree. I needed a 103″ cat tree, and buying that size becomes way too expensive for my micro-sized budget. However, I did have some old 4×4″ rounded redwood posts used for bordering gardens and such, as well as pallets! So, the only things I had to buy were the few bits of hardware and 150 feet of sisal rope (3/8″).
Pallet Cat Tree: Indoor fun for your kitties – can be installed in the living room, bedrooms, or anywhere you choose.
First, measured my ceilings. I have 103″, and the 8′ posts would require piecing them together. So, I decided to add a couple of wooden levels for them to perch on and used pallet plywood for it. I cut the pieces to length, minus 1″ gap for the adjustable foot we used at the top (like under appliances), and subtract the thickness of each level you use. We used 3/4″ plywood and made three levels, so we subtracted 2 1/4″. We found the centers of the posts by drawing lines from the rough corners of the posts (they're rounded, not perfectly round) and making an X-shape. Then we pre-drilled these to be big enough to insert a long screw in loosely (so it could spin when held vertically), but small enough to be secured later with a double-ended threaded rod, like drapery rod:
Pallet Cat Tree: Time for lots of hot glue! Do this part of your project outdoors to avoid any messes!
I wanted an easy to do all of the hot-gluing necessary for this project.  So, I found a scrap 2×4″ board, drilled a small hole and installed a very long screw. I lucked out and had a couple that was around 5″ long. Then I set each section onto the screw where it could spin freely and began to hot-glue. Store-bought cat trees only glue a dot or two every few turns. However, I wanted this to be almost kitten PROOF, so I glued a bit on every turn. I spent about 6 hours total gluing all the sisal rope. Then I built a pallet wood rope bridge and a hanging hideaway box. I built the box by butt-joining the frame with thin deck boards attached across the bottom. I sanded all the wood used fairly smooth to prevent splinters in kitten "squish-beans" (cat lovers will get it, haha).
Assembling the Cat Tree and installing the Wooden Perches:
In between gluing, I cut three different-sized pallet perches out of pallet plywood. I used a 6″ hole saw and cut kitten passageways that were very near the mounting point so they wouldn't have to try to jump and fall. I sealed each piece with several coats of a non-toxic sealer, and then pre-drilled so that the threaded rod could slide easily through. Time to assemble! I installed a part of non-slip material on the bottom post piece, then screwed the threaded rod in. I slid on the perch, and twisted the next piece onto the threaded rod and straightened it. At the top section, we screwed in one of those adjustable feet for furniture and a small block between it and the ceiling. We secured it in place, and as our cats grew, added one small angled brace to the trim around our window for added stability.
Bridging the gaps:
I used sisal rope on the bridges – which were just pallet wood scraps that I drilled two holes into each end and "laced" more sisal through. On the underside, I used some nylon flex-duct strap and stapled it in place to provide more stability for my then very-little kittens. Now they run across like a herd of monkeys!
Extensions are like cats; you can't have just one. Time to add more since we got more kittens…
The kittens liked the tree so much, but as they grew, all three started cramming into one basket. Soooo…. time to add more. I built a hexagonal tunnel with more pallet wood and used the natural knot holes as the base for carved "squish-beans"  – making several kitty paw prints with a small hole saw and drills. Then, I built each angle to be 60 degrees, so each cut is 30 degrees on each end. I used copper strap tape to trim the edges and provide a sturdy way to suspend it with two eye bolts and D-Ring carabiners. It can only swing front-to-back, and not side-to-side to prevent too much motion on the bridges. I added another basket as a final destination, so each cat has their own place to perch.
Final thoughts:
When my kittens were very little, the tallest portions freaked them out,  but they were masters of their urban jungle in a couple of months. I only used heat-treated pallet wood and kitty-safe sealants. So far, the kittens are having a ball! Check out my outdoor Kitty Patio I made for them too – outdoor fun with indoor security! I also did a separate post on the Cat Tree Tunnel Addition.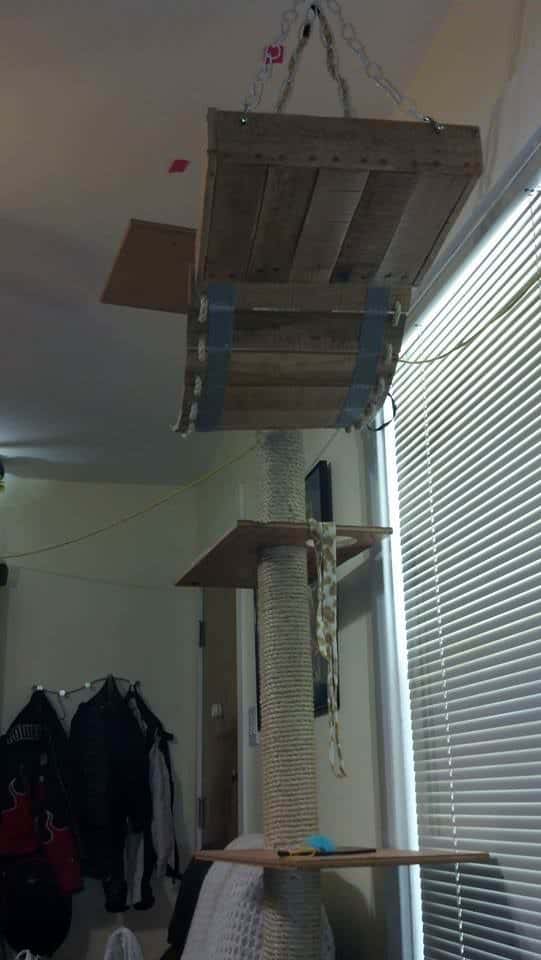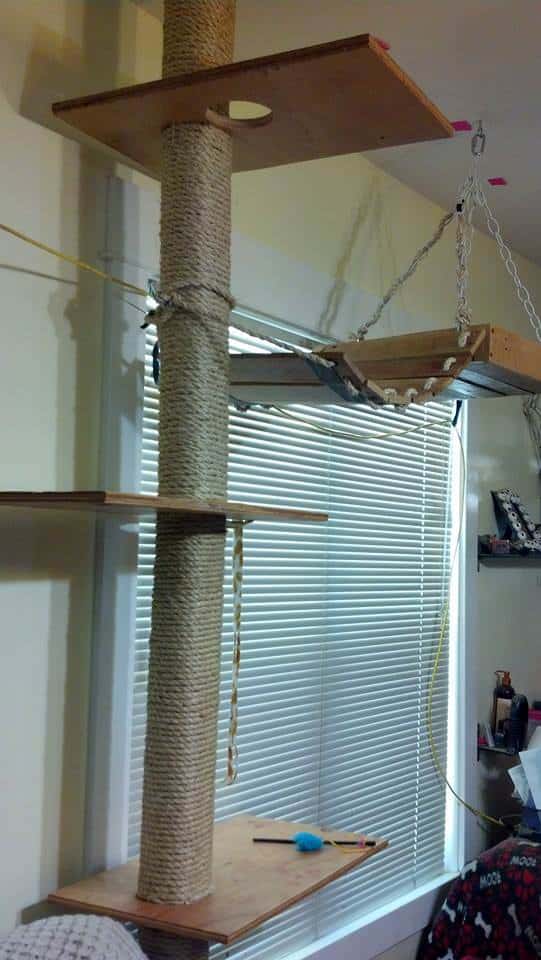 After I made the little kitty paw holes using some of the natural knot holes, I outlined the paw prints with metallic craft paints. My kitties LOVE having cat toys gently pushed up to the openings as their paws shootout to play.