With the holidays rapidly approaching, we've got 10 Last-Minute Upcycled Wooden Christmas Ideas for you to build or buy! If you've got the time, make one or more of these for your loved ones. If not, it's the thought that counts!
Check out ten terrific Last-Minute Upcycled Wooden Christmas Ideas For You!
How about a great idea to upcycle two things: a Wooden Flower Press!
Make a press using upcycled wood or pallet wood scraps. Upcycle memories of bouquets, bounteous gardens and unusual plants with this ingenious idea!
Decorate the halls, the table, the windowsills and more with these precious little Christmas Tree Triangles
The simplicity is what makes these little trees so adorable! Cut out the shapes and have the kids add the stain, paint, color washes or homemade natural stains.
Candy-Cane & Christmassy Candle Holders!
Brilliant! Buy dollar-store LED candles for safe candles around kids and pets. Have the family assist you when you paint these holiday ornaments.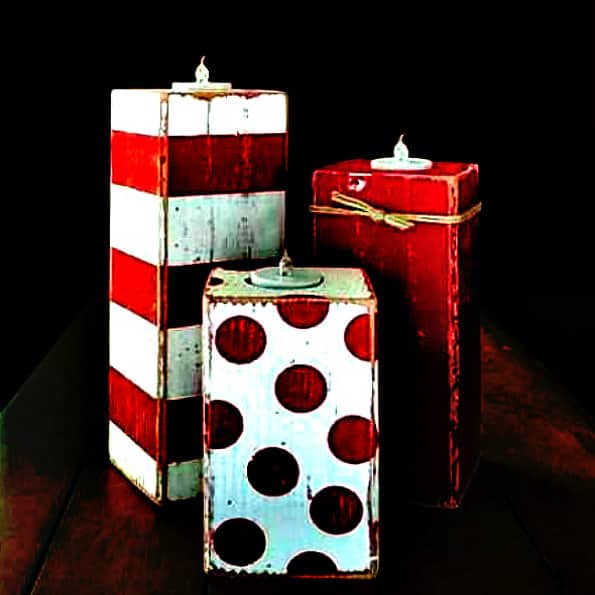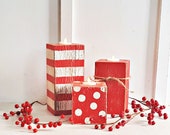 Wood Slice Holiday Trees Celebrate five (and more) golden rings!
Make use of those branches trimmed from your trees, or make use of that holiday tree in January and prep up for the next year.
Primitive Packages are Pretty Christmas Decor!
Grab that twine or sisal rope and some cheery colors! Or, a variation on this idea uses a pretty ribbon to "wrap" the packages!
Farmhouse Faucet & Upcycled Wood Coat Rack!
Use that box of old faucets, knobs and handles in a practical, attractive way!
A Modern Twist on Rustic Christmas Trees!
Here's another idea to do with those scraps and trimmings!
Reclaimed Wood Bath Caddy
Build a bathtime relaxation station!
Gifts for that Superhero Wanna-Be in your life
C'mon. This battle-worn Spidey is awesome-sauce!
Reclaimed Wood Wave Jewelry Box!
Outrageous! If any of you want to send a gift to your friendly administrators, I will suffer for the greater good – HS. :D
Purrfect Laptop Stand!
Down-Cat pose!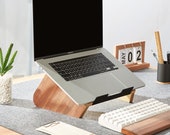 Mortise and tenon wooden Laptop stand
◆ Features: ♡ Boost your performance : Sitting in a front of display in right, healthy sitting position with less eye, neck, spine & shoulder strain. ♡
Storage
: Enhance your desktop b...
What are YOU making for holiday decor or gift ideas?  Here are 28 more Christmas Decor Ideas!  How about the Top 6 Portable Gas Grills for your Tailgating Party?