I was looking through Pinterest one day and saw many serving trays. However, many were priced at $50 and up! To be honest, they weren't that nice or extraordinary. I used my Shopsmith Mark V woodworking system to build this project. The system has a table saw, bandsaw, disc sander and drum sander all built in. This made it easy to make this Elegant Pallet Wood Serving Tray. On this project, I used all of the attachments to make one for myself. My project measures 15″ x 20″ with handles bought at the local hardware store. However, all of the wood is from pallets.
Elegant Pallet Wood Serving Tray:
First, I broke down a pallet, removed the nails, and sanded the wood smooth. I cut the boards to length for the bottom of the tray, and carefully sanded the adjacent sides for a snug fit. Next, I cut the two end pieces and added the curves in so the handles wouldn't be so high off of the tray. I butt-joined the side pieces together and then installed the bottom boards onto the frame. Finally, I sanded it all carefully before I stained it, and applied a varnish to protect it. I'm very pleased with how this came out!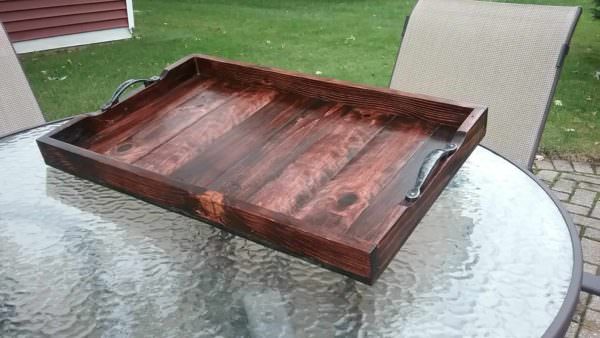 This tray is stunning! But we have even more terrific ideas, like this Pallet Wood Tray With Cutlery Holder!