It's beginning to look a lot like Christmas… This is how the song goes, but not if you don't have any DIY Christmas Décor up! It's time to trim the tree, and spike the eggnog (well, after fighting traffic all day that is), and start wrapping those presents! We're presenting some ideas from Etsy today (because our Admin. Assistant got lost somewhere in Etsy – so let us know if you find her). In the meantime, check out some of these terrific Christmas Décor and Gift ideas as inspiration. If you're running out of time this year, then follow the links to the individual Etsy shops we've included.
Christmas Décor can be simple – and practical:
Rustique Signs makes these brilliant, double-sided rustic signs. You could even have some fun with a "GO AWAY" sign when the in-laws are due to arrive. (Just kidding – we <3 our in-laws!).
Your Holiday Decor can be bright and festive:
Lower Ark Crafts makes these adorable gift-box signs for your yard or indoor decorating ideas. Perhaps if you used this as inspiration, you could have the kids or grandkids do the decorating!
Christmas Décor can be large and in charge:
Three Leafs Woodworks helps you let the neighborhood know that you're excited about the holidays with this cheery snowman yard sign. Can you feel the chill in the air?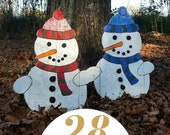 Pallet Snowman Quality Built
This snowman (red) is the perfect addition to your outdoor Christmas decor! (Also featured in 1001 pallet blog) They have an adorable smile and will greet your family and friends with a warm wave! The...
But maybe you'd rather be laid back:
Brennan's Wood Works Makes a snowman fit for a West-Coast beach as Mr. Snowman rocks a pair of shades and a jaunty hat. The beautiful tree keeps him cool in the shade.
…And it can be rustic too:
PalletArt4U Makes snowy tree signs for your porch as well as cute little snowmen for your mantle. Snowball fight, anyone?
Holiday Décor can be naughty and playful:
FreeWoodPL makes a variety of laser-cut ornaments – this group is in the shape of a clowder of cats, romping around (and in) a holiday tree. Sounds familiar to those cat owners out there, I bet. Imagine if you got these – the kids or grandkids could paint them like your pets!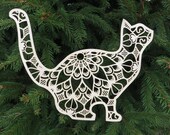 Christmas Décor can be charming:
FreeWoodPL makes these amazing laser-cut candle holders. Can you imagine the shadows this would cast?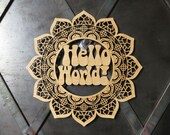 Hello World! Wooden Ornament, natural wood mandala, filigree nursery wall hanging, custom text sign, baby shower gift, hippie eco words art
'Hello World!' Wooden Ornament, natural wood mandala, filigree nursery wall hanging, custom text sign, baby shower gift, hippie eco words *** We offer you a beautiful filigree wooden ornamen...
GrayKeyDesigns have lots of fun indoor and outdoor signs that may inspire a little holiday spirit! Are those sleigh bells I hear?
Let the world know how you're feeling:
KSCraftCreations has this adorable Grinch-themed set of wooden cutouts. Perfect for when you're feeling a little Bah-Humbug!
Holiday Decor can be a terrific gift to give:
DownHomeMarket makes these rustic snowflakes in beautiful blue tones that get you to want to grab a blanket and hot chocolate – topped with tiny marshmallows, of course.
But did you think about your decor as being multi-purpose?
LiElasNaturals makes these beautiful reclaimed wood stars – these could be used for several holidays. Just add some ribbons, or wrap them in lights, and anything else you can think of! They also had a set of cute little reclaimed-woo trees. Talk about festive!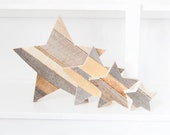 Rustic Home Decor, Farmhouse Decor, Wood Star, Wall Decor, Reclaimed Wood, Woodland Nursery, Kitchen Decor, Country Home, Boho Wall Decor
Rustic Home Decor, Farmhouse Decor, Wood Star, Wall Decor, Room Decor, Reclaimed Wood, Woodland Nursery, Rustic Kitchen Decor, Home Decor Custom Made Rustic decor stars: - Choose star size in drop do...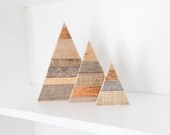 Christmas Décor can be stacked in our favor:
NorthernOaksDecorCo stacks scrap wood into rustic little-framed artwork. Great for you, or amazing as a host or hostess gift! That's stacking the odds in your favor!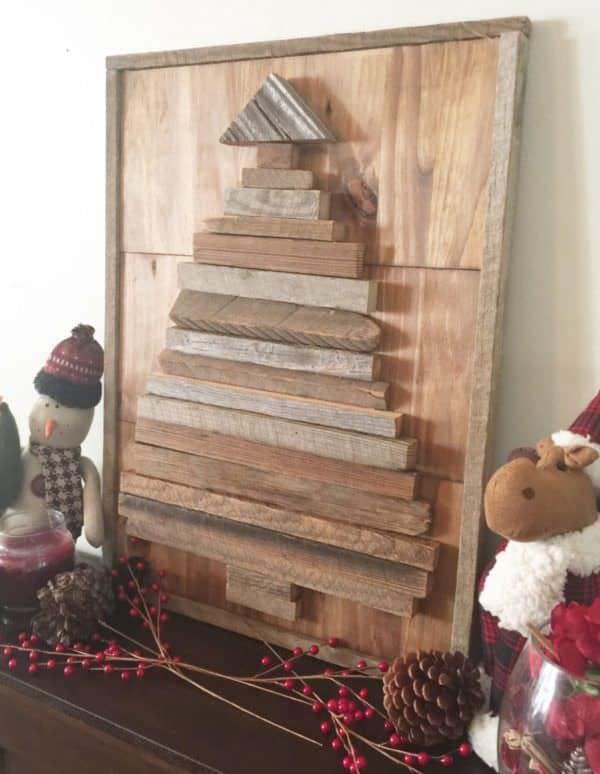 Holiday Décor can be helpful:
FernwehReclaimedWood makes gorgeous upcycled lap trays. Perfect to treat someone to breakfast in bed!
Décor that can help you get your geek on:
OhDierLiving makes these fantastic, super-nerdy block toys that would be the envy of geeks anywhere.
Décor can be thirst-quenching:
RockySpringsVintage has an always-welcome gift idea with a wine or beer tote. Be the life of the party and bring it already stocked up.
Your Décor can light up the night:
WoodlandEdges Has charming rustic wall sconces that would add warmth to any house.
Christmas Décor can put a spring in your step:
GFTWoodcraft If it's got sproingy things poking out of it, this Admin. Assistant is lovin' it. Plus… it's got GOOGLY EYES! What's NOT to love about this silly and adorable set of Reindeer?
Try and top this one:
CoastalCoveCreations have these nicely-fitted Christmas tree toppers from reclaimed wood. Surely, this will inspire you to add some reclaimed, upcycled projects to your home décor!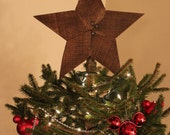 Christmas Décor with bright ideas:
OldYellersFarmShoppe makes reindeer that would even be fabulous holiday night lights to gently illuminate a room for guests while making the house feel cheery and in the holiday mood!
Woodland Holiday Décor – Oh DEER:
WoodenYaPlay creates beautifully layered reindeer that make wood projects into elegant pieces of art. Gorgeous!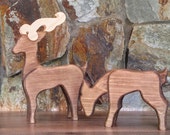 This time it's polite to point:
RusticDesignWorks Makes these little modern trees to decorate any mantle or even down the center of your holiday table! Festive AND you can still talk to your tablemates!
A rustic manger:
WoodfellasAZ creates beautiful little mangers from recycled wood. These could be used for other decorating ideas during the year too!
Grandmas ROCK:
DanaRaeDesignsIt nails it with these absolutely correct blocks. We <3 our Grandmas!
Christmas Décor – Holy Red Robins, Batman!
SouthernSupply would add charm to any tree with these amazing little Red Robins. With only a few brush strokes these little birds become lively. Too cute!
Christmas Décor – Cool ideas keep stacking up:
Woodthinks – Nesting Candle Holders. Brilliant. <3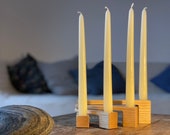 Here's the easy way to wrap gifts:
OpenVintageShutters makes these rustic, vintage-looking crates. Just right for those odd-shaped gifts. Heck with cheesy holiday bags that tear immediately. These sturdy little boxes would be a treasured gift!
So if you use these ideas as inspiration and make your own creations, we'd LOVE to see them. Send in those holiday crafts and builds! If you build it, we'll post it!
If you're out of time and want to help out other small businesses, check out Etsy and find some great stuff! :)
Have a safe and happy holiday season, dear Crafters and Happy Palleting from all of us at 1001pallets.com.