The leaves are changing; the weather's cooler, and there aren't many pages left in your monthly calendar. It's time to think about Christmas Trees & holiday decorations ideas! But why spend a lot of cash when you don't have to? Instead, why not get the family together and use discarded wooden pallets? They're cheap – usually free – and you'll have wonderful family memories, as well as a sense of pride that your family made the trimmings! And, last, but not least, a great advantage is that by using recycled pallet wood, there's no need to cut a tree only for the holiday season! ;) So, to inspire you, we have found 65 brilliant Christmas trees & holiday decorations ideas all made from repurposed wood pallets.
Fancy a pallet Christmas tree? Discover our best ideas! Some of them were made by 1001pallets Crafters & others found around the web. Enjoy! Don't have the same off-the-shelf decor that everyone has. Build or buy unique, handmade pallet Christmas decor ideas!
Use those pallet scraps and remnants in a project like this stunning Pallet Snowflake! If you make pallet crafts, you have pallet scraps. Make these snowflakes for your outdoor decor, or hang them from your trees! If time is fleeting, purchase a set!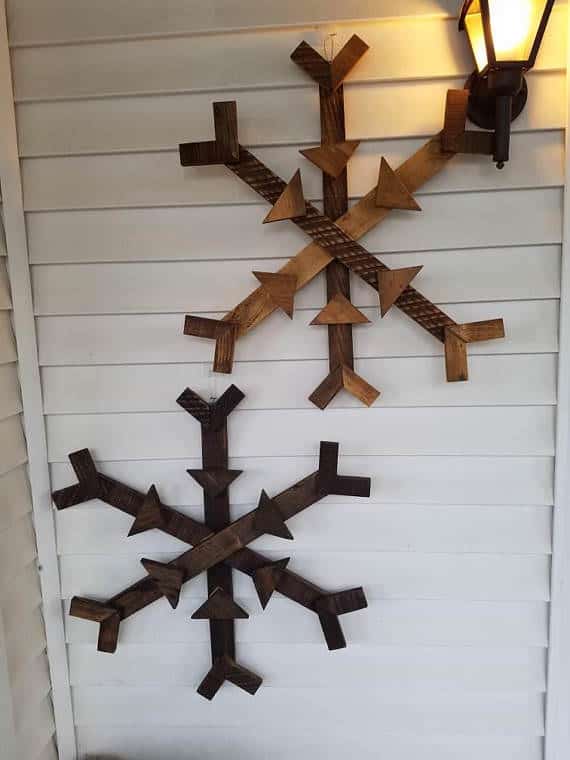 A twist on a good thing – this angled Pallet Christmas Tree! This idea is another inspiring project for those pallet remnants. The angled branches make this little tree perfect for your holiday decor!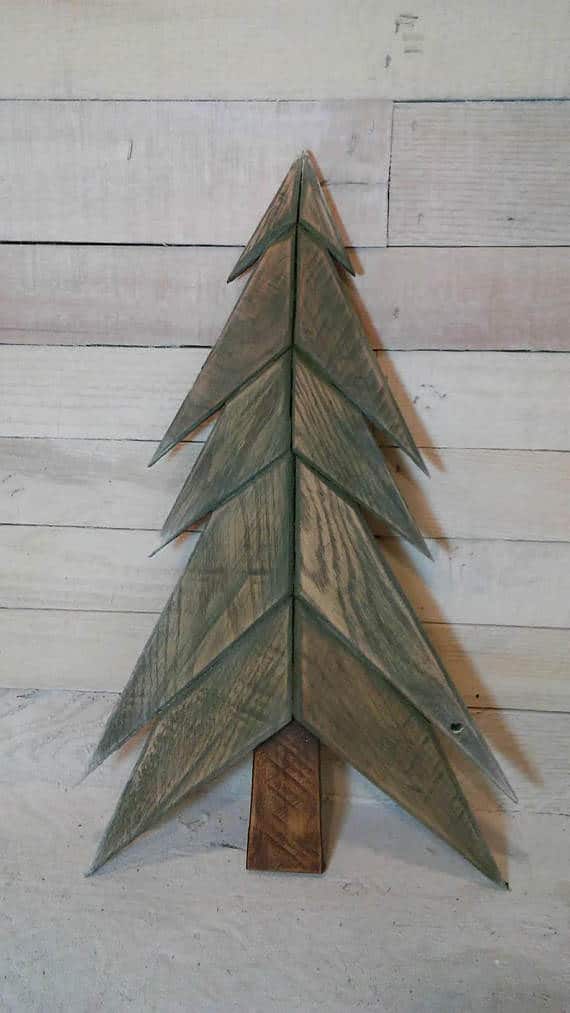 Missing the woods and mountains? Recreate them for your tree with these precious small mountain pallet ornaments! Brilliant simplicity! Do this project on a small scale for indoor decorations, or more substantial versions for your outdoor decor ideas!
How can you improve on an upcycled snowflake? LED LIGHTING! Pallet snowflakes are gorgeous, and LEDs turn this project into a stunning piece of wall art or make a smaller version for the top of your tree.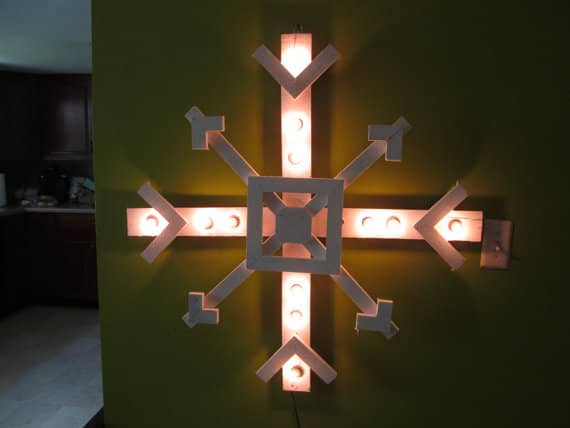 Another adorned Pallet Christmas Tree.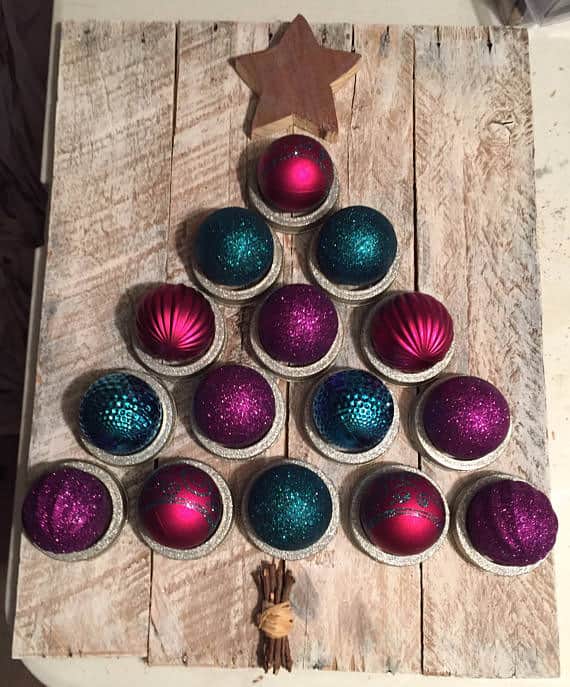 Add to your Pallet Christmas Decor with this Pallet Advent Calendar!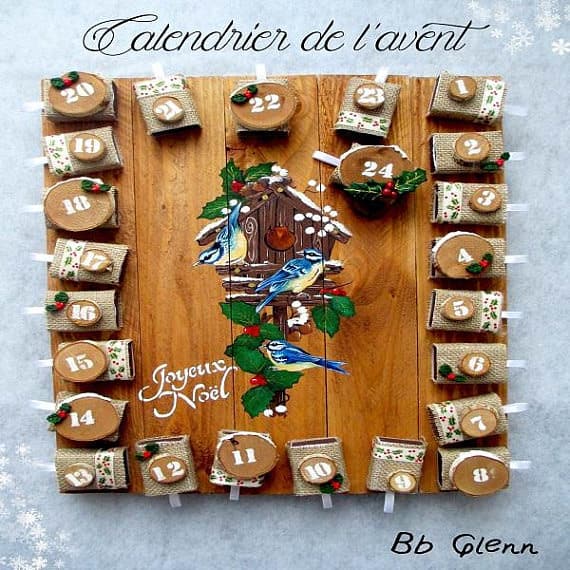 If you don't have a mantel, this Pallet Stocking Hanger solves the problem! Apartment/condo dwellers and all those without fireplaces can rejoice! A place to hang your stockings for Santa!
Have yourself an NBX Pallet Christmas!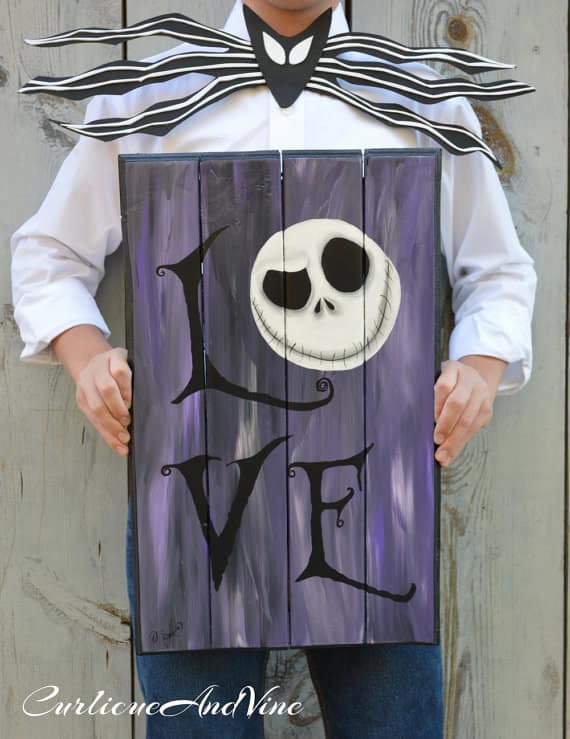 Pallet Holiday Penguin will steal your heart!
If you need a gift for that someone who has everything, then this pallet wall art may be perfect! Although this wall art grouping does not have a holiday theme, it's COOL! If you have a special someone who loves old-school games, this is an ideal gift!
A simple Christmas tree made from one repurposed pallet. Simple elegance: Make a base with pallet blocks and boards. Secure a vertical board in place with metal angle brackets. Cut more deck boards in graduated sizes and attach them. Voila – a tree is born!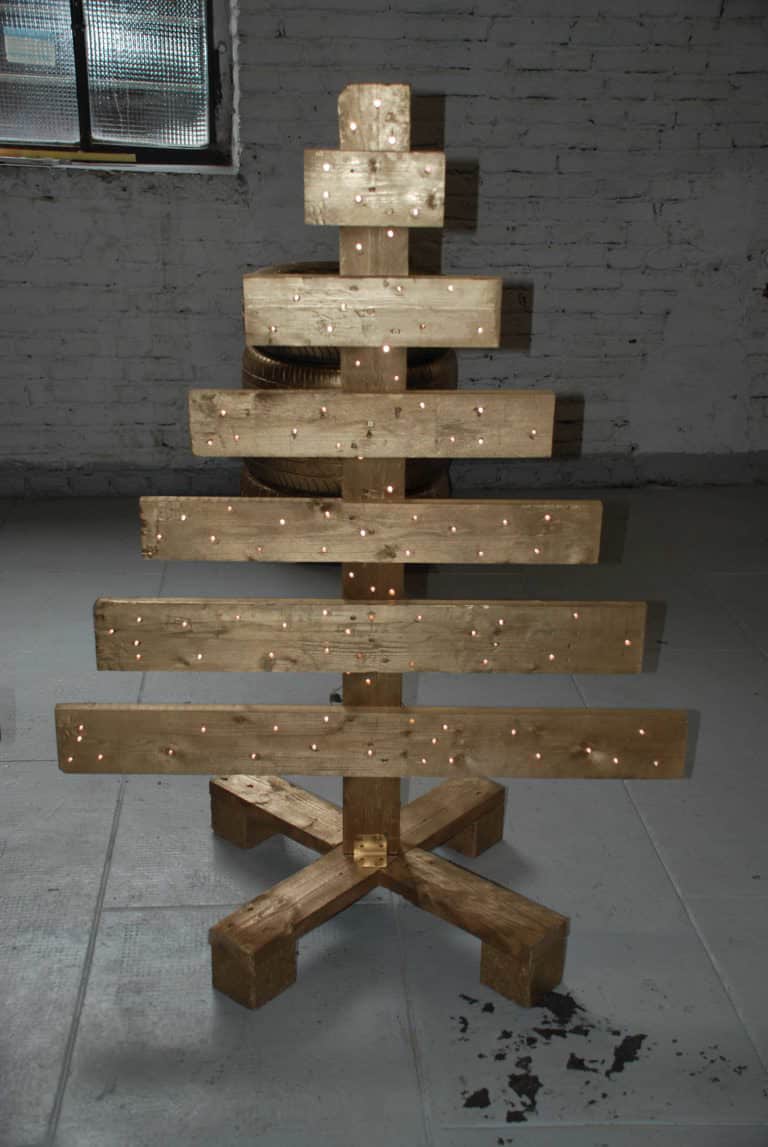 Outdoor Pallet Christmas Trees also made with only one discarded wooden pallet.
A beautiful Christmas stand for kids that can be converted into a lemonade stand for the summer. A great stand – easily made by designing a box or even copying one of our numerous pallet bar designs, and then adding two vertical pieces to support whatever style sign you wish to display!
A pallet Christmas tree ready to welcome presents from Santa. Instead of spacing the boards, pack them tighter to give that illusion of a lush tree. Then decorate at will! Gorgeous, indoors or out!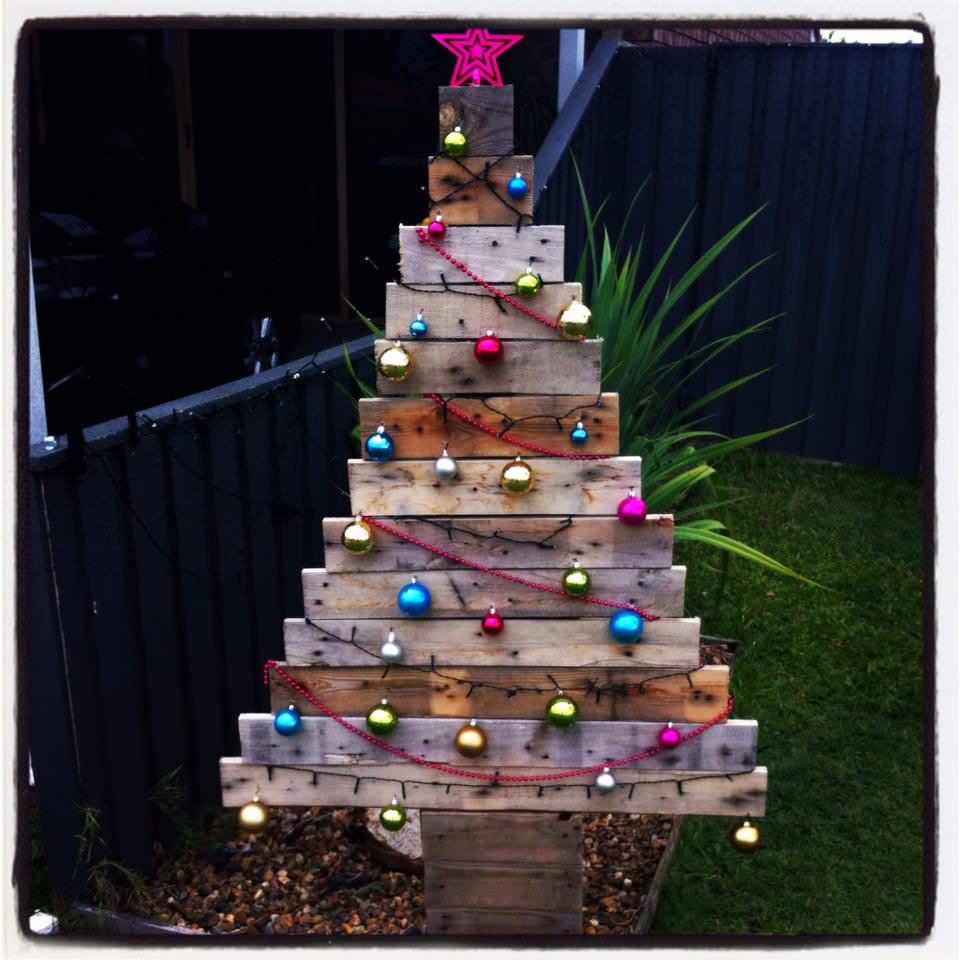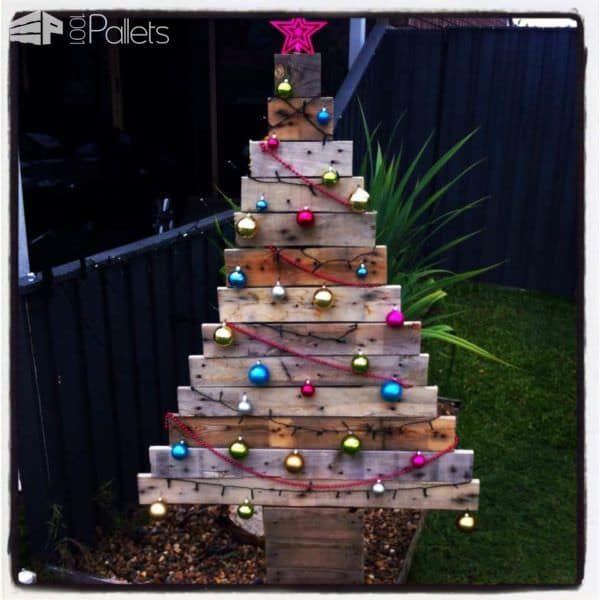 A Christmas Advent calendar made from one single repurposed pallet. All you have to do is to remove one deck and leave the other intact! Then, hand-paint or stencil the numbers (and any other decorations) you want onto the pallet. This would be wonderful to have the kids help with!
This tree is made out of recycled pallet planks and decorated with Christmas balls & felt garlands. This ingenious little tree is made using a lovely branch as the center, and the deck boards are drilled out and secured in place (or you could make half-lap joints, cut the branch into pieces and glue…, etc.). This could decorate your house and help clean up your yard at the same time! :)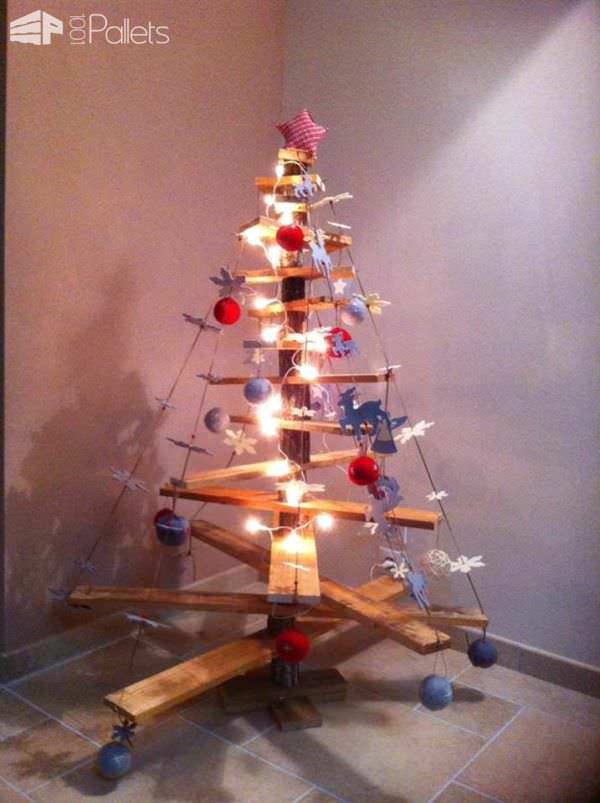 A simple and lovely Christmas tree made from one single pallet and decorated with a light string. Another easy idea – and you could burn the wood or stain it dark to get that, beautiful effect. The cute little lights highlight the wonderful wood grain visible!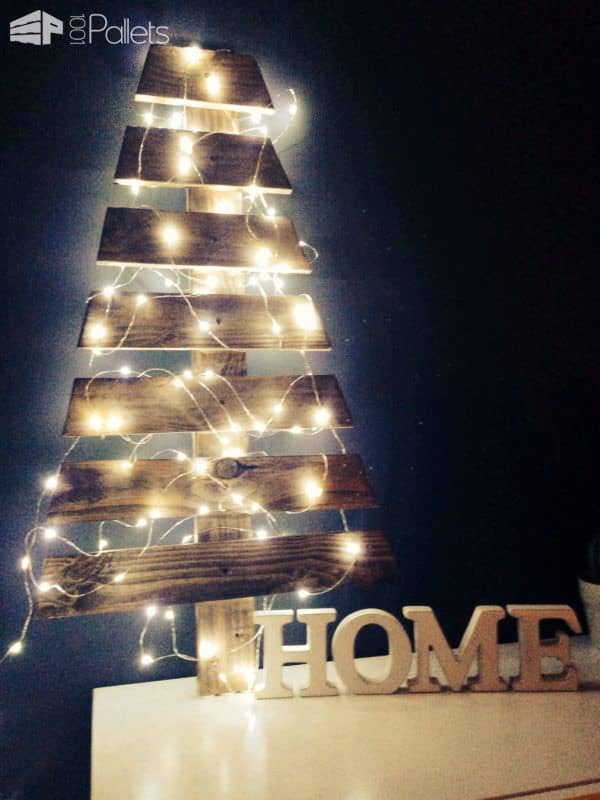 A fresh Christmas tree made from one single pallet. Just saw a triangle out of a wooden pallet, put some screws, paint it, add decorations and voila!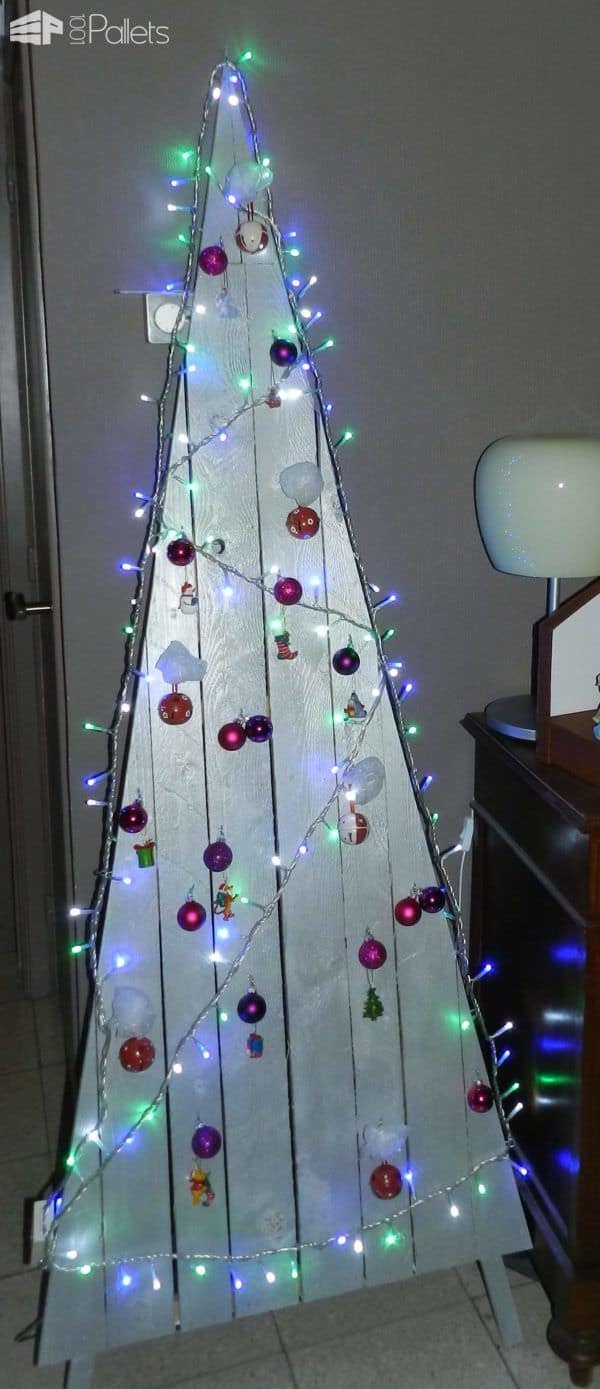 Another 3D Christmas tree made from one upcycled pallet. Stable and eye-catching! This ultra-modern take on a Christmas tree is a show-stopper! Just take your time to cut your angles right! You could even make this tree so you could fold or easily disassemble it for storage under your bed or back of the closet!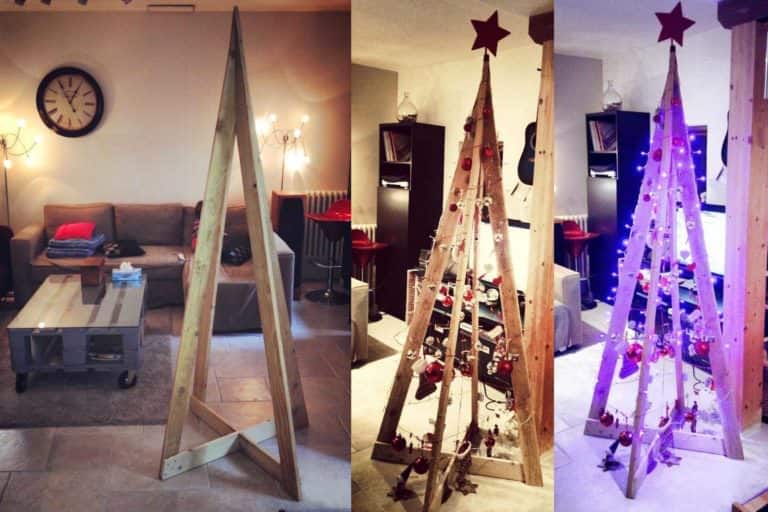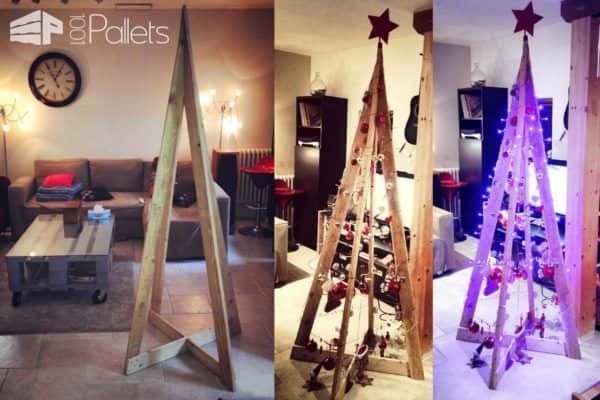 Pallet Christmas Trees in a Christmas Tree shape! This is a tree that begs for spotlighting to cast fantastic shadows! Simple idea, and if you work with thin pieces, very easy to make (you could even staple the pieces together).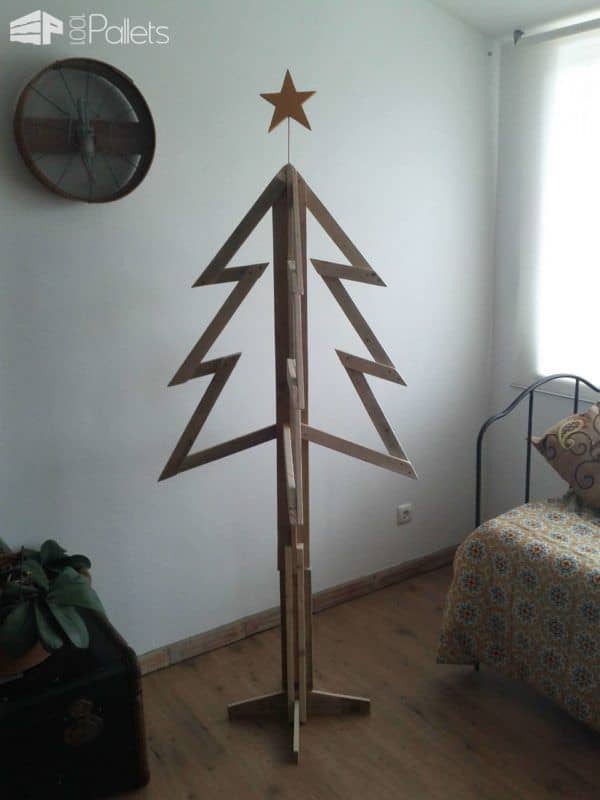 Christmas wall art made from reclaimed pallet wood. But it's not all about the trees. Don't forget the trimmings for the rest of the house, and the front yard, and the backyard…. :)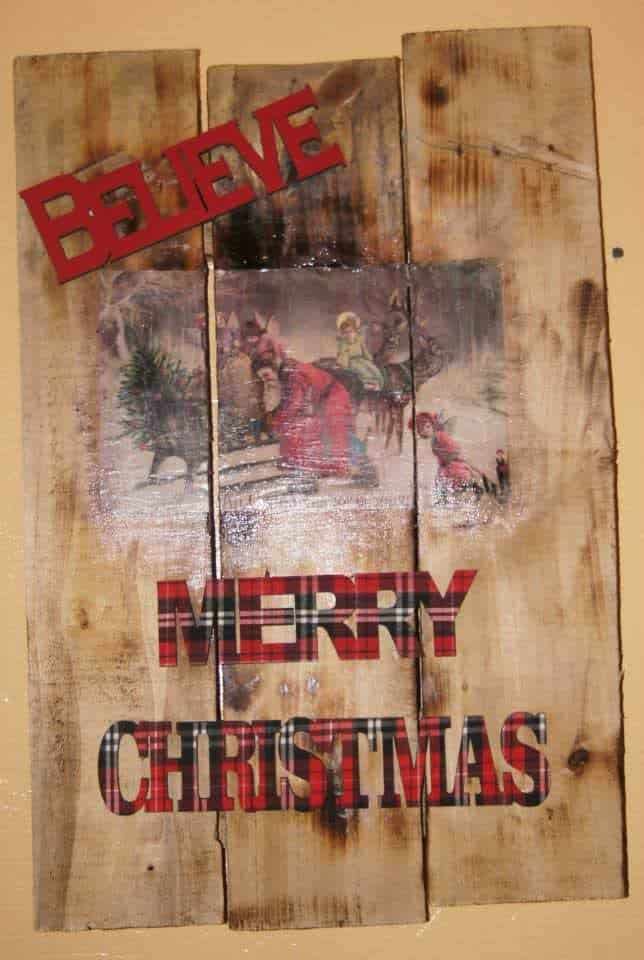 A different take on Pallet Christmas Trees! Just paint a Christmas tree on an old pallet, add some nails, and hang decorations on it. A perfect project for the kids (so you can assemble some of those presents you purchased them)! Only paint a tree shape of your design onto a pallet. Let it dry, and decorate at will!
Beautiful Christmas tree made with more than 50 pieces of pallet planks. Love the shape and the decorations! It's beginning to look a lot like Christmas! This is a great way to bring holiday cheer while using scraps from other projects! Drill the pieces and then stagger them to create a round, full, shape.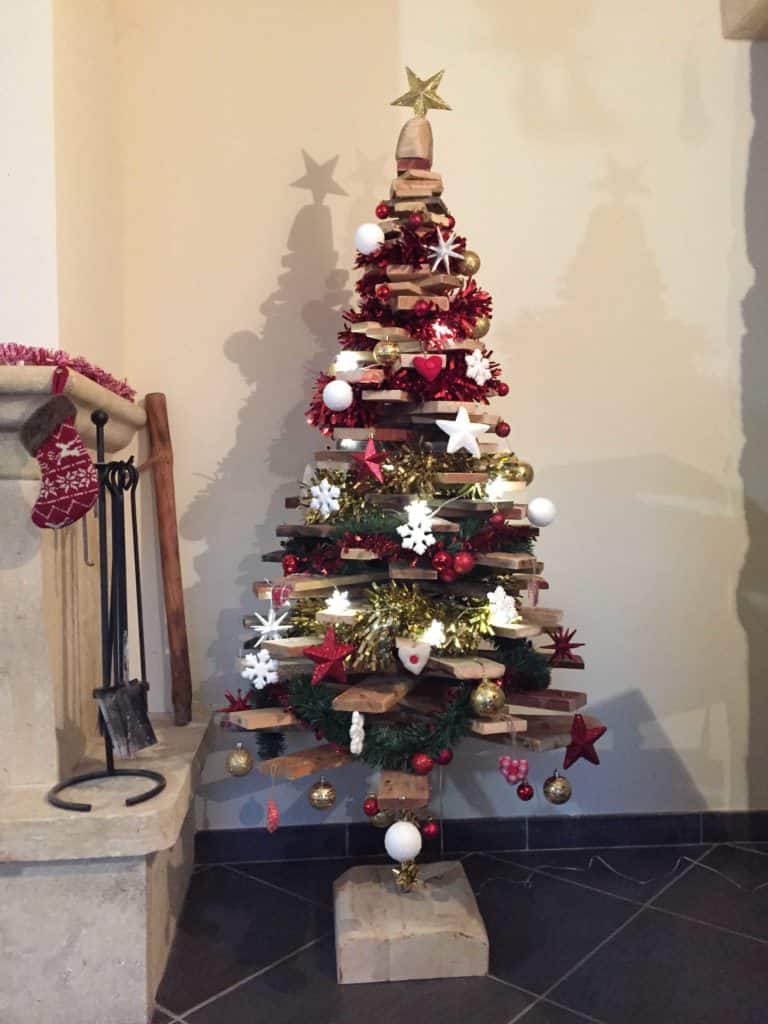 Christmas decorations made out of reclaimed pallets. Maybe you're limited on space, but you don't have to limit your Holiday Cheer! Make some window-worthy decorations and share the joy!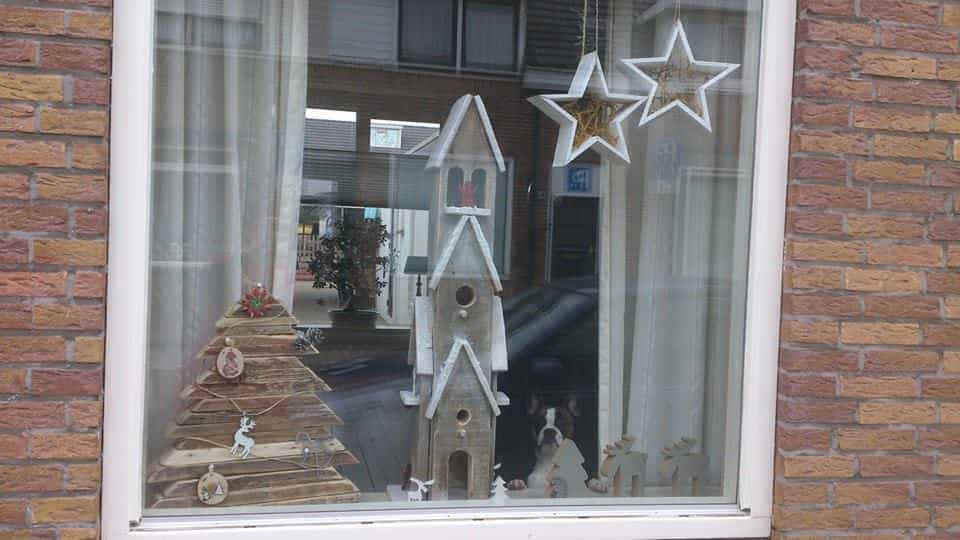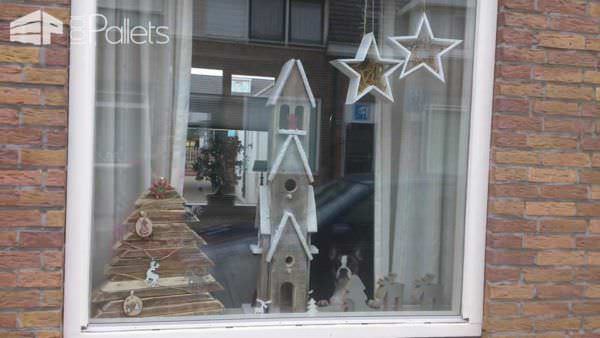 Very original Christmas tree with an unusual shape. Made with one pallet and a half and it took around 4 hours to make it. Unusual areas demand unusual and creative designs like this one. Some trees are tall, and some are shorter. This one is so cute and pinecone-shaped!
Triangle shaped Christmas tree full of original decorations, of course, made from recycled pallets!
Another lovely shaped Christmas tree from an upcycled pallet and decorated with Christmas balls & pine cones.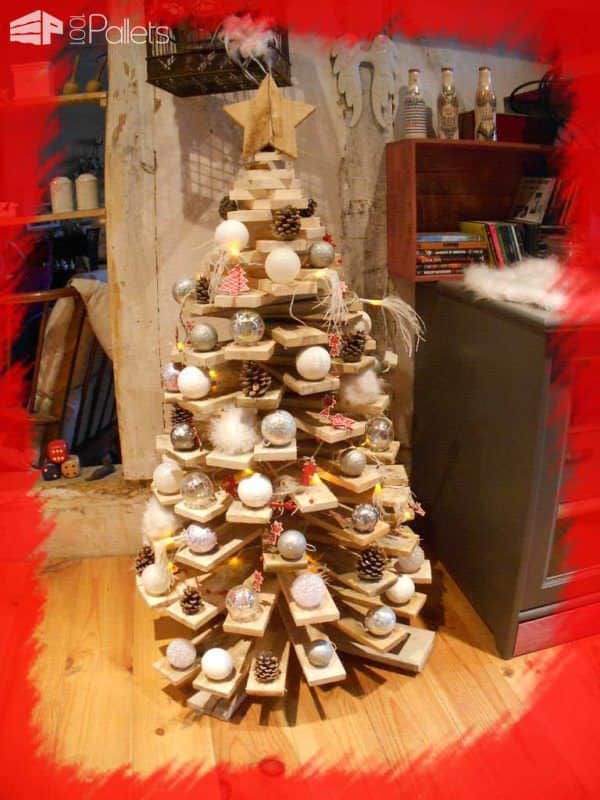 Simple Pallet Christmas Trees can be made using rough pallet planks with edges just cut at 45°.
If you're fed up with real Christmas trees, here's a sweet and simple Christmas tree to do with one single pallet, some white paint (or other colors) and decorations. It's a snowy tree! Just stain or paint the pallet a darker tone, and then put a white tree over it. Another kid-friendly design. If you're worried about chemicals, try PureColor's line of VOC-free, non-toxic stains.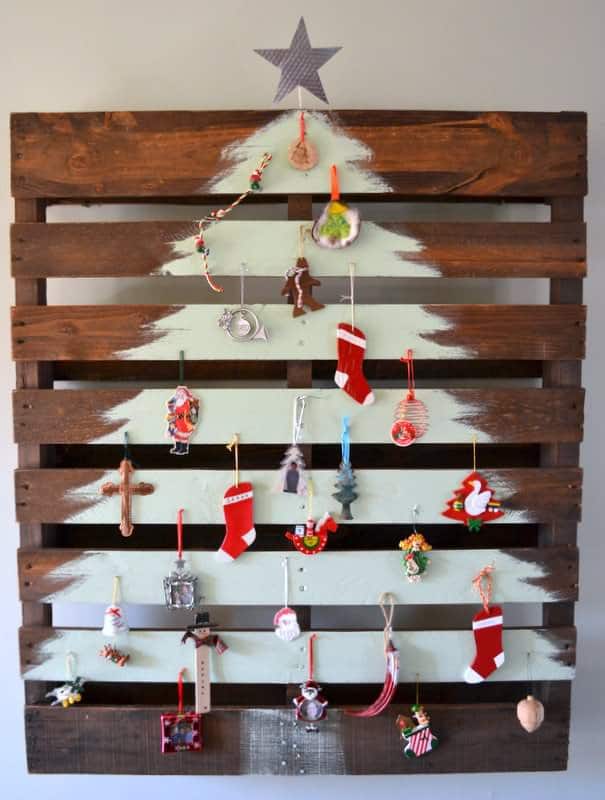 Stylish Christmas tree made from one pallet cut in two… simple & nice! Negative spaces for positive images! Imaginative! Yes, we see those folded magazine trees in the corner, too. :)
Cozy Christmas house decoration made from old upcycled pallet wood. WOW – a 3-story birdhouse? Add some snowy paint touches, and it instantly makes you think of the holidays!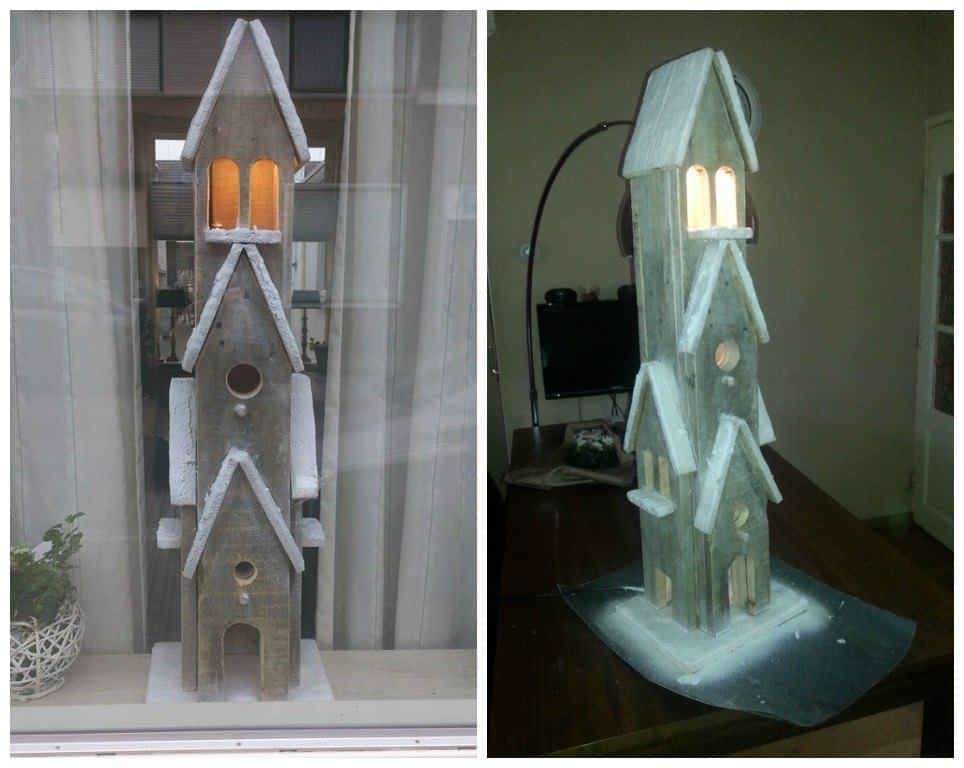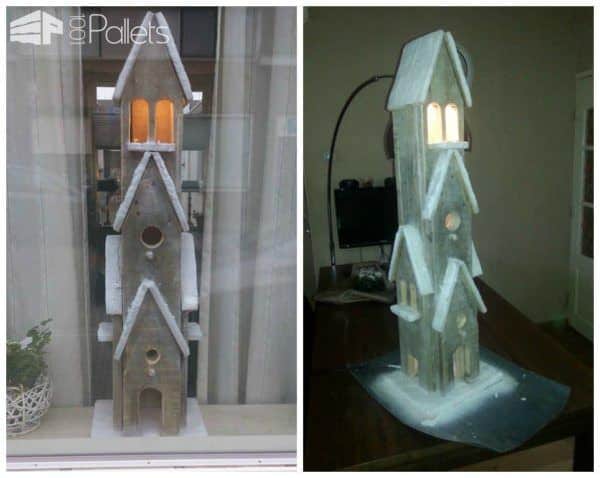 Christmas Nativity made from recycled pallet wood.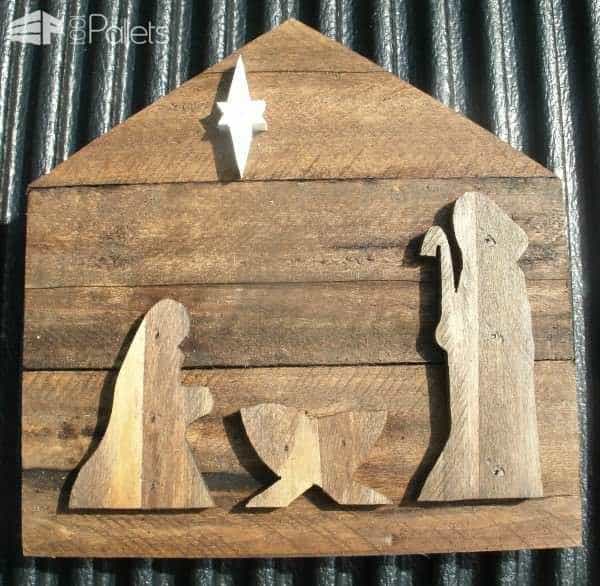 Christmas tree made with one old pallet and decorated with a light string & Christmas balls.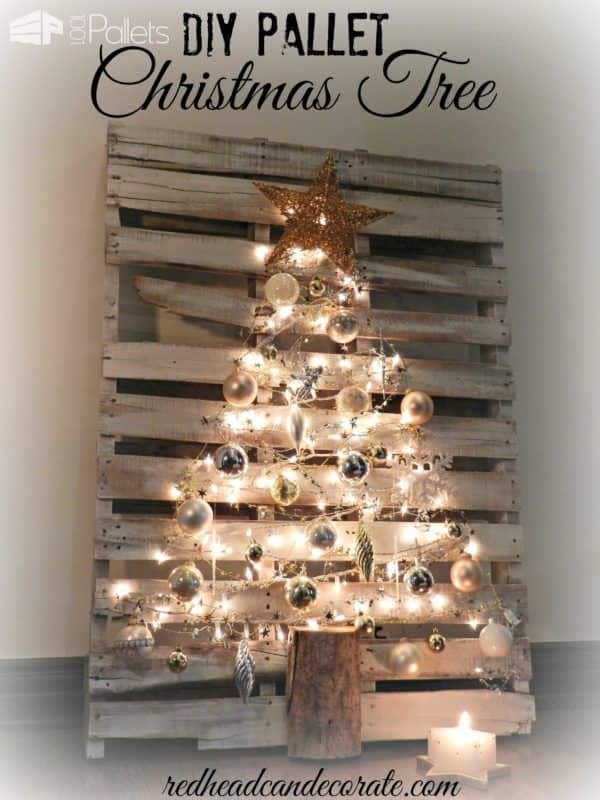 You can't have Pallet Christmas Trees without pallet snowflakes, right? Make a delicate snowflake for your front porch from recycled pallet wood.
Rustic whitewashed Burlap Snowman, perfect as wall decoration for Christmas holiday decorations and made from repurposed pallets.
Build a unique rustic Christmas tree with these easy woodworking plans.
Pallet nativity, all made from repurposed pallet wood.
The Stars are the limit! WOW – Christmas Mantle Star is made from scrap wood and recycled pallet.
Rustic Christmas nativity manger scene Creche from scrap pallet wood & hand-painted.
HO HO HO Santa's belt wood plank sign…Christmas & Holiday Home Decor.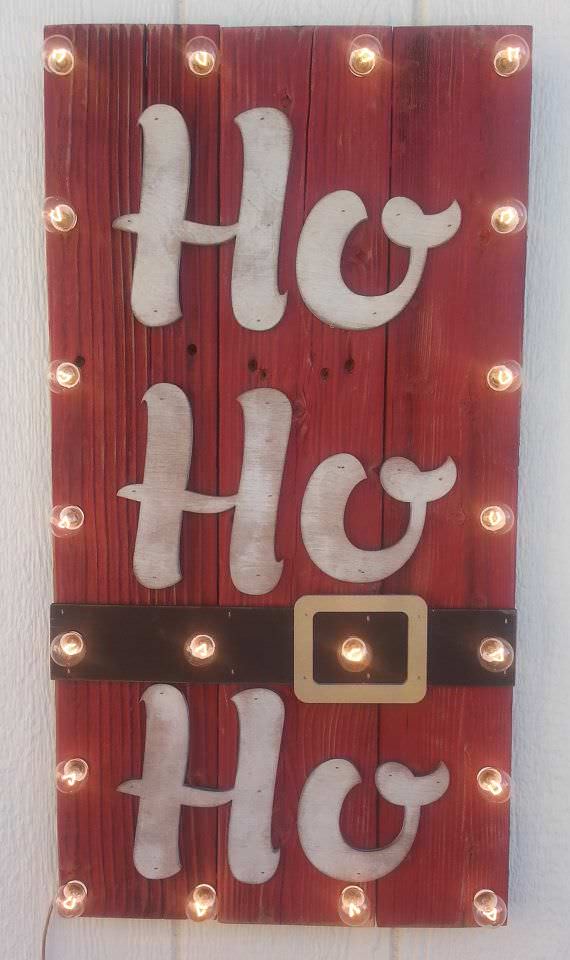 With a few scrap pieces, you can make an inviting, rustic wreath for your front door.
And you thought this would only have Pallet Christmas Trees… look at this super-cute Christmas countdown calendar using pallets & scraps of leftover wood.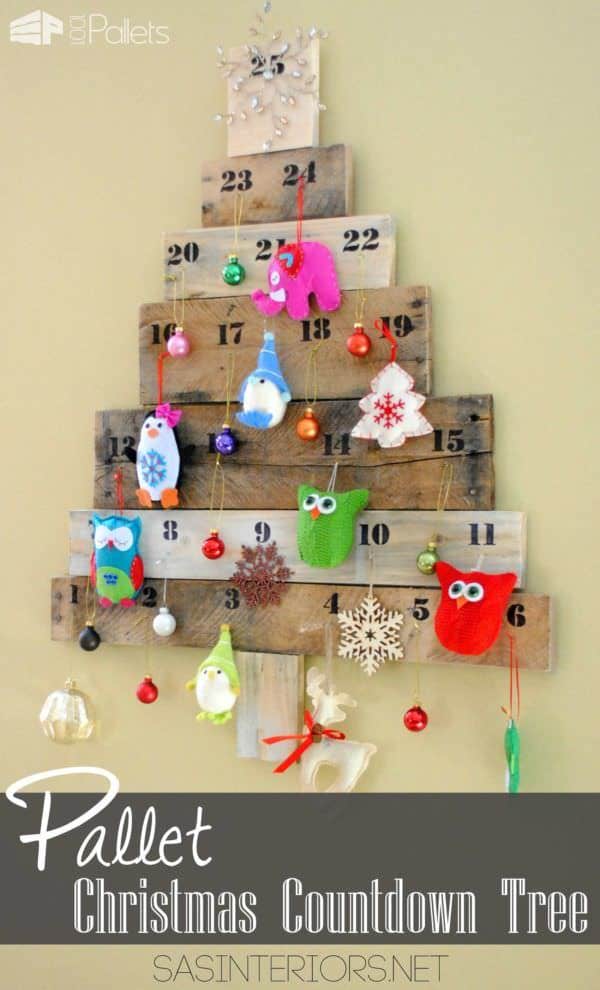 Nice Christmas painting on reclaimed pallet wood. Put together some pallet canvasses and turn your kids loose! They could make some spectacular, memorable signs that you could enjoy for years to come!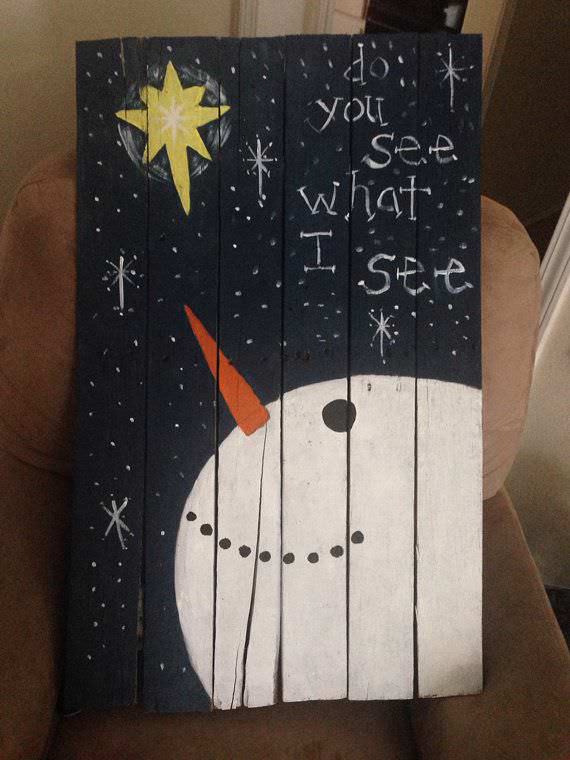 Beautiful Christmas tree with small shelves for decorations.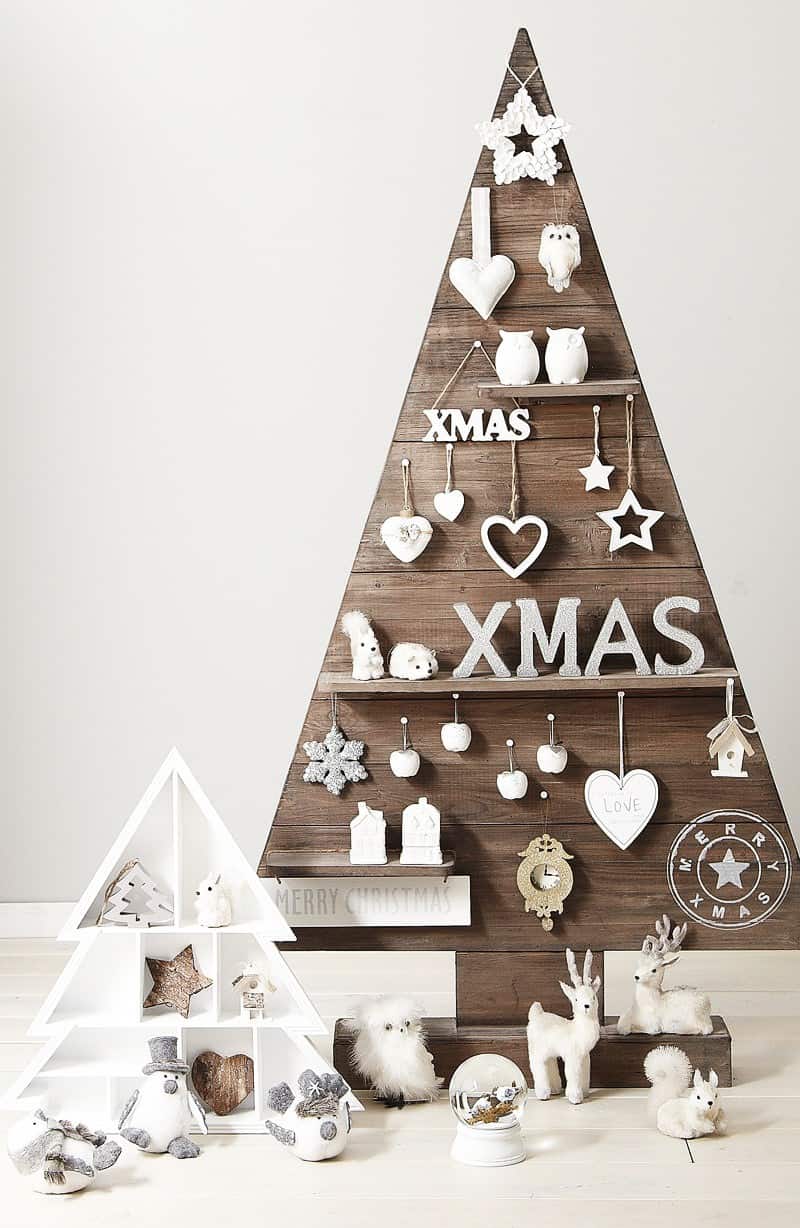 The original idea with this Christmas tree photo & cardholder from repurposed pallet wood.
Beautiful little pallet wood Christmas tree. With some scrap pallet wood, some glue, and patience, this tree could be displayed throughout the fall and winter on its own. Add some little ornaments, and you've got a winner! <3
Awesome recycled pallet wood star, perfect for Christmas decorations above your fireplace. Use thinner pallet wood pieces, so you can easily bend them as they cross over one another to create this beautiful mantlepiece!
Christmas sign out of a wooden pallet, simple & beautiful! This cheery little sign would even be a great host or hostess gift! :)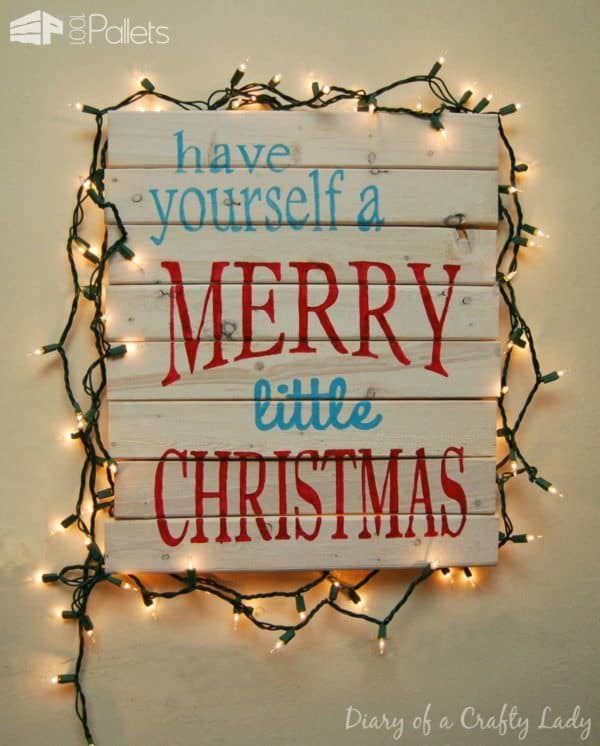 Advent calendar out of one single pallet and pockets out of world polka-dot ribbon.
And to finish, a beautiful advent tree from wooden pallet too :)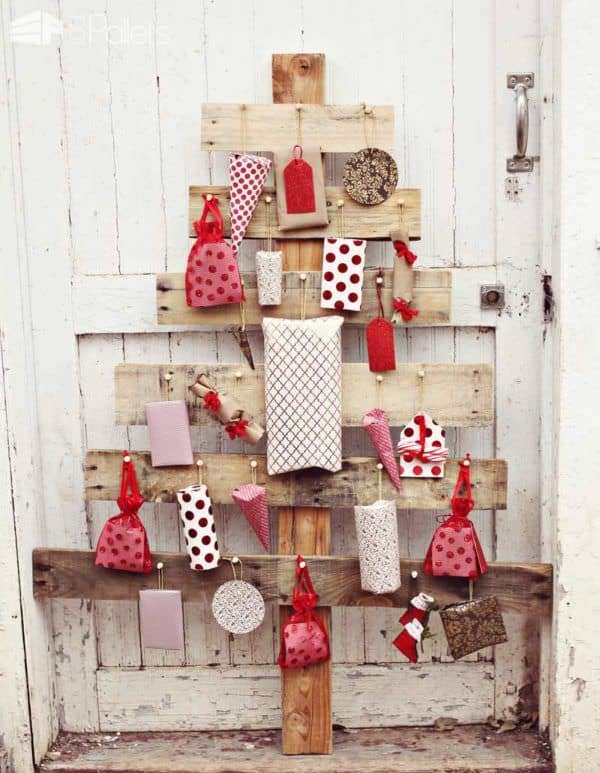 An old and rustic pallet, a wood log and some garlands and voila, you have an original pallet Christmas tree!
A nice and simple Christmas tree with a light garland!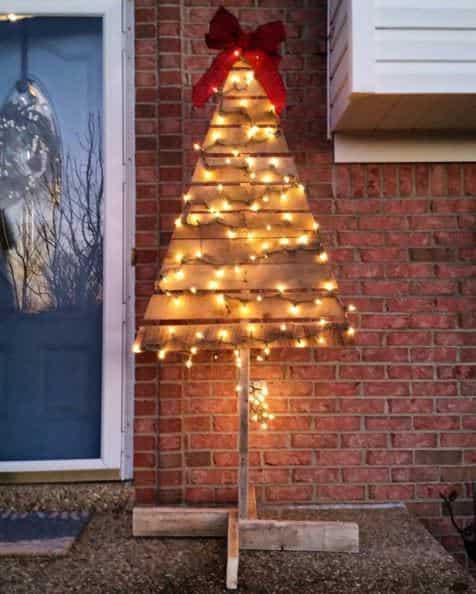 Christmas tree shape inside a pallet!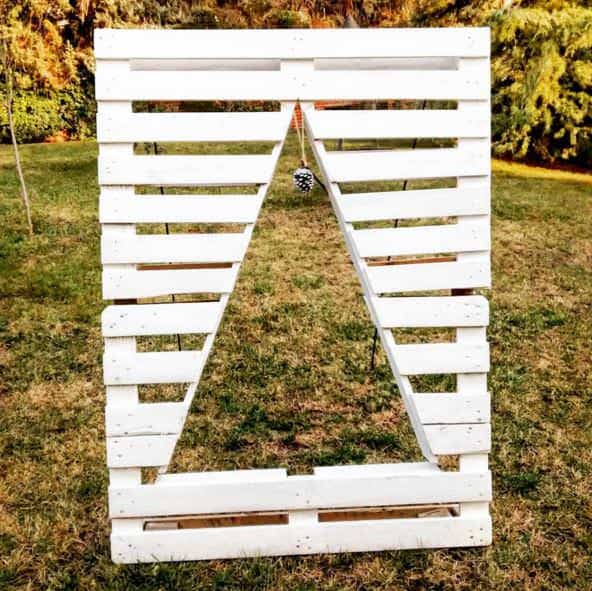 The Guinness world record pallet Christmas tree! This tree was built in 2015 in Leiria (Portugal), it is made of 2,200 wood pallets, 3000 screws and weight 28 tons, not something to do at home…unless you have a huge garden to set it up! :) Check out all the details of this huge Christmas tree!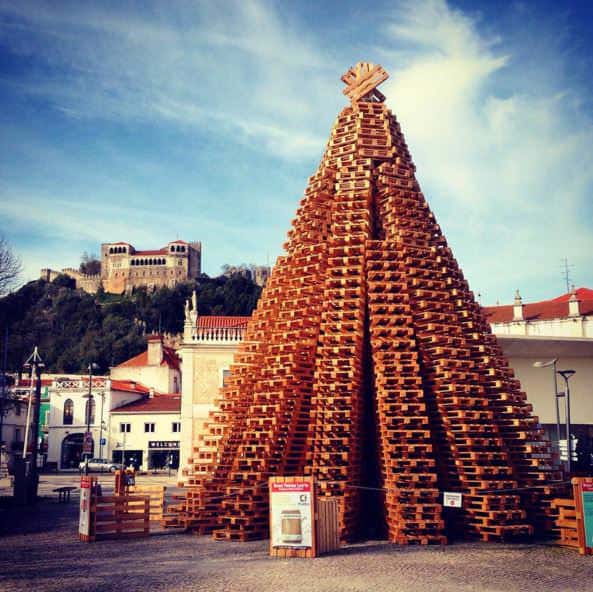 Cute little Christmas tree as candle holders! If you cannot find 2,200 pallets to build the one above, you can build several of these ones with one single pallet!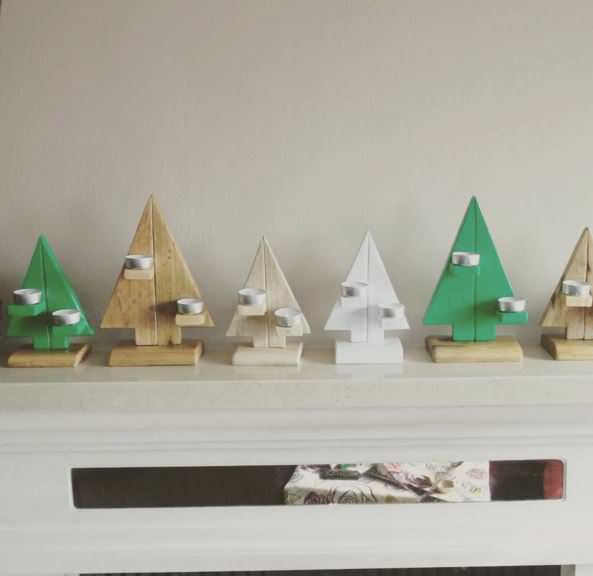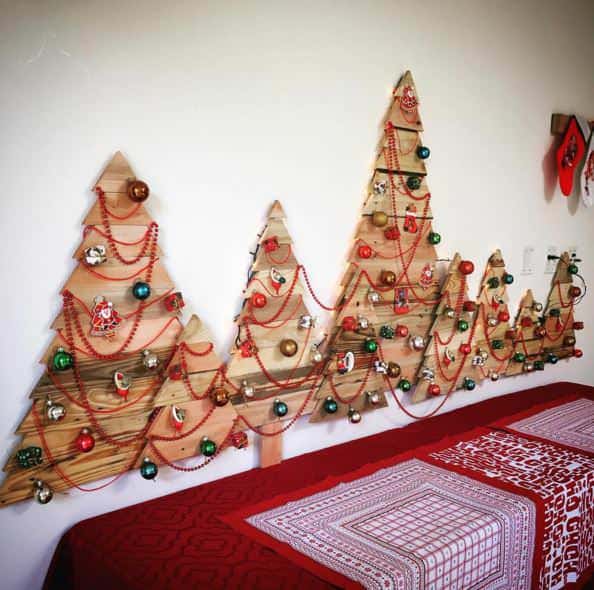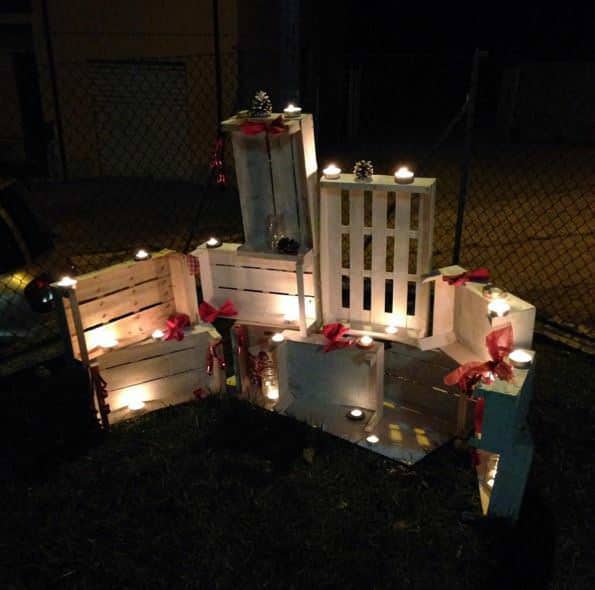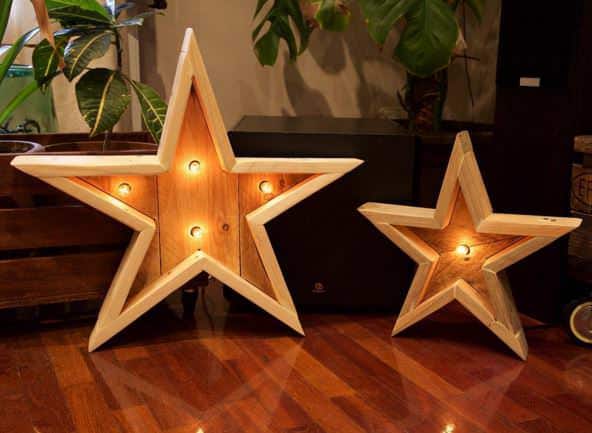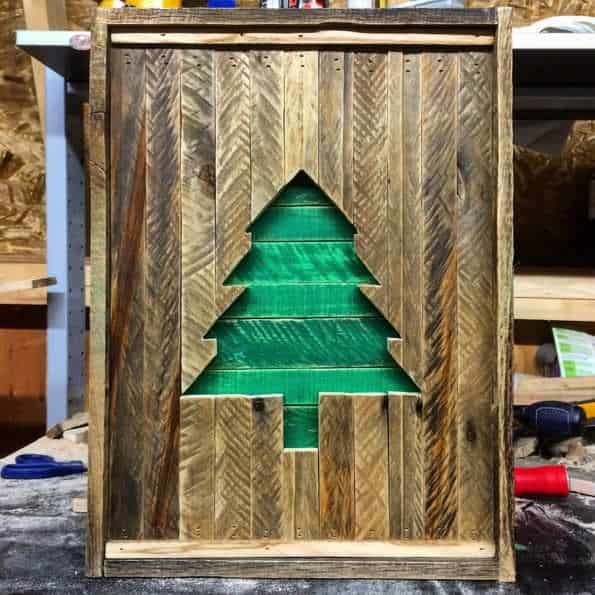 Love this one, from pallet wood and with old tools as decorations, a lot of creativity was put inside this Christmas tree!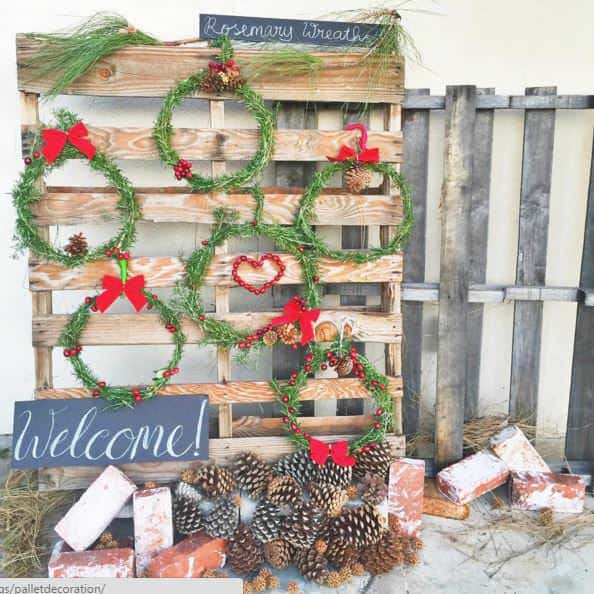 This tree is not from pallet wood (but the wall behind is!) but from a lot of storm lights! How much? I let you count :)
All of us at 1001pallets.com hope that you enjoyed this selection of Christmas tree & decorations out of repurposed pallets. Now it's your turn, and please share with us what you have made for Christmas out of pallets and we will publish it!
But before starting your next pallet project, do not forget to visit our resource pages that could help you:
Happy Palleting & Merry Christmas from 1001pallets.com!