Wall Art Pallet Wood Fish: Not tasty to eat, but DEFINITELY eye-candy! These fish are large and in charge – around 1000mm x 600mm. I'll either use the knots in wood as the eyes or glass eyes (like used in taxidermy).
How I make these Wall Art Pallet Wood Fish:
I mainly use 20mm wood from the thicker Euro pallets as it makes the finished article much sturdier and gives it a nice weight. If I cannot find a suitable piece of wood with an obliging knot to make the eye, then I use a large 50mm glass eye, such as the ones used for taxidermy.
The most difficult part, instead of just mating the straight boards together, is to contour each board into the next by sanding and beveling some edges and overlapping others. This gives the project a sense of movement. Smooth sanding is also important! It gives a better, more lively and realistic finish. Angles and bevels are cut around the edges to give depth when painted, and the whole item is varnished sealed after I paint. I allow approximately five days, on and off, to complete a project – including drying time.  I attached everything together with screws and glue. Finally, I installed a "French cleat" mounting system on the back for easy hanging/removal.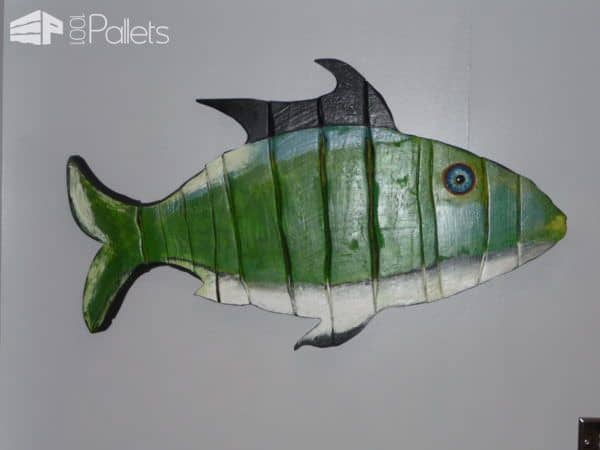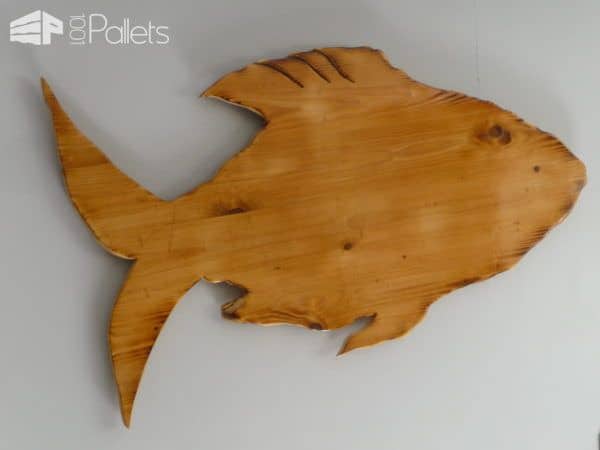 Editor's note: Here's an example of a French Cleat System. It can be made by cutting one deck board in half at a 45-degree angle: