Love zombies? Love The Walking Dead Show? So, you must know "Lucille," and you must also know that you need to prepare yourself with your own wood turned pallet bat… (if you have the ambition to become the next Negan :). This project cost about 6.50 for the bat handle wrapping material. This was my first major project on a new-to-me (used), full-sized lathe so I can wood turn table legs, etc. long term. I wanted to see if I could do it. I'll let you all decide if I'm getting the hang of it. :) I made a Wood Turned Pallet Bat as a tribute to The Walking Dead!
Wood Turned Pallet Bat With Display Shelf:
First, I found some pallets with 4×4″ posts as the stringers. They were 48″ long, so there was more than enough for a bat. I separated one pallet and removed all of the nails. I had to drill down around some of the nails where I knew I'd be removing material and chipped away until I got the metal removed from the entire stringer. This wasn't for visual appeal; this was a major safety issue on a fast-turning wood lathe. Next, I cut the pallet stringer with a table saw to slightly round over the corners, making it more octagonal-shaped to reduce the risk of the blades biting in and being flung or injuring my hands. I put the stringer onto the lathe and ensured it was centered, and used a draw knife to reduce some of the imbalance that remained.
Transferring measurements:
Everyone can picture what a bat looks like, but I don't know the exact measurements. So, I used an aluminum youth-sized bat as a model and transferred measurements with a pencil. I measured from the large end, and marked where it was not tapered (the area of the bat that would be in contact with a ball) and turned that down first. Next, I measured where the taper began and simply moved down about 8″, and measured the smaller taper. I marked those points and turned it carefully, checking the measurements frequently. Then I continued the process all the way down and ensured that I moved slowly and checked often.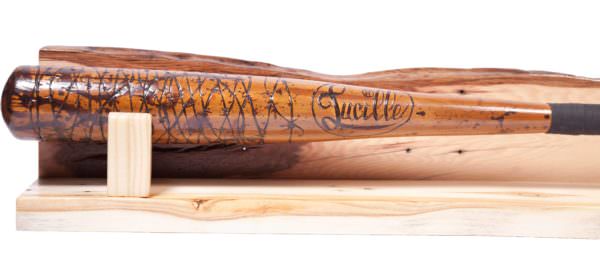 Finishing the turn and sanding:
Next, I sanded with 80-grit sponges and worked down to 600-grit paper until the wood had a beautiful sheen. I cut down on each end until there was only approximately 1/2″ to saw, through by hand to free the bat.
Pyrography time on this Wood Turned Pallet Bat!
While the bat was in a natural state so I could see the contrasts well, I used a pyrography kit and freehand wood burned in a barbed wire design. Next, I designed a custom logo and transferred it onto the bat using (old-school) carbon paper. I cleaned up and clarified the lines that I didn't perfectly transfer so that I wouldn't make an error. Then, time to burn the logo! Since I took so long on this project, you bet I signed the piece, haha! I touched up any areas that looked imperfect after a careful sanding with 600-grit paper and wiped it down with a very lightly damp cloth to remove the dust after blowing it off with an air compressor. Finally, I used a natural tone wood filler to patch a few of the remaining nail holes near the handle area.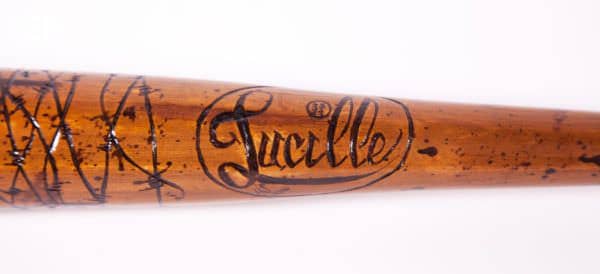 Staining with PureColor's sustainable finishes and more:
A maple bat is beautiful (if not the preferred wood for a bat). However, anyone who watches TWD knows that Lucille is "a very dirty girl." I used PureColor"s line of sustainable, no-VOC, pet-safe/kid-safe stains. I mixed a combination of French Oak, Roasted Cherry, Concerto, Lava, and a few Inkblot colors until I got the deep brown color I wanted. Then I stained it once, and then went back and touched up a couple of areas (mostly where the wood filler was). I let it dry and then gave it a very light sanding with a finish sponge.
Bring on the Blood – a TWD fan art Wood Turned Pallet Bat wouldn't be complete without it!
Then I had some real fun! I blended Roasted Cherry, Lava, and a gorgeous Blue color until I had a dark blood color, and took the bat outside. I dunked the tip of a brush into the stain, donned gloves and used my fingers to run across the ends to create fine sprays of "blood," and then used a stick and hit the paintbrush against it to create larger splatters. Finally, I used a syringe to create a few long, gruesome drips and hung it by the handle to allow the drips to run down. When it dried, I sanded again with a finish sponge.
Sealing the bat:
I used PureColor's line of semi-gloss indoor polyurethane sealants because this was a gift that would be shipped rapidly after finishing. I didn't want it to stink. Then, I applied a total of three coats, allowing to dry and then sanding with a finish sponge in between each coat. I love the soft sheen the PureColor sealant gave the project! But, I had originally intended ONLY to make the bat, so the recipient could just prop it in a corner, but no one puts Lucille in a corner! I decided at the last minute to make a display shelf.
A display shelf:
First, I found two pieces of pallet wood that had a lot of character. I found an amazing poplar board with gorgeous live-edge details and a variety of tones across the length. The other board was a beautiful maple board with some amazing knots and natural spalting! Next, I used a piece of pine, cut it in two and drew two U-shapes at one end, both sized to the different ends of the bat. I cut the U-Shapes, and then I had to cut the supports at different lengths to make the bat level. I simply eyeballed this measurement by getting the large end where I wanted, and just held the handle end in the U-shaped support and lowered it down until I liked how it looked. Then I marked it with a pencil and cut it on the saw.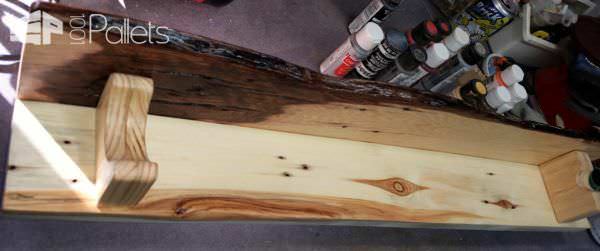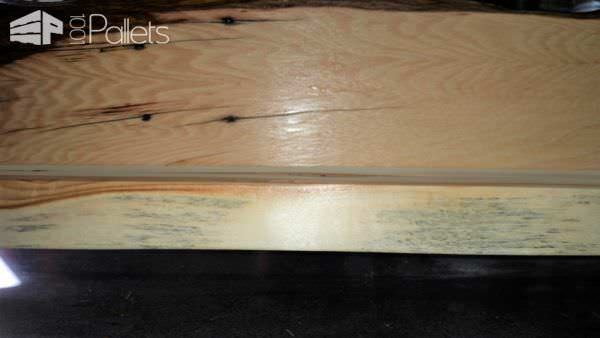 Finishing and putting the display shelf together to hold the Wood Turned Pallet Bat:
I planed both boards and then progressively sanded down to 600-grit since I wasn't going to stain these. Finally, I mounted the supports, then sealed it with three coats of PureColor's polyurethane.
The Final Steps:
Once everything was dry, the final step was to wrap the bat handle with sports wrap. I've never done this, so while I was buying it, I looked at real bats. I went home and started at the handle, then worked my way up to where my aluminum bat ends and doubled back on the handle until I ended up at the end again. I carefully smoothed everything out, and then it was time to do some super-packing to survive a trip across the ocean…which it did! :)
Of course, I'd make another one to sell. The logo will be different, though. This was for a friend, and he knows he'll have the first one that will be unique in all the world.  :) Contact me @ 1001pallets.heatherstiletto@gmail.com
Nicely done! How about a Baseball Wreath to go with this bat?