I used two pallet boards, some glue & screws, and stain to build this Pallet Bird Table. This project is fast and simple enough that you can get the kids to help – just be sure to supervise them. :)  We mounted this pallet bird feeder onto a single pallet deck board and strung it across the corner of the fence. We secured the feeder in place with screws at each end.
Be kind to the local bird population and build a pallet bird table/feeder!
Take one board and cut it into four equal lengths. These are two sides and the roof. Then take the second board and cut two bits the same length as the sides. Next, prepare the two wall pieces by cutting the pitch of the roof. Measure the width and mark the center on both ends of the board. Draw a line from the center all the way down the board. Next, measure the length of the board and mark the center point. Now draw a line across. Connect the outer edges of the line to the top center point and draw a line to create the pitch of the roof. Repeat for the other wall. Cut the pitch out with a saw and start assembly!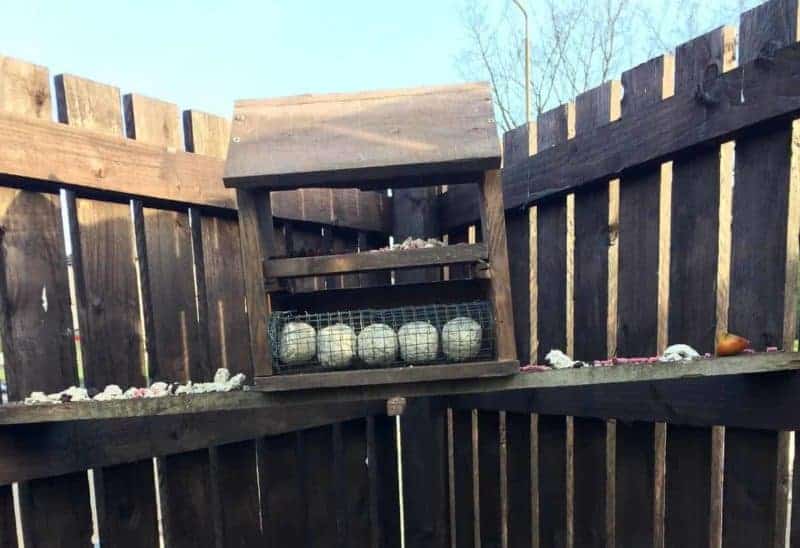 Glue and screw the walls to a base, then fit the roof by gluing and screwing. I added a shelf halfway up and used scrap to make a perch. Then I made a small cage using chicken wire for the Suet balls just to keep the pesky foxes off. I mounted mine on my fence to create a bird table at the side. Job is done!