No matter where you live, outdoor furniture takes a beating – just in different ways. There are several ways to approach extending the lifespan of outdoor furniture (no matter if from pallets or not – it's still wood). Here are some tips to either protect the project from the beginning or to keep it fresh-looking for years to come!
Before you can bother with considering what to coat it with, we have to briefly mention things you build it with.
Hardware
Some hardware will rust if it's only for indoors. Use outdoor-specific hardware. If you want decorative outdoor hardware, stainless steel fasteners are one option available, but there are others.
Glue
Did you use a water-resistant/waterproof glue like Titebond II or Titebond III or Gorilla Glue? If you didn't, stop here and review your build. If any finish fails at all, then you'll have more repairs if you used a water-soluble glue compared to something water-resistant. See our types of wood glue guide and wood joints guide under for more in-depth information that may help you!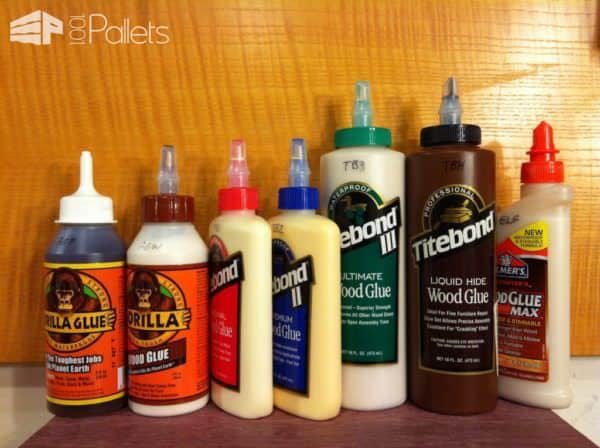 How's the weather?
What are weather issues the ones your area faces? If you live in Southern California, you may not necessarily need a water sealant as your primary concern, but because of the constant sunshine, the paint may be a better consideration to protect it from the brutal sun. A person living on the upper East Coast, however, will want something that acts as a water sealant with the rain and snow they receive.  You know the typical weather you face in your area, so that's definitely a huge consideration. Are you protecting from sun or moisture? Get the furniture protection you will actually need. Sorry, we can't help much with tornadoes, earthquakes or hurricanes. They're gonna do what they're gonna do…
Tips to protect and to restore your wood project
Clean it
The first step is to simply remove debris. Use a brush and remove the leaves, dirt, and bird droppings. It's okay to use a bucket of water with a few drops of dish soap (not dishwashing detergent used in dishwashing machines) and scrub with a brush. Just don't let the water sit for long periods of time. Gently rinse with a hose (no aggressive pressure nozzles). Allow it to dry fully in the sun before applying any protective coats – remember to turn it over and dry the underside. You can also use an exterior wood cleaner, such as Floor Cleaner/Brightener, to clean the wood, open the pores to accept stain, and remove any gray weathering. Follow the instructions on the container and allow the wood to dry before staining.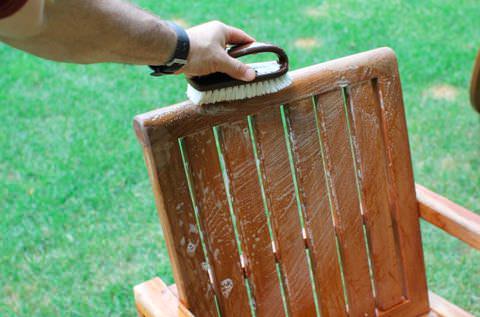 Identify it
What type of sealing product do you already have on it? This may help you decide on a new build too:
Clear finishes like spar varnish and exterior-grade polyurethane will break down in direct sunlight. If you use one of these, purchase the type with UV-blocking properties! Keep a close eye on the finish and re-coat as soon as you see it starting to fade. You should only have to do a light sanding, then wipe down the surfaces with a lightly damp cloth to remove the sanding dust before reapplying.
True spar varnish, as it is exposed to the elements, will tend to chalk from the top, which allows you to sand and recoat without stripping. Again, sand lightly and removes the sanding dust with a damp cloth and be sure it's dry before applying the new coat.
Water-based exterior acrylic may last longer without maintenance but is more likely to delaminate — which requires stripping and refinishing completely.
Outdoor oil finishes are fast and easy to apply and usually look great. The downside is that they must be reapplied every year. (But then, as we said, they are fast and easy to apply!)
**Helpful tip** Write the product name, brand, and type in an inconspicuous spot on your project so when it is time to redo the surface, you can get the appropriate replacement.
Strip it
If whatever coating it had is lifting/delaminating, you've got to remove it. Coating over it will only temporarily patch the issue, but it'll continue to lift. You have to get it down to bare wood. Here're some options:
Chemical strippers. This helps the primer stick to the surface better. Avoid pressure washers. There is a very fine line between cleaning and damaging, and it can cause more problems by lifting the grain severely and opening up small cracks. Pallet wood, although tough, isn't always designated as "outdoor-furniture-durable". Remember, it was built with the idea of using it until it breaks, and then replacing it. Follow your container's directions for use and disposal of residue and for cleaning application equipment. Assume it'll stain your driveway, kill your plants, impregnate your animals (well, maybe not that one, but I wanted to see if you were still reading)…
Mechanical strippers (sanding, scraping or heat guns).
You may end up using a combination of both.
Prep it
Now's the time to fix those cracks. Fill cracks with wood epoxy, water-resistant glue, etc. Be sure to tightly clamp glued areas; for polyurethane glues lightly dampen the bonding surfaces (like Gorilla Glue) and use sparingly as it'll expand. Remember – PVA glues, such as Titebond, don't take stains. Wipe off excess with a damp cloth immediately.
Pack your ends
End grains act as a wick and will suck up moisture into them. An easy way to protect your project is by "packing" the end grains. This means that you coat the end grain with a wood epoxy. This seals the end grain and reduces the risk of wicking. This is especially important for the feet of the project, or where it comes into contact with a lot of moisture. Here's an example of a wood epoxy.
Encapsulate it
What does this mean? Not just coating it, but when you prep or restore outdoor furniture, you have to think about totally sealing it up everywhere – seal it in a bubble of product! This means every nook, cranny, underside, between crevices, etc. The better you seal entirely, the longer the product will last. But what to coat it with? Here is a summary of your options:
Paint: Paint is an effective UV blocker. Use EXTERIOR-GRADE paint! But you need to properly prep the wood, then apply a good quality primer. You'll also apply more than one coat of paint. Multiple coats protect from moisture AND from UV damage. It WILL happen, but it's the same if you went out in the sun. If you're wearing multiple layers of clothes, you're less likely to get burned.
Spar Varnish with UV Blockers: If you want the natural look, use a spar varnish with UV blockers. You'll need multiple coats of this as well.
Stain/sealer combo products: These will tint the wood and provide a weatherproofing sealer in one product, such as this one.
A water repellent is a penetrating wood finish loaded with oils or waxes designed to prevent water from soaking into the wood. Organisms that discolor or degrade wood need water to survive, and a water-repellent treatment makes it harder for them to grow, as long as it is reapplied to bare wood every year or two. Water repellents also stabilize wood somewhat, reducing its tendency to check (crack) and warp.
Water repellents/wood preservatives that contain a small amount of wood preservative are called, not surprisingly, water-repellent wood preservatives. Although it's easy to think of these products as being primarily for decking and siding that won't receive a top coat of paint, applying a water-repellent wood preservative to all sides of a piece of exterior wood before painting provides the best protection against decay and doesn't need to be reapplied until the paint fails.
Allow product to dry
This is a common mistake – allowing the furniture to cure outside. Dust and debris land in the coating. Try to protect your finish while it's curing by keeping it in a well-ventilated garage or shed. Also, follow the product directions on cure times between coats. We all get excited about finishing a project, and waiting for paint to dry is torture sometimes.
Recoat Regularly
Even the best finishes wear and break down over time when exposed to the elements, so plan on recoating your furniture every year or two.
Protect from the Elements
If possible, protect your furniture from the sun and rain. It'll last much longer on your porch than out in the yard. Use furniture glides to raise the piece slightly off the ground so it doesn't sit in puddles of rainwater. Use furniture covers. Move pieces into a shed or under a shelter during bad weather or when not in use.
Tips for cleaning a wood deck
Wood-slain
Regularly clean the wood with a soft cloth to remove any dust that may accumulate.
If the wood seems too dirty (the sticky notes), use colorless water or turpentine essence.
Apply one of the two and shine with a wool rug.
Avoid silicone-based products.
Most of the stains you can make on the wood can be removed by rubbing with the help of a wet rag in the essence of turpentine. Then you'll have to wax the wood.
Regarding water, alcohol or grease stains remove them with a cork stopper.
Varnished woods
Remove the powder regularly with a soft, clean cloth (if wool is perfect).
For thorough cleaning, wet a rag in woodworking pop (available in the drugstore section of department stores or DIY stores), in table oil and essence of turpentine.
Once clean, polish the wood with a suede.
For grease stains, rub with cold tea and put it.
Beware of alcohol stains as they often dissolve the varnish. If applicable, remove them immediately with absorbent paper. Then you'll have to sand and re-varnish.
Lacquered woods
Remove the powder regularly with a damp cloth. Then dry the wood with a soft cloth, preferably cotton.
Pass a sponge impregnated with hot soapy water without overwetting.
Always start cleaning at the bottom. Rinse and start drying from the top.
Painted woods regain their shine by polishing them with a rag impregnated with several drops of linen oil.
Use a soft cloth impregnated with a blend of equal parts flax oil, turpentine essence, and flour.
Above all, don't even think about scratching the stains. Use a sponge soaked in soapy water and rub gently. If necessary, repaint the wood.
Hopefully, this little guide will help you extend the life of your project for many years of outdoor enjoyment!