I built this Pallet Gallows Lamp using pallet stringer boards! My lamp project upcycles pallets and an empty glass jar. The only purchased part is a DIY lamp kit that I found for a significant discount.
Build a magnificent conversation piece while enjoying your toast & jam. Build a Pallet Gallows Lamp!
Tools & Materials Needed
one pallet, dismantled
Hammer
Screwdriver
Drill
Crowbar or pallet buster
Circular Saw
Random-Orbit Sander & sandpaper
Empty glass jar
Wood screws, various lengths
Step-by-step instructions
Dismantle one pallet and set two stringer boards aside. Remove nails from stringer board and sand smooth.
Cut stringer board(s) as follows (and adjust to your preference):

Upright = 40cm
Horizontal lamp support beam = 30cm
Diagonal brace = ~20cm, cut both ends @ 45 degrees
Two horizontal base supports = ~15cm
Two triangular pieces (or square pieces) for small braces between horizontal base supports

Empty a glass jar of your choice, wash and remove labels. Dry thoroughly. Set glass portion aside until the end of the project. NOTE: Pre-drill all wood pieces to prevent splitting!
Butt-join vertical beam to horizontal lamp support beam using wood glue and screws. Optional: dovetail or mortise/tenon joints.
Align metal lid onto lamp beam, clamp in place. Pre-drill and secure in place with screws.
Drill a center hole in lid all the way through the lamp beam large enough to accommodate lamp assembly kit.
Add diagonal brace, and install with screws & wood glue.
Begin the base assembly for your Pallet Gallows Lamp: Align the two horizontal bases supports triangular braces and "sandwich" the vertical beam. Clamp in place, pre-drill, and secure with screws and glues (or use a carriage bolt).
Screw jar into the lid, install LED light strip into the jar and affix the battery box to the location of your choice. Or, use an A/C light kit to avoid the need for batteries.
Embellish your gallows with a mini platform and ladder, or use a suspended light kit for a "hangman" look. My son wants to paint his black, but a stain or polyurethane finish looks great too!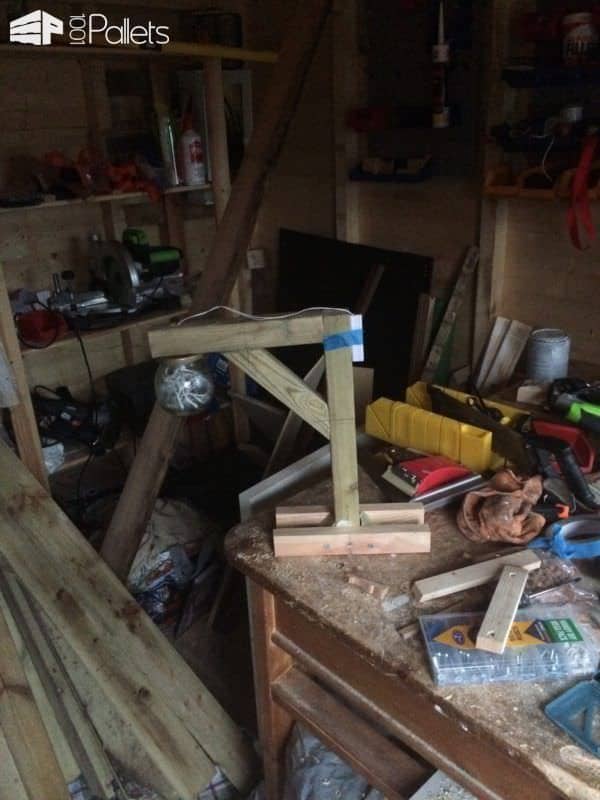 Turn pallet scraps into a laptop briefcase! Check out twelve creative pinecone projects for the holidays!