When we started 1001Pallets three years ago, lights & lamps were not the most common objects made from recycled pallets. But with time, some designers have taken this raw material to a new step, making beautiful lamps. Other people were then inspired to create their own. Thanks to their work, we can now feature a beautiful collection of lamps & lights made from repurposed pallets. Here is our personal selection of the 40 most fabulous pallet lights! Hope you'll be inspired to make one by yourself.
And of course, do not forget to share your work with us once it's done to inspire the next generation of pallet crafters!
Two lovely pendant lamps made from old pallet wood for a rustic look.
Pallet pendant shades with a very contemporary design.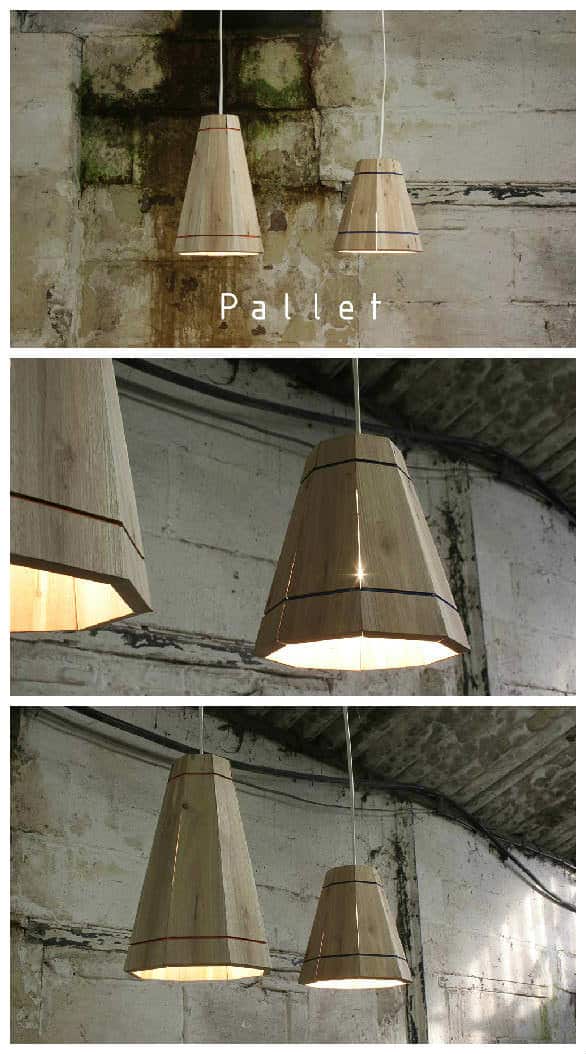 Floor lamps with a cube shape, perfect for a relaxed and warm atmosphere in your home.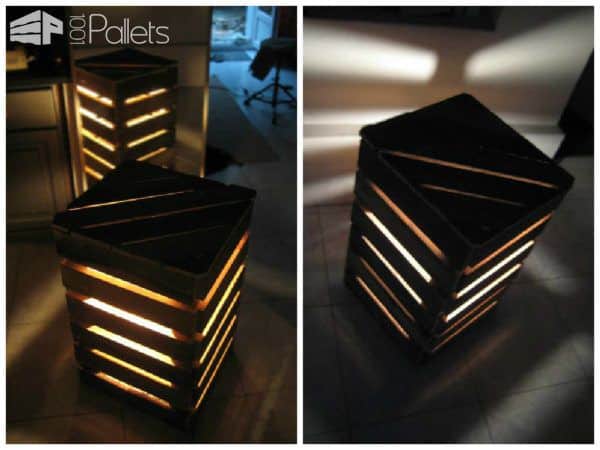 Desk lamp made out of several pieces of recycled pallet wood & a vintage wooden awning.
Huge light boxes made from reclaimed pallets for a summer festival in Slovenia, beautiful result!
Little desk lamp made from one repurposed pallet block, a piece of a pallet plank & an Edison bulb for the vintage touch. The red power cord gives to this lamp a modern aspect for a mix of vintage, rustic & modern.
This lamp is more a mix between a framework made from one entire pallet and a workshop lamp to illuminate the frame. Very creative!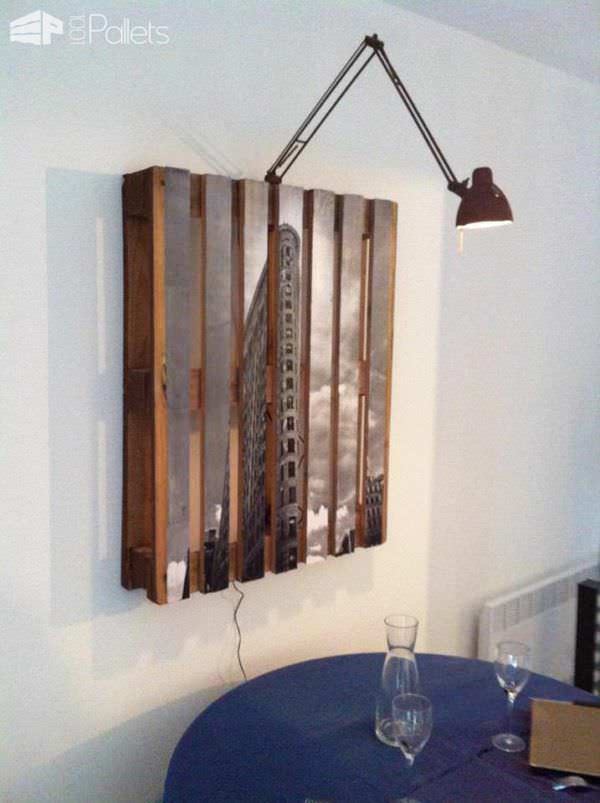 High floor lamp made from repurposed pallet planks.
Design wall lamp that acts as a wall divider made by French artist Philippe Daney. Want to build this lamp? Download our Free PDF Plans!
Another design pallet floor lamp made by French artist Philippe Daney.
This lamp was made with repurposed pallet planks and three old mason jars…will look nice in a kitchen.
High column accent lamp made from repurposed pallets, with a lovely lightning spread.
Two lamps, one tall and one small made of pallet wood by Miu design. These two lamps have a very modern design.
Two little bedroom lamps made from reclaimed pallet wood with a trick: a removable panel is held by two latex ribbons to hide the nails!
Lamp made with one recycled pallet block and two pieces of a pallet plank; a building decoration has been added for a contemporary looking.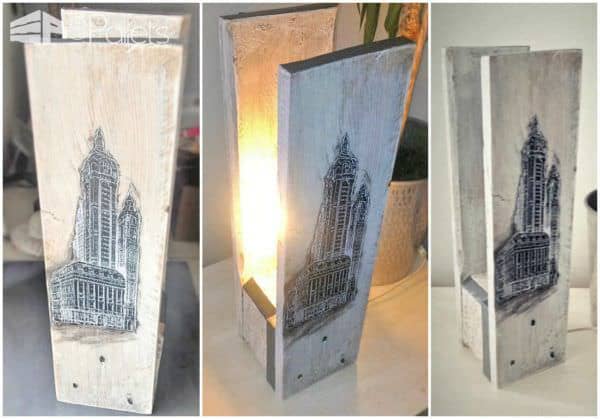 Huge pallet floor lamp made with recycled pallet wood, rope, and pebbles. Love it!
Wall mounting lamp made from repurposed pallets, cables for lights are painted different colors, and the lampshade is old wine bottles.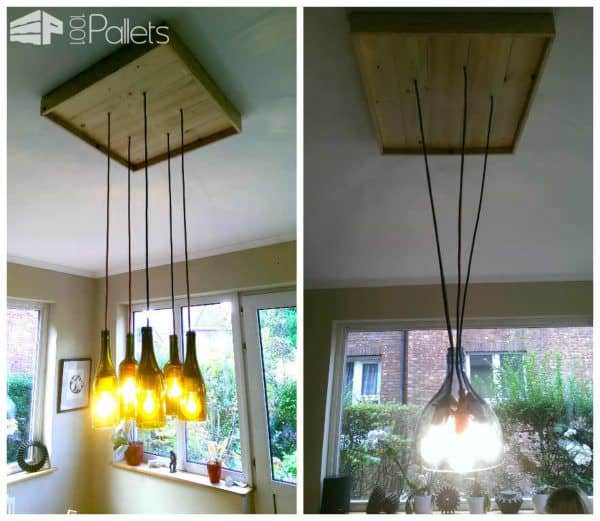 A kitchen lamp made from one complete pallet and four mason jars.
A pallet floor lamp made of pallet wood for the foot, rope for the lampshade & jars.
Small lamp made with blocks from large wooden pallets. The blocks are directly stacked on each other in a threaded rod before adding a lampshade.
Pendant lamp with a stunning industrial style… did we say that it is made from recycled pallets?
Design pallet floor lamp with a big modern lampshade.
Bollard Lamp for the garden made with four recycled pallet planks and an old mason jar glass.
Sculptural Chandelier entirely made from pallet wood & many bulbs (I didn't count them…) by Studiomama.
Design floor lamp made from one recycled pallet, a straightforward and minimalistic design, by Studiomama.
A lovely little desk lamp, similar to the one previously presented. Made with one pallet block and a piece of a pallet plank.
Huge floor lamp made with discarded pallet wood and 500 nails! This fantastic lamp is a creation of Apaletarte Sevilla.
Lampshade made out of pallet planks and painted in different colors.
Lamps made with recycled wine bottles and wooden pallet blocks & planks.
Standing floor lamp made from recycled pallets, this is one of my favorite lamp made with pallets!
A Crate wood fixture with a neon lamp with an orange color filter that can be changed along mood.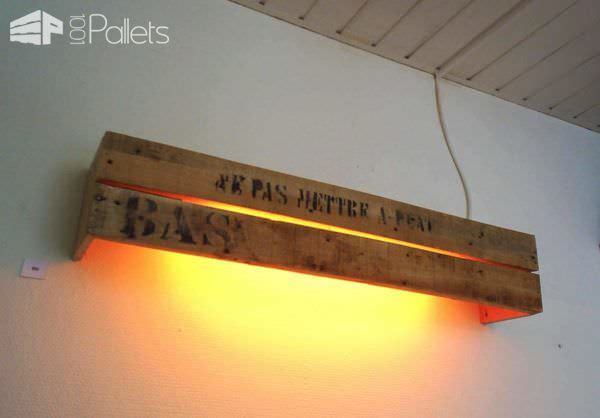 Make your own pallet shadowbox lamp and highlight any important piece of art, awards, or collectible you want to show off!
Look at this ingenious painted pallet can lamp! It's made from pallet scraps, an empty paint can, some miscellaneous hardware, and a 25-watt light kit.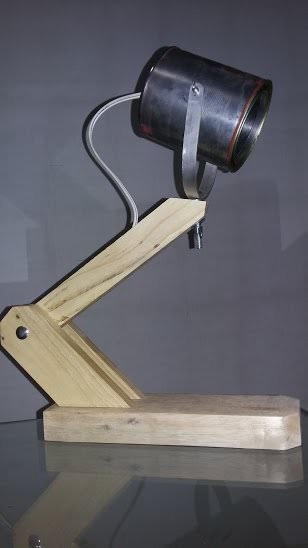 Little pallet lamps – a fun project, and a low-cost way to add style to your home office, living room, man-cave, and more!
This pendant pallet lamp was inspired by various lamps and lampshade styles I saw on Pinterest, but as I've never made light before, I decided to keep it simple.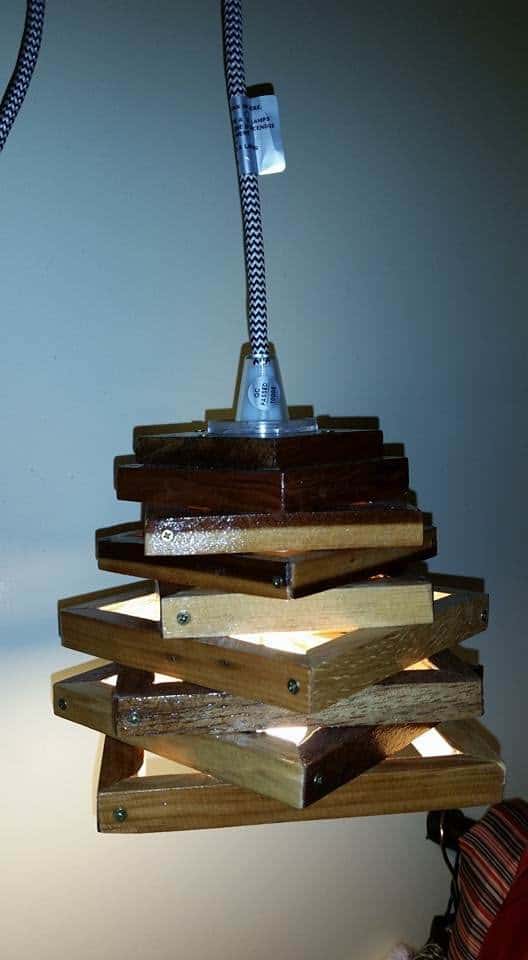 John Blum Art & Design: Reclaimed Pallet Wood Lamp.
An original and modern wood pallet floor lamp, DIY video tutorial available.
This stunning desk or table lamp called 'Philip' was designed by Max McMurdo. The design is not only made out of an old wine bottle but also uses another discarded material, pallet wood.
Minimalist pallet wood desk lamp by Hugo Joseph, a designer based in Montreal | Canada. Hugo designed a series of minimalist pallet wood lamps in combination with a beautiful minimalist corporate identity.
Wooden floor lamp hand-made with reclaimed pallet wood.
That's all folks! You now have good examples to inspire you for your next pallet lamp project! Have you already made a cool light from pallets? Do not hesitate to share it with us and we will publish it! If you need more ideas, do not hesitate to visit our category dedicated to lights & lamps!
And before starting your next pallet project, do not forget to visit our resource pages that could help you:
Enjoy & happy crafting!