Is it a Pallet Side Table with a purrfect pillow beneath, or a cat bed with a Pallet Roof? Depends on how you look at it. Now I can put my beer safely on top, away from the cat because she has her own sleeping spot below. The possibilities are endless! Well, no, it pretty much stops there. But it's still awesome!
Keep your beer safe with a Pallet Side Table and built-in Super-Snuggly Kitty Bed!
I made the table from two leftover pallets. The larger, 5″ wide boards were used to make the surface and bottom. The smaller 3.5″ wide boards went into the table legs. I carefully cut the boards (by hand, not having electrical tools) and joined the legs with metal brackets and screws. The surface and cat bed bottom were assembled separately, smoothed and sanded before they were attached to the legs – also with screws.
The color of the Pallet Side Table must compliment kitty's decor preferences.
How to obtain the color: It looks very orange in the picture but is actually a nice, warm, rustic shade of brown. I had some leftover Westminster tea from our recent trip to London I just KNEW it would be good for something one day. So, I used the tea to make a very dark brew and applied the liquid to the table. Let it dry for a day or two and then apply a vinegar-steel wool mixture. This process is well described on several sites and hardly costs a penny. I haven't applied a finish yet because I'm afraid the color will change.
Is kitty pleased with the Pallet Side Table?
The most important question: what does the cat think? Did I forcefully put it in for the picture? No, in fact, I forcefully have to get her out (hissing and scratching). That's how much she loves it. It's not hard to find her these days. And my wife has filled the table with decorations instead of beer :( Apart from that, it's a big success!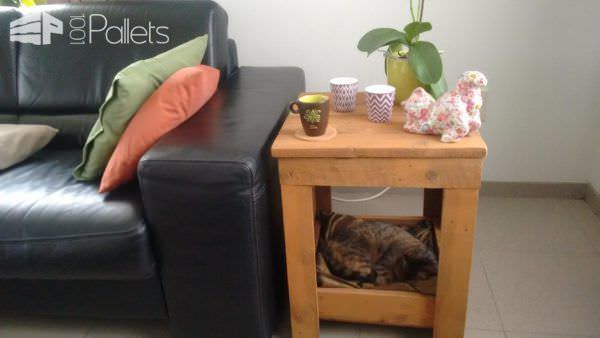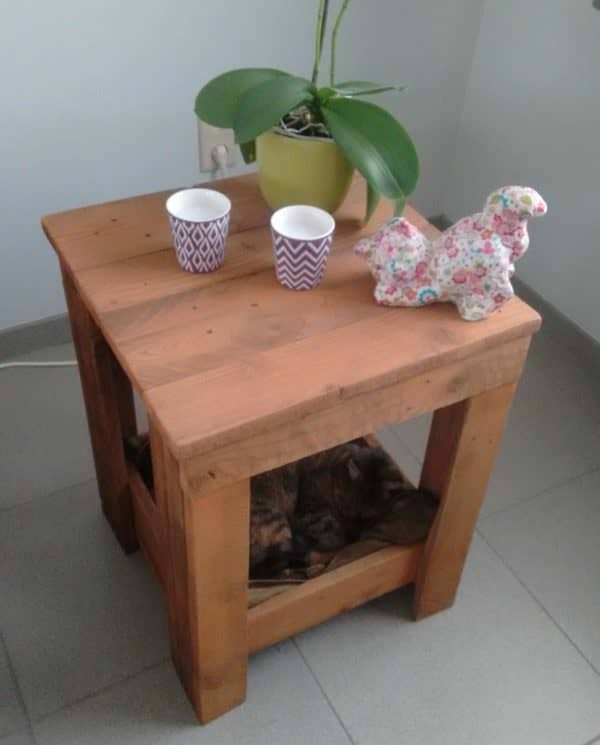 Turn bottle caps into beautiful earrings! Make a pallet Gallows Lamp!