Aah, June is here, and with that, here comes the bride! So what can the savvy pallet crafter do to AVOID breaking the bank on wedding gifts? We're here to help with June Wedding Pallet Craft Ideas for YOU!
Why make Wedding Pallet Craft Ideas instead of buying? Here's why:
Did you know that The average wedding cost in the United States is $26,720 – this is according to costofwedding.com. Why not defray some of that with creative, and wallet-friendly ideas so that more money goes to help the happy couple with the start of their life together instead of making the wedding suppliers richer?
Grab your tool belt and let's get building those Wedding Pallet Craft Ideas!
Diamonds may be a girl's best friend, but a Pallet Jewelry Armoire with an integrated mirror won't be far behind. It is a low-profile pallet jewelry armoire that features pine, poplar, pecan (from a neighbor's tree), vintage upcycled redwood and even a discount store mirror. Upcycle some old crushed velvet material, and some swap meet velvet jewelry dividers and you've got a large jewelry box that'll take up very little room in the happy couple's first house.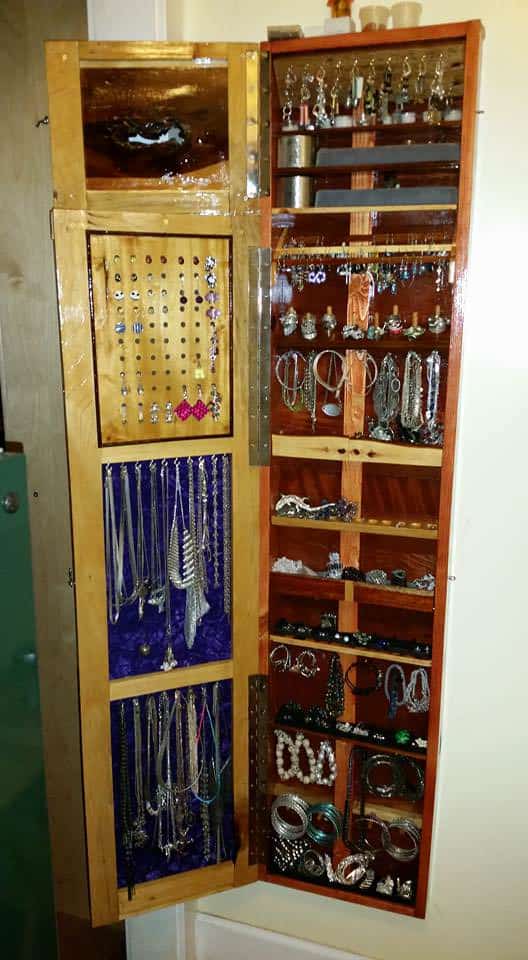 Make a special place for her with a terrific Pallet Vanity Set! Every woman needs a special place to primp from time to time, and this lit, mirrored pallet vanity set featuring a glass top and lots of convenient storage solutions is just the ticket!
Here's another stunning Jewelry Cabinet Idea for you to make! No one would ever guess that this stunning armoire started out as the humble pallet. This jewelry armoire features lots of storage – both vertical and horizontal and will accommodate a growing collection of sparkly jewels.
Or perhaps a smaller Jewelry Trinket Box with a considerable amount of style! This cute little jewelry box set could also be great in a home office, hobby room, or even at work to hold all of those small items you need to keep organized.
Doing a rustic-themed wedding? Then make Pallet Earrings as one of your Wedding Pallet Craft Ideas! This set of Pallet Earrings is only one example of several styles that may inspire you for wedding party gifts or as the "something old" idea for the bride herself.
This adorable Pallet Jewelry Organizer is sure to be a hit! This Pallet Jewelry Organizer could do more than hold beautiful, sparkly things. This would be very handy to neaten your accessories like scarves, handbags, belts and more! It could even double as a tie rack for the Groom!
These precious little Jewelry Boxes would even be terrific bridesmaid's gifts! C'mon – how cute are these mini jewelry boxes? Each has a different style of hardware, and you could customize them with woodburning, paint, or decoupage to commemorate the critical date. These would surely be appreciated!
Help the happy couple get settled with these Pallet Jewelry Organizers – perfect for accessories, too! These colorful organizer racks can be customized in a myriad of ways to be a special gift for her – or for the happy couple. These racks could be used for coats, accessories, keys, jewelry and more!
Make the wedding smell amazing with this stylish Pallet Diffuser Necklace! Fun and unique Wedding Pallet Craft Ideas for you! Smell great even when nervous – or when stuck in those awful bridesmaid dresses that are made of layers of polyester, nylon, and other non-breathable materials. Make a set of these diffuser necklaces as terrific bridal party gifts for both the guys and the gals.
Yes, we're all sharing digitally, but real photographs need beautiful Pallet Picture Frames! Display those expensive wedding photos in a charming, custom way with these beautiful pallet frames! This one features both pallet wood and burlap for a great rustic feel.
You pay a lot for wedding photos, so this Pallet Picture Wall is the solution! For as much as you pay for wedding photos, why not display them all? This Pallet Photo Wall will let you do just that!
Pallet Candle Holders are always a charming and romantic gift for the happy couple! Stacked Pallet Wood Tealight Candle Holders would be great gifts to set the romantic mood for the happy couple, or as table centerpieces.
Budget-friendly June Bride's wedding decor – try these stunning Pallet Table Centerpieces! Wedding Pallet Craft Ideas like this centerpiece certainly doesn't look rustic or shabby chic. It is quite elegant and would be a party gift that everyone at the wedding tables will be fighting over!
Make a customized gift for the Bride & Groom with this idea – Pallet Letters Candlestick Holders! Customize this idea with the couple's initials, or make a set of their new last name, both first names, or a special word you'd like to share with the couple.
She's sure to appreciate this thoughtful gift: a Pallet Guest Board! Now, this is a great idea! Those old-school guest books always get stuffed back into the box and then end up on a top shelf of a dusty closet. You never see them again. This project turns the guestbook into wall art that'll make the couple smile for years to come!
Here are more beautiful and rustic Pallet Centerpieces to inspire you to a wedding decor greatness! Shabby chic table centerpieces like this are unique and fun to make, too!
Make a beautiful Pallet Wedding Art piece as a stunning backdrop to the Happy Couple! Make a cool pallet sign and make a statement of love! One of many beautiful Wedding Pallet Craft Ideas!
Make a stunning place to put those wedding gifts or to display the guestbook, or more with this Pallet Wedding Cart! This cool pallet wedding cart could hold the wedding cake, the guest book, or be a great place to deposit those wedding gifts. It's charming, too!
Make a Pallet Heart Clock like this idea and then customize it with some wood burning, paint or decoupage to make it mark the important time and date for the happy couple! Use this idea to springboard from – customize it with the wedding date, the couple's initials, or anything else you want to add!
Make a Pallet Love Sign and customize it for a charming wedding gift they'll cherish!
Here's another way to add some shabby chic style to your wedding decor and making the bride's day spectacular. Check out these Twine Spool Centerpieces – simple & elegant!