You have an idea, and you have wood pallets. However, your project needs other free wood. Where can you find free sources of upcycled wood? We've got 13 ideas that you can use today!
Think outside the woodbin for sources of Free Wood and bring those upcycled creations to life! Where to get free pallets or pallets for sale:
Craiglist
Check under the "Free" section, and do it regularly. Be sure to be ready to pounce! When good items are posted, they're gone pretty quickly. You can place a wanted ad too. In the U.K., check out the website gumtree.com for free wood stuff. Don't forget about free phone apps like OfferUp and Letgo, too!
Online groups
Like buynothingproject.org, planetreuse.com, greenecoservices.com, or freecycle.org – organizations dedicated to helping people give away or exchange items for free. Both are into the upcycling/recycling movement, so they're great resources to get familiar with!
Neighbors
Watch for curb alerts, free stuff and yard sales in your neighborhood. People give away scratched coffee tables, dressers, bed frames, and more all the time. Some may only be pressboard, but others can be great solid woods with a scratch that can be sanded! Yard sales, garage sales, curb alerts, church sales, and more are amazing resources for free (or almost free) wood. Just wait until the end of the day and pounce on those large furniture pieces that no one wants to bring back into their homes.
Dumpster diving
This can frequently go hand-in-hand with contacting the smaller retailers. Even though you see something in a dumpster or large trash can, people can be funny about "their" trash cans. You'll develop a better rapport by reaching out to the store owners first. Offer to check back, leave your contact information, and follow up! If they know you're interested, you'll have a better chance of being contacted!
Barn salvaging
Many old barns, tool sheds, carriage houses, and old garages can have high-quality wood in wider, thicker sizes than you can get now. Talk to anyone near you who has a broken-down, dilapidated outbuilding, garage, barn, shed, or other wooden structure and offer to "help them clean it up". Place a wanted ad in a newspaper or Craigslist, such as the following:
Will remove old barns and wood structures in exchange for Free Wood. Call 555-555-6565"
Be sure to study the structure before you start swinging a sledgehammer or wielding that reciprocating saw. Rotted wood, broken beams and shifting foundations can make barns dangerous. When barns and other wooden structures begin to decay, they become uninsurable, so this is something you can (very kindly and gently) remind homeowners about if they are hesitant. This old barn is too far gone to be considered structurally stable. If the owners don't want to repair it, the barn becomes an insurance liability. Swoop in and offer to remove that "burden" from the homeowners.
Demolition or remodeling contractors
According to thebalance.com, you can sometimes make an arrangement with the contractor and provide a trailer that they can load up as they're doing the demolition. You'll be saving them money with disposal fees and you may get some vintage and antique lumber and other building materials, too! Find a contractor that does a lot of work in older neighborhoods, or who specializes in revitalizing old homes. It is important to be very clear about what you'll take – and what you won't accept. Be sure they don't put in the trash, drywall, insulation, or other unusable materials. Arrange to charge a disposal fee to the contractor. You should plan on understanding that you won't always get perfect, ready-to-use lumber. You may end up with lots of scraps, but you can figure out other uses for them, or save them for your outdoor fireplace or camping trip!
Get Free Wood just by leaving a trailer on the job site!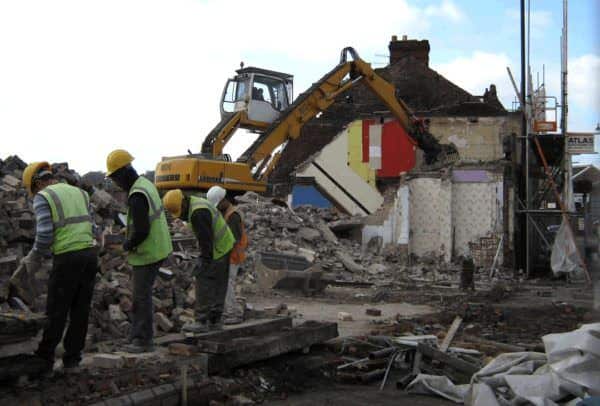 New construction sites
Now, don't get yourself in trouble. Simply ask if there's a scrap or trash pile that you can help them remove! You have nothing to lose by asking.
Free bins or barrels
If you live near a local mill or company that builds a lot of wood furniture, they may have free bins out on their lot somewhere. Lucky you!
Local retailers
"Mom & Pop" retailers, such as local hardware stores, construction materials suppliers, etc. Think of any company that may get a lot of wood either delivered or used as part of their processing.
Shipyards & boatyards
If you live near the coast, find out where the nearest shipyards are to you. When boats and ships are repaired or remodeled, you may get access to beautiful teak and other old-growth woods.
Thrift stores
You may be able to find free furniture that you can dismantle and reuse, or give them a very lowball offer on a large piece of solid-wood furniture that hasn't sold.
Scrapyards and Junkyards
There are still a few that are open to the public. Wear heavy-duty work boots, gloves, long-sleeved shirts and thick pants for safety!
Wood product manufacturers
Cabinetmakers, Furniture Manufacturers, Wood Flooring Installers – any company that makes things out of wood will have scraps. Usually, the manufacturers don't have a lot of scraps, but things get cut incorrectly or get damaged when moved around, etc.
Now that you have free wood, make a Gorgeous Backyard Rolling Bar!