This pallet wood rolling pallet bar took me a while, but I feel it's worth it! It's a show-stopper in my backyard, and I can proudly say I made it!
How I made my pallet wood rolling bar
First, I built a basic bar, framing it out with stringer boards to create the basic shape, and scrap plywood to create the shelving. I cut down deck boards to create the smaller pieces to support the shelves as needed. Next, I finished out the two sides with more deck boards but didn't fully finish out the front. For the front, I used corrugated metal that I aged for that rusted look* on the front side. I trimmed out the front and secured the metal.
The bar top
For the bar top, I used various tones of deck boards, mixing darker and lighter woods. For this bar top, I knew it didn't have to be perfect. Cracks, imperfections, and nail holes were all okay because I was going to bar-top it.  Once I installed the deck boards, I applied the epoxy coating, carefully following all the directions for prep and mixing. The epoxy coatings are a good option for that wet look, or for embedding objects into your project as well.  Many say that one pour is the same as 40 or more coats of varnish. Some are UV-resistant as well, so do your research. Follow all the safety precautions, too.
Finishing it off
I added a set of locking casters, installed final trim, and then added a bar foot rail. We installed a small glass-front can cooler refrigerator.
Editor's note: There was no information provided for the rusted look of the corrugated tin. It can be purchased with various patinas, or there are ways to strip the galvanized coating and rust it quickly, as explained here: Faux finishes can be done with painting techniques as well.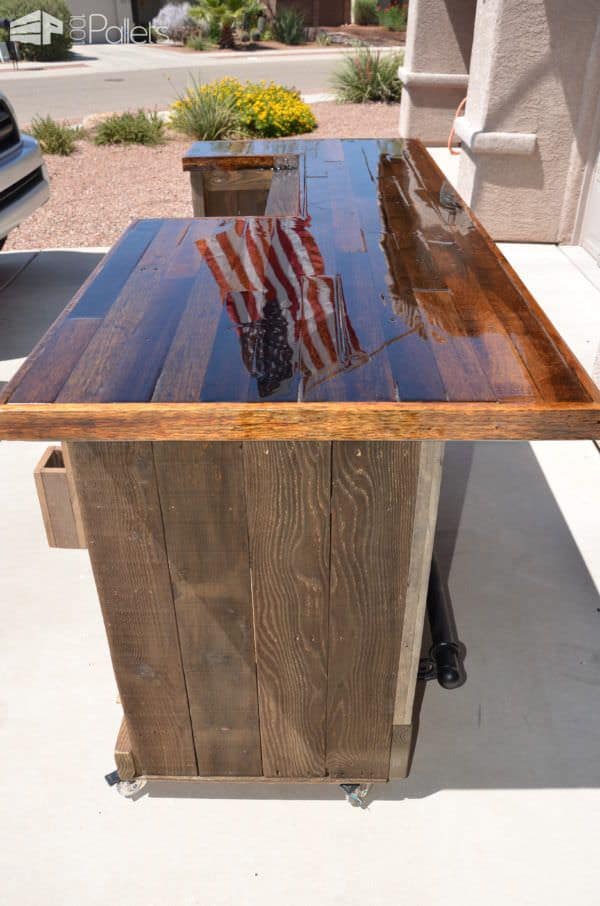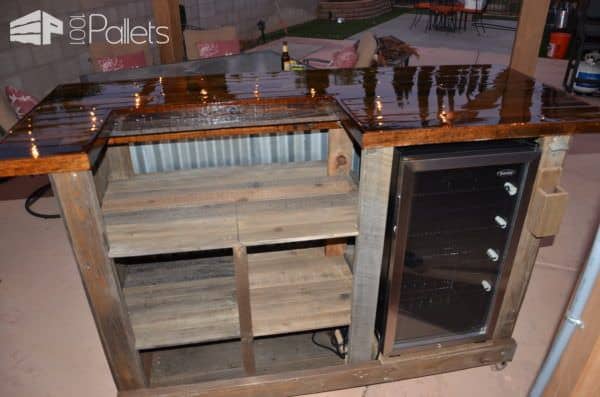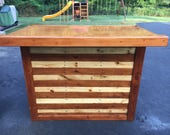 Pallet Bar
Custom made Pallet Bar from reclaimed
pallet wood
. I can do a variety of sizes - but this listing is for bars is meant to be on the smaller side (great for apartments or a smaller bar area, great for...