I built this Compact Pallet Side Bar to hold all of my adult beverages. I made the entire project out of pallet wood, except the stencil of my wife to remind me not to drink too much. Also, I built a second shelf on the inside so it could hold more.  However, if I had to build this all over again I would have made it even bigger. This durable bar has held up well, and I'm proud of it as my first pallet project!
Compact Pallet Side Bar – Indoor Pallet Bars are handy too! Add to your home decor and be ready with instant party decor as well!
This bar even has a handy box that will store 12-packs of sodas…or anything else in a 12-pack form you choose. I stained the bar a rich brown tone and sealed with a varnish. Additionally, There is a little bonus rack on top made from a pallet end to hold open bottles. The tapered legs add a bit of elegance, and the small ceramic knob gives it an old-school icebox feel.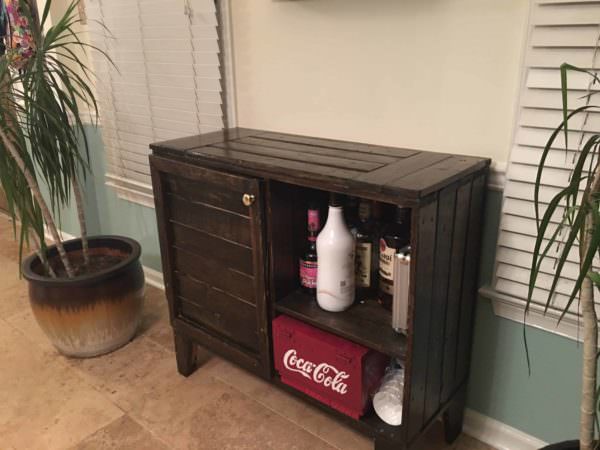 Very nice project! How about a Mosaic Pallet Table to go with it?