"Way down deep, we're all motivated by the same urges. Cats have the courage to live by them." — Jim Davis (cartoonist, Garfield). Others say that we don't own cats; they own us. Regardless, cat owners understand the pleasure of lavishing our little furry pals with gifts and comfortable places to do secret cat stuff in, like these Cat Pallet Projects! Find ideas from simple to complex, and build something for the charming mini lion in your home.
You'll find Cat Pallet Projects that include beds, houses, trees, feeders and more! Be sure to share what you make for your cats, too!
Make a Pallet Outdoor Kitty Barn to protect our little friends from the in-climate weather. This idea is one that is very kind for your outdoor kitties, or even for the feral cats in your neighborhood or near your yard. It can be adapted and shrunk down to a smaller size, too!
Your Four-Legged Queen or King deserves more than just a simple cottage. Build them a Pawsome 3-story Pallet Kitty Condo! This project is worthy of the Queen or King Kitty in your life. With three stories, this kitty condo is sure to please even the finickiest of kitties.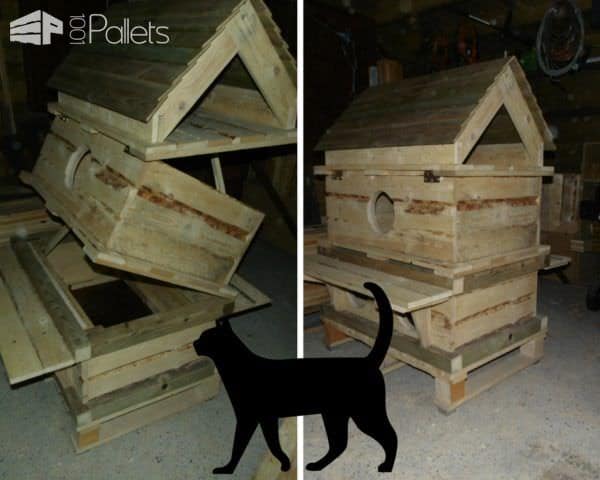 Build the ultimate Nocturnal Fur-Child Pallet Moon Cradle! Cat beds don't have to be boring or ugly. This half-moon Kitty Cradle is even LED-LIT!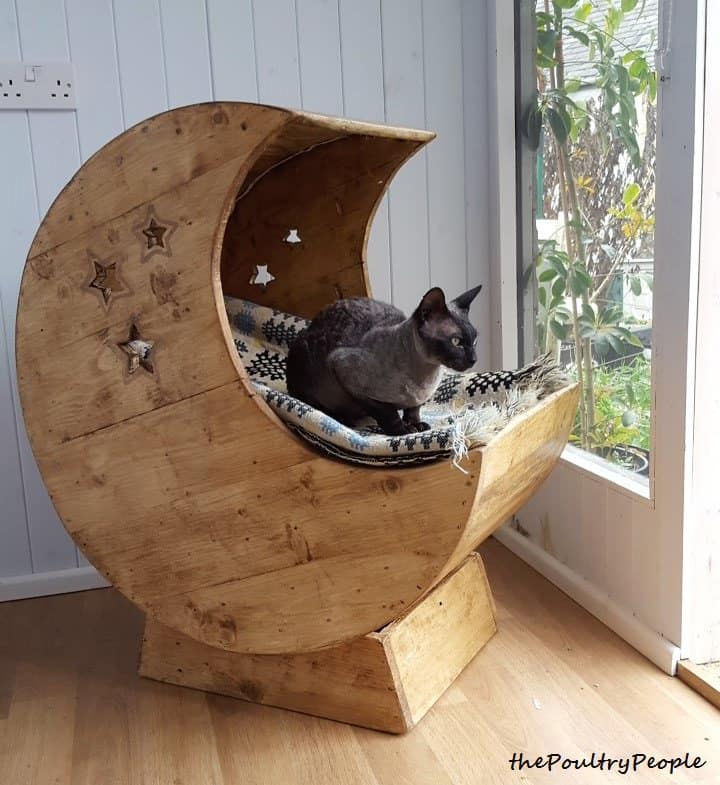 Every Cat likes a place to perch to look down upon their domain. Cat Pallet Projects like this are a perfect idea if you're space-challenged. This Petite Cat Tree from pallets is large on fun while small on space. This cat tree is small but offers variety for your pet to perch. Add some sisal rope that you could glue around the vertical posts, or even some carpeting or thick cardboard that can be stapled in place for scratching, and your cat will be in heaven!
If you have a little more space, make one of the Cat Pallet Projects like this Medium-Sized Pallet Kitty Tree. Cover it with some carpeting for plush places to survey their world. If you have the room, go a little bigger with this medium-sized Pallet Kitty Tree. Add carpeting on the horizontal perch spaces for extra comfort.
Having more than one cat, or introducing a new cat to the household can cause some food squabbles. Make all your kitties happy with Cat Pallet Projects like this Two-Station Pallet Cat Feeder. We would prefer dining from lovely dishes vs. paper plates, and your kitties will enjoy the luxury too. Plus, no fights over food!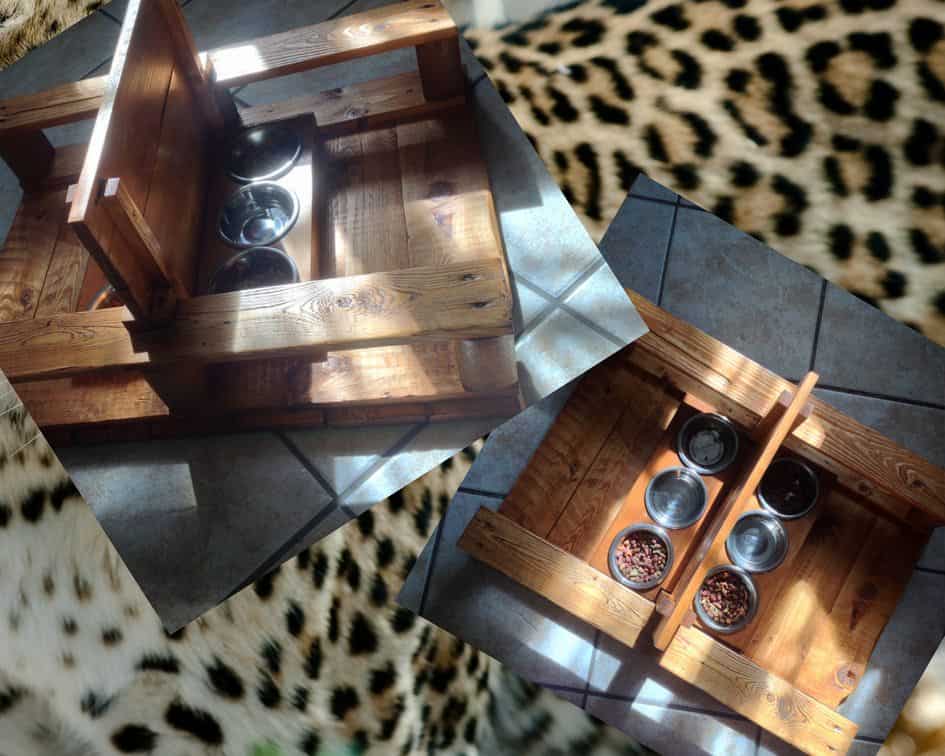 If you live in an area where your kitties aren't safe outdoors, you can build them an Outdoor Pallet Cattio! Your cats can enjoy the outdoors without being hurt by vehicles or predators. This little two-story kitty patio has a pecan branch for a perch and scratching post, a door so that you can put a cat box outside if you wish, and even pallet wood shingles! Cost = under 5 dollars!
You will <3 this Pallet Cat House! Show your love and make a precious little Cat House.
If you have a lot of space, or a small space with tall ceilings, make a tall and rambling Pallet Cat Tree with Tunnel Additions! There are two separate posts for this large build. This project cost under 50 bucks and towers up to the 10′ tall ceilings. This feline jungle gym keeps the three kitties happy as they survey their world. This Cat Tree features three levels on the main vertical, yards of sisal rope, three pallet bridges, a copper-wrapped tunnel and two hanging baskets. Every cat has multiple places to sit…and throw toys onto their humans.
Ordinary bowls just won't do for our furry friends. Make an adorable Kitty Feeding Station from Pallets! If you don't want the rustic look, add some elegant stainless steel feet and beautiful paint decorations. This kitty feeding station is the cutest one!
Keep your outdoor kitties snuggly warm in this Pallet Cat House. Protect your cats from the elements with this clever Pallet Cat House.
Show us what fabulous creations you've come up with to spoil your cats the way they expect! Upcycle products in your home into great Recycled Cat Houses. And, if you need more ideas for pallet projects for your cat, check out this cool post at Katzenworld: Save Money: Build Cat-Focused Furniture Using Upcycled Pallets!