Does it make you feel nice when your dog pets chew on furniture edges or when they just here and there on the furniture? It is always embarrassing when the dog we love so much does this kind of foolish acts, some of their habits can be ignored as they are natural to do so, but you can control them to not do the rest of the bad things by doing some additional settings in your home!
Get the special beds for your dogs so they will not be interested in your furniture anymore. The dog beds also a ways to keep our environments clean from the germs sometimes our dog carry on their skins, and you will also find no more dog hairs fallen on your sofa after deciding a good bed for your dog; so; as a result, we can say that giving separate resting space so your dog can always your living environments hygienic!
To help you get ideas of easy dog beds, we have brought these 40+ DIY pallet dog bed ideas listed in detail in this article, they are easy-to-build at home using nothing but discarded pallet wood boards!
Build the low dog beds with pallets and also the beds for puppies and other small dog breeds, also learn a lot more about their designs like you can craft raised DIY dog bed, rolling dog beds on wheels, and also bunk dog beds, see some genius example given in this collection of pallet ideas!
These ideas will also help you see how you can personalize your final pallet-made dog bed, you can paint them with custom signs and dog-related symbols showing the exclusive behavior of your dog, you can add nameplates to these dog beds for a personal look, and can also use the other metal accents and lights to give them more charm!
People who always like the things in style, the Adirondack dog bed is sure to rock, given beveled back and the armrests just like a stair!
This inspiration is a perfect guide if you are to personalize your handmade dog bed, too, given a white and red hue and comes with stenciled "BARLEY" letters!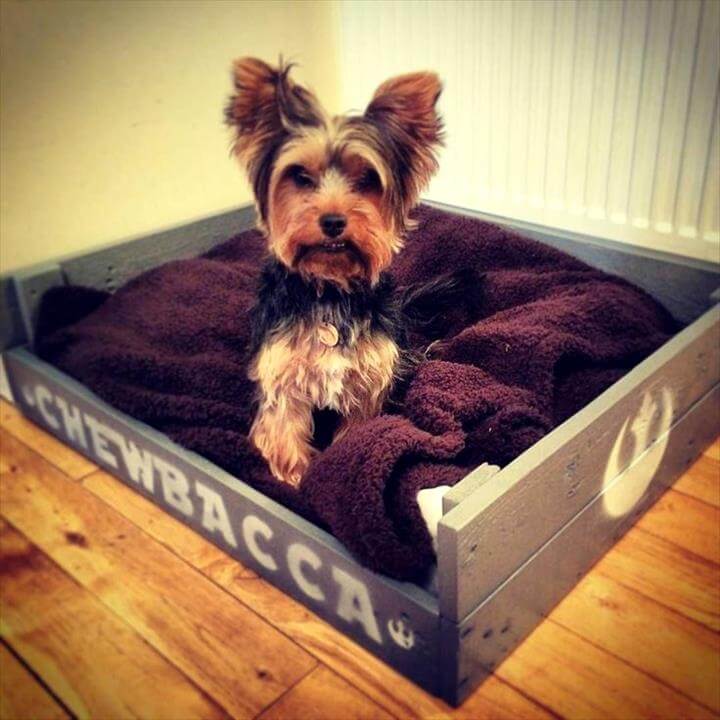 Just like a simple flat tray, the pallet lengths have been packed for this bed output, painted in grey but comes with white painted dog name letters, the owner of it!
This sample is just like a toddler bed, given thicker foam cushion as you prefer for your bed; the raised sides, just like a headboard and foot-board of the bed, will support both your dog and cushion a bit more!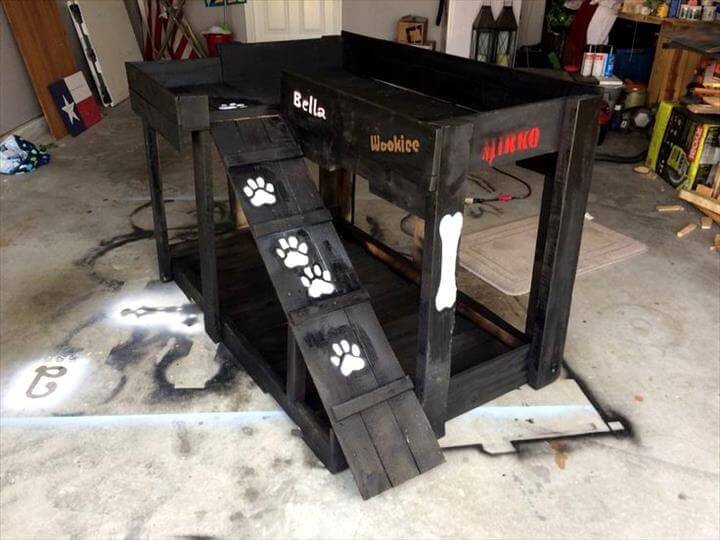 Get this bunk bed for puppies that are fun-loving too, both bottom and elevated dog bed portions have been interconnected with some stair steps installed with rough pallet slats! The entire design has been personalized with white dog paw symbols, a white dog bone sign, and dog pets' custom name letters!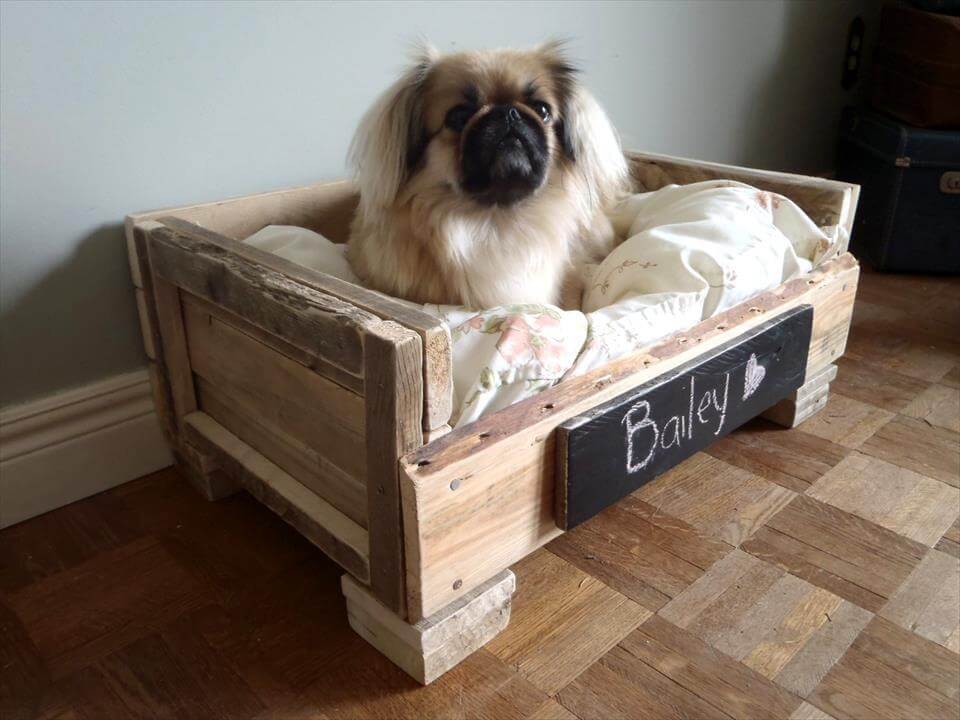 If you prioritize sturdiness, it is better to build the dog thicker, just like this given sample raised on little supports and has a nameplate in front for a personal look!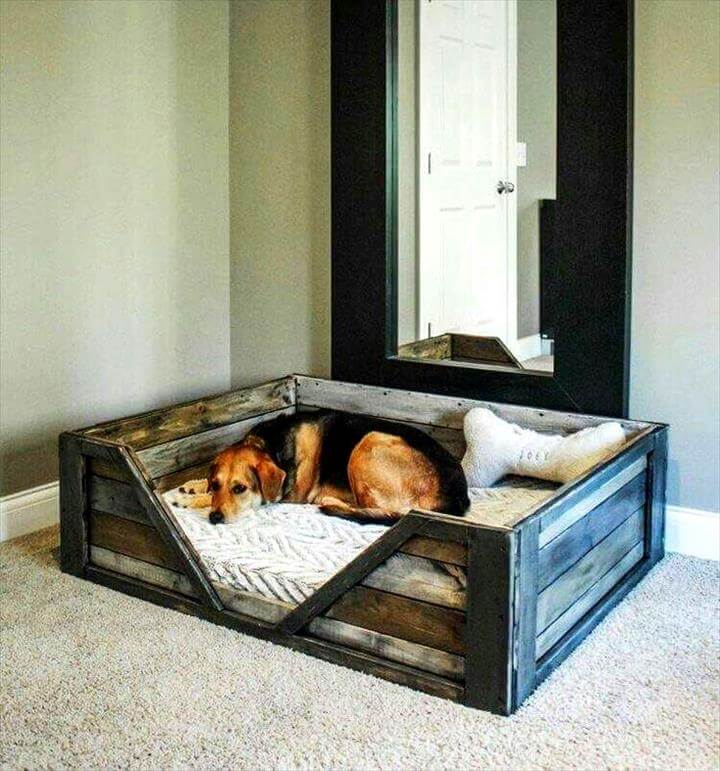 The dimensions are just like a large wooden crate, but the chevron entry brings a style to this no-cost dog bed and composes it with pallets!
Erected back to this dog bed make it one-of-kind-piece, style is all to please your senses and its long life would also be guaranteed due to stable pallet wood composition!
A dog playing station, a bunk bed with higher and lower portions connected through stairs will please a dog in multiple ways for sure!
Here the whole preference has been given to save a lot of space, so undoubtedly this bunk bed was sure to be ideas for that space! It has all been got super easy to move due to the installation of rolls!
It must take the size of your dog into account before you plan the dimensions of a dog bed and it is concerned to style; we have tried greatly to add the best ones in the list so you can choose your favorite one! Prefer the pallet dog bed with sufficient inside depth while adding a thicker cushion inside or just making it for a small or naughty dog breed; you should also select the extra soft cushions for your too old dog pets, especially when they are having bone pain problems!
All you need to build any of these dog beds is to install a custom wooden tray according to your dog breed's size. Then custom finishes can be planned to suit the conditions better like it would be all awesome to paint the dog bed for a better visual; you can make the bottom flat or raise it on wheels and add special symbols and tags to your final design!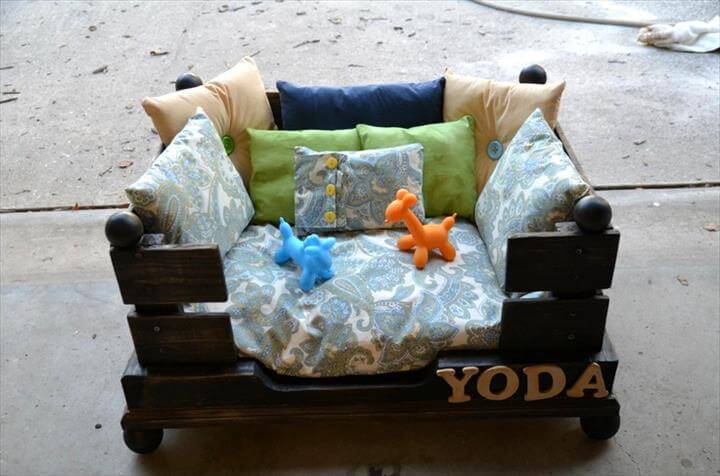 This handcrafted one will value your dog like a boss, made super comfortable by adding extra pillows and cushion, and comes with raised accent boundary walls making it a bit more delicious! Wooden letters have been mounted to display the name of pets!
See the extended shape of one pallet resulting in a stimulating dog bed, installation of additional sidewalls, and wheels to the bottom side are all making a rustic pallet board here to act like this comfortable dog bed!
The concept of building dog beds out of pallets is all about to build the custom wooden tray, which can be cushioned later; check out the brilliant sample!
If there are all good relations in your all dog pets, we wish you to select this extra-large one, having pleasing edges and sidewalls and made soft from inside using an extra soft foam mattress!
Giving all extra artistic boundary walls to one pallet board, the fantastic design of a wooden dog bed has been achieved, cushioned for providing maximum comfort to your dog! The design has been painted for the final green appearance!
Grab this elevated one, can even be modified to be a storage-friendly little, once again a creative gathering of pallet pieces here to appreciate, having inside padded for comfortable sitting, sleep, and even jumping off your dog, prefer it for small dog breeds!
A mini wooden box or holding can be selected to serve better to your dog as a bed; all you need is too comfy it up later to look like a bed; here, the stylish wooden holding is made of pallet slats!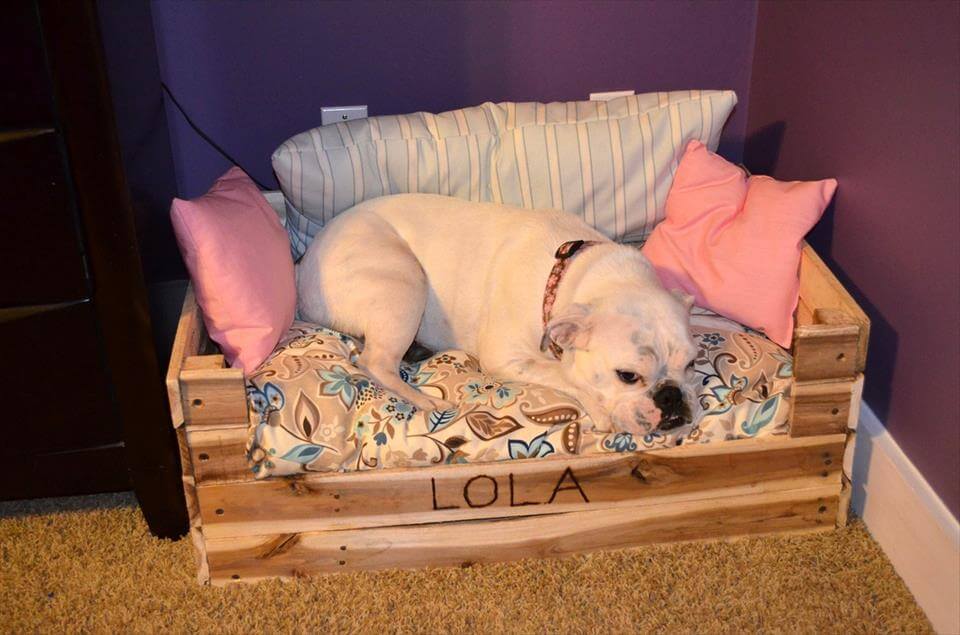 A high profile dog bed, built with hands using straight pallet pieces, intended to gain the raised boundary walls so the pillows will not fall off! Letters showing the dog's name, written in front of it!
This is here a pallet-made station for both fun and comfort of your dogs; it would be fun for your dogs to reach the higher portions of this hand-built bunk bed of your dog!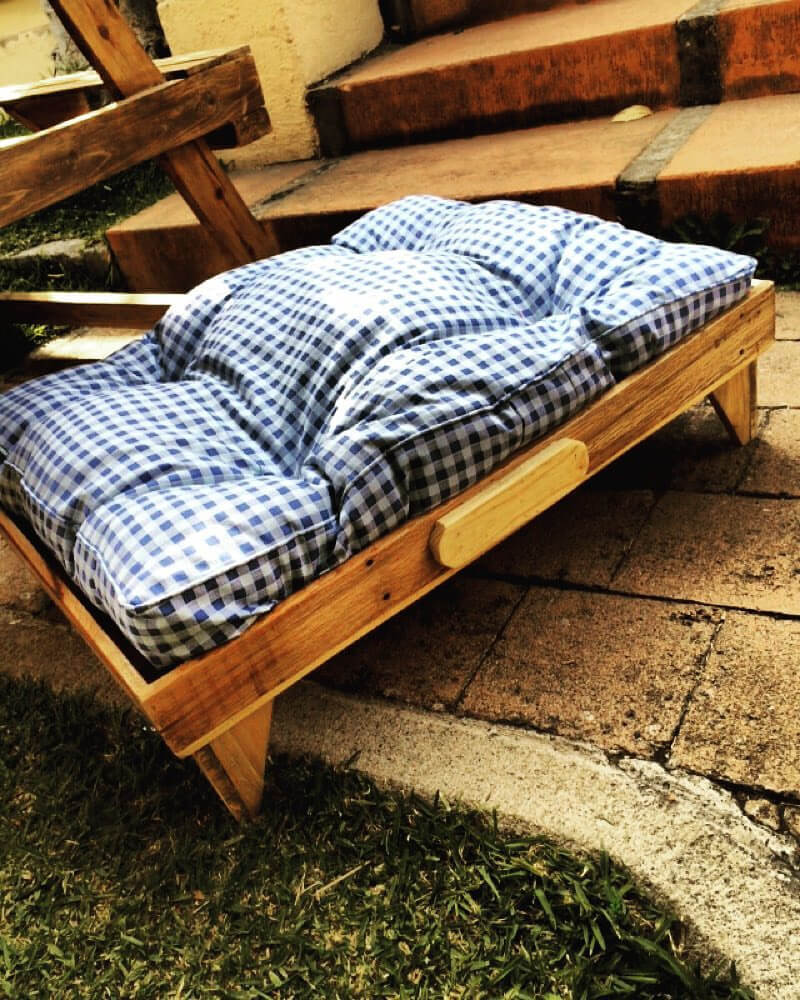 Here the design of this dog bed is just like a large wooden tray raised on short tapered wooden legs; a little nameplate has been tagged on the front to highlight the name of the dog; finally, the bed has been made soft with a cushion.
Building a dog bed can be too easy, and you can plan both dismantled and original complete pallet boards to install a special one! If you find a pallet size right for building a dog bed, install the additionally raised side edges or boundary walls and finish it with a foam mattress or cushion; pallet slats can also be taken as a unit for any custom additionally of dog bed!
You can even clone the listed bunk dog bed designs, take less space to store and provides more space to sleep, would be ideal for any 2 dog pets which are good friends too! There are also bunk beds listed here that are having their higher and lower portions connected through custom pallet-made stairs; stairs work like a big fun station for your dog and also help them to maintain better physical health, so stairs will not let your dog feel lazy, so dog bunk beds with stairs will all rock as a treatment to get the lazy dog active!
All you need a padded platform to decide as dog beds, so recycle the rough pallets to build any like a tray or crate that can hold well a cushion or mattress!
Grab this if you just want to make your dogs sleep in a corner without bothering you, will take so much space, and would be all special for 2 dogs!
Here is a set of 3 dog beds having different sizes, having look inspired by a palace, and you can also find it so true by taking a look at the boundary wall made of pallet scrap!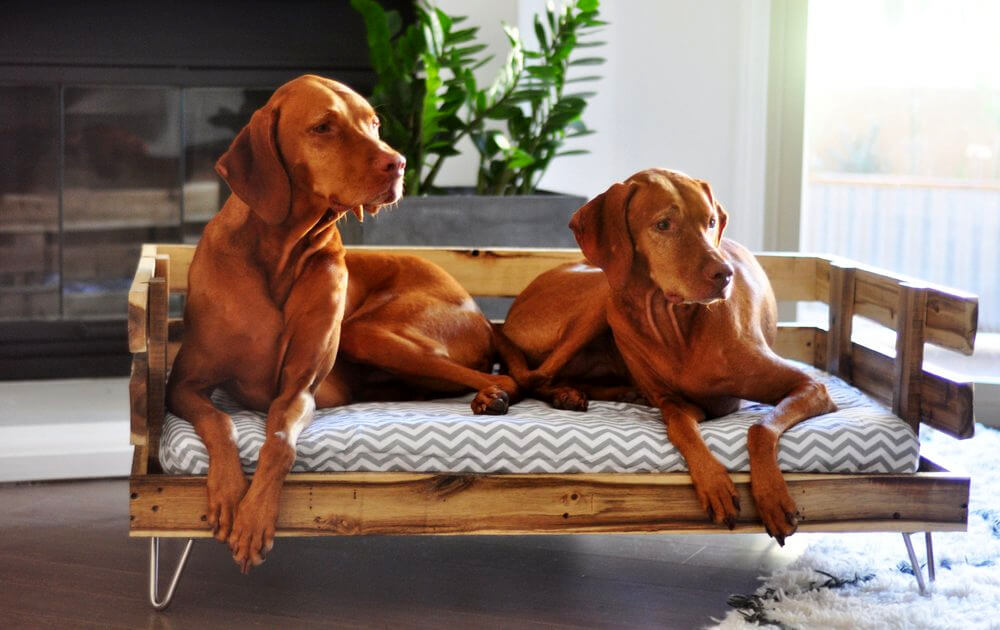 Just a little more elegant one raised on hairpin legs and is all fantastic for twin dog pets, built-in extra-large dimensions using free pallet wood!
Fun and comfort at the same place, another bunk dog bed made of pallets having an exclusive wooden look and the fine robust dimensions!
It is really going to rock; the dog bed with all thicker sides and dimensions have been given a personal touch using a chalkboard nameplate in front!
Once again, the rustic slats have been crafted here for a robust wooden bed, having handles built in the sides, will help you in its easy carriage!
Just like a big wooden crate, this comfy dog bed has been made with separated pallet lengths, composed of well-sanded planks, and has been raised on wheels!
Really willing to plan a better gift for your dog? Go with this clever pallet inspiration, built a stylish bed for your pet friend to please him this summer! It has all been decided to look rustic, but painted letters help gain a more charming visual!
Fantastic design is this by look, extra wooden braces, installed with angle alignments, do a great job here to bring prominence to the entire design, and big decorative value! Made a little deeper from inside for a nice holding of cushion and your dog!
Installation of pet beds, and these dog house plans and pet feeders have been raised the DIY world of pallet projects to the next level! The whole world is appreciating pallet services regarding pet care issues, and now the pallets are also a big center of attention of all pet lovers! Take a roundup to see how easy pallets are for custom dog bed constructions, visit the ideas to make a selection, and clone the design as a gift to your lovely dog!
If you raise the dog bed on wheels, it will be much more than a sleeping station as your dog will also be able to play with it as a toy, and the moments will be great when you will roll this kind of beds over your interior floors! The addition of wheels facilitates the pet owner too, it keeps interior floors safe from scratches, and it would also be easy to shift the dog to any other location of your home! Use stencil or vinyl letters to display your dog's name in front, and there is much more you can do to raise your wooden pallet dog bed's aesthetics!
This would really rock for small puppies, built-in small dimensions, and even a little pillow will rock to make the interior super soft to sit on!
The size of your dog bed may vary from size to size of your dog; for larger dog breeds, dimensions are always to be wide like built in this case!
Here additional boundary has been installed around the top of the mini pallet board; this boundary also holds well the cushion inside, so at the end, we gain a stylish bed for our cat and dog!
This one is all graceful if you are to give a better surprise to your dog, personalized with white stenciled "GRACIE" letters, all made of plucked apart pallet lengths!
This large dog bed has been decided to be a storage friend so comes with open sides which are too good for the storage of dog toys and other conveniences!
Install this another creative bunk bed for your dogs, having stairs, and built-in portions just like a modern house; stairs play a big decorative and functional role in this regard!
Here one more special design is built with pallet pieces like straight lengths and pallet stringer boards, painted in grey a little, and comes with custom green overwritten "MIA" letters!
This one will be a big fit for all pets and pet lovers, have all been composed by giving clever attachments to pallet planks, having raised sides and bottom on wheels!
This is another rustic wooden crate style pallet dog bed, also comes on casters or rolls, giving it all pleasing movement on any floor and a fab industrial touch to the overall vision of it!
See here again a better demonstration of rustic wooden planks, building a stylish bed for the dog, having a white heart painted in front, making it more lovely to look at!
Here, the first preference has been given to the dog's comfort, so inside has been fully soft to sit and jump by selecting a warm cushion; here, dimensions are also a bit thicker and stable!
See one more with a unique twist in style, with raised sides making the bed extra secure, and have also been fabricated with those straight wooden lengths of pallets!
See this brilliant architect done with 2 complete pallet skids, it gives the perfect dog bed as output, so now you can please your dog with 2 pallets only!
This one has especially been made for small little dogs and comes on round short wooden legs, has also been cushioned to make the dog feel warm and super soft all the time!
Duplicate this more stable one, built-in standard modern bed style as we use in our homes; it also has a headboard making it all look well and featured!
If you want to provide extra care to your dog, then this all in one dog bed would all be a very right choice; having an elevated sleeping platform linked with stairs and underside is having a personalized dog feeder!