Looking for ideas for recycling old wood pallets? Then you've come to the right place! Nothing better than wooden pallets to redecorate your home without spending a dime! Since it's wood, you can literally do whatever you want with it. What's more, the pallets' shape is an ideal base for a decorating project, especially when it comes to recycled furniture!
Here are 19 fabulous decorating ideas with pallets. Don't worry; all these projects are easy to do.
Rustic bench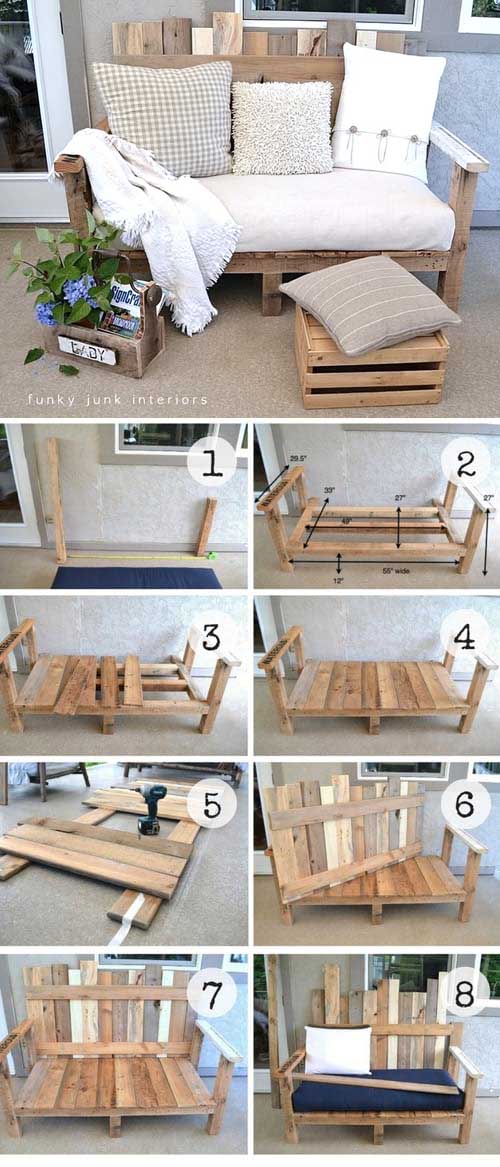 When it comes time to start making a piece of furniture, you can feel a little panicky! But if you don't want to complicate things, you can quickly and easily make a small sofa with pallets, as shown in this tutorial.
Towel rack ladder

The manufacture of a bench seems a little complicated for a first do-it-yourself project using pallets? Don't panic! This towel rack ladder is child's play to make. All you need is a few boards to have a great trendy decoration object in the bathroom. The tutorial is available here.
Wooden chest

If you like rustic decor, this furniture is a perfect illustration. It is simple to make, but it is also very functional: it serves as both a storage unit and a bench. It can find its place in the entrance of your house or even as a bed end in a bedroom. The tutorial here.
Photo frames
Decorating a space on a wall with personalized frames made out of pallets is something everyone wants. Well, know that there are many ways to create a photo frame to dress up your empty walls. But some are easier than others… Find out how to make this wooden pallet photo frame very quickly. It's a great idea to highlight your photos! The tutorial is available here.
Cupholder
This cup holder has enough space to hang your cups and mugs and store your coffee at the same time. It's an easy enough project that you can do without any problems over a weekend. Tutorial.
Sink shelf
Looking for a simple idea to do? This one in particular is, but it's no less brilliant. Want to save storage space in the kitchen? It's easy! Build a shelf above the sink from pallet boards. The tutorial here.
Indoor bench
Have you done simple projects with pallet wood? Then move on to something more challenging, like this bench. Even if it's not too complicated to make, it's a great project! Tutorial here.
Coat rack
It's a beautiful coat rack, isn't it? This clean and rustic style is ravishing. Well you can have this coat rack at home! Tutorial here.
Home office desk
If your home office needs a small renovation, but you don't want to spend a fortune on one, build it yourself. Look, this desk made with pallets is unique and charming. And it has a lot of styles. More here.
Wall pegboard with masonry nails
This project is perhaps the easiest to make of this selection. But it is nevertheless full of charm. If you just want to add a little natural touch to your decoration, use this board as a support for small objects. For a rustic look, masonry nails make a great effect. Step-by-step instructions here.
Traffic sign
Pallets are a great support to make traffic signs.
Towel rack
We agree: pallets bring a lot of charm to interior decoration. So it's time to take it to the next level and get an extra touch of fantasy. Use old spoons as hooks to make a unique towel rack that will become the highlight of your decor! Ideal for hanging towels and tea towels in the kitchen! Instructions available here.
Shelves
Although this shelf is impressive, it's a relatively easy project. If you think this shelf will fit nicely into your decor, go for it! It's a fun little craft to do. The tutorial here.
Storage for bottles and glasses
This bottle and glass storage is great, isn't it? Anyway, I would love to have one at home myself! The tutorial here.
Coat rack and wall storage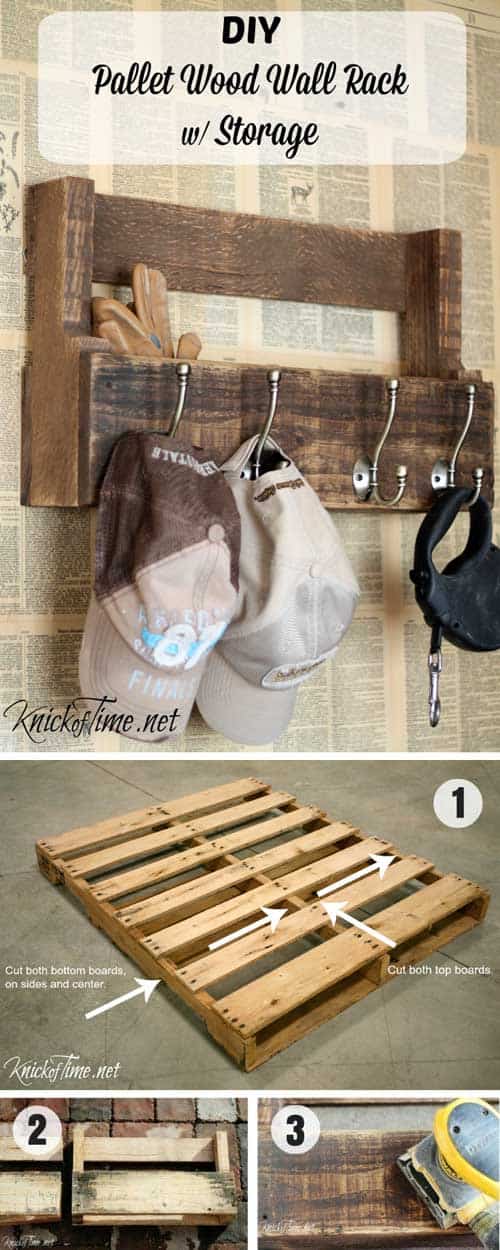 Finally, an original coat rack! This coat hanger takes up little space and you can even store gloves in it. It's an interesting option if you're looking for a minimalist project that's easy to tinker with. The tutorial here.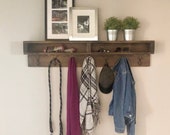 Green wall
Growing houseplants or fresh herbs over a large wall area is a trendy new way to add greenery to your decor. It brings a rustic touch to a home uniquely and charmingly. And it's a great way to renew your interior decoration. The tutorial here.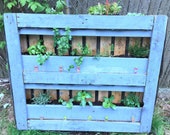 Children's bed
If you have a young toddler, this pallet bed is a great DIY project for him. The bed is fairly easy to make and only needs 2 pallets. Your children will love the warm rustic atmosphere of their room. The tutorial here.
Vertical blinds
Vertical blinds made of pallet wood bring a rustic decorative touch to your interior. And it's a great way to have more privacy in your home. The project is relatively easy to do. The tutorial here.
Wall rack
All you need to create this rustic wall support is 2 wooden boards of pallets and mooring cleats. Of course, you can use any other style of hooks. But it's important to keep this vintage look for your interior decoration to be successful. The tutorial here.
Did you like all these ideas for making furniture and objects with pallets? Then discover this beautiful and practical book to make lots of easy creations with pallets.
Read also :