If you're looking for a way to give your home a more rustic, handmade vibe, reclaimed wood is the way to go. Recycled pallets, in particular, are a cost-effective and trendy way to achieve this goal. Pallets can be used for scrap wood or repurposed for storage or shelving, but they also have many other creative uses. Here are ten of the most innovative and achievable recycled pallet decoration projects around.
Dining table
Using reclaimed wood to create a rustic dining table is a relatively simple way of bringing a distinct farmhouse style to your home. Using recycled pallets makes the job even easier and can give a table extra wow factor. The DIY project comes with step-by-step instructions but feels free to get creative!
Platform bed
For a distinctly Scandinavian feel, recreate this trendy raised bed frame from wooden pallets. There are dozens of other similar tutorials online, so if you're looking for something slightly more polished, let Google be your guide.
Headboard
If you want to redecorate your bedroom but aren't looking to make a platform bed out of your reclaimed wood, try a headboard like this one, made using planks from used pallets. The result is both rustic and romantic.
Coffee table
One of the most common recycled pallet projects, an easy coffee table DIY, can be stepped up a level by adding a coat of paint in a bold color or a glossy stain. A bright, vibrant table like this one will certainly stand out and become a focal point of your living room.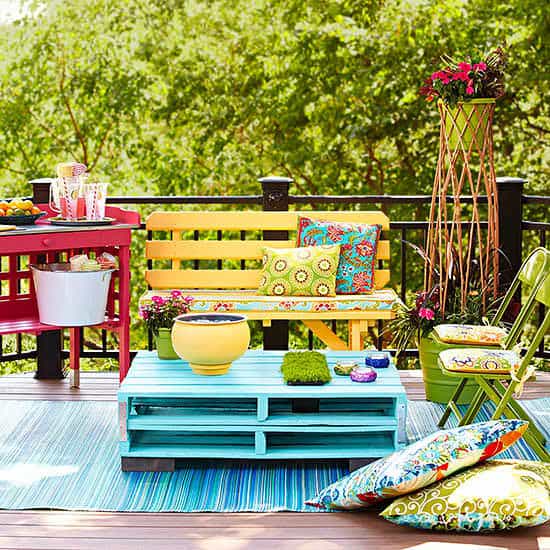 Room divider
If you want to separate open plan spaces, a room divider gives a great, portable solution to any free flow privacy issues your home might have. A recycled pallet divider is unique, rustic, and vintage, so feel free to leave the wood unfinished or give it a distressed faux look for maximum effect.