Be adventurous, expand your creativity, and have your projects come out looking professional! Protect Your Pallet Projects with easy to use, lightweight, durable Ondura Asphalt Roofing panels, Tuftex Clear Polycarbonate panels, and Tuftex Seacoaster Vinyl panels.
What are these panels? Protect Your Pallet Projects with what?
Not familiar with Ondura or Tuftex? If you've been to the big home centers, then I bet you've walked past those cool, wavy sheets in the home centers and felt inspired… yet intimidated. It's that sexy X-factor that makes you dream of grandiose projects, but then you worry about your lack of experience. You probably took a closer look, but since it was new to you, the cart stayed empty, and you were left wondering about the possibilities. I did the same thing too.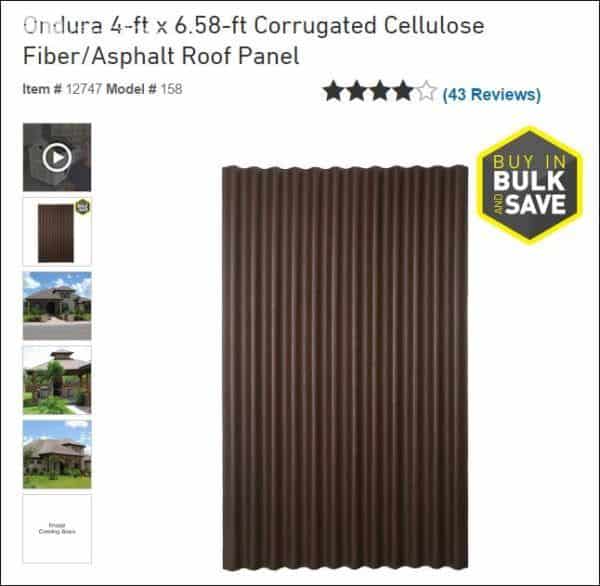 Tuftex Seacoaster Panels. Also available in a clear polycarbonate for letting the light shine through your projects.
Protect Your Pallet Projects with three different lines of products from Onduline, Inc.
There are three lines of products I was always ogling and go to try recently: Ondura Corrugated Asphalt Sheets, Tuftex Clear Corrugated Polycarbonate Sheets, and Tuftex Seacoaster Corrugated Vinyl sheets. Everything except the clear sheets comes in a variety of colors that can stand alone, or coordinate for various looks around your property. I realized they're TERRIFIC! They're EASY to use. Even the asphalt sheets were surprisingly light but more flexible than roofing shingle counterparts, particularly in cold weather.
More info. on Onduline Products.
Will you need specialty tools to Protect Your Pallet Projects? NO. :)
You only need the most basic tools to work with the product lines listed here:
Normal safety protection (eyes, ears, hands, feet, etc.)
Pencil
Good ink marker (like a Sharpie)
Clawhammer
Measuring tape
Utility knife
Pair of durable scissors
Drill (for the polycarbonate/vinyl sheets)
Basic circular saw
48" T-squares and a chalk line tool were extremely handy, but not necessary.
One other tool you'll need: A device to review the excellent install videos and handy tips that Onduline have on their websites. We watched the videos, took our time to make sure we got the first panel right, and in under fifteen minutes, the large doghouse was ROOFED. That simple!
Roof, Side, or Line with Onduline and Protect Your Pallet Projects like a PRO
Onduline also has complete installation system packages, so you don't have to hunt all over a gigantic warehouse for various components. The only things you have to find beyond their product display would be plywood, drip rails, and roofing felt. Everything else is a neat system. The product lines are so user-friendly that I wouldn't hesitate to do our 40-foot-long carport by myself. Onduline products made building two projects with the Dear Husband (DH for ease in the future) so fun that we relaxed and had a little competition!
Protect Your Pallet Projects, from dog houses to compost bins, playhouses, sheds, garages, and more!
I made two projects to try out the three different lines of Onduline products. We roofed a large Dog House with Ondura asphalt sheets, and used Tuftex clear polycarbonate sheets to create vaulted windows – yes – I said that – and a custom-made, clear doggy door! We opted for a pallet siding on our dog house, but you could easily add Onduline's Seacoaster vinyl siding panels instead. The polycarbonate can be cut with a simple pair of kitchen shears or a utility knife! They're crystal clear and surprisingly tough.
Have flexibility when you Protect Your Pallet Projects – and Onduline delivers beautifully
We used more Ondura asphalt sheets to top two  Compost Bins that turned into a Guy vs. Gal design challenge against the DH. The Tuftex Seacoaster vinyl paneling was used to LINE the compost bins. That's always the hardest part; what to line raised garden beds, compost bins, and anything that needs to be protected from sharp tools.  Then, the plastic doesn't seem to survive a long time with exposure to the elements. The vinyl sheeting is designed for YEARS of durability, and the natural, easy-to-clean properties of it make it a no-brainer for compost bins.  Just rinse it off with a hose, or worst case, use a soft-bristled brush or broom to get any stuck-on compost.
Protect Your Pallet Projects easily and get past the fear of a new product. Try it; you'll like it!
I said I was intimidated. My ONLY experience with corrugated products is with our horrid carport roof and a previous home that had a tin roof. Love the sound – mostly – but no matter how much body armor you wore, you ALWAYS got cut to ribbons even doing minor repairs. Problem SOLVED! Ondura products are lightweight, easy to manage even by an average-height woman, and can be cut with everyday tools. They're even manageable in bad weather – like the wind- and don't buckle/crease the way tin does.
Shake up your routine and go Beautiful, Easy, and Durable when you Protect Your Pallet Projects
So if you want to shake up your projects, like garden sheds, greenhouses, pet homes, carports, patios, and more…try Onduline's products. I can't wait to have an excuse to use Ondura or Tuftex again! Their products made my projects look like a pro installed them. :D