With several pallets, I made my first handmade Pallet Wood Bed/Headboard. After buying the pallets from a warehouse near an airport, I took the measurements of the space available in my room so that I could adjust the bed size accordingly. After this, I started to organize and cut the pallets to fit them to the chamber. I wanted two levels of pallets: the first one, on the floor, and the second one upon them holding the mattress; both of them made by four pallets, each; the original measurements of each one was a meter by a meter.
Make your Pallet Wood Bed/Headboard with only ten pallets and save money!
Since it is a double bed, the measurements were 140 x 190 cm, so, as I wanted the pedestal layer of pallets to be wider than the second, I made it 170 x 200cm, and the second, the one of the mattress, 145 x 195cm. After cutting, sanding, and adjust them, I started to treat the wood with an antibacterial stain, sealant & paint.
Next, I began the headboard with the two best pallets I bought. I disassembled them, selected the best planks, and cut them to length. I sanded, painted, and assembled the boards using wood screws, rotative nails, and wood glue. Then, to attach the headboard with the pallets, I used two other planks, wood screws.
You don't need any fancy tools to build this Pallet Wood Bed/Headboard
You can make this Pallet Wood Bed/Headboard with basic hand tools. I used an electric sander to finish the work quicker. What a jig saw was perfect to reach into areas the hand saw couldn't. I guess this project could last for a week or less if you worked on it full time, but, since I did not, it took me a month or maybe a bit more. Besides, you have to count the drying process of the antibacterial stain, paint or varnish. It took up to three days, depending the amount you've used and the weather conditions. In my experience, the windiest and driest the better, no matter if it's sunny or rainy, just try to put them in the shade, for better and faster results; sometimes dirt came with the wind and stuck to the paint or varnish.
A little patience goes a long way to create a project like this Pallet Wood Bed/Headboard
It's not challenging, but you need time, patience, some skill, tools and know how to use them to prevent injury.  I cut myself several times and more than a couple I almost chop off my fingers with the saws (hand and electric) or chisels, so, be aware of it and always wear gloves. When sanding, you should wear eye protection glasses and a mask, so you don't have to breathe the wood dust. When staining and varnishing wear gloves, the stain is difficult to wash off. Plus, if you use an antibacterial stain as I did, it can be harmful if you got into an open area of your skin. See our Workshop Safety page for a handy guide to personal protective equipment that you should consider when woodworking.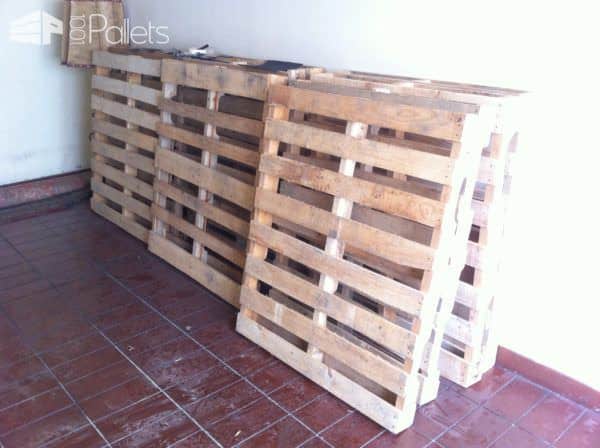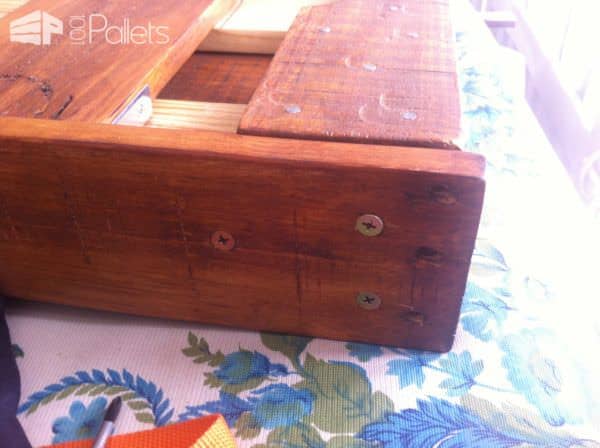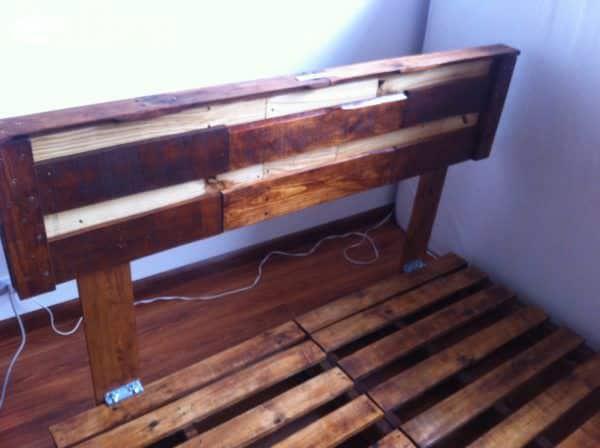 You must see these Livable Sheds ideas! Here's a beautiful Bathroom Cabinet made from pallets.