We continue our series of interview with Andrea Fogleman from the blog Scrapality.com, she is one of our best contributors on 1001Pallets and she's making very creative works with wooden pallets. If you think you deserve to be featured in the next interview, please, drop us an email.
Tell us a little more about you? Who you are? Where are you from?
I'm a DIYer, crafter, cook and the author of Scrapality.com. I currently reside in Ohio with my husband, daughters and three furry children.
Why do you craft?
I craft for many reasons. I DIY to decorate or build something I need in my home, for the holidays or just for fun. I scrapbook to preserve my family memories. And, most importantly, to keep busy and help cut everyday stresses.
How did you learn?
I'm mostly self taught by reading, researching or just jumping in and hoping for the best. I find it a challenge to create the things I need. I find inspiration for a project, tweak it to fit my needs and jump in. If it doesn't work out, it doesn't work out.
Since when are you working with pallets?
I started working with pallets in 2012 after reading a pallet wall blog post. I had to have it! So far I've added three different style pallet walls in my home.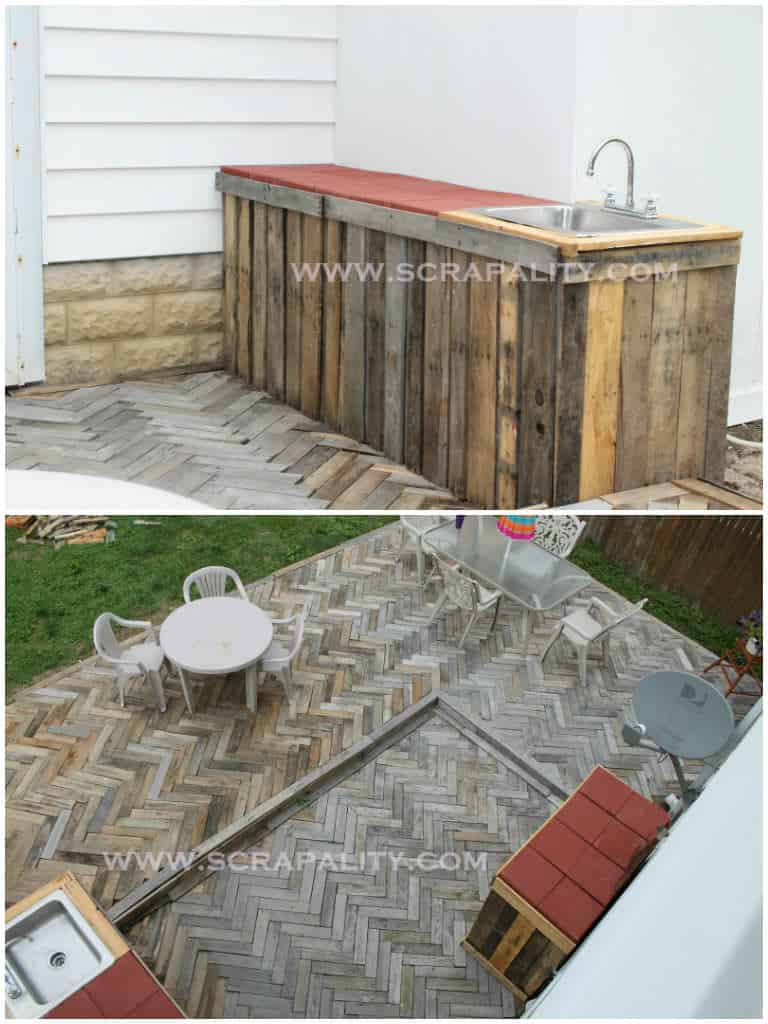 What are your can't-live-without essentials?
I would have to say the miter saw. I've used them both to build so many projects over the last few years. I don't know what I would do without them.
How would you describe your style? Are there any crafters/artists/designers that you particularly look up to?
I've become more eclectic in style. I love the freedom to mix and match. I follow a lot of fantastic bloggers. There is so much talent out there. Some of my favorite blogs are Funky Junk Interiors, The Cottage Market, and 1001Pallets.
How is your workspace, how do you make it inspiring?
It's a disaster, yet again! I clean it between projects but it never stays clean.
What sorts of things are inspiring you right now?
Pallets in the garden or outdoors. I love Pinterest and if you're a blogger or know anything about blogging, Pinterest is very important. I love to browse Pinterest to see what people are up to. I'm always blown away by so much talent. I have a mile long list of things I want to build for my home or my kids. My hubby tells me to stay off Pinterest.
When do you feel the most creative?
While at work. I'm a full-time prep-cook. While I'm slaving away I think about what's next, what do I need and how I'm going to make it work for me.
We live in such a mass-produced, buy-it-now society. Why should people continue to make things by hand?
That's a really great question. If a person takes the time to make something with their own hands they would appreciate it more. There's ownership and pride that comes from creating something from nothing. Plus, things you buy these days don't hold up.
What is your favorite medium to work in?
Paint! Nothing like a new color or a refreshed paint job.
What are your tips for people who'd like to start crafting?
Jump in! Research your interest and make the best of it!
What is your guilty pleasure?
Sweets, I'm have a major sweet tooth.
What is your favorite thing to do (other than crafting)?
Watching movies. I love action packed, suspense and horror movies. Nothing like a night spent cuddling on the couch with the hubby watching a really awesome movie.
What do you recommend that most people do in terms of cleaning pallets and prepping them to become something else?
It's best to know where they come from. If they look bad or covered in an unidentifiable substance don't use them. I like to use a cleaner and bleach mixture and give them quick sanding if I'm planning on using them indoors. For outdoor projects I sand them to remove splinters but otherwise leave them as is. It really depends on what kind of look I'm going for and what it's being used for.
To finish, we've seen that you have an active blog. Since how many times are you blogging? Is that a full time job or just a hobby to share your personal creations?
Scrapality.com started out in 2009 as a place to share my creations with family and friends. I didn't post regularly at the beginning and it wasn't something I took seriously. But, over the last couple years I've started making a small income with hopes of turning it into something more full-time.

I currently host a linky party every Saturday called Scraptastic Saturdays. If you're unfamiliar with a linky party, It's an event held weekly for other bloggers or crafters to share their projects with other readers. You don't have to have a blog to link up (add your project), it supports other types of platforms. If you don't wish to link up, you can drop in and check out other people projects. It's a wonderful way to find other people with similar interests.
You can also follow along via Pinterest, Twitter and Facebook. Just search for Scrapality.

Feel free to stop by and view projects with brief how-to's. I'm hoping to write more detailed instructions in the future and maybe revisit a few old projects to add more details.