We wanted to hand over to you, readers, so we start a new series of posts interviewing pallet crafters. We start with one of our best contributor: Mark Valkenburg. If you think you deserve to be featured in the next interview, please, drop us an email.
Tell us a little more about you? Who you are? Where are you from?
My name is Mark Valkenburg and I'm 32 years old. I'm from Holland and live in Rotterdam, the second largest city in Holland. I work in the IT department of a hospital four days a week. Friday is my day-off and that is the day you'll find me in my workshop.
Why do you craft?
During the day I'm sitting behind a desk working with computers. In my spare time I like to create things with wood. It's a sort of escape from normal life, I can clear my head when I'm busy with a project. Creating something out of nothing gives me a lot of satisfaction.

I have a great feeling when I design a new project in my head and the end result is exactly what I had expected.
How did you learn?
I've learned just by trying and not being afraid to make any mistakes. And when you make a mistake, just start over again. I was always interested in DIY stuff, but it all started when we bought our own house and had to redecorate it completely. It was cheaper to do it ourselves than to hire some expensive contractor. Just by searching on the internet and watching a lot instruction movies I've learned a lot. But the biggest source for learning new things is definitely YouTube! I follow a lot of woodworkers on YouTube and I'm learning a lot of them.
Since when are you working with pallets?
I've started working with pallets two years ago. I was already into crafting things with wood (making wooden toys) when I discovered the Dutch website www.houtvanmij.nl with all kind of cool pallet projects. This made me very enthusiastic to try by myself working with pallets.

Fortunately I was able to get some free pallets from a friend's company. At first it took me a lot of time to dissemble the pallets with just a hammer and a crowbar. But after a while you'll learn the tips and tricks of dissembling pallets. My first pallet project was a pallet lounge sofa for my parents.
What are your can't-live-without essentials?
The tools I can't live without are definitely my table saw, my sander and my impact driver.
How would you describe your style? Are there any crafters/artists/designers that you particularly look up to?
I would like to describe my style as simple, straight lines not rustic. When I build with pallets I always dissemble the pallet completely, I don't use assembled pallets.

There are a couple of woodworkers on YouTube who inspire me. These are Jay Bates, Steve Ramsey, Izzy Swan, April Wilkerson, John Heisz and Shane Conlan.
How is your workspace, how do you make it inspiring?
I have created a small workshop in my basement. I think it's about 3x5m. As we live in an apartment, I also have to use the basement for storage. Therefore I don't have all the tools that I want. Living in an apartment also means that you can't make a lot of noise early in the morning or late at night, because you don't want your neighbours to complain.

It's tiny, but I'm happy with my workshop the way it is, I've got room for a large workbench and my table saw.
What sorts of things are inspiring you right now?
I would like to build more furniture for in and around the house. Wooden toys are also projects I love to build. Recently I've built a balance bike for my little cousin that looks like a Moto GP bike of Valentino Rossi. The moment I saw my cousin riding that bike was unforgettable!
Where do you look for inspiration?
Facebook, I follow a lot of Facebook DIY pages
1001pallets.com, it's amazing to see how many people are also involved in woodworking and crafting
Pinterest
YouTube
When do you feel the most creative?
Every free moment I like to think about new projects, designing things in my mind, thinking about constructions for new plans.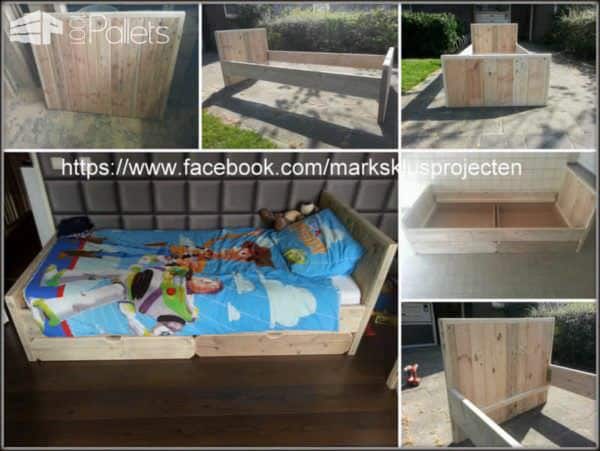 We live in such a mass-produced, buy-it-now society. Why should people continue to make things by hand?
Because it gives you so much satisfaction when you create something with your own hands. With materials that other people throw away you can make amazing projects. The wood from reclaimed pallets has a lot of character for home decor accessories and furniture. When you make your own decoration or furniture you can design it with your own specific demands and wishes.

Another important reason is that reclaimed pallets won't cost you anything! And since I'm Dutch, that's very important ;-)

Why buy if you can make it yourself? Every time my wife wants something new for the house, she first asks me if I can make it myself.
What are your tips for people who'd like to start crafting?
Don't be afraid to make mistakes and when you make mistakes, just start over again. Don't give up!

Begin with a simple project which you can make with a limited amount of tools. Watch YouTube for DIY tutorials, visit websites like 1001pallets.com for tips and tricks.

I've started building projects with limited tools as well and when I sold a project, I used the money to buy new/better tools.
What is your favorite thing to do (other than crafting)?
I love to listen music, but this is also possible when I'm crafting ;-) I've got ear protection with built-in radio. Go to music concerts.

I like to go to football games especially to visit football matches in other countries than Holland.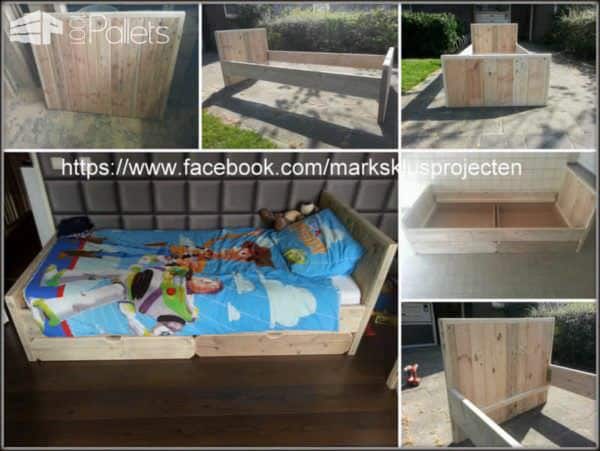 What do you recommend that most people do in terms of cleaning pallets and prepping them to become something else?
The easiest way to dissemble a pallet for me is to use a large hammer and a reciprocating saw. With the flexible blade it is easy to cut off the nails. After dissembling the pallet, cleaning is easy with a belt sander or a random orbit sander with 80 and 120 grid sandpaper. To round over the edges you can use a router.
Anything else you would like to tell to pallet community?
Just keep on posting your projects. It is easy to get inspired by the projects of others.
Mark Valkenburg Facebook Profile